Achilles is a known character from Greek mythology and thanks to Hollywood and history in general a well known person. The slot itself is one of the most popular RTG casinos slots though my personal guess is that this is thanks to the popularity of the hero rather than the game itself. Today the slot is not very impressive, nor does it engage players that well well, but back in 2006 when it was first released it was top of the line.
Oldie but goodie?
It's been around ten years and time has managed to eat away most of the charm that Achilles once held. That said the game still walks like a slot, quacks like a slot and plays like a slot. There's 20 pay lines, which are adjustable, as well as the possibility to change the bet level to a maximum of 5 dollars per spin. Some of the symbols are specials like the Trojan horse, Achilles himself, Helen and a few other pictures. Most of the time the the screen is covered by the basic numerical symbols that go from nine to ace, which means that you're looking at low level spoils of war with 3 to 5 of these numbers creating combos. Of course, if you manage to land 5 Achilles symbols on a pay line you're looking at a pretty decent return.
There's two free game features in the slot: one for Achilles with 3 or more anywhere on the reels launching a bonus game with 15 to 25 free spins, triple prizes and all scatters changed to Achilles or Helen. The other game comes with 3 or more Troy symbols anywhere on the reels, and for this bonus game all prizes are doubled. Both features can be re-triggered with more spins awarded.
The game interestingly enough also has a sizeable progressive jackpot, which probably is one of the reasons the game was so popular for a time. It is of course triggered at random and often runs somewhere around five to ten thousand before someone collects it out.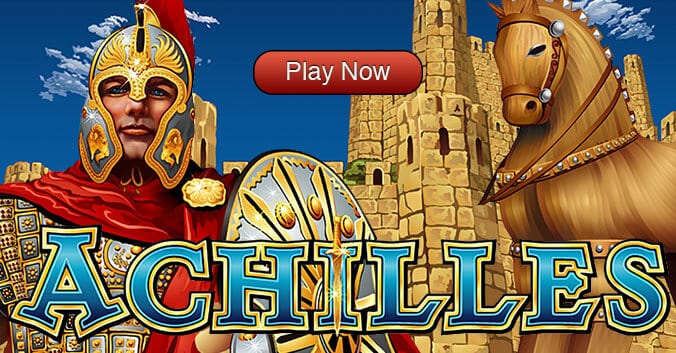 Summary
Although once a favorite of the crowds the game no longer stands out from the competition, and given it's age it should really only be played for nostalgic fun. In case you haven't tried the game it's a good idea to spin a few rounds with play money to see if the game still hold interest. That's not to say the game is completely hopeless or that it would be lacking in payouts; it's just aged and lost it's magic. I could very well see the game in a traditional brick and mortar casino though.
5 RealTime Gaming casinos to try: