Today I will be talking about eCOGRA and it's importance to the gambling world. Why? Because staying on the safe side when playing at a new online casino is vital to build a healthy gambling community.
When it comes to choosing where to gamble online, many players tend to think that they're on their own. Sure, you can look at things like licenses a casino holds, game providers and reviews on any number of websites. Do any of those things really give you any solid evidence to say that you can or can't trust a particular online casino, though?
You can get an idea of a casino site's reputation by looking them up all over the Internet, but there's no warranty that something hasn't changed between the time a good review was written and the time you read it and decide to create an account somewhere. For that matter, you don't get any kind of guarantee that the person writing the good review was telling the truth or is actually a real person either.
That's not how it has to be, though. If you know where to look, you can find real, legitimate, and legally recognized certifications that online casino sites are everything they represent themselves to be on their welcome pages. More than that, you can play with the security and confidence of knowing that if something does go wrong somewhere, you'll have an independent, third-party organization on your side to help you resolve any dispute you may have if you're not happy with the way the casino has handled something.
In the meantime, you can jump forward to the best eCOGRA casinos available worldwide (and skip all the theory).
eCOGRA Casinos
Safe And Fair Certification Through eCOGRA
eCOGRA is an independent, non-profit, UK-based organisation that specializes in verifying fair gaming practices and providing player protection through regular testing and certification of online gambling services. The acronym stands for eCommerce and Online Gaming Regulation and Assurance.
The organisation was founded in 2003 and has evolved to become the worldwide leader in independent fairness certifications to assist with self-regulation within the online gambling industry. eCOGRA is a neutral entity, having no affiliations with any government or vested interest in any part of the gaming industry. This ensures the integrity of their audits as well as that of any certifications awarded as a result of those audits.
eCOGRA's Safe and Fair seal is awarded to an operator only after passing all required tests and all operators must renew their certification annually in order to maintain their status. They have also received the United Kingdom Accreditation Service approval for proficient testing, calibration, inspection and certification, which lends even more authority to assessment results.
In addition to assessing and certifying online casino sites, eCOGRA also evaluates gaming software developers separately, awarding the eCOGRA Certified Software Seal to those that meet the required standards. Collectively, site and developers are tested against what they call their Generally Accepted Practices, or eGAP, requirements.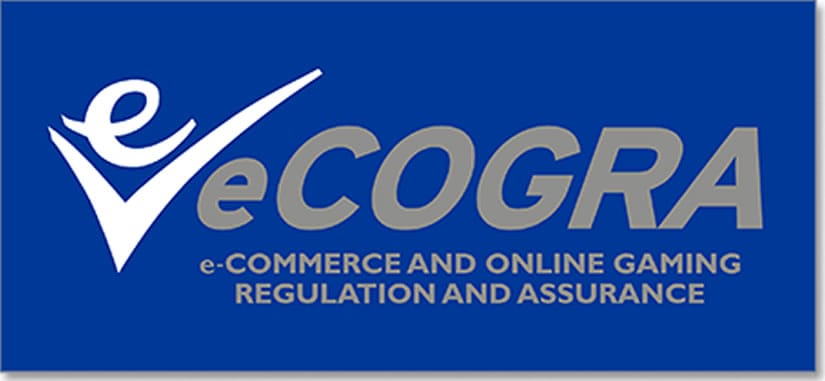 The Process Behind the Certification
The process that an online casino has to go through in order to obtain an eCOGRA certification is anything but quick and easy. The audit a site must undergo will dig into all the details of the operation looking for any potential flaws, risks, or dangers. Everything from software and servers to employee training and banking practices will be examined.
The eGAP standards are high and evaluations are carried out by professionals with specialized knowledge of their respective fields. eCOGRA's certification teams include lawyers, chartered accountants, software experts and certified information systems auditors. Their processes are designed to be not only comprehensive but pin-point accurate.
eCOGRA's mission is to accomplish the following nine objectives:
The protection of vulnerable customers.
The prevention of underage gaming.
Combating fraudulent and criminal behaviour.
Protection of customer privacy and safeguarding of information.
Prompt and accurate customer payments.
Fair gaming (e.g. RNG and RTP game evaluations).
Responsible marketing.
Commitment to customer satisfaction and support.
Secure, safe and reliable operating environment.
eGAP Standards For Online Casinos
To meet eGAP standards, online casinos must provide links to player protection and responsible gambling pages that include content which addresses the dangers of excessive gambling, provides helpline information, and provides a risk potential self-assessment test. The site must also list the excessive gambling protection measures they provide and there can be no dishonest information about the operator's support of responsible gambling.
When it comes to player accounts and financial information, operators must display the denominations of credit and currency units clearly. Players must have access to an account history that shows wagers, wins, losses, casino deposits and withdrawals for at least the previous 60 days. Sites must also have functions which allow players to self-initiate so-called "cooling off" periods and set deposit limits.
Online casinos must demonstrate an understanding of responsible gambling practices as well as train their employees on such practices. The homepage must clearly state that the site is not intended for anyone under 18 (or other age set by a regulatory authority) and display a warning against underage play.
Certified Safe and Fair casinos must also secure and implement systems and policies designed to meet anti-money laundering (AML) and combating the financing of terrorism (CFT) standards. A senior management employee must be appointed to oversee AML/CFT practices, train employees to identify and report fraud, and ensure data protection. The casino's IT systems must also provide protection for player data against accidental loss, alteration, unauthorized access or disclosure, and unlawful destruction. All player data and sensitive information must be kept confidential and there must always be clear communication of registration, deposit, and withdrawal procedures for the players.
Standards For Software Providers
Online casino software developers and providers can receive the Certified Software Seal from eCOGRA. Companies are evaluated based on several different aspects of their business practices such as financial data and fraud prevention controls. IT data security is also examined to be sure that software is implemented and maintained in a safe, secure environment.
The software itself must pass eCOGRA's Total Gaming Transaction Review which evaluates live gaming transactions to ensure fairness and accurate data processing. The randomness of games such as video slot machines is also checked along with the accuracy of published return to player (RTP) rates.
In order to pass, the software must provide complete, valid, and correct data and player return rates cannot be below a minimum threshold. Software providers must generate reports on all changes made to game parameters and show that internal development and testing environments are completely isolated from live games. All game results must be clearly visible and all transactions involving real players' funds must also be recoverable should there be any type of system malfunction.
How To Check eCOGRA Certification
Checking the certification status of a casino site displaying the eCOGRA logo or Safe and Fair seal is easy. Simply click the seal or logo and you'll be taken to the eCOGRA web site and shows the certificate unique to the site you clicked through from.
The initial certificate page will show you general information stating that the site has passed the required evaluations and has been granted approval. The domain name of the site will be listed at the bottom of the digital certificate.
If you scroll down past the first page, however, you'll find much more valuable information about the site you came from. The second page of the certificate shows return to player (RTP) information about the different categories of games available on the site such as slots, table games, poker, etc. Continue to scroll down a bit further and you'll also see certifications for the random number generators (RNG) that are used to determine the results of various games.
Look For The eCOGRA Safe And Fair Seal
Remember, even though eCOGRA is based in the UK, it is not a UK-only organisation. They work with online casinos, casino operators, and casino software developers all over the world. No matter where you are from or where you'd like to play, the Safe and Fair seal from eCOGRA is something you should look for on any casino site that you're considering.
Sites bearing the eCOGRA logos have gone through the most rigorous safety and fairness testing available in the online gambling industry. When you play at a certified site, you'll know that what you see is what you're going to get and nothing shady is going to happen when you're not looking.