The Jolly Roger 2 slot from Play'n Go is a creative and action-packed sequel to the original Jolly Roger slot. It's a pirate adventure on the open seas where you'll find big risks and even bigger rewards as you and your crew plunder, pillage, and loot those who are unlucky enough to cross your path. There's plenty of rum to keep the chill off your bones as you sail along in search of treasure.
All of the action on Jolly Roger 2 plays out across five reels and three rows with 20 fixed pay lines. The theme is brilliantly put together with high definition graphics. Crisp, clear, and clean, the game looks good on any screen. Everything from the animation of the symbols to the subtle movement of the ocean water in the background is done beautifully. The reels are even semi-transparent, allowing you to see the deck of your pirate ship behind them.
There's no doubt that you'll be impressed by this slot if you sit and play for just a few spins. We'd definitely recommend that you hunt this game down if you haven't seen it yet. The guys at Play'n Go did a great job on this one and we're sure that you'll love it.
Top Rated Play'N Go Casinos
Jolly Roger 2 Slot Gameplay Details
The game is absolutely loaded with bonus features. When you land three scatters you'll go to an interactive screen where you'll get to pick from hidden symbols to determine which of the five—yes FIVE—different bonuses you'll receive. You can get instant payouts, free spins, and more. It's a new surprise every time those scatter symbols land.
Getting set up to play really couldn't be any easier. Simply select the amount you'd like to bet on each spin from the preset amounts available under the reels and hit the spin button to get started. You can play for as little as £.20 or take it all the way up to £100 per spin.
The Jolly Roger 2 slot will also give you very good value for your money with a 96.2% RTP rate while the medium slot volatility of the game will make sure the action never gets boring. It should be a good fit for the temperament of just about any type of gambler from conservative to aggressive and everything in between.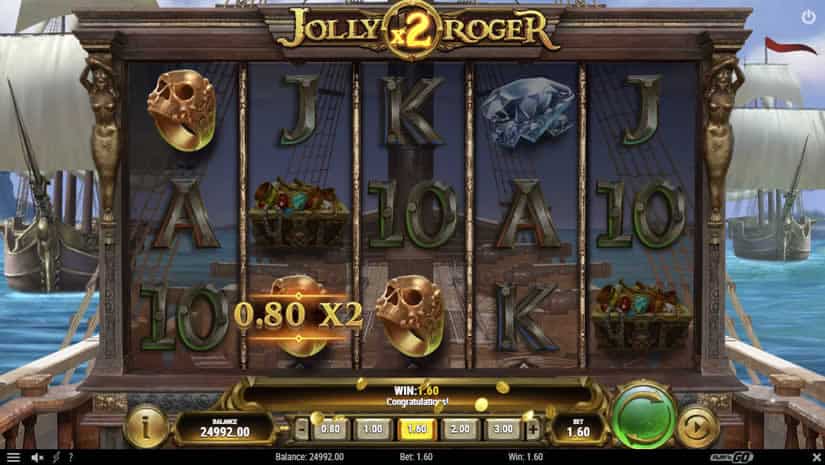 Jolly Roger 2 Slot Bonus Features
As we mentioned above, this game is most certainly not short on bonus features. There are basically five different types of bonuses you can get plus wild symbols. Here's how they all work:
Compass Multiplier
The compass multiplier can go off randomly on any spin. The payout multiplier can be anywhere from two times to ten times the win amount.
Bonus Quest
The bonus quest will be the first part of any bonus you receive when three scatter symbols land. The interactive screen will show you 12 rolled scrolls. Each scroll will uncover one of four bonus features when you select it. Your job is to simply keep picking until you uncover three that match.
Once you've hit three scrolls that represent the same feature, that feature will begin. All five possibilities are listed below.
Instant Prize
The instant prize is just what it sounds like. You'll be awarded any amount between two times and ten times your bet, and there is also a chance to win 15 or 20 times your bet. Then, just to make it a little bit more interesting, there is also a chance of triggering the compass multiplier on the instant win prize.
Bottle Of Rum Free Spin
This feature will give you one free spin. Before that spin occurs, you'll see a bottle of rum in front of each reel. Pick the right bottle and the reel behind it will become wild. Some bottles of rum, however, are poisonous. If you pick the poisoned rum you won't be able to select any more and the free spin will go ahead with whichever reel or reels you've turned wild.
Battle Free Spins
With this feature, it's time to man the cannons and go into battle. You will be given unlimited spins and three lives. Win battles to get more spins and big prizes. There are different enemies to face and each will award different prizes for victories.
Keep the cannons firing and destroy your enemies until you lose all three of your lives.
Treasure Hunt
This feature begins with ten free spins. If you can collect four maps during the spins, you'll find a buried treasure which will then apply bonuses to all of the free spins you have left. On top of that, each buried treasure that you find will give you two or three additional free spins.