The Jackpot Express slot from Yggdrasil is a somewhat simple and straightforward release when compared to what we usually see from them. They have, however, managed to pack a very pure video slot with plenty of personality and excitement.
Game Theme
The theme of Jackpot Express is based on the "old-fashioned" riverboard casinos. We're talking about the classic and classy boats with the big water wheels on the back that actually moved up and down the rivers years ago, not the crazy "riverboat" casinos of today that are really just barges anchored a foot away from the shore so they comply with some weird regulation of not being on land.
A big attraction to this slot will inevitably be the three jackpots that players can win. There is a "mini", a "side", and a "major" jackpot. You can get them all through the same minigame if it triggers. Depending on how you do, you could end up with a few hundred to a few thousand extra Euros in your account.
Gameplay & Jackpots
The theme is extremely well done in high definition graphics. A riverboat, of course, is the main background and the reels are covered with symbols ranging from the boat's captain to happy dealers and players to casino chips that you'll hopefully win a big pile of. There are eight regular symbols on the reels plus wild and two different types of scatters. They will all spin before your eyes on five reels, with three rows and reward you for matches on 20 fixed pay lines.
Everything is put together in a cartoonish style, but not so overdone as to look childish. There's also plenty of animation to accent wins and enhance the experience as you play. The screen is really neither too light nor too dark. Most players should find it pleasant to play if they like to sit for long sessions.
As with many of Yggdrasil's releases, this one goes on the Yes side of our list. It's not the most exciting game they've ever put out, but for the video slot purists who really like a clean game with good mechanics and plenty of chances for bonuses, this one will hit the spot for sure.
Best Yggdrasil Online Casinos to Play at
Jackpot Express Slot Game Details
As we mentioned, the game has five reels, three rows, and plays on 20 fixed pay lines. You'll set your bets simply by choosing the denomination of the coins you'd like to play with. That amount will be multiplied by 20 to determine your total bet on each spin.
The minimum coin value you can use is just £.01 and the maximum goes up to £5.00. Those numbers give us a minimum wager of £.20 and a maximum of £100 per spin. It should be cheap enough to be very accessible to conservative gamblers, but that £100 limit might not be enough for the casino high-rollers who are really looking to take some chances with their bankrolls.
Slot RTP & Volatility
Yggdrasil lists the game with a great RTP (return to player) rate of 96.2%. On their volatility rating scale, it's actually got two separate ratings. If jackpots are excluded, the volatility rating is only 30, which is really very low for one of their games. With jackpots worked into the equation, it shoots up to 210, which is, of course, quite high in comparison.
So, in the end, you can probably expect to see some smallish sized wins fairly often, but it's likely that it will take quite a bit of spinning to trigger one of the jackpots.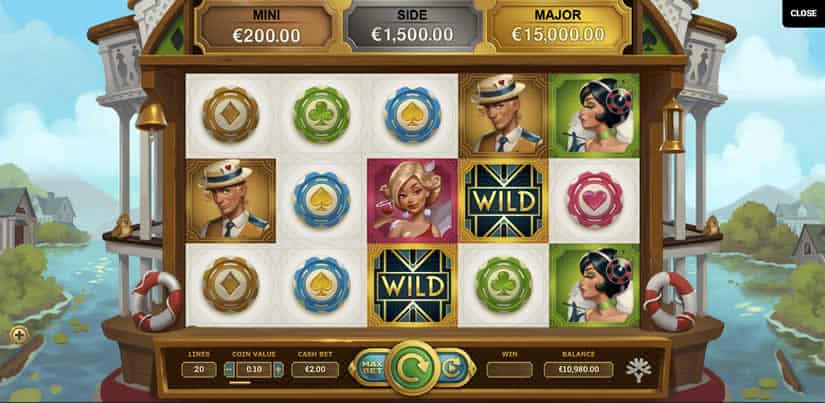 Jackpot Express Slot Bonus Features
Don't let the difficulty of hitting jackpots get you down. Even if they are difficult to trigger, there are so many different options for winning bonuses on this game, you'll never want to get off the boat.
The first thing you'll need to know is that landing three scatters is what triggers all of the bonuses. Some scatter symbols have a picture of the jackpot wheel, and some have falling gold coins. If you get three with the jackpot symbol, you'll get to play in the Jackpot Game. If not, you'll be thrown into one of three different free spins modes.
The Jackpot Game
If you get into the jackpot game you'll be presented with a wheel that has three spinning layers and the major jackpot emblem in the middle. On each layer of the wheel, you'll see several prizes and one arrow symbol.
If you land on one of the prizes, that's what you'll get. If you land on the arrow symbol, you'll be allowed to move down and spin the next wheel. Get all the arrows lined up to move through the three layers and you'll end up in the middle where you'll take down the major jackpot.
In addition to the jackpots, you can also win other prizes such as 16,000 coins, 4,000 coins plus a respin of the jackpot wheel, and a two times multiplier plus a respin. Whatever you get, it'll be something good.
Card Free Spins
Two cards will be drawn on each spin. One will be the house card and one will be the player's card. If the player's card beats the house card, a sticky wild will be added to the reels in a random position.
Dice Free Spins
After each winning spin, two dice will be rolled. The results of the roll will become a multiplier used to multiply the winnings for the spin.
Roulette Free Spins
On each spin, there is a chance of a different effect. It's possible that you will get extra coin awards, a win multiplier on a winning spin, extra free spins, or a sticky wild in a random position.