Realtime Gaming comes through once again with the third in the series of their Cash Bandits slots. The Cash Bandits 3 slot is, of course, based on one of the most popular games to have ever been released by RTG.
One of the things that attracts many players to the game is the possibility of winning one of the huge progressive jackpots that grow just a bit bigger when any player, anywhere in the world, plays a spin on the game. Best of all, there's no complicated sequence of events you'll need to pull off to take the big heist home. The progressive jackpot on Cash Bandits 3 can be won randomly on any spin by anyone at any time.
Both the overall design of the game and symbols are done very well, all in the same style as its two predecessors. The cops, the bandits, the cars, and the cash are all there. The symbols and background are three-dimensional, but not overdone. The style of the game has just as much to do with the fun as the actual gameplay itself. All the characters are cartoonish and you'll see plenty of small animations as the reels roll.
RTG Slots are Available to USA Casino Players
It's not a complex game, but it definitely brings the quality video slot gaming experience that we've come to know and expect from RTG. It should also be noted that RTG games will show up on casinos that accept players from places like the USA or Australia. So if you happen to be in an area where you have a hard time finding good slots, it's definitely worth checking to see if your casino has this one available to play.
Top Rated RTG Casinos
Cash Bandits 3 Slot Game Details
The Cash Bandits 3 slot will allow you to choose how many pay lines you want to wager on, which is becoming much rarer. Of course, you can choose how much you'd like to bet on each line as well.
Wagering & Payout
The minimum wager per line is just £.01 and the maximum is £.25. Then, you can play from one to 25 lines, as you prefer. So you can spin for as little as £.01 or go for the maximum of £6.25 per spin. The good part there is that you can get into the game for the absolute smallest amount possible if you're a very conservative player and want to get a few thousand spins in there for very little money. The bad part is that for the high roller type players, £6.25 per spin isn't going to provide very much excitement.
RTP & Slot Volatility
The game comes preset with a return to player (RTP) rate of 97.5%, which is really very good for a game that keeps a bit of cash for jackpots. Both the amount you can bet and the RTP rate can be changed by casino operators, however. So make sure you check things out wherever you play so that you're aware of the options you're getting.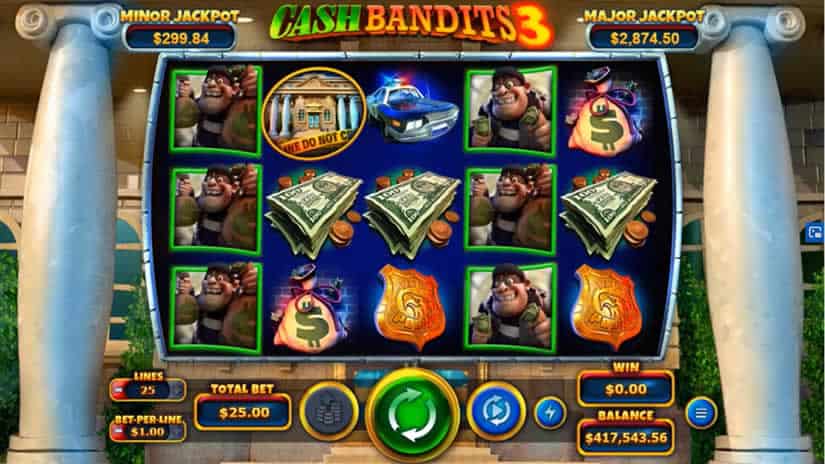 Cash Bandits 3 Slot Bonus Features
There isn't a lot to speak of as far as bonus features on this slot, but that's not necessarily a bad thing. if you're going to get paid, you're going to get paid very well. There are two basic features.
Vault Feature
The vault feature is triggered when three or more scatter symbols land on the reels—the Cash Bandits 3 logo. When the feature is triggered, 6 vaults and a keypad will be presented to you. Your mission, of course, is to unlock the vaults and collect the biggest prize available in the game.
Each vault will require a random code that can be anywhere from one to six digits to open it. If the feature was triggered by three scatter symbols, you'll get the chance to make either five or six selections on the keypad. Getting four scatter symbols will allow you to make seven selections and if you land five scatter symbols you'll be able to make eight selections.
The exact prize you get will depend on how many of the vaults you manage to open with the selections you make on the keypad, but it's possible to get up to 390 free spins with a 23x win multiplier!
Two Progressive Jackpots
There are two jackpots that you can hit on Cash Bandits 3. Both the minor and major jackpots are progressive and will increase as the game is played. Either can be won at random. So, you never know, you could end up with a few thousand extra to spend the next time you head out to the pub.