The change in seasons is in full swing. Those in the north are beginning to feel the cool bite of autumn air while those in the south are welcoming the warmth of spring. Although the seasons may change, one thing stays constant. Here at YesNoCasino.com, we like to start each and every month with a list of the hottest new online video slot machine releases to watch for.
On this fine October day, we have five new slot machines, all released within the past few weeks. They're brand spanking new and full of fun and prizes. If you find yourself getting a bit bored of the games you've been playing lately, our list is sure to put a spring in your step and hopefully a boost in your bankroll.
Below is our list (in no particular order, as always) of the best slots to play in October 2020. We highly recommend that you look for these slots at your favourite online casino and give them a try. There's something for everybody and you're sure to find at least one that will make its way onto your list of go-to games. Remember, too, that if your regular casino doesn't offer a game that you'd like to play, you can always check our lists to find a casino that's guaranteed to have it available.
1# Play'n Go – Feline Fury Slot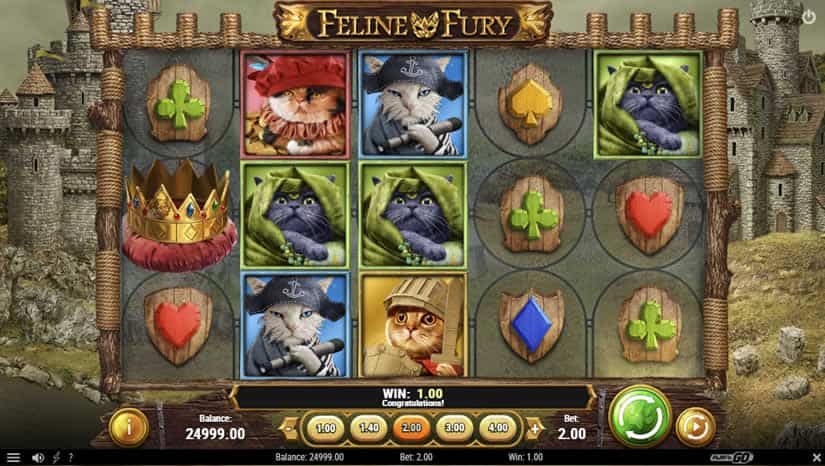 If nothing else, the Feline Fury slot from Play'n Go deserves credit for having one of the most unique (and weird) themes out there. The game revolves around four different cats, each in a different costume, set in medieval times. The Cat-at-Arms, the Fat-Cat Merchant, the Sea Captain and the Mystic Cat are all standing by to help you in your search for new treasures.
What Makes It One Of The Best Slots To Play In October 2020
Feline Fury is a standard five-reel, three-row slot with 20 fixed pay lines. The four cats will not only give you the biggest rewards when they land on a pay line, but all four of them can also become wild at random on any spin. That's just one of a few ways our furry medieval friends will help as you play.
Bonus features on Feline Fury include feline wilds, Fury Reels which will trigger expanding wilds and win multipliers, and free spins. The free spins feature also has some great twists in store for you that will allow you to get extra spins and rack up huge wins. Words don't do this slot justice. You have to experience the special weirdness of Feline Fury for yourself.
You can play for as little £.20 or go all the way up to £100. Whatever your bet, you'll get good value for your money with Feline Fury's generous return to player (RTP) rate of 96.2%.
Top 3 Play N Go Casinos with Superb Reputation
2# NetEnt – TrollPot 5000 Slot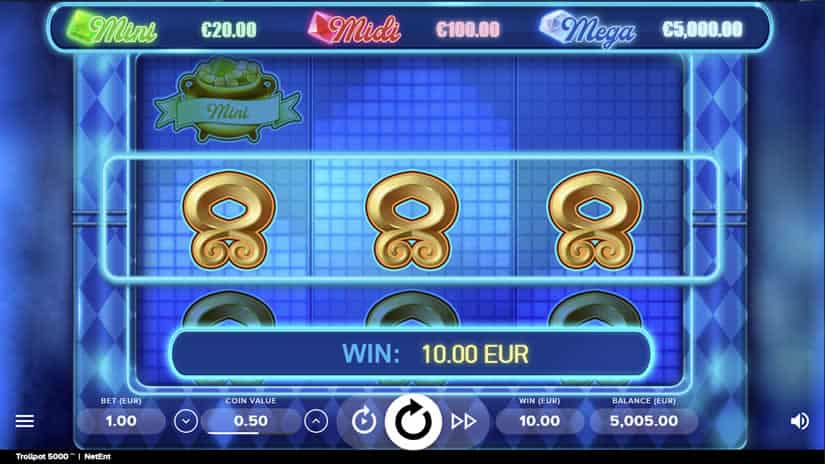 TrollPot 5000 is an unusually simple video slot for NetEnt. It's easy to see that this one was designed to appeal to players that love the classics. The gameplay mechanics are pure old school fruit machine in every way. If you want a game that plays fast and gives you shots at huge wins on every spin, this is it.
What Makes It One Of The Best Slots To Play In October 2020
TrollPot 5000 is a stripped-down, fast-moving slot that forgoes bells and whistles and flashy animations in favour of gambling excitement in its purest form. The rules are simple. There are three reels, three rows, one pay line, and three jackpots to win. You want pure, unadulterated action, you got it.
The game also includes a special "nudge" feature that can trigger on every winning spin. If a symbol on the reel just above the winning combination is the same symbol, the reel will nudge down and pay the win again. With stacked symbols on the reels, this can mean that you'll be paid for the same win several times over. It may not sound like much, but the feature triggers quite often and really helps keep your balance elevated.
NetEnt rates this slot with a high volatility, and has released it with an RTP rate of 96.19%.
Top 3 NetEnt Casinos with Superb Reputation
3# Microgaming – Fortunium Gold Mega Moolah Slot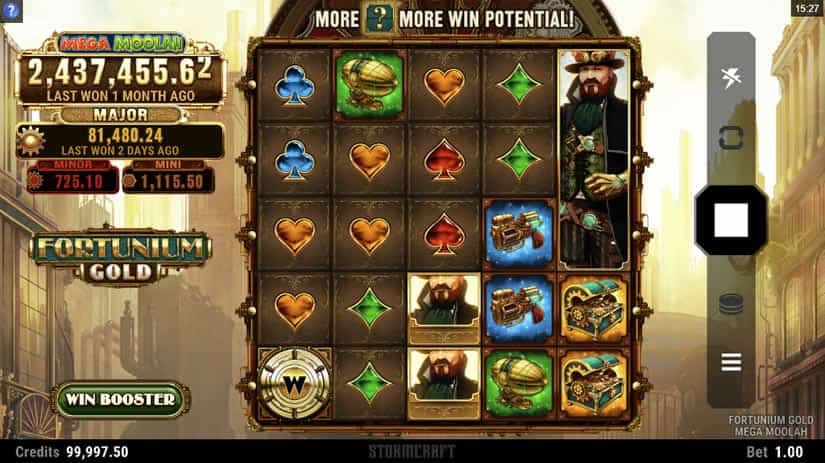 The Fortunium Gold slot from Microgaming is not exactly new, but it's not really a sequel either. The original steampunk-themed Fortunium slot was released in 2018. This version is a kind of revamping of the original with one very big and very important difference. The "Gold" version is tied into Microgaming's legendary Mega Moolah progressive jackpot network.
What Makes It One Of The Best Slots To Play In October 2020
Fortunium Gold, like the original, plays on six reels and six reels with 40 fixed pay lines. In addition to the regular symbols on the reels, there are also stacked mystery symbols that can land on any spin. When the reels stop, the mystery symbols will all transform to reveal the same symbol. In addition, there's a win booster button that will give you a guarantee that all mystery symbols will reveal high-paying symbols in exchange for increasing your bet by 50%.
There are two basic bonus features. You can win free spins by landing scatter symbols, but what most players are going to be after are the multiple jackpots. That's right, there are four different progressive jackpots to be won, including the Mega Moolah. The mini, minor, major, and Mega Moolah progressive jackpots start at £10, £100, £1,000, and £1,000,000 respectively. Each will constantly increase as people all over the world play. Microgaming has set several world records and given away tens of millions through Mega Moolah.
Fortunium Gold has an overall return to player (RTP) rate of 87.37%. 5.3% of wagers are taken as contributions for the progressive jackpots.
Top 3 Microgaming Casinos with Superb Reputation
4# Betsoft – Dim Sum Prize Slot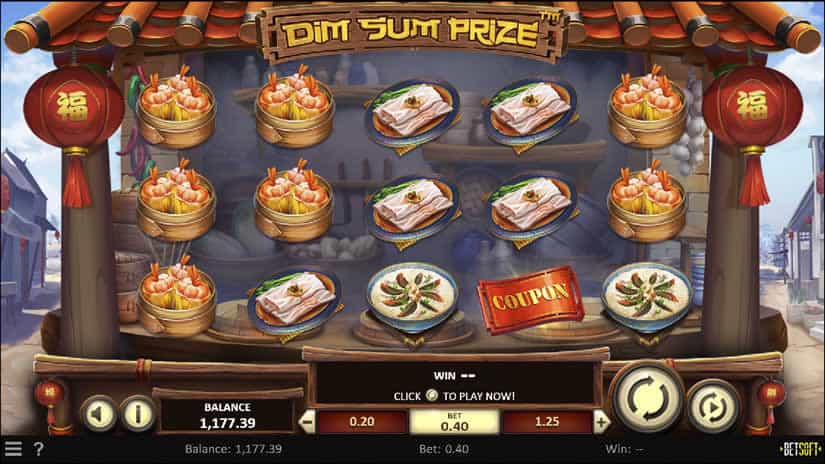 The Dim Sum Prize slot from Betsoft takes a very well done Asian theme slots and mixes it with some unique game mechanics to give us all one of the best releases we've seen from this company in recent months. The audiovisual aspects of the game are all top notch and highly detailed, creating a crisp, crystal clear play environment that will look good on any screen from desktop to portable.
What Makes It One Of The Best Slots To Play In October 2020
This is a standard five-reel, three-row slot that pay for winning combinations across ten fixed pay lines. It'll fit in with just about any gambling style, allowing players to wager anything from £.05 to £22.50 per spin. Betsoft games are also available through many casinos that accept player in the USA and Australia. So, if you're in one of those areas where it's hard to find quality games, you should certainly look for this one at your favourite casino.
Dim Sum Prize includes free respins with wild symbols locked in place plus the ability to retrigger them up to nine times. There is also, of course, a full-on free spins feature which allows you to trigger the respins, too. All in all, in addition to the already generous prizes, you're going to get plenty of free spins to help boost that bankroll as well.
This is a medium volatility slot with a return to player (RTP) rate of 97.18%.
Top Casinos with Superb Reputation
5# Hades Slot – Yggdrasil Gaming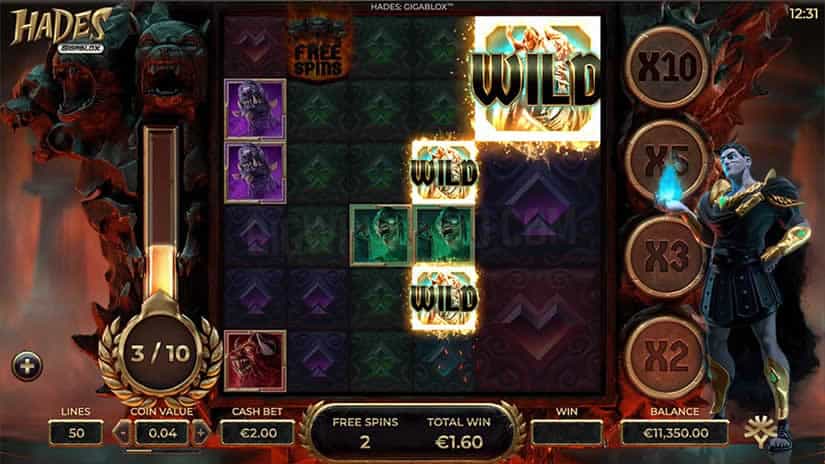 Yggdrasil's Hades slot is the second online video slot the company has released that uses their Gigablox feature. IT's a decidedly evil game with a soothing dark theme that includes Hades himself standing next to the reels commenting on, and sometimes interfering with, the results of your spins. As you would expect from this company, the graphics are amazing and detailed with entertaining animations that add to the fun and excitement.
What Makes It One Of The Best Slots To Play In October 2020
Unlike many other games that use a similar theme, this one is not cartoonish or goofy. The design includes images that could come straight out of any horror film. That doesn't mean, however, that the evil demons of Hades are working against you. On the contrary, they just might be your best chance at finding new riches.
Hades plays out on six reels with six rows and 50 pay lines. The Gigablox feature can create symbols anywhere from 2×2 to 6×6 in size. That feature alone can create some amazing wins. Hades himself also gets in on the action sometimes. He'll battle demons on the reels, leaving wild symbols in his wake. When free spins are triggered, Hades automatically adds wild symbols to the reels on every spin. You can also rack up win multipliers to add to your bonus boost.
Yggdrasil ranks this slot as a 74.2 on their volatility scale, which is somewhere around medium (their highest volatility slots rate over 150). Players also get very good value for the money they spend on this slot with a return to player (RTP) rate of 96%.
Top 3 Yggdrasil Gaming Casinos with Superb Reputation
We'll See You Next Month!
And that, dear friends, is our list of the best slots to play in October 2020. Look for them at your favourite online casinos. Remember, too, that if any of the above video slots look interesting and you can't find them where you play, you can check out our lists to find great casinos that carry all of the above games. You're likely to get a handsome welcome bonus too!
See ya next month!