If you're looking for some of the best Asian slot machines you can find on the Internet, you've come to the right place. This list is going to show you the best Asian themed slots you'll find anywhere, and not only that, we guarantee they bring along with them the best RTP (return to player) rates that you're going to find anywhere.
Asian-themed slots are among the most popular at all online casinos. They're known for their soothing music, beautiful designs, and reputation for big prizes and loads of fun. The Asian theme has always been a big one for both slot makers and slot machine enthusiasts all over the world. They just have a character all their own.
Below you'll find some of find some of the best Asian video slots out there. These are in no particular order, so we hope you'll run through the list and try them all out to find your favourites. Each has its own advantage, style and charm. You're sure for find at least a few to add to your list of regular games. So let's get started…
1 #NetEnt – Long Pao Slot
The Long Pao slot from NetEnt is a classic. They're one of the top game makers out there and they've done plenty to make this one stand out among the rest of the crowd. The game has a classic design, loaded with Asian characters and tranquil background music and sound that never gets intrusive.
The Long Pao slot is a three-reel slow with five rows, but it's not five solid reels. Each symbol spins independently. So what you actually have is fifteen reels arranged into three rows. It also plays on 25 fixed pay lines.
There are only two real bonus options on this game, but they can help bring in some quite large payouts. The first is the sticky wins. Whenever you win, winning symbols are held in place and the rest of the symbols spin again. If a new win is created, the process repeats. It will go on for as long as you keep generating new wins. You can also get up to 30 free spins at one time and you can bet your bankroll that 30 spins are going to give you a nice prize when they finish up.
You can get in on the action for as little as £.25 and take it as high as £250 on a single spin. The game also gives players some great play with a medium volatility rating and an RTP of 96%.
Play the Long Pao slot at Licensed Casinos
2# NetEnt – Shangri La Slot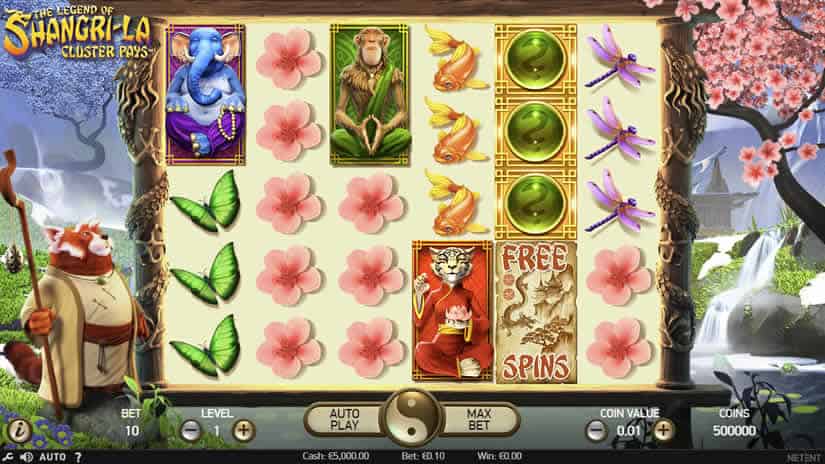 The second slot on our list is also from NetEnt. And why not? They do a great job with just about everything they do, so you should probably have expected more than one entry from them. This one is the Shangri La Slot.
This slot is not exactly 100% Asian if you're a purist, but it's a beautiful game that definitely deserves a mention here if you like these types of video slots. Again, the music is soothing and tranquil, and the sounds fit right in with the background atmosphere to make an overall calming experience.
It is a six-reel, five-row slot that uses NetEnt's very popular cluster pay system. That means there are no traditional pay-lines on this slot. You'll get paid when similar symbols land in clusters anywhere on the reels. A "cluster" is any group of 9 or more symbols that are adjacent to each other (top to bottom or left to right) when the reels stop. So if you get at least 9, you'll get paid, and the more you get, the more you win. Some symbols are stacked two high on the reels as well, just to make it a little bit easier to hit a win.
Slot Bonuses
There are also plenty of bonuses packed into this game to keep things exciting and have you on the edge of your seat. Among then are, substitution symbols, the special double-stacked guru symbols, random substitutions that guarantee a win, sticky respins that can come up any time two non-winning clusters show up at the same time, up to 8 free spins, a nudge reel that can pull in a third free spin symbol when two land, and to top it all off, you're guaranteed to win at least ten time your bet on free spins or you'll get an extra spin.
You can get in on the betting for as little at £.10 or take it up to the maximum of £200 per spin. No matter how much you play for on each spin, you'll also get great value for your money with this. Low to mid volatility and a 96.59% RTP (return to player) rate.
Play the Shangri – Cluster Pays slot – at the Best Casinos
3# Betsoft – Dragon Kings Slot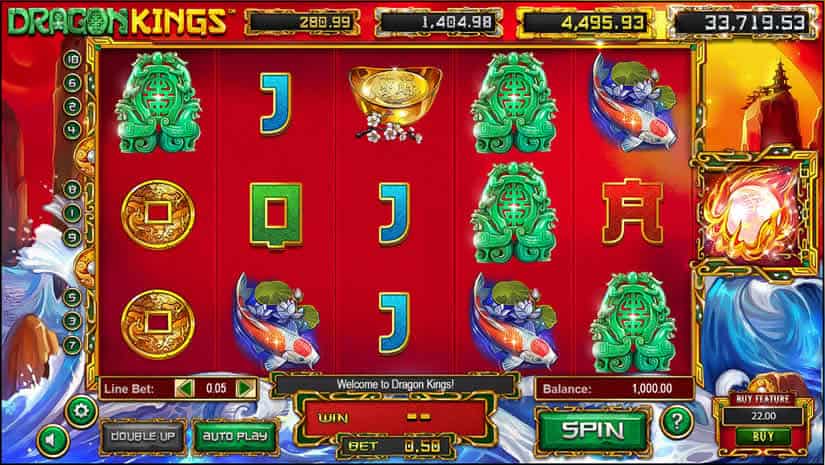 Dragon King's is a ten pay line, five-reel, three-row slot with a special single-symbol sixth real placed at the end of the second row. Betsoft did an excellent job of putting a lot of detail into this game and it most certainly fives off an Asian atmosphere.
All in all, there are five mystical dragons on the reels, among other symbols. Each dragon has it's own special powers that will end up bringing you special bonuses as you play. If you get all five dragons on the reels at one time, you'll get back 200 times your bet.
The minimum and maximum wagers on this slot are relatively low at just £.10 and £10 respectively. So, the game should certainly appeal to the more conservative gamblers who don't want to risk a whole lot of their cash on each spin.
You can get free spins in lots of either 6, 10, or 15, and you'll also get a nice bonus if you happen to land a special symbol on that sixth reel when there's a dragon present on one of the other reels. The big one to watch out for is the red dragon. If he stops on the screen you'll automatically get anywhere from four times up to 400 times your bet as a prize.  Even if you don't see him though, you'll still get a very good RTP rate of 95.20%.
Play these slots at the Best International Casinos
You can find this slot at global gambling sites including USA online casinos and also Aussie casino brands.
4# BetSoft – Fa-Fa Twins Slot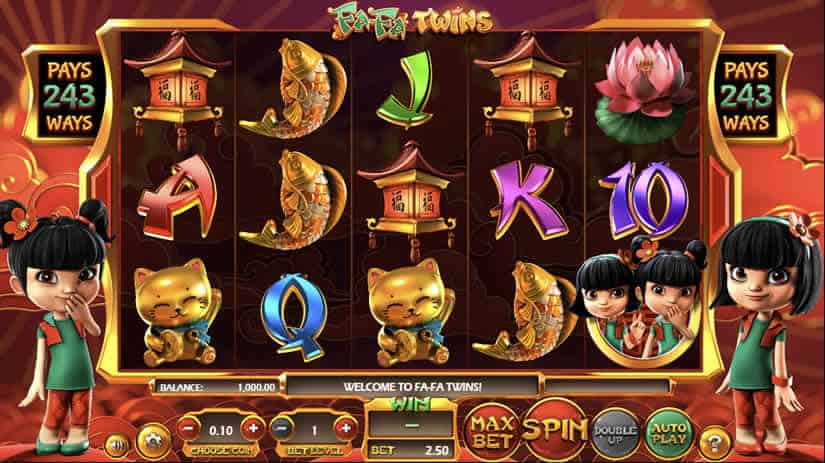 The second slot on our list from Betsoft is Fa Fa Twins. It's more comical and cute than classically Asian themed. The Fa Fa twins are two cute Asian girls who stand on both sides of the reels where you have 243 ways to win instead of standard pay lines. There are a wild symbol, five Asian styled symbols, and 6 symbols of Asian styled letters representing playing card values nine through ace.
There's also a double-up gamble game available where you can bet either 100% or 50% of your winnings on a 50% chance of doubling it up. Then, just to make things interesting. At the start of each spin, at least two reels will be duplicated and spin together. It's also possible that the duplicated reels will take over three, four, or even all five reels at the same time.
This one gives you a 95.29% RTP rate with a top win of up to 810,000 if you're playing the maximum bet.
5# Play'n Go – Imperial Opera Slot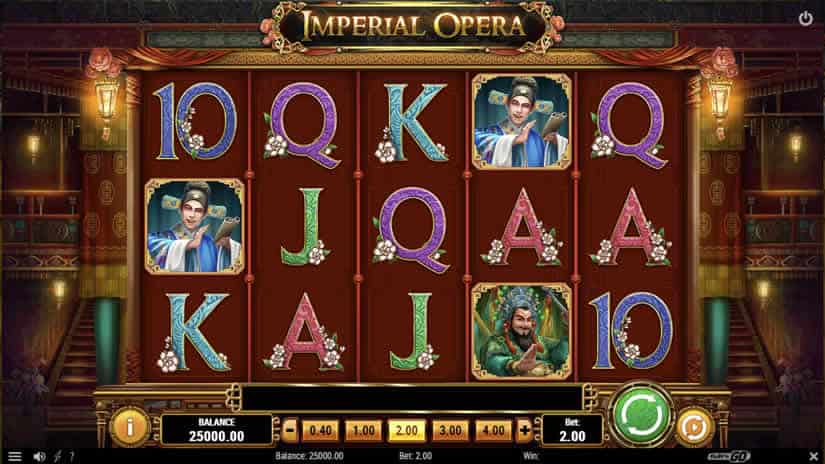 The Imperial Opera slot from Play'n Go is another more classically designed Asian themed slot. It's a standard five-reel, three-row slot played on 20 fixed play lines with many symbols designed around the intricately dressed characters that one would find at a Chinese Opera.
The atmosphere set by the audiovisual design is perfect and the game itself plays extremely well. There is great attention to detail in both the game and the gameplay. If you're a fan of Asian themed games, you'll definitely have a nice relaxing slot session on this one.
There are several nice bonus features that can help make some big bounces in your bankroll as you play. First, at random, two or three adjacent reels will connect and spin together with identical symbols. Then it's also possible that one or two reels of the game will be filled completely with wild symbols. One symbol (except for scatter) will also be chosen to be added as a stack to all reels on each spin. There are also, megasymbols. Sometimes the symbols will show up as one large three by three symbol that can really bring in a big win.
The free spins symbol will only show up when you have three linked reels spinning together and the free spins symbol shows up as a mega symbol. Also, during free spins, the three linked reels will remain linked and it's possible to retrigger free spins and well as land other mega symbols.
This is a very high volatility game with a 96% RTP. You can get in on the action for as little as £.20 or take it up to the maximum of £100 per spin.
Play the Imperial Opera Slot at Top Rated Play'N Go Casinos
6# Yggdrasil – Double Dragons Slot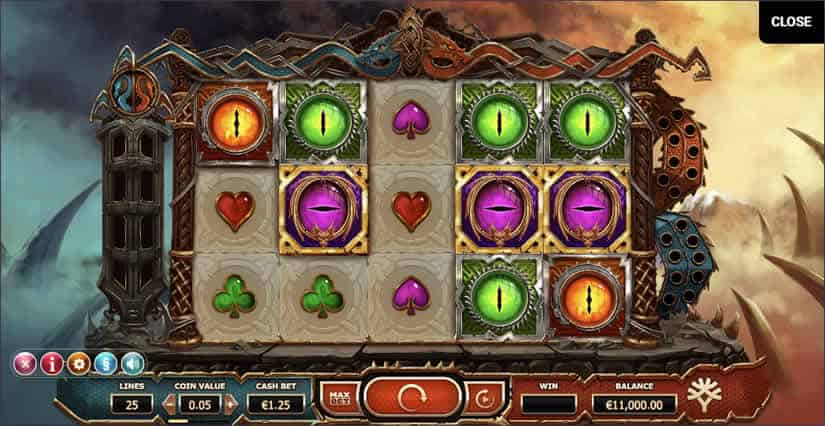 This is not what you might call a classic Asian themed slot, but coming from Yggdrasil, you know it's going to be good. It's based on two dragons, one of fire, ane one of ice, both of which resemble the classic Chinese dragons of the Asian myths and legends.
The game is a five-reel, three-row slot that plays on 25 fixed pay lines with an excellent audiovisual appeal, as you might imagine. The symbols are based on the dragons themselves, their mystical eyes, and the playing card suits. Each win will make the winning symbols disappear, and new symbols will fall in from the top giving the chance for more wins.
You can collect four "fall down" wins to enter double dragon mode, or collect 8 single dragon heads to get to free spins mode. Either red dragon heads will take you to fire free spins and eight blue dragon heads will give you the ice free spins. During free spin, it only take two drop-down wins to get double dragon mode as well. In Double dragon mode, you'll get two high-stacks of sild symbols on the reels that can be anywhere from 7 to 27 symbols long.
When the red dragon head lands by himself he'll convert either 2 or 3 symbols into wild symbols. When the blue dragon head lands alone, He'll add a two times multiplier to any drop down wins that occur.
You can get in on this game for a minimum of £.25 and a maximum of £125 per spin. The game is rated 47 on Yggdrasil's volatility scale, which is fairly low, and it has a very nice RTP rate of 96%.
Play the Double Dragons Asian Themed Slot Here
7# Yggdrasil – Legend Of The White Snake Lady Slot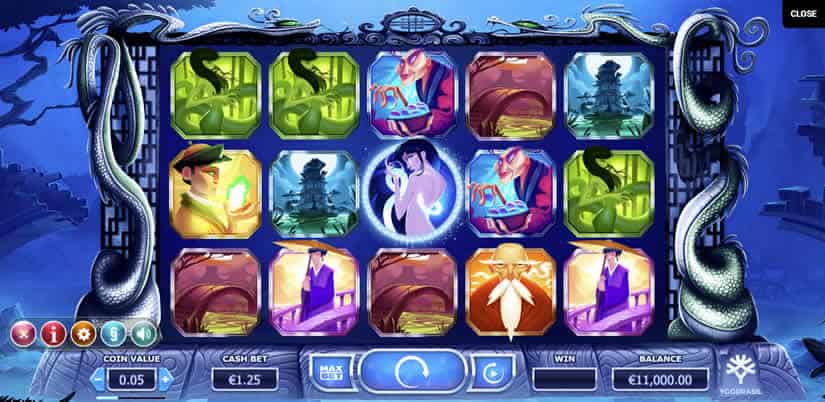 The Legend Of The White Snake Lady is a more or less classically designed Asian theme. It doesn't have all the flash and animation that you might expect from a Yggdrasil game, but it is absolutely filled with their attention to design and beauty. From the tranquil background music to the elegant symbols on the reels, this one is sure be added to the list of any slot enthusiast that really likes games with Asian themes.
It's a five-reel, three-row slot that plays with the "ways to win" system paying both ways. That means you can win by simply landing the same symbol on three consecutive reels starting from the left or the right. It's also full of refreshingly 100% original symbols. You won't see a single playing card value or suit here. Everything is original and gorgeous.
There are seven regular symbols plus the Legendary White Snake Lady and a wild symbol. You'll get paid nicely for just three of the Snaked Lady, but if you can manage to hit one of her on every reel without a wild in there, you'll get an astounding 25,000 coins.
This is probably one of Yggdrasil's least known games, so if you haven't seen it, you really should check it out. They rate it at a volatility of 93 and the RTP rate is a respectable 96.1%.
Play the Legend of the White Snake Lady Slot Here
8# Microgaming – Lucky Little Gods Slots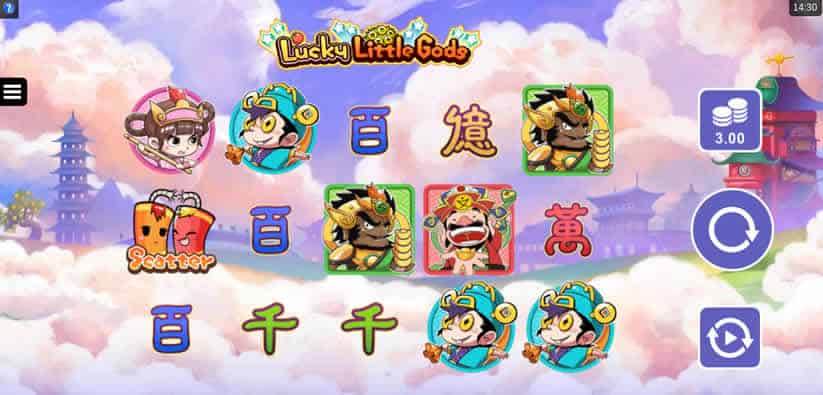 Lucky Little Gods is another Asian themes slot that doesn't take itself too seriously. It's a five-reel, three-row slot that follows the 243 ways to win payout table. The reels are filled with cartoonishly drawn Chinese Gods, Chinese language characters, three different scatter symbols, and the Lucky Little Gods logo, which also serves as the game's wild symbol.
There are plenty of bonus features to keep the gaming action going and you're sure to have some fun with this one. The wagering limits are also very accessible. the coin value can be set between €.30 and €30.00 and you can play from one to ten coins on each spin. This gives us a minimum and maximum bet of €.30 and €300.00 respectively. It's also possible to win up to £130,000.00. Which isn't too bad if you ask me.
With three separate bonuses available, there's always something waiting just around the corner to help bounce your bankroll just a little bit higher. Will you trigger the Golden Tree Scatter bonus, Treasure Pot Scatter bonus, the Little Gods Bonus, or the free spins feature.
You can get it on this slot for as little as £.30 or play up to £ 300 if that's your thing. The RTP Rate on this one is 96.75%.
Play Lucky Little Gods at the Best Microgaming Casinos
9# Microgaming – Fortune Girl Slot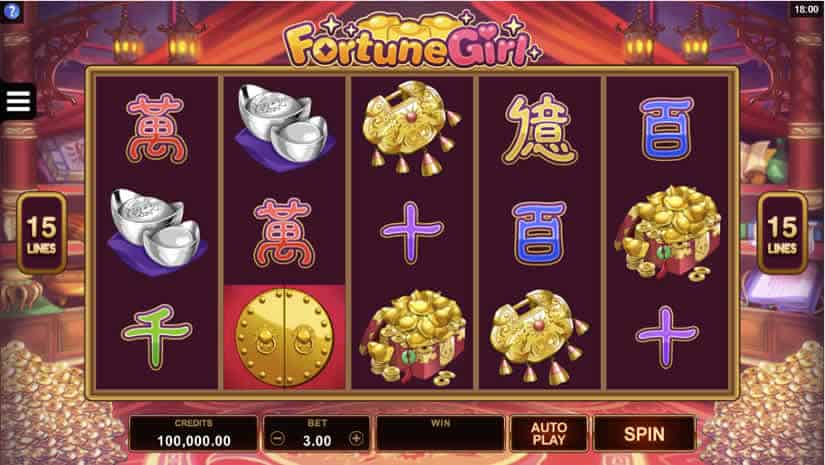 The Fortune Girl slot from Microgaming is another not-so-serious Asian themed slot, but there's some great gameplay buried in this one. Every spin comes with a bit of mystery as mystery symbols land on every spin and don't reveal what they are until everything stops.
It's a five-reel, three-row classic slot with 15 fixed pay lines. The mystery symbol can become any symbol except for wild in the base game and then wilds are included in the selection when they come down in free spins.
All together you have 10 regular symbols plus the wild and scatter symbols. You'll get a very generous 14 free spins if you land three scatter symbols and if you manage to land some more during the feature you'll be awarded extra spins.
It doesn't sound there's a whole lot to this game, but it's a load of fun once you start playing. The volatility on this slot is fairly low, which keeps the action moving along. You can play for as little as £.15 or go all the way up to £15.00 on the top end. You'll also get a nice RTP rate of 95.86%.
Play the Fortune Girl Asian Slot Machine at the Best Casino
So there you have it, dear readers! There's our list of the best Asian slot out there to be looking for at your favourite casinos. If you have any trouble finding any of them where you normally play (or you don't have a place to play), just check out our list of friendly casinos and we'll be happy to direct you to some places where you can get some games going and have some fun!
You can also check my favourites of:
and my monthly reviews for more info about the best slots at the moment.-
Cheers and good luck!