Looking for the perfect Mexican themed slot? Check out our latest article!
Over the years we've seen loads of different themes on video slot machines. From wild and whacky to beautiful and romantic and everything in between. Some themes have come and gone almost without being noticed, and some come back now and again to remind us that they're still out there. The best ones though, never go out of style. We see the idea time and time again, each incarnation done with a different twist to make it unique.
There are a handful of video slot themes that would fit that description. A few special ones that have been done by every major game designer at least two or three times. They are the crowd favourites that players just expect to see as they look through lists of the online games they want to play.
One of the most often repeated and redone slot themes is the Mexican theme. With the country's rich culture and the people's long history, there is an almost endless number of variations that can be created from the one simple and basic concept. Even so, among all of the different possibilities, there are still a few shining stars that stand out among the rest when it comes to Mexican themed online slots — and we're going to show you which ones they are. Read on below to see the top (in no particular order) Mexican themed online slot machines that you should be looking for at your favourite online casino.
You can also check our articles about the best superhero online slots and ninja themed slots previously published.
1# Microgaming – Lucha Legends Slot
At the time of writing, Lucha Legends is Microgaming's most recent Mexican themed slot. It's a fun and entertaining theme based on the time-honoured tradition of professional wrestling in Mexico known as Lucha Libre. Several different versions of the famed masked warriors of this eccentric sport are represented on the reels. Each will even jump in occasionally, performing their own signature move and adding wilds and multipliers to your final results.
Lucha Legends is a five-reel, three-row slot with 25 fixed pay lines. In addition to regular wins, there is a power-up mode that can you can turn on by doubling your bet which will boost the number of possible wilds and the multiplier values that are granted when the valiant luchadors perform their special moves. This slot offers a 96.37% return to player (RTP) rate and a maximum possible payout of £165,000 on just one spin.
Top 3 Microgaming Casinos to Play at 
2# Play'n Go – Aztec Warrior Princess Slot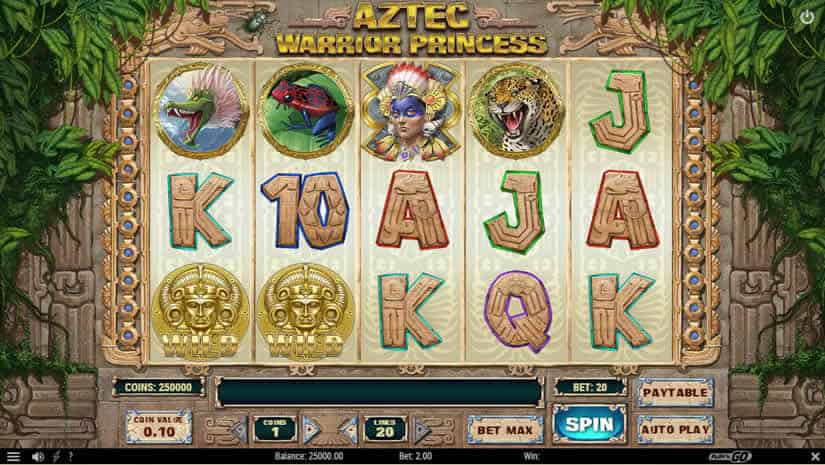 The idea behind the Aztec Warrior Princess slot should be pretty obvious. This one is based on the ancient Aztecs that once inhabited the central American area that eventually became Mexico. Highly detailed symbols on the reels include, of course, the Aztec warrior princess, and several different wild jungle animals. Even the background on this slot has some incredible details, with small insects scurrying past every now and again and leaves on the jungle trees blowing in the wind.
Aztec Warrior Princess is a five-reel, three-row slot that allows you to play anywhere from one to 20 pay lines. This one includes free spins, wild symbols, and an interactive bonus feature that pays off big if you can uncover three of the same symbol. This slot comes with a 96% RTP rate and a very impressive maximum payout of 1,065,750 coins.
Top 3 Play'N Go Casinos to Play at 
3# BetSoft – Chillipop Slot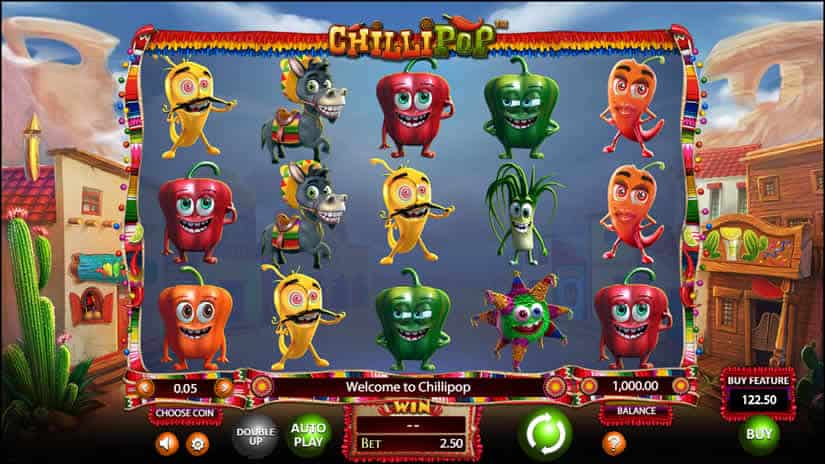 The Chillipop slot from BetSoft is based on the famously spicy Mexican food. The cartoon styled theme on this slot is fun and colourful with several different types of fruits and vegetables gracing the reels, each with wild eyes and crazy smiles. There are plenty of unique features and chances at great payouts when you hit the right combinations.
Chillipop is a five-reel, three-row slot that pays based on symbol clusters. It also uses exploding symbols. With every win, winning symbols will be removed from the board and replaced with new ones, creating chances for multiple wins that can really add up quickly. In addition to big win multipliers, there are also wild symbols and the chance to get up to 26 free spins at a time. Chillipop has a maximum payout of £103,363 and an RTP rate of 95.38%.
Top 3 Betsoft Casinos to Play at 
4# Pragmatic Play – Aztec Gems Slot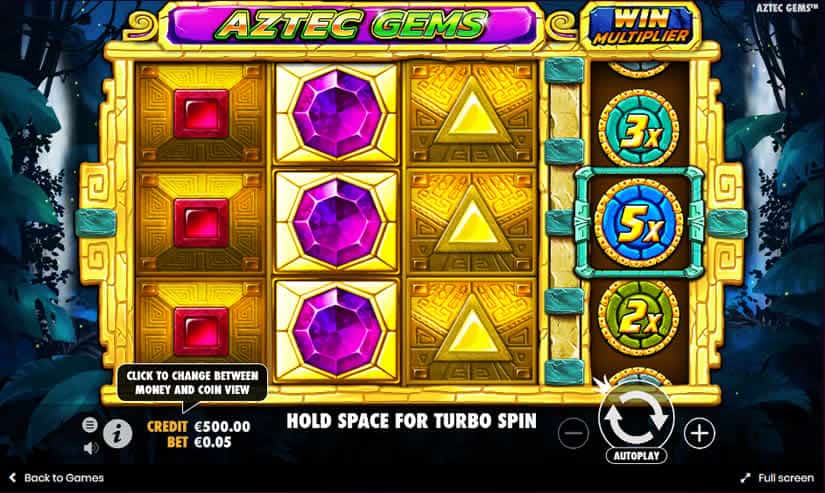 The Aztec Gems slot is, of course, also based on the Aztec society, but this one focuses more on the treasures that were found in the ruins they left behind. Seven different types of gemstones will spin by on the reels, set against a dark jungle background. This slot has a very simple design that plays fast and straight with chances for big wins.
Aztec gems is a three-reel, three-row slot with just five pay lines. To make things interesting though, there is a fourth reel that will determine a random win multiplier on every spin. With each spin, you have a chance of winning up to 15 times the initial payout. This is a low-medium volatility slot with an RTP rate of 96.52%.
Top 3 Pragmatic Play Casinos to Play at 
5# Just For The Win – Amazing Aztecs Slot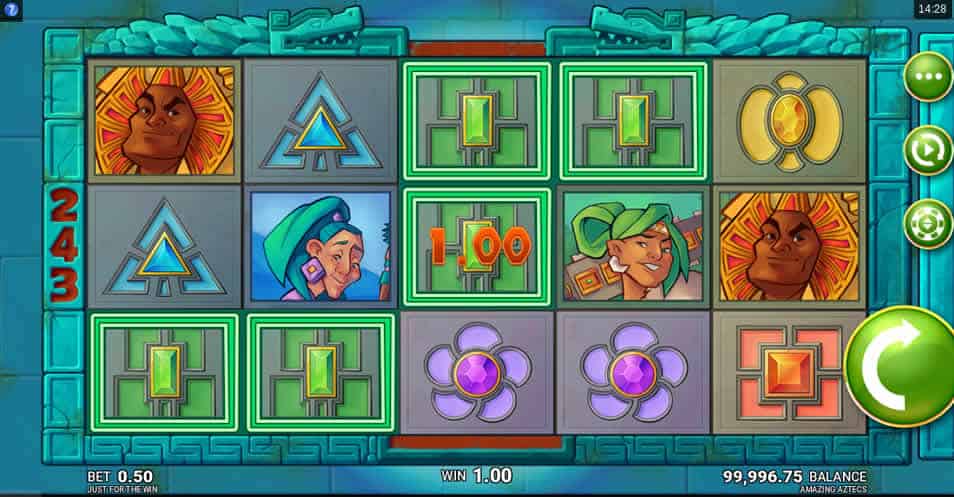 The Amazing Aztecs slot was designed by Just For The Win and released through Microgaming. This slot uses cartoon style symbols drawn with soft pastel colours that make the overall design pleasing to the eye as well as easy to see on both small and large screens. This is another Mexican themed slot that isn't too complicated but still provides great action for players with various gambling styles.
This slot runs on five reels and three rows and uses the 243 ways to win payout system. It has a unique bonus system where if one of your winning symbols is randomly selected at the end of a winning spin, you'll get an additional spin with giant 2×2 and 3×3 symbols possibly matching up with the initial win to create grand payouts. The maximum win for this slot is not published in the pay table, but there is a very good 96.03% RTP rate.
Top 3 JFTW Casinos to Play at 
6# Pragmatic Play – Chilli Heat Slot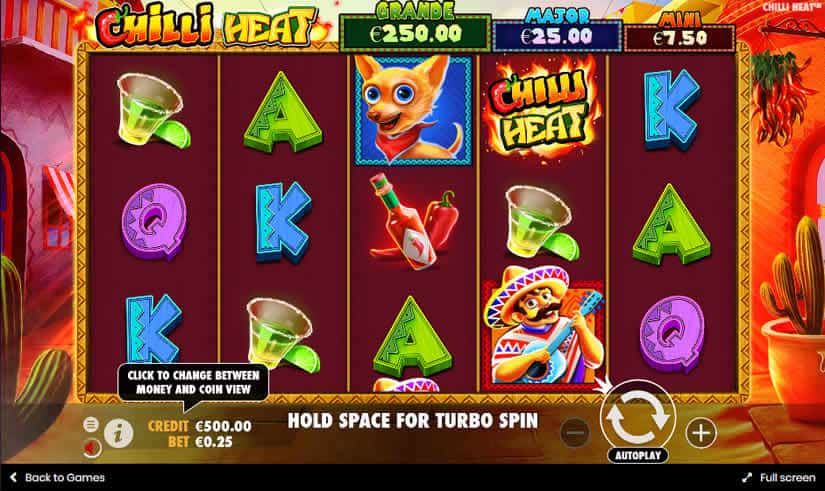 The Chilli Heat slot is a more generally designed Mexican themed slot. Although the name would suggest food, you'll find symbols like the tiny well-known Mexican dogs, Chihuahuas, shots of Tequila, spicy hot sauce, the hot Central American sun and more. The overall design of the game is done in an entertaining cartoon style with big, bright symbols that show up especially well on small mobile screens.
Chilli Heat plays on five reels and three rows with 25 fixed pay lines. There are bonus features that can generate large payouts including free spins that can be retriggered with no limit. In addition to regular wins and special bonuses, there are also three different jackpots that you can hit at any time. You can play for as little as £.25 and as much as £125 with a built-in RTP rate of 96.5%.
Top 3 Pragmatic Play Casinos to Play at 
7# Play'n Go – Aztec Idols Slot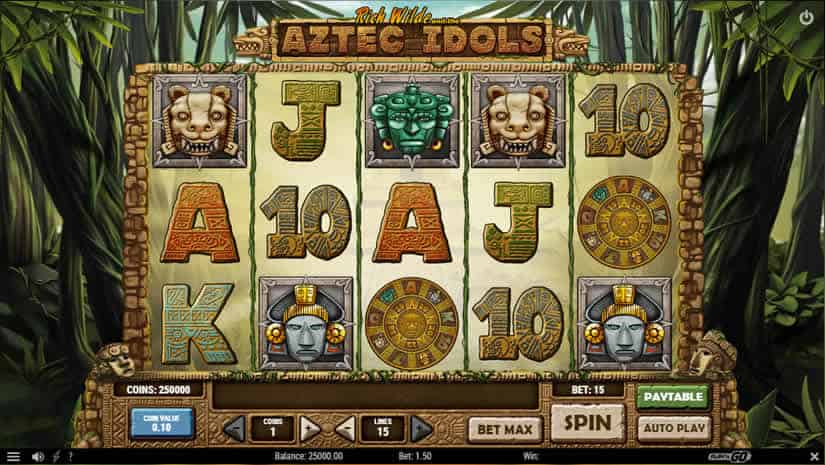 On the Aztec Idols slot, you'll follow Richard Wilde as he explores the jungles of Central and South America in search of the treasures hidden within the long lost Aztec Idols. Large, easy to read symbols on the reels are made up of three-dimensional, animated representations of several Aztec symbols and one of Mr Richard Wilde himself who acts as the wild symbol for the game.
You'll be playing on five reels with three rows across anywhere from one to 15 pay lines. There are opportunities for large payouts with the chance to win up to 10,000 coins on a single spin. In addition to wild symbols and free spins, there is also an interactive bonus feature and the chance to gamble your payout after winning spins to multiply it by up to four times. This is a high volatility slot with a 96.65% RTP rate.
Top 3 Play'N Go Casinos to Play at 
8# Quickfire – Pistoleras Slot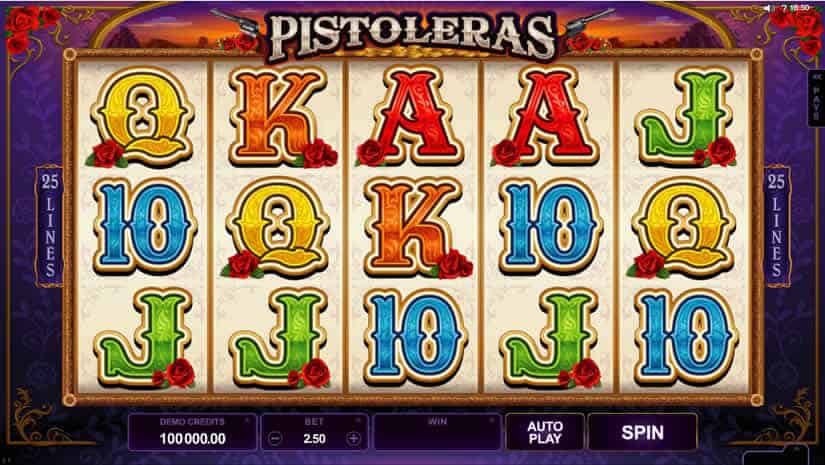 The Pistoleras slot was developed by Quickfire and released through the Microgaming platform. This is an older release that will require Flash, meaning that you'll need to be on a laptop or desktop computer to play. The game is worth the trouble, though. The lovely Mexican ladies and their guns that appear on the reels can reward you quite handsomely.
This is another five-reel, three-row slot. You can win on any of the 25 fixed pay lines by matching at least three symbols. There are very generous payouts to be won as well as good bonus features. Wild symbols will triple any win they are a part of. You'll get 15 free spins for hitting three scatter symbols anywhere on the reels and the interactive Saloon Bonus Game will add a nice amount to your bankroll if you choose the right hidden symbols.
Top 3 Microgaming / Quickfire Casinos to Play at 
9# BetSoft – Rook's Revenge Slot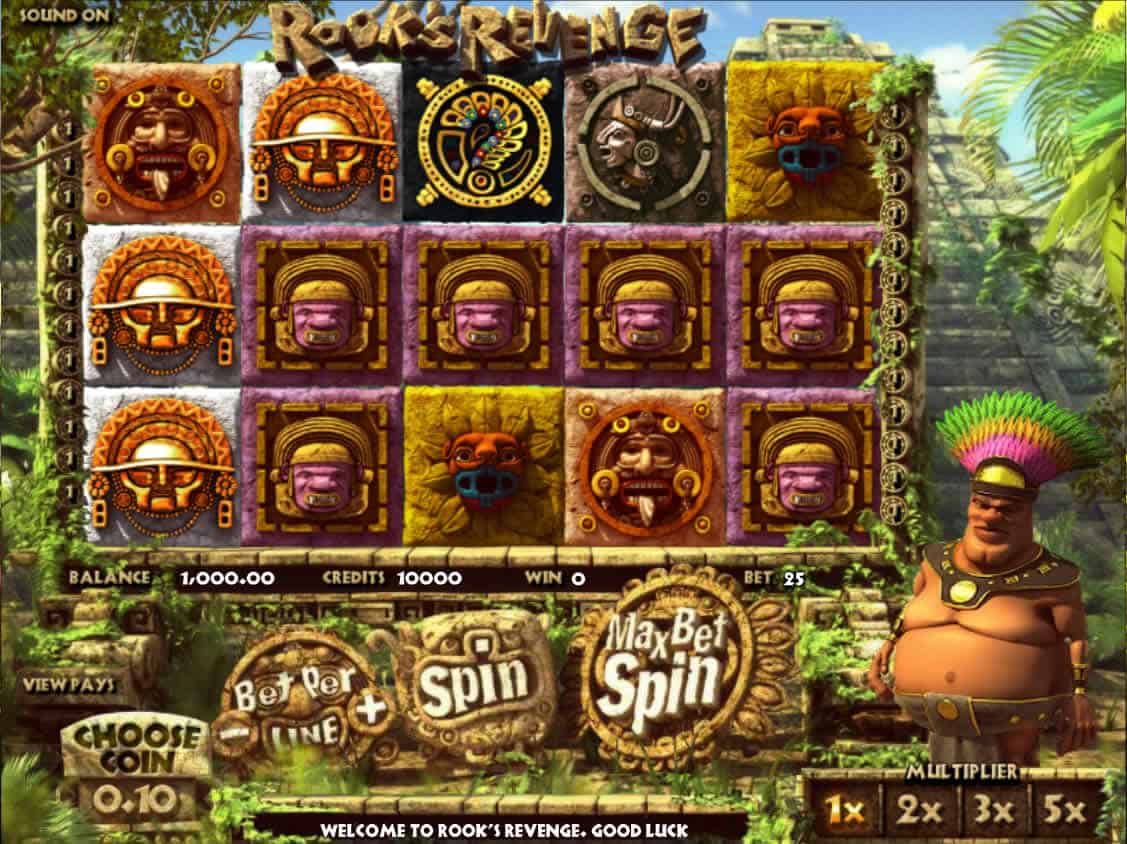 The Rook's Revenge slot from BetSoft is another that explores the concept of the ancient Aztec ruins and the treasures they must surely hold. This is also another slot that will require you to be on a laptop or desktop computer with a browser that supports Flash. And again, it's completely worth any trouble to get into the game. You'll find brilliantly animated three-dimensional graphics that will most certainly amuse you.
Rook's Revenge is a five-reel, three-row slot that pays out on 25 fixed bet lines. There are wild symbols and free spins to help boost your bankroll during play, but that's not all. This slot also includes an exploding symbol function that removes any winning symbols from the playfield and replaces them with new ones. The best part is that when this happens, a win multiplier is added for any resulting win and the multiplier increases for each consecutive explosion. And just to make things a little hotter, the win multipliers double during free spins. It's possible to win a mind-blowing 2,330,000 credits on this video slot!
Top 3 Betsoft Casinos to Play at