On this Rival Casinos Page You Will Find
The best Rival casinos, Rival casino bonus list, Rival gaming bonus codes & Rival no deposit bonus casinos.
Rival Gaming casino software information.
Rival casino slot rtp database & slot reviews.
The Best Rival Casino List
Rival Gaming Slots RTP & Reviews
Please note that Rival do not readily release their RTP data as such, the below information has been gathered from a number of sources so cannot be guaranteed to be 100% accurate. We have urged on the side of caution with the data.
i-Slots (Interactive Slots)
| | |
| --- | --- |
| i-Slot | RTP |
| A Switch in Time | 94.80% |
| As the Reels Turn – Blinded by Love | 95.00% |
| As the Reels Turn – The Gamble | 97.00% |
| As the Reels Turn – With Friends Like You | 96.00% |
| Baby Boomers – Cash Cruise | 95.00% |
| Bowled Over | 95.00% |
| Cosmic Quest – Mission Control | 95% |
| Cosmic Quest – Mystery Planets | 98.95% |
| Fixer-Upper | 95% |
| Heavyweight Gold | 94.00% |
| Hole in Won | 94.60% |
| Hole in Won – The Back Nine | 94.60% |
| Japan-O-Rama | 95.00% |
| Midway Madness | 92.40% |
| Panda Party | 94.80% |
| Psychedelic Sixties | 95% |
| Reel Crime – Art Heist | 96.00% |
| Reel Crime – Bank Heist | 96.00% |
| Rock On! | 98% |
| Sherwood Forest Fortune | 92.30% |
| Spy Game | 95.10% |
| Wild Safari | 92.80% |
Rival Slots
| | |
| --- | --- |
| Slot | RTP |
| A Day at the Derby | 39.50% |
| Alien Spinvasion | 95.98% |
| All Aboard | 94.10% |
| Almighty Dollar | 94.35% |
| Astral Luck | 93.50% |
| Arabian Tales | 95.00% |
| Atomic Age | 96.00% |
| Aussie Rules | 93.30% |
| Baqretta Vendetta | 95.00% |
| Best of Luck | 95.00% |
| Big Bang Buckaroo | NA |
| Big Cash Win | 95.70% |
| Blazin Buffalo | 95.10% |
| Bust-A-Vault | 97.45% |
| Candy Cottage | 93.70% |
| Chicken Little | 95.30% |
| Cleopatra's Coins | 94.80% |
| Coins of Olympus | 92.50% |
| Costume Party | 94.50% |
| Crazy Camel Cash | 95.00% |
| Crazy Jewellery | 95.00% |
| Cream of the Crop | 94.50% |
| Diamonds Downunder | 94.80% |
| Diamonds Dragon | 94.80% |
| Diamond Temple | 96.00% |
| Diggin' Deep | 92.40% |
| Dog Casher | 95.00% |
| Dog Pound Dollars | 95.40% |
| Doo-Wop Daddy-O | 97.89% |
| Dr Acula | NA |
| Dr Magoo | 97.00% |
| Eggstravaganza | 89.50% |
| Fantastic Fruit | 94.80% |
| Fantasy Fortune | 93.60% |
| Fast Lane | 93.20% |
| Firestorm 7 | 94% |
| Five Reel Bingo | 92.10% |
| Five Reel Circus | 95.60% |
| Flea Market | 95.80% |
| Flying Colors | 95% |
| For Love & Money | 95.60% |
| Future Fortunes | 94.80% |
| Fortune of the Pharaohs | 96.00% |
| French Cuisine | 95.00% |
| Funky Chicken | 95.00% |
| Global Cup Soccer | 93.20% |
| Gnome Sweet Home | 95.40% |
| Gobblers Gold | 94.60% |
| Gold Rush | 97.46% |
| Goldenman | 96% |
| Golden Gorilla | 94.20% |
| Grandma's Attic | 96.60% |
| Gushers Gold | 92.10% |
| Heroes' Realm | 94.00% |
| Hobo's Hoard | 95.70% |
| Hot Hand | 94.78% |
| Ice Picks | 88.40% |
| Jack Frost | 94.26% |
| Jacques Pot – Gourmet Slot | 94.50% |
| Jenny Nevada and the Diamond Temple | 96% |
| Jolly Roger's Jackpot | 94.60% |
| King Kashalot | NA |
| Leonardos Loot | 94.60% |
| Lions Roar | 95.00% |
| Loco 7's | 95.20% |
| Lost Secret of Atlantis | 94.60% |
| Love & Money | 96.00% |
| Major Moolah | 95.00% |
| McMurphy | 97% |
| Metal Detector | 95% |
| Mighty Aphrodite | 94.31% |
| Milk the Cash Cow | 94.00% |
| Money Magic | 91.10% |
| Moonlight Mystery | 93.70% |
| Moonshiner's Moolah | 94.00% |
| Mystic Wolf | 94.60% |
| Nuclear Fishin' | 92.60% |
| Ocean Treasure | 96.00% |
| One Million Reels BC | 90.60% |
| Opera Night | 91.00% |
| Party Parrot | 93.74% |
| Pigskin Payout | 95.00% |
| Plunk-Oh | NA |
| Pub Crawlers | 90.40% |
| Reel of Fortune | 96.20% |
| Reel Party | 94.00% |
| Reel Party Platinum | 96% |
| Roll out the Barrels | 92.80% |
| Scary Rich | 92.50% |
| Scary Rich 2 | 96.30% |
| Scary Rich 3 | 93.80% |
| Secret Garden | 95.80% |
| Sevens and Bars | 93.20% |
| Shamrock Isle | 95% |
| Shangri-la | 95.00% |
| Silver Unicorn | 94.80% |
| Smoking Gun | 94.93% |
| So 80's | 94.50% |
| Snow Wonder | 95.00% |
| Spartan Warrior | 95.50% |
| Strike Gold | 94.30% |
| Summer Ease | 93.70% |
| Surf Paradise | 94.50% |
| Swinging Sweethearts | 94.80% |
| Tahiti Time | 93.50% |
| The Atomic Age | 94.80% |
| Travel Bug | 96% |
| Tycoon Towers | 95.00% |
| Vintage Vegas | 94.60% |
| Wacky Wedding | 95.00% |
| Watch the Birdies | 96.30% |
| Western Wildness | 94.50% |
| Whale O' Winnings | 95.00% |
| Wheel of Cash | 96.30% |
| Wild Carnival | 95.00% |
| Win Mill | 94.00% |
| Winter Wonders | 95.20% |
| Wishing Cup | 94.70% |
| World Of Oz | 94.30% |
| Zombiezee Money | 94.70% |
About Rival Casino Slots
Rival is a casino software producer that has had an extremely turbulent history since the company began its journey in 2006.
After an excellent start, including the first story driven slot games that included unlocking parts of social content by simply playing the game, as well as launching other successful games and providing several casinos with everything from games to support and payment processing Rival soon learned that these services and the success did not come without backlashes and risk.
Issues with Rogue Casinos
One of these issues was rogue casinos, other partner casinos simply failed due to poor management. The main problem was that whereas other software providers tended to rent their games Rival was more financially tied to their partner casinos, and as such sustained losses as well as massive PR issues from failing and rogue casinos. The major issues came with terms and conditions that some rival casinos used to confiscate winnings from players. Now, this is a common issue with online casinos and partly with players who don't read the terms and conditions, but with certain casinos that used Rival's platform it was outright stealing.
New Management, New Challenges
Rival eventually got things under control and the new management turned the company around and into a new direction. This was all back and up to 2010, and the company has come a long way since. Unfortunately for them, they were hardly hit by the US ban of online gambling, which limited their otherwise fantastic early growth. Today there are many Rival casinos, the company has partner casinos and also offers their games to independent casinos as a gaming platform. They have for the most part recovered their tattered reputation, and are now having their second wind. The company currently has 230 slots with new ones published every month, on top of this the studio produces exclusive games on any casino that so wishes.
Like most other companies Rival produces not only slots, but also video poker and table games, progressive jackpots, and their own I-slots series, as well as dabbling in scratch cards. They've recently also moved into mobile casino gaming like so many other companies, and have several dozen slots optimized to this end. Though one can see their past as somewhat tarnished it can also be viewed as a lesson learned.
Bonuses and Freespins in Rival Casino Slots
As Rival Powered operates several casinos that offer only their games all promotions and deposit bonuses naturally apply to their slots. We have listed several casinos, which we have thoroughly vetted to make sure that no remnants of rogue casinos make to the list, that offer Rival casino games as part or as the whole of their selection of games.
Like most other companies the table games as well as video poker is off the lists, or come with reduced wagering. This is not a bad thing as such as Rival really thrives in slots, with the other games being there for the sake of being there. They are not any worse off than the competition nor do they amaze or intrigue for any further play either.
One thing that Rival casinos excel at is with first deposit bonuses, and these tend to come with massive match bonuses as well as running into thousands in total sums. Whether this is done to entice high rollers or just to offer all players massive bonuses is not clear, and it doesn't really even matter given that the money is there for the taking. Just make sure that the casino is entirely legit and on our list before depositing, and you will be well off into the world of bonuses and freespins in any Rival casino.
Live chat & Legal issues
There are plenty of reasons why social gaming hasn't been fully implemented in every casino, and most of these have to do with jurisdiction and other legal matters as usual. Rival operates from Curacao, as do most casinos that function with their software.
This is most likely because Curacao allows US players, and has clear and effective laws when it comes to gambling. They also benefit from the minimal taxes, which in turn allow the casinos to run their extra sweet promotions and bonuses.
In certain other jurisdictions it would not be possible to even implement a live chat feature for casino lobby, as it would be seen to be in breach of gambling laws, or would cause issues with privacy. On the other hand such things can be counted as being simply too overprotective, as gambling should be a fun and social activity that does not just concentrate on rolling the reels in your lonesomeness.
If you want to know how your fellow players are doing, or to ask a game recommendation before diving head first into slots then you should consider playing at one of Rivals casinos to experience how this feature changes the whole experience. In any case it will be something new to experience.
I-Slots (Story based slots / Interactive slots)
The I-slot in turn was one of the first interactive and story driven games in online casinos. These days there are several major casinos that have based their entire operation on creating the same feeling on a larger scale. For more information check online casinos using gamification. If you're looking for games that have plenty of cut scenes and animations, missions, goals and changing gameplay, which is something you won't find from any other slot at the moment, then Rival is your game.
Summary
Rival Casino Powered is a software producer that still raises some questions. For the most part they have been answered, and even some of the rogue casinos have eventually ended up paying up the players. Half a decade has passed since their debacle and today this software producer is among the safe, secure and trustworthy producers again.
This doesn't mean that no rogue or bad casinos remain, but it does mean that Rival will take action immediately to solve any situations that arise. They offer excellent customer service and other solutions for casinos and gaming companies, with plenty of games and other interesting features for those of us who are into online casino gaming. The fact that they have managed to claw their way back into reputable casino business tells something of the dedication, experience and expertise the company has. It will only be a matter of time until they hit it big again, and until then some of their games remain completely unique in the field of online slots.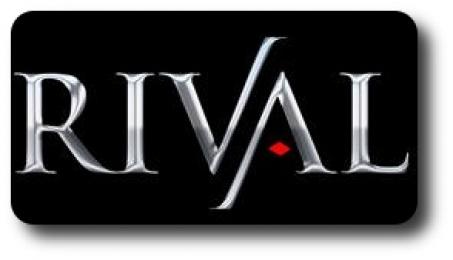 Interactive Slots (iSlots) from Rival Gaming
Rival Gaming's signature series of slot machine games are known as their i-Slots range. Whilst these games do make up a considerable number of the casino software provider's library of online slot machines, they are in no way the only types of slots you can find from Rival Gaming. If you don't know already, though, what are i-Slots and what can you expect when you sit down to spin the reels of one?
What are iSlots?
i-Slots are a genre of their own. Like many slot machine software developers might group their games into 3D slots, progressive jackpot slots, or other categories, Rival Gaming has reserved the brightest and best for their i-Slots genre. These are slot machine games which can often have a rather laid back, cartoon style, and often come with a host of interactive special features. This means bonus rounds, animated cut scenes and plenty of big money prizes.
Story based iSlots
The main draw with Rival iSlots is the whole story based element where the slot reels change depending on which level you are on and you actually have to complete each quest before moving on to the next, with the promise of a final challenge or final battle. This is something very special and something we would really like to see other slot developers implement in some of their slots.
Wagers, pay lines and cash prizes
Most of Rival Gaming's i-Slots can be played for relatively cheap stakes. These games also contain rather varying numbers of pay lines. You can expect anything from 9 pay lines up to 243 pay lines with the i-Slots series of slot machine games. Cash prizes tend to be non-progressive in nature, but there are certainly plenty of big prizes up for grabs with i-Slots. Pay lines, coin values and the number of coins you can stake per line generally tend to be very flexible in Rival's i-Slots range.
Popular themes
i-Slots tend to stay fairly generic in terms of theme, and that seems to work well for Rival Gaming slot fans. You can expect to find a host of themes available in the i-Slots range, which includes gangster and crime-themed slots, cartoon aliens, oil and money-themed slots, animal and historical-themed slots. A few nutty titles have also been released over the years, too, so there really is something for everyone, no matter what their preference of slot machine theme may be.
Where can I play iSlots?
There is certainly no shortage of places to play Rival Gaming's i-Slots. There are plenty of top casinos offering the full-on range and selection of i-Slots, which include 21 Dukes Casino, Cafe Casino, Desert Nights Casino, Irish Luck Casino, Malibu Casino, Slots Capital Casino, Supernova Casino, and Vegas2Web Casino. Other casinos also carry Rival Gaming's i-Slots, even if they are not directly powered by Rival Gaming, with some 40 casinos in all able to offer such games. In short, any casino which houses Rival Gaming slots should allow you to play i-Slots at their websites.
Leading iSlot machine games
Rival Gaming has developed a full library of i-Slot machine games, and if you want to play some of the better titles, there is a wealth of them to choose from. Some of those games which come highly recommended include A Switch in Time, As the Reels Turn series, Hole in Won, Midway Madness, Psychedelic Sixties, the Reel Crime series, Japan-O-Rama, Sherwood Forest, Wild Safari, Baby Boomers, Bowled Over, Heavyweight Hold, Panda Party and more.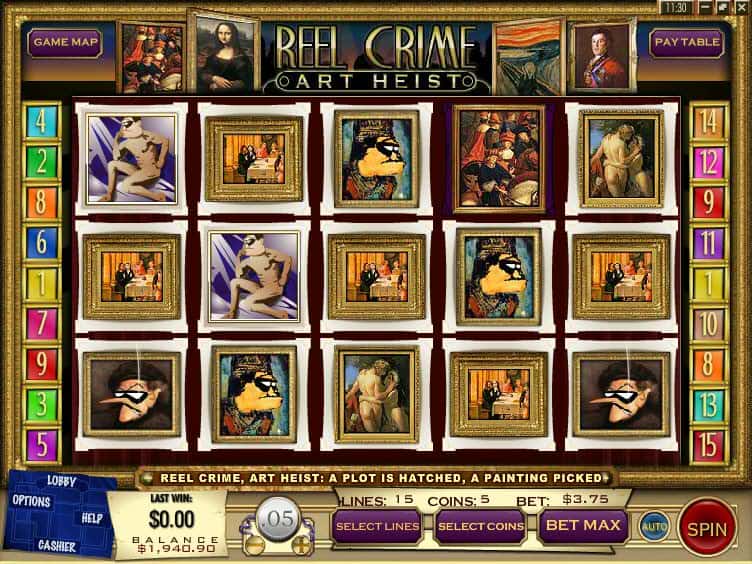 Reel Crime: Art Heist – Rival iSlot
Reel Crime: Art Heist (also known informally as Reel Crime 2) the second in the Reel Crime series from Rival Gaming. Like the other Reel Crime games, this one focuses on a robbery, this time related to paintings. Expect to find some rather comical renditions and takes on well-known paintings in this game, as well as a very basic and simplistic wagering structure. Reel Crime: Art Heist doesn't do anything its predecessor (or indeed sequel) don't have to offer, but that makes it no less enjoyable as one of Rival's most popular slots.
Betting
Players will find that Reel Crime: Art Heist is played over a 5-reel, 15-line gaming platform. Players can alter those pay lines, the value of their coins, as well as the number of coins they wish to stake per pay line. Expect to be able to play this simple slot machine for as little as 1p per line per spin, or as much as £75 a spin, if you've got cash to splash.
Prizes
The prizes in the Reel Crime: Art Heist slot machine are pretty modest when compared to other top slot machine games out there. Players can expect to be able to pocket a non-progressive prize is worth around 5,000 coins if they can line up 5 wild symbols on any active line. Failing that, players can win up to 1,000 coins with the Robin Hood Bonus, or 500 coins by landing 5 of the twin nude paintings on any active pay line.
Special Features
As we've said, there are wild symbols for you to take advantage of in this slot. Reel Crime: Art Heist's wild symbols take on the shape of a painter (known as The Forger). Not only can these symbols substitute for all others (barring scatter and bonus icons), and provide big cash prizes; wild symbols can also double the value of all winning combinations in which they appear.
Scatter icons appear as the game's title logo. Landing these symbols on the reels can see you trigger The Heist bonus feature.
As well as the main bonus feature, this slot also contains randomly triggered bonuses. These come in the form of mini-games in a Robin Hood Bonus and could see players pocket as many as 1,000 coins if they strike it lucky.
The Heist Bonus
The Heist Bonus is played over several rounds. The first stage is known as The Plan, and it can see players choose a painting to steal. The second stage is The Tools, and players can select the right tools for the job. In the third and fourth stages, players must escape from the cops, and find an art collector willing to snap up their stolen painting. In the final stage, they must avoid capture whilst selling the bonus. Players can pocket instant cash prizes for every stage they successfully navigate.
Final thoughts
Reel Crime: Art Heist is slightly more complex than its predecessor, but that has only spurned Rival Gaming players on to love it even more. You get good value for money prizes and features in this second slot in the Reel Crime series.
Sheriff Gaming & Blue Gem Gaming
There are a number of Sheriff Gaming slots in this list. Sheriff Gaming slots were previously featured by Rival casinos before the CEO of Sheriff Gaming was arrested in The Netherlands for fraud, money laundering and more. Sheriff Gaming slots were then "bought" by Blue Gem Gaming but that group was found to simply be a new front for Sheriff and was promptly shut down by the Dutch authorities. A real shame as there were some cracking slots and 3D slots. We hope to see the Sheriff software back under an honest and licensed group in the future.