If you like to play slot machines, be they in land-based casinos or online casinos, you're going to hear the word "volatility" eventually. Veteran players have most likely seen this term hundreds of times, especially if you frequent slot review sites. For new slot players, though, the term can be a bit confusing.
As with any form of gambling, the better you understand the game you're playing, the better you will do with managing your bets and your bankroll. Understanding volatility is an essential part of understanding slot machines. Learning to spot the differences between low and high volatility slots can help you plan your play better and enjoy the time you spend playing more.
Variance And Volatility
Slot machine volatility, also called variance, has to do with how a particular slot pays out its prizes. To understand slot variance and volatility, we'll first need to look at how general slot payouts are calculated and how these games make money for the casinos.
All slots have a certain theoretical return to player (RTP) rate. The RTP rate is the amount of the wagers made on that slot that will be paid back to players. Most modern online video slots, for example, have an RTP somewhere in the range of 93% to 98%. That means that over their lifetime, those slots will return up to 98% of the wagers back to players, keeping 2% for the house.
A slot with a 98% RTP, however, is not going to give you back precisely £98 for every £100 you wager. Theoretically, the more you play, the closer you will get to that 98% RTP, but at any given time you're more likely to be losing more than 2% or winning more than 98%. That is what we call variance. Variance is what makes the games exciting. Variance is what we most often refer to as luck when we gamble.
The thing about slot machines is that they are, for all intents and purposes, computer programs. As such, they can be programmed to provide higher or lower variance, or volatility. It's possible to play two slots with the same 97% RTP, but experience a significant difference in the volatility over the same number of spins.
Low Volatility Slots
Low volatility slots are characterised by a more consistent win rate, but lower overall payouts on those wins. That is, you will win more often, but when you do, you won't win much. This doesn't mean a player can't win large amounts on a low volatility slot, however. Many have very impressive top payout numbers.
These slots tend to have more bonus features than high volatility slots and utilise things like flashy graphics and animations to help hold attention and keep the player engaged.
We reviewed several low volatility slots, such as Jungle Books by Yggdrasil, Sam on the Beach or 1429 Uncharted Seas slot.
High Volatility Slots
High volatility slots are considered to be a higher risk. They offer larger payouts, but at the cost of less consistent wins. It's not unusual to make 30, 40, or 50 spins and have almost no winnings on a high volatility slot. When you do hit a win, though, it will usually be a significant amount that will even out your balance or even put you ahead.
These slots will usually have fewer bonus features, or the bonus features will trigger far less often than on a low volatility slot.
We also reviewed several high volatility slots, such as Mystery of LongWei, Legacy of Egypt and Vikings go Berzerk slot – between others.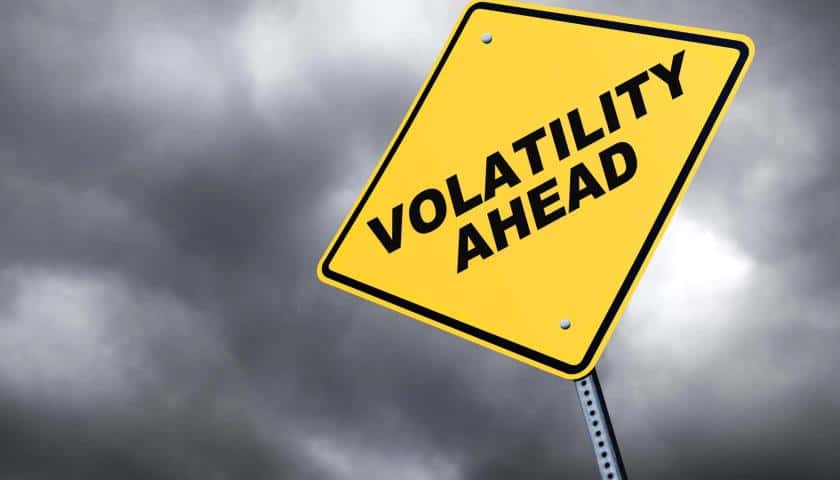 How To Determine Slot Machine Volatility
There are many slot machine developers make the RTP information for their games publicly available. There are only a few, however, that label their slots as low or high volatility. This leaves only one real option to figure out the volatility of any particular slot — you have to play it.
Once you've played on a few different slot machines, you'll be able to see the difference between low and high volatility slots pretty easily. If possible, of course, your best bet is going to be to play any slot that peaks your interest with play money first. Then you can see if it suits your play style without risking anything.
A secondary sign you can look for is the prizes listed on the pay table. The higher the payouts on regular wins (with no bonus features triggered), the higher the volatility is likely to be. It does, after all, make sense that a slot with high payouts is not going to pay them out all that often. If it did, the casino would surely lose money.
Which Type Of Slot Should I Play?
Most slot enthusiasts have their own personal preference for how much volatility, or variance, they are comfortable with. Some players don't mind being down £100 if they know there's a chance to win £500. Others will start to get nervous if their balance drops by £30, no matter how much they might be able to win.
Neither type of slot is really better than the other. The right choice mainly has to do with your own personality and your bankroll. With a smaller bankroll or a nervous disposition, you might be better off playing a low volatility slot. You'll be exposed to less risk and get more play time for your money. If you have the bankroll for it and don't mind some ups and downs, though, a high volatility slot can offer more excitement — and significantly boost your balance if you hit a big win.
The choice is yours, but now that you understand the differences between low and high volatility slots, you'll be able to make an informed choice. Hopefully, this will help you to make better decisions, place better bets, and have more fun at your favourite online casino.
Cheers and good luck!