Sometimes it seems like every theme that could possibly appear on a video slot machine has been done a hundred times in a hundred different ways. We've all seen Egyptian themes, horror themes, lucky leprechaun themes, and of course jewels and fruit symbols at our favourite online casino. You probably can't even count how many of each type you've come across as you've been looking for fun new slots to play.
One theme that is particularly hard to find on slot machines, however, is superheroes. Just about any superhero personality that you can think of probably has its roots in comic books. That means that any use of a superhero's name or image has to be licensed by the comic book publisher before it can be used. And that's why you don't see very many superhero slots.
The comic book companies (or other companies that own the rights) are extremely picky about who they will allow to use well-known superhero names and images. Popular characters make their creators lots of money and those creators know that anything that hurts the reputation of one of their heroes could mean disastrous consequences. The result is that online slot machines with superhero themes are extremely limited and they can be hard to find.
So, for all of you superhero fans out there that have been looking for online video slots that fit your fancy, we've compiled a list of 13 hot slots based on some of the most popular superheroes to ever come forth and use their special powers in the never-ending battle against evildoers everywhere. We'll start with some of the classics and work our way up to the most modern versions of both our favourite heroes and their namesake slots.
1# Batman & Catwoman Cash Slot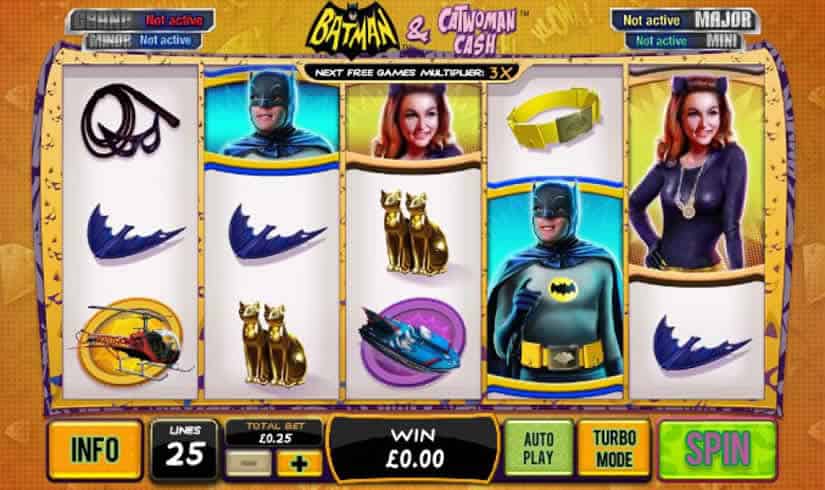 This Playtech slot is based on the campy Batman television series from the 1960's starring Adam West and Burt Ward. Not only do these classic superheroes — and, of course, Catwoman — appear on the reels, this slot features real scenes from the show. If you land the right symbols, you'll even see the classic "Batusi" dance, which became one of the most iconic scenes from the show.
Batman & Catwoman Cash is a five-reel, three-row slot with 25 fixed pay lines. You can play for as little as £.25 per spin or as much as £125. Bonus features include free spins which allow you to pick from hidden values to determine the number of spins and multipliers on winnings, instant pay symbols, and four(!) different jackpots to really put a bulge in the old pocketbook.
Where to Play? Best 3 Playtech Casinos
2# Batman & The Penguin Prize Slot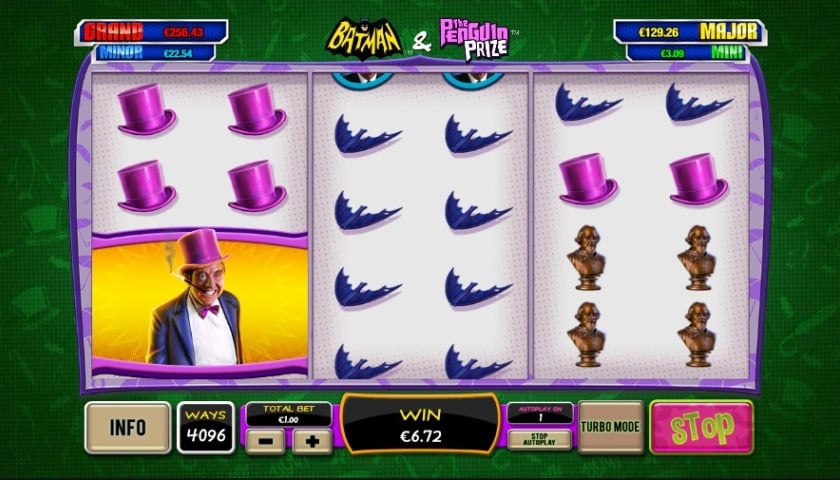 This is another fun super hero slot based on the classic Batman television series. Batman & The Penguin Prize slot, as you may have guessed, is all about the famous supervillian known as The Penguin. The Penguin, with his signature laugh, was one of the most popular villains to appear on the show and played by Burgess Meredith who went on to perhaps become best known for playing Mickey, Rocky's manager in the Rocky film series.
This slot uses two separate sets of three reels with four rows each. You'll begin playing on the left side of reels as a picture of the Penguin covers the reels on the right. The left reels use a 640 ways to win payout scheme that will trigger spins on the right set of reels whenever you score a win.
When a "Penguin Respin" occurs on the second set of reels, they will first spin with the same 64 ways to win payout system. If you win on the first spin, all six reels will combine for a second spin where large 2×2 symbols are added to the reels and there are 4096 ways to win. If you hit a winner on that second spin, you'll get one last spin on the six-reel, 4096 ways to win setup but with even bigger 3×3 stacked symbols added for even higher chances of making matches.
If you really like these slots themed around the old Batman television series, there were several more made as well, each with its own unique features and characters. Look for Batman & The Joker Jewels, Batman & The Batgirl Bonanza, Batman & Mr Freeze Fortune and Batman & The Riddler Riches. All of them contain great pictures and clips from the show.
3# Wonder Woman Gold Slot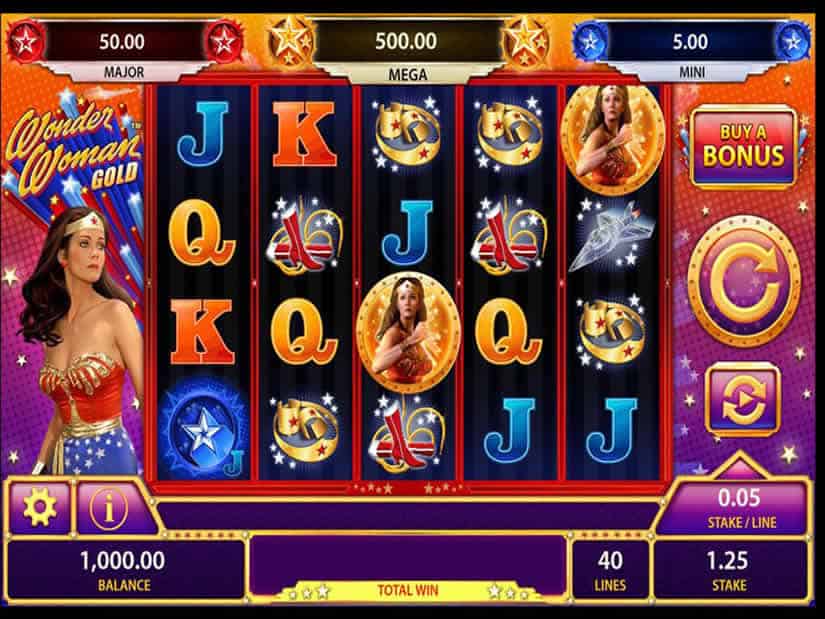 Lynda Carter inspired girls and stole the hearts of boys all over the world when she brought Wonder Woman to life in the late 1970's television series. If you were a fan of the show you'll love this slot from Bally. It features Ms Carter in her full Wonder Woman costume as well as with the look of her alter ego, Diana. You'll also spot some other characters from the much-loved show as you spin the reels.
The Wonder Woman Gold slot is a five-reel, four-row game that plays on 40 fixed pay lines. The minimum bet on this one is £.25 and the maximum goes up to £200. There are several bonus features to keep the action moving including expanding wilds, free spins, mystery stacked symbols on the base game reels, and three different jackpots to hit. You can choose your own free spin bonus feature with up to 25 free spins and even buy directly into free spins for instant thrills.
4# Superman: The Movie Slot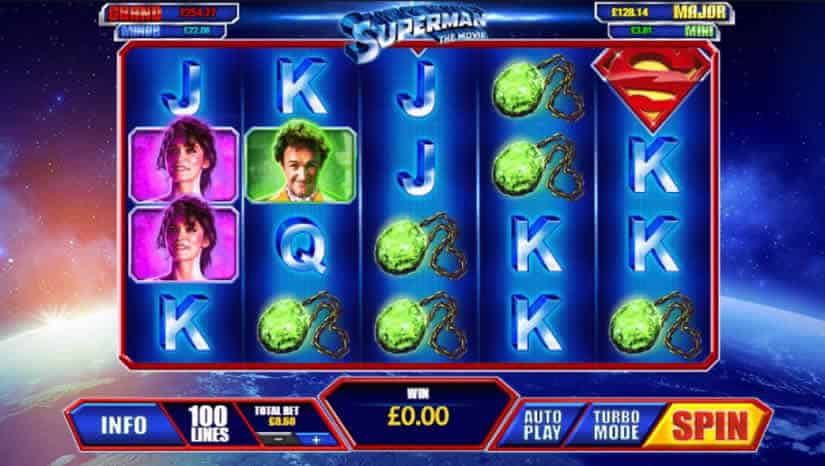 The Superman: The Movie slot is based on the 1978 film which starred Christopher Reeve as the man of steel. You'll see plenty of familiar items and faces from the movie going by on the reels. Characters in the game include Lois Lane, Clark Kent, Lex Luthor, and, of course, Superman himself.
This is a five-reel, four-row slot that pays for winning combinations on a whopping 100 lines. There are also plenty of bonus features to help keep the wins coming. In addition to wild symbols, there are free spins which can retrigger and an interactive bonus game that can really help fill your pockets. As if that wasn't enough, there are also four big jackpots waiting to be won.
5# Superman II Slot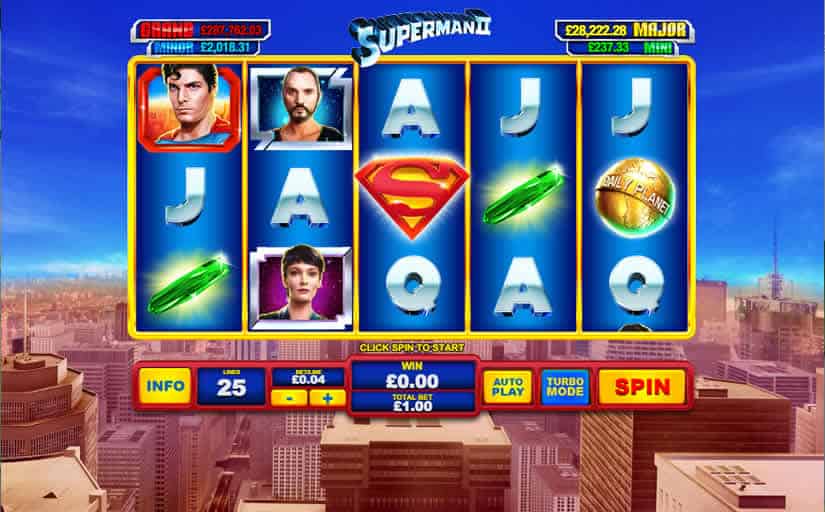 The Superman II slot is based on the movie of the same name, which gives us a sequel to both the first Superman movie and the first Superman slot. This one, of course, focuses on the characters from this movie including the trio of criminals from the planet crypton who all had their own super powers — General Zod, Ursa, and Non. As you would expect, Superman and Lois Lane also appear to round out the symbols appearing on the reels.
This superhero slots machine is completely over the top with bonus features. To start, there are, again, four jackpots that can be won. The game also includes randomly appearing wilds and five different bonus features, two of which are interactive. You'll get paid for wins across 25 fixed pay lines and you can play for a minimum of £.25 up to a maximum £25 per spin.
Where to Play? Best 3 Playtech Casinos
6# RoboCop Slot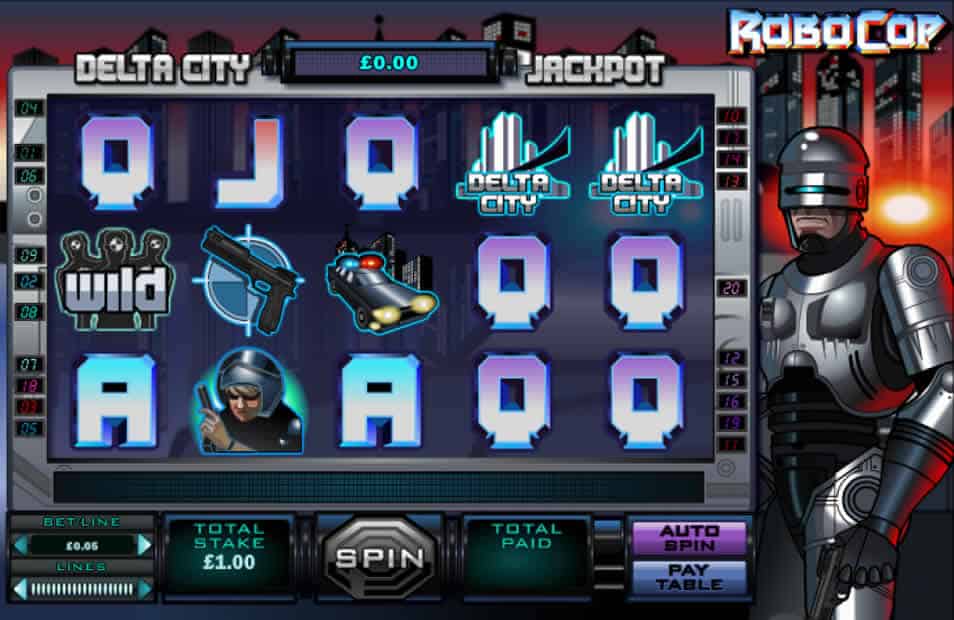 The theme of the RoboCop slot is, quite obviously, based on the 1987 movie of the same name starring Peter Weller. The film and its concept were both ahead of their time when the dead man brought back to life as a cyborg took us into the ultra violent world of the future where the city of Detroit was overrun with powerful criminal gangs and a deeply corrupt police force. You'll RoboCop, his unmistakable gun, his partner, and head of OCP Dick Jones on the reels along with several other symbols.
The RoboCop slot has five reels, three rows, and 25 fixed pay lines. You'll be able to play for as little as £.25 and the maximum wager is £25. There are free spins as well as four different bonus features, some of which are interactive. If you are a fan of this cult classic film, you should most certainly enjoy the RoboCop slot.
7# Batman Begins Slot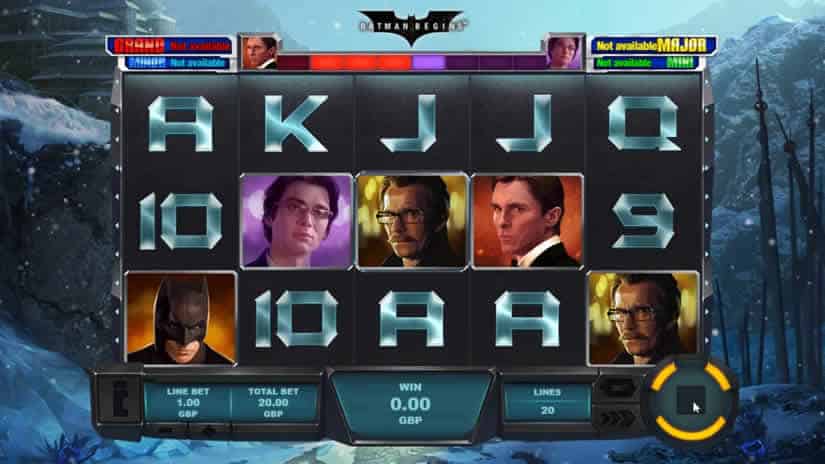 Moving into the modern era of the Batman character, the Batman Begins slot is based on the film of the same name which starred Christian Bale as the caped crusader. You'll see plenty of your favourite characters from the movie spinning by on the reels, both heroic and villainous.
Batman Begins is a five-reel, three-row slot with 20 fixed paylines. The minimum wager is £.20 and the maximum allowed is £200 per spin. There are several interesting bonus features that make this slot stand out. When specific symbols land in the center space, they will be collected and transport you to different areas of Gotham as you play. Each new area has its own unique features and effects on the reel. This is also another slot with four big jackpots that can be awarded at any time.
8# Batman Vs Superman: Dawn Of Justice Slot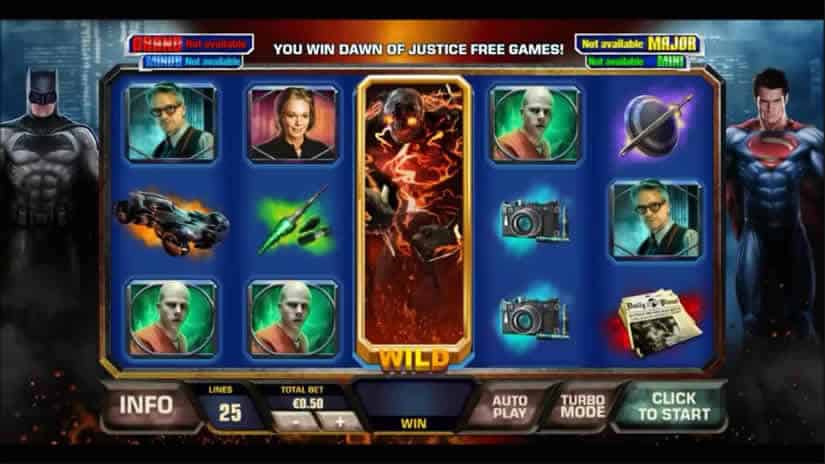 Getting into the most recent incarnations of Batman and Superman, this slot is based, as you should know, on the 2016 film of the same name starring Ben Affleck as Batman and Henry Cavill as Superman. As with all of the other movie-based slot machines, you'll see plenty of familiar faces, weapons, and items from the film across the reels as you play including Superman, Batman, and Wonder Woman.
Batman Vs Superman is a five-reel, three-row slot with 25 fixed pay lines. Bonus features include wandering wild symbols and free spins. When Superman wild symbols and Batman wild symbols meet, the ensuing battle will earn you big prizes if you can pick the winner. You'll also be able to take a shot at winning one of four jackpots by placing a wager between the minimum of £.50 and the maximum of £2,500 per spin.
Where to Play? Best 3 Playtech Casinos
9# Justice League Slot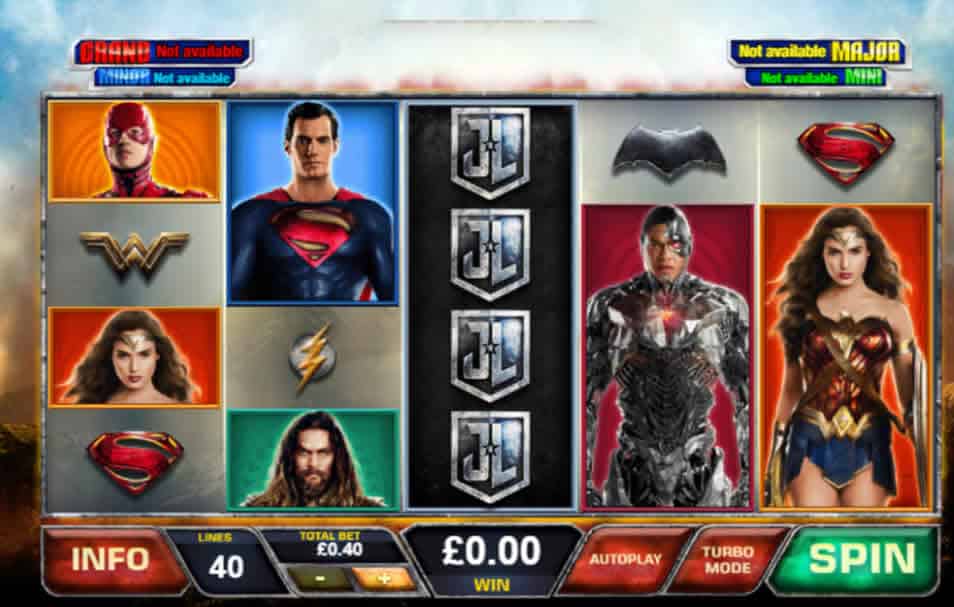 The Justice League slot brings together six of the most popular DC Comics superheroes all in one game for an explosively exciting experience. All in their most modern incarnations, you'll see Superman, Batman, Wonder Woman, The Flash, Aquaman, and Cyborg, bringing their own unique effects to the game and your winnings.
Justice League plays on five reels with four rows and counts wins across 40 pay lines. Bonus features include stacked symbols, transforming wild symbols, respins, and free spins with six different modes that unlock as you play. Best of all, the features can be retriggered, so it's possible to really rack up some impressive prizes from a single spin. You also have a shot at mini, minor, major, and grand jackpots on every spin. You'll be able to play the Justice League slot for a minimum wager of £.40 and the maximum bet on this one goes up to £2,000 per spin.
Where to Play? Best 3 Playtech Casinos
Bottom Line
If you are into super hero slot machines, then you will have to find a Playtech online casino, since this company owns the rights to produce most famous super hero slots. This software company works under tight regulation, therefore you will find it catering to regulated markets. To name a few, you can find Playtech slots at most UK online casinos and other European brands.
Superhero online slots are one of my favourites, because I used to read a lot of comics when I was a child. Between the tittles we mentioned in this article, you will find slots with higher and lower volatility so it's important to read some reviews to see which game goes with your budget – and game style.