Fun Casino Review (What you need to know): Fun Casino is a brand new UK and MGA licensed casino from L&L Europe. This casino is in no way to be confused with the old and now defunct Bitcoin casino of the same name. Where the old Fun Casino was a bit of a dodgy clip joint running on the iffy Soft Swiss platform, the new Fun Casino has been built from the ground up on a new platform from the guys behind such reputable brands as All British Casino and No Bonus Casino. The great news of course is that this brand new platform makes Fun Casino a lot more sleek and sexy than her predecessors and comes with a host of new features as well. All in all a casino well worth checking out if you value quality customer service, quick verification and reliable pay outs.
Coming soon to an internet near you!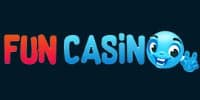 Fun Casino
Fun Casino
Fun Casino: A new adventure - casino challenges - tournaments - new bonus system - and much more...
Pros
UKGC Licensed
MGA Licensed
Trustworthy Owners & Staff