Are you looking for the best Egypt themed slot machines that also have good RTP? Look no further! Check my top 9 tittles of all times.
There are a few themes that seem to appear and reappear over and over again on video slot machines. They've become the classics that you'll see in every casino and on every online gambling website without a doubt.
One of those classic designs that just never seems to go out of style is the Egyptian themed slot machine. Every slot designer, past and present, has probably put out at least one Egyptian slot—if not more. The concept allows for both elegant designs and a seemingly endless number of twists that make each slot unique, no matter how many we've seen before.
Slots with Egyptian themes are often among the most visually beautiful designs out there. From sweeping desert landscapes and jewels to golden artifacts and mysterious gods, there are many elements that make them stand out from everything else. When you combine the winning concept of an Egyptian theme with an outstanding development company, however, you end up with something extra special.
On this list, you'll find only the best. These slots fit into a very large genre but are so far ahead that they stand out easily from the competition. These are the top 9 Egyptain themed slots that you'll find online. If you like Egyptian slots, these are the must-play virtual machines that you should be searching for at your favourite online casino. (And if your casino doesn't carry them, check our listings to see who does!)
#1 Play'n Go – Legacy Of Egypt Slot – Egypt Themed Slot Machines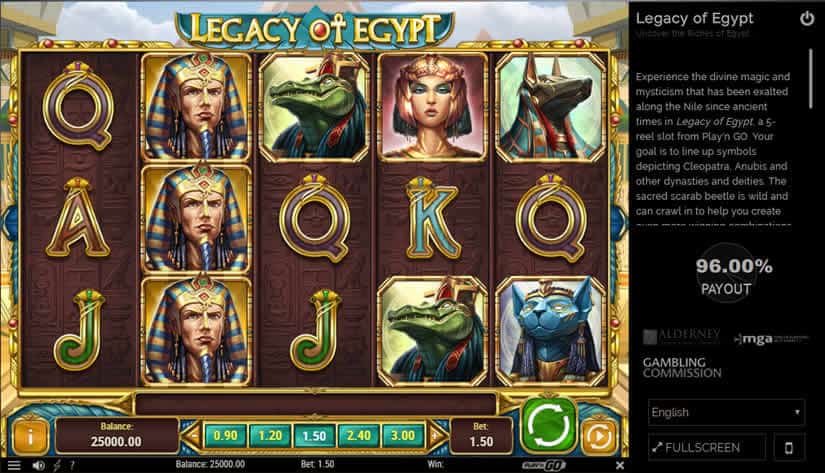 The Legacy Of Egypt Slot from Play'n Go is one for the purists. This is a well-designed video slot with high-end, high-definition graphics. Everything is intricately drawn, from the symbols on the reels to the background. You'll see Pharaohs and Egyptian princesses among images of the gods, scarabs, and more. It's a great mix of modern style and traditional designs.
Legacy Of Egypt is a five-reel, three-row slot where all bets play on 30 fixed pay lines. There are plenty of great bonus opportunities and even a bonus feature within a bonus feature. Landing three scatter symbols will trigger free spins, as you might expect. Landing two or more scatter symbols during free spins will award "pyramid spins" which are basically extra free spins with a special win multiplier. When you trigger either feature, you will spin the wheel of the gods which awards up to 20 spins. All free spins have a bonus multiplier, too!
You can bet between £.30 and £90 and it's possible to win up to 5,000 times your bet on Legacy of Egypt. The game offers a 96% return to player (RTP) rate and Play'n Go rates it as "Very High" volatility. All in all, this is one of the best Egypt themed slot machines.
Play Legacy of Egypt Slot at These Play'N Go Casinos
#2 Yggdrasil – Valley Of The Gods Slot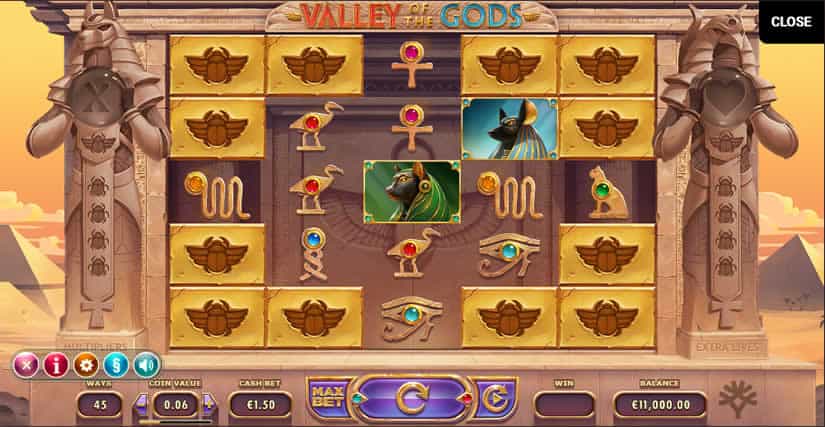 Yggdrasil's Valley Of The Gods Slot starts off with an incredibly well-rendered three-dimensional animation sequence that only hints at the wonderful gameplay you're about to experience. This developer is known for their attention to detail in every aspect of their slots and this one is no exception. They've combined amazing high-definition graphics with unique game mechanics that bring plenty of excitement.
This is a five-reel slot with a variable number of rows that uses the "ways to win" payout system. Everything starts off with the reels in a 1-3-5-3-1 configuration. Extra rows on reels one, two, four, and five are covered by blockers that will be removed when you land a winning spin. For each symbol involved in the win, one blocker will be removed from the reels. It's possible to get up to 3125 ways to win.
Each time you win, the corresponding number of blockers will be removed and you'll get a free respin. Respins continue until you lose. Once you've removed all the blockers, winning symbols will contribute to two side bonus features. One feature grants win multipliers and the other will give you extra lives. The extra lives provide one extra respin each when you pull a losing spin. This may not sound like much, but the wins can really add up quickly.
You can wager between £.10 and £100 per spin on Valley Of The Gods. The game offers a 96.2% RTP rate and Yggdrasil rates the volatility at 67 out of 100.
Play Valley of the Gods Slot at These Yggdrasil Casinos
#3 NetEnt – Pyramid: Quest For Immortality Slot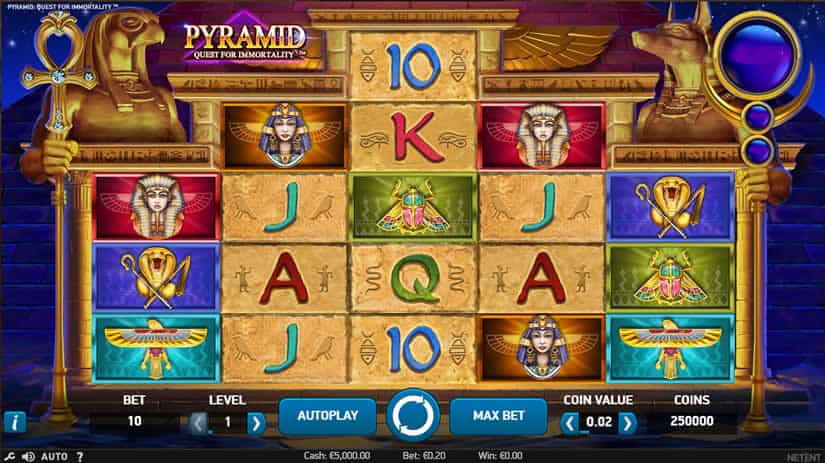 The Pyramid slot from NetEnt is a solid Egyptian slot game from one of the industry's top game developers. There aren't a lot of bells and whistles on this one, but the graphics are great and the game mechanics can lead you to some very handsome rewards. In fact, you can win up to 3,600,000 coins on one spin. We'll let you do the math on that one.
Pyramid is a five-reel slot with a 2-3-4-3-2 row configuration. It uses the "ways to win" system with a total of 720 ways. The main bonus feature here is the "Avalanche" feature, which is NetEnt's name for cascading symbols. With each win, winning symbols are removed and new symbols fall in to give you another chance to win. The process continues until no more wins land. In addition, for every three avalanches that occur, the win multiplier will increase by one, up to a maximum of ten.
You'll be able to play this slot for a minimum bet of £.20 per spin and you can go up to £200. There's a very good RTP rate of 96.48% and NetEnt rates the volatility level as low to medium.
Play Pyramid: Quest for Inmortality Slot at These NetEnt Casinos
#4 BetSoft – Legend Of The Nile Slot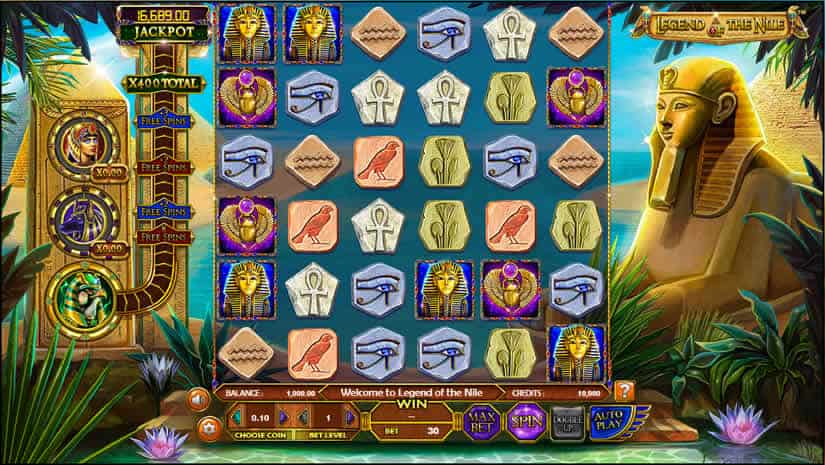 BetSoft's Legend Of The Nile slot combines all sorts of gameplay concepts to make a unique Egyptian themed slot that can pay off in really big ways. In addition to the potential to win 112,270 coins in just one spin, there's also a huge jackpot that will most certainly put a smile on your face for a very long time to come.
Legend Of The Nile is a six-reel, six-row slot that uses a cluster pay system. Four or more of the same symbol appearing in a cluster adjacent to each other will trigger a win. You can win with more than one symbol at a time, and it's possible to get clusters of over 20 symbols. There's also an exploding wins (cascading symbols) feature. All winning symbols are removed from the board and new symbols fall in for extra opportunities to make matches. There are also three different free spins features and a double-up feature that lets you gamble your winnings.
You can spin for as little as £.30 or take it all the way up to £150 if you want more excitement. The RTP rate on Legend Of The Nile is 95.63%. BetSoft doesn't publish the volatility level of their games, but this one would appear to be somewhere in the medium to high range.
Play Legend of the Nile Slot at These Betsoft Casinos
#5 Quickspin – Ark Of Mystery Slot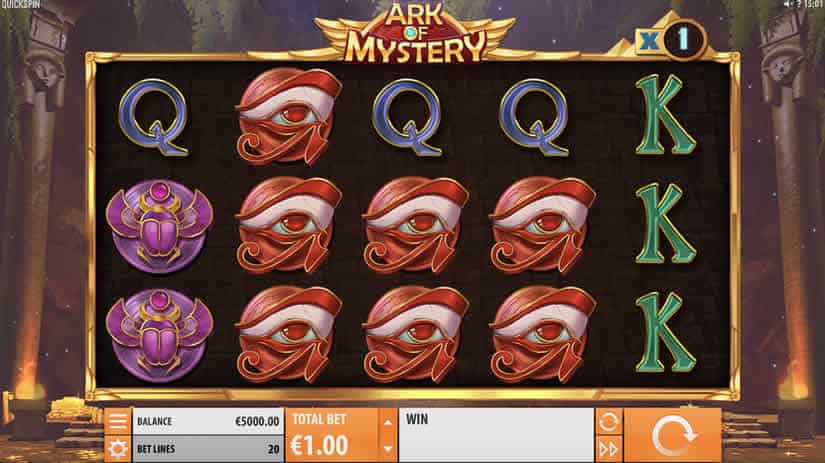 The Ark Of Mystery Slot from Quickspin is a no-nonsense, straightforward slot that simply aims to please those who want a game that's going to give them lots of play, plenty of chances to win, and no distractions. The graphics are simple but crisp and clean, and the sound and animation are super smooth.
This is a traditional five-reel, three-row slot that pays out on 20 fixed bet lines. There is no free spins feature, but there is a respin feature that triggers quite often, which makes up for it. Whenever the special ark symbol lands on one of the middle reels, you'll get anywhere from two to six respins. You can also build up some very generous win multipliers. The combination of the two can lead to very satisfying rewards. You can win up to 6,509 times your bet on a single spin.
You can play at the minimum bet per spin of £.20 or take it all the way up to £100 for more intense action. The RTP rate on this slot is 96.53%. As above, the volatility level of this slot is not officially published, but it would seem to be about medium compared to other slots.
Play Ark of Mystery Slot at These Quickspin Casinos
#6 Yggdrasil – Jackpot Raiders Slot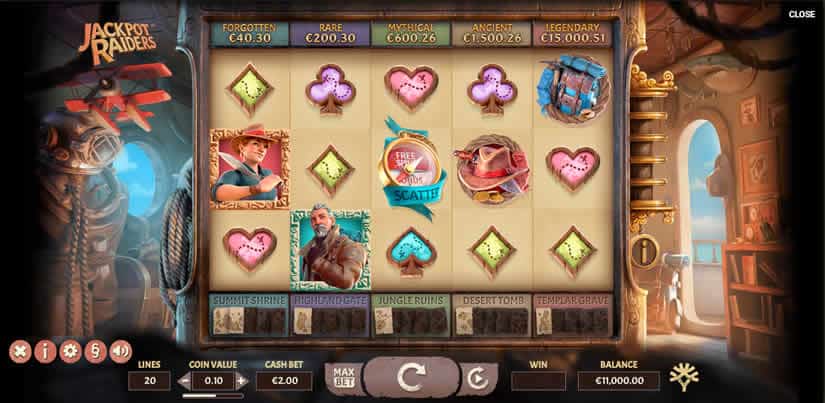 Jackpot Raiders is just one of many slots that have proven over and over again why Yggdrasil is among the top online casino game designers and most likely will be for as long as the company remains in business. This one features stunning graphics, insanely good gameplay and five—yes, five—different jackpots. This one is not a pure Egyptian theme, but more based on raiders of Egyptian tombs.
The game looks simple enough with five reels and three rows, but there is more than enough action hidden just below the surface. There are 20 fixed pay lines and plenty of bonuses. There are three different ways to trigger free spins, and one will even reward you with 10,000 coins on top of 10 free spins. One free spin feature adds a 3x multiplier to all wins and another adds a 10x multiplier. There are also two different interactive bonus games, each of which can trigger other features. And, of course, don't forget all those jackpots!
The minimum wager per spin on Jackpot Raiders is £.10 and the maximum is £40. There's a generous RTP rate of 96.3% and a relatively low volatility level. Yggdrasil gives this one just 27 out of 100 on their volatility scale.
Play Jackpot Raiders Slot at These Yggdrasil Casinos
#7 NetEnt – Coins Of Egypt Slot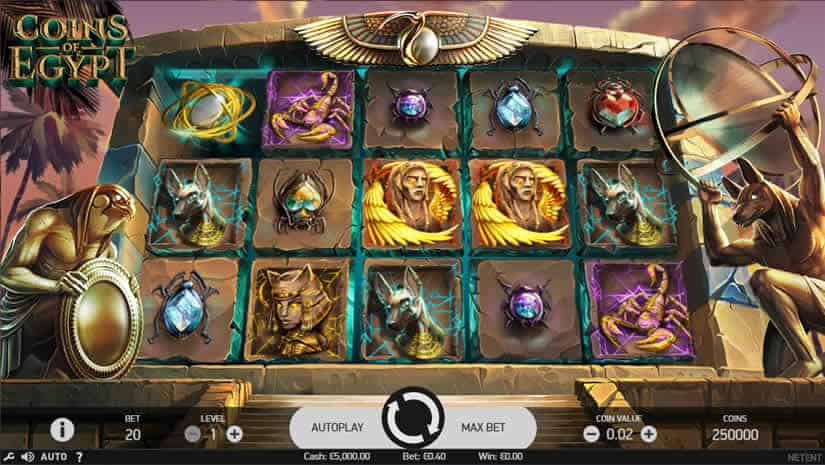 The Coins Of Egypt slot is an absolutely beautifully designed Egyptian slot from NetEnt. The graphics are incredibly detailed, three-dimensional, and high-definition. The Egyptian gods Ra and Anubis sit at either side of the reels and will entrance you as you spin. The reels themselves seem more to come at you than roll past you. The overall audiovisual design of this slot is just flawless.
Coins Of Egypt is a five-reel, three-row slot with 20 fixed pay lines. There are bonus coins that can be won during regular spins and a combination of free spins with bonus coins that can lead to some serious paydays. Not only are you guaranteed to get a bonus chest full of coins at the end of every free spins feature, but the free spins also continue for as long as it takes to gather the symbols needed to trigger one of the special coin chest bonuses.
The minimum bet on this one is just £.20 and the maximum runs up to £200 per spin. There's also a great RTP rate of 96.97% and low volatility to keep the action coming at a good pace.
Play Coins of Egypt Slot at These NetEnt Casinos
#8 Play'n Go – Rise Of Dead Slot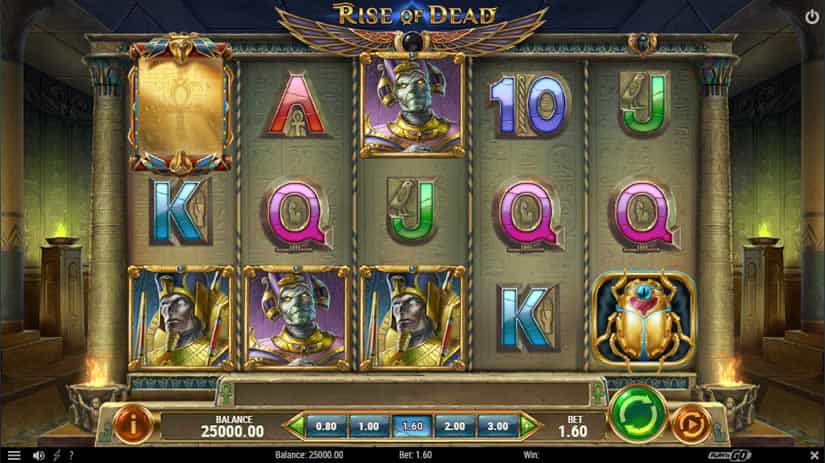 Play'n Go seems to have a special talent for dark slots. They did a great job with the Rise Of Dead slot by putting a bit of a twist on the traditional Egyptian themes and making this one decidedly more evil than you'd probably expect. The graphics and sound are just brilliant. High-definition, high-detail, and just the right amount of undead fun.
Rise Of The Dead is a five-reel, three-row slot that has you betting across 20 fixed pay lines. It's possible to win up to 5,000 times your bet o a single spin when the right combination of features trigger. During regular games, stacks of 12 symbols appear on each reel. Free spins start with ten, but you can retrigger up to ten more. There are even extra wilds and expanding high-paying symbols during free spins. There's a lot of stuff stacked in your favour on this video slot.
You'll be able to spin with a minimum wager of £.20 or push your luck up to £100. There's a 96% RTP rate on the Rise of Dead slot, which is great. Beware though, Play'n Go rates the volatility on this one as 10 out of 10, very high. It might be a rocky road for your balance, but that means there are chances for some huge wins with some good timing.
Play Rise of Dead Slot at These Play'N Go Casinos
#9 IGT – Cleopatra Mega Jackpots Slot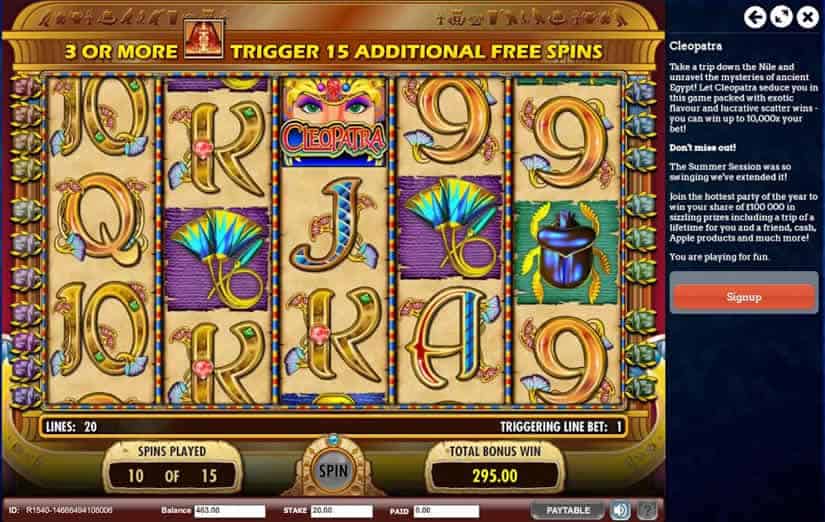 The Cleopatra Mega Jackpots slot doesn't have quite the modern design as most of the other slots on our list, but it's included here because it's one of few Egyptian themed slots that give you the opportunity to win a possibly life-changing jackpot. Even with slightly lower-end graphics, the gameplay is solid, and the money you win will certainly be just as good!
Cleopatra is a five-reel, three-row slot with 20 fixed pay lines. It comes along with your standard free spins bonus, but the free spins feature can be retriggered until you get up to 180 free spins! Then, of course, there's a huge progressive jackpot that makes up for the lack of many other features.
You can take your shot at the jackpot for as little as £20, or take it all the way up to £60,000. This one is certainly a high-roller favourite. There's a 91% RTP rate. The rate may seem low but this is because money from wagers is set aside for the progressive jackpot. The official volatility level of the Cleopatra Mega Jackpots Slot is not published, but it seems to be in the high range.
Play Cleopatra Mega Jackpots Slot at These IGT Casinos
Egypt Themed Slot Machines
So this is my podium with a selection of the best Egypt themed slot machines. You will find great visuals and also huge chances for life changing jackpots but be aware that some of the tittles have high volatility and some others not, so you can choose them according to your game-style – and pocket. Multi-platform online casinos offer the chance to try most of these slot machines at the same place, without having to create accounts in several casinos to play slots from different providers.
Would you like to see more slot themes reviewed? Send me a message and you will see them published shortly!
Cheers!