Jackpot slots have been around forever. A slot machine is probably the very first image which appears in anyone's mind when thinking about gambling. This is natural, as every casino in the world features at least three times more slot machines than any other gambling opportunities. The rules are rather basic and the pay out can amount to incredible sums, assuming one is patient enough. For this reason, around 70% of any casino's revenue is produced by slot machines. It is a profitable business for both the house and the lucky players. However, the types of jackpot slots may vary greatly, from the most basic ones with just three reels and a button or a lever, to ones with four or five reels and different possibilities of choosing the lines or doubling the amount of credits won. The ones which interests gamblers most, though, are the progressive jackpot slots.
Attraction of Progressive Jackpot Slots
The appeal for this type of slot machines is not difficult to comprehend. A jackpot which increases every time a gambler does not win, can reach ridiculous amounts. The player is more motivated, especially when he or she sees the possible pay out ever increasing before he or she's eyes. The entertainment factor also needs to be considered. Being part of this experience rewards players not only with money, but with a sense of involvement in the larger game. And they do not play just to win, but also to relax and to enjoy their leisure. Of course, this is mostly valid for real life casinos. Online, people tend to care more about winning and less about the whole experience, yet this still does not mean that they do not enjoy themselves playing.
How Progressive Jackpots Work
A progressive jackpot describes a pay out which is raised every time someone makes a wager. Slot machines are usually linked together in order for this type of system to work. The jackpot starts with a minimal amount and increases every time someone plays at one of the linked slots. A percentage of each players' bet is added to that amount every time they play until one manages to snatch the prize. When this happens, the jackpot resets and the process starts all over again. Naturally, the chance of winning is higher when the pay out is larger. The games commonly have various rules, with each type of slots being different. However, they usually break down to two basic principles. They may either require a fixed bet each time one plays, or they may need the maximum amount of credits to be wagered in order for he or she to be eligible for the prize. In each case, although the rewards are high, the investment also needs to be in accordance and it does not guarantee a return.
The Tipping Point
There is a theory which states that pay outs are usually given after the jackpot reaches a certain amount. This means that a players' chances increase the larger the pay out is advertised to be. Those who are aware of this, attempt to improve their odds only after a specific sum has been reached. However, no one can know for sure what the "tipping point" may be, as it differs from casino to casino. Even so, this does not stop players from attempting to gain an edge over the house and the other gamblers. In order to find out what the tipping point is, they have to ascertain, through careful research or by simply watching the numbers, the pay out amount every time someone wins. After several winning jackpots have been logged, they estimate the average value after which the prize is given for that particular game. The idea is that, if they start playing after that sum is reached, they have a higher chance of going home with the jackpot. Although this is unproven and works only in theory, it still raises the motivation for people to play more.
Players Taking Advantage
As stated above, there are people who are always attempting to beat the house. This sort of players may choose to work in teams, as this offers an even higher chance of winning. By occupying as many slot machines as they can just as the tipping point is reached, they attempt not only to increase their chances of winning, but also to block any competitors from getting the prize. Sometimes, gamblers such as these may work in shifts, calling one another to fill their spot at the machine. It is a valid, albeit unorthodox, strategy. However, while this may work in real life casinos, provided they are not caught and asked to leave, it is impossible to do the same thing at online casinos. With an infinite number of possible, individual slots, no one can apply the same technique online. The only valid strategy that remains is still that of the tipping point.
With an infinite number of possible, individual slots, no one can apply the same technique online. The only valid strategy that remains is still that of the tipping point.
The Future of Jackpot Slots
Gambling establishments have greatly diversified over the years, finding different ways of renewing their provided services, yet there has always been a constant: slot machines. Since the invention of the "one-armed-bandit", slots have become popular on a world-wide scale. Hundreds of variants based on this game have been devised to this day. Because they offer large rewards for seemingly minimal investments and they are easy to operate, the appeal for them is simple to understand. The people's need for entertainment and their hope of winning will never falter being the foundations of the gambling business. This means that jackpot slots will not disappear any time soon and the fact that there are so many casinos, both real life and online, which will not give up on offering this type of services, proves it. They will be around as long as people are able to cling on hope and, seeing as it is a particular trait of the human race, this will not change. For these reasons, it is safe to say that the future of jackpot slots is secure.
An Overview of Microgaming Progressive Jackpots
Slot software company Microgaming is big and powers many online casino websites than any of its competitors. With a wide selection of slots, your hunt for variety stops on a Microgaming platform. Are you looking for a progressive jackpot? Microgaming jackpot slots offer the largest progressive prize pools in the world today. Making it easy for players to win big when playing their slots and table games.
One of the factors driving the Microgaming success is the progressive jackpot games. Theirs were the very first that were made available online offering players not only huge prizes but also offering intense entertainment as they were played.
Microgaming jackpots grow fast because these jackpot pools are split up among all the casinos that run on the Microgaming software. A fraction of all players bets makes up the overall prize pool. This brings up the question in most people's minds, how can I win one of these huge progressive prize?
When it comes to winning the progressive jackpots, every game has different rules and these vary from one slot to another. Slots like Mega Moolah for example, uses a random method to award the top prize. But, it is worthy to note the that higher the stake, the greater your chances of winning a Microgaming jackpot.
Once the jackpot is won, the pool starts a new round and begins to accumulate all over again. What many players find interesting is that there is no currency conversion when you win the prize. Ten million credits can be paid out as ten million Euros or Pounds depending on your currency.
Play Jackpot Slots at Casino Rizk

The best Microgaming slots with progressive jackpots
Different slots offer the Microgaming progressive jackpot. Below are short reviews of these slots. Check them out and choose the one that appeals more to you.
Mega Moolah
The Mega Moolah series of jackpot slots is the most famous progressive series in the world. Most people call it the "millionaire maker". Also having the highest payout has landed this favorite slot in the Guinness book of records. Mega Moolah is regarded as an institution because the jackpot won can be more than $3 million (often many times that amount).
Mega Moolah slot has different variations, such as the African Savannah theme (the original Mega Moolah), Summertime, 5-Reel Drive and Isis. All these variations are connected to the Microgaming progressive network that offer players the chance to win any of the progressive prizes: mini, minor, major and mega. No reputable online casino can run without featuring the Mega Moolah slot. It is the number one pick before other Microgaming jackpot slots.
Mega Moolah Isis, is a favorite among slot players. With 25 pay lines spread across five reels, it increases the chances for players to double or quadruple their wins.
King Cashalot
Enormous progressive jackpots are one of the main upsides of the King Cashalot slot. With a medieval theme that players simply hate or love; the graphics are an acquired taste. The game offers nine pay lines spread across five reels, and it's the first game ever to offer a "Pick-until-Collect" bonus game. But if visuals are not your concern, and a huge jackpot is, then no need to bother with the games' graphics. Just nine pay lines make this slot an easy win with prizes seeded at $100,000.
As well as the progressive jackpot, the King Cashalot slot machine features a Treasure Bonus game that can be triggered on each of the middle three reels by spinning dragon scatter symbols. Historically, this slot has been won several times in the last few years, and each time, the prize money was over $1 million. It has also paid out prizes around the $800,000 mark on many occasions.
Major Millions
With a huge winning potential, Major Millions is a favorite for many players. It held the online record for being a big jackpot payout in 2002 when a player won €1.5 million. The army themed game offers fifteen win lines, and while being enjoyable, also gives players a chance to win prizes that run into hundreds of thousands.
To win the progressive prize, Major Millions players need to earn five symbols with the Major Million Logo on number 15 pay line. Starting at £250,000, this is definitely a good slot to play.
Treasure Nile
Players love Ancient Egypt themes, and software developers never get tired of it either. Treasure Nile allows you to revel in this vividly coloured slot and possibly win a huge progressive prize that the Microgaming jackpot slots have to offer.
Treasure Nile has nine pay lines and is played on five reels. The value for each line is £0.50, so the full spend will be £4.50 per spin. Each spin features some mythological icons that fans love, like the Eye of Horus, the Sphinx, and Anubis, the Egyptian god of the dead. Even though Treasure Nile does not offer free spins, it makes up for this by providing a theme that some players find endearing. While playing this slot, bagging five King Tut symbols on the 9th pay line means that you have won a progressive jackpot.
Fruit Fiesta Jackpot Slot

If you love a classic fruit slot game, then Fruit Fiesta will be more your cup of tea. The game was initially available in a three-reel format, but now it has been upgraded to a progressive slot. With this update, came the release of the five-reel version of Fruit Fiesta with 15 pay lines.
This classic fruit theme offers symbols that include plums, apples, oranges, lemons, watermelons, and pineapples. The triple bar and lucky seven are the highest paying symbols in this slot. Players are unable to adjust the coin value because it is fixed at £0.05. Eligibility to qualify for the progressive jackpot is that all 15 pay lines must be activated with a maximum bet amount of £0.75. This is understandable when compared to the potential prize money.
As different types of progressive jackpot slots are launched into the industry by various providers. Players want a dependable system. Microgaming jackpot slots have proven over the years to be reliable and trustworthy, hence winning the love and trust of players worldwide. Choosing the progressive jackpot slot to play is a personal choice for most players, but generally, you cannot go wrong if you pick a Microgaming platform.
Playtech Jackpot Slots
All about Playtech casino Jackpot Slots: One of the most familiar names in the gambling industry, which is known by both the player and the casinos, is Playtech. They are among the leading supplies of most gambling software in the industry. The main reason behind such a success is the captivating and easy user interface. Playtech tend to provide the users with extra features that enable them to gain more or increase their playing profits. The most sort after Playtech products are the Playtech jackpot slots. Research dictates that the company has the largest jackpot network which has over 70 different titles. They expanded their industry to mobile users by providing jackpot slots that are mobile friendly.
The major types of Playtech jackpot slots
Playtech have a variety of gaming slots for their users. They can however be categorized into two depending on how the jackpot accumulates and how the user plays the game. The two categories include;
Playtech Jackpot Network
Some of the slots are linked to form the Playtech jackpot network. A group of games are linked together in order to accumulate the total jackpot. For instance, games at the age of the Gods and Marvels series are linked to one network. This means that all the games or titles contribute to the two main pools. One can be able to monitor the value by looking at the jackpot meter that is at the top screen. With this form of gambling or play the player does not have the ability to place side bets to increase income but has a chance of winning the jackpot. 1% of the real money used contributes to the main pool. This allows flow of real money within the casino.
With the Marvels series, the player is able to win four different prizes namely; power, extra power, super power and the ultimate jackpot. When a player wins one of the prizes, it starts counting again from a set amount. This set or predetermined amount is what is usually referred to as a seed. From the smallest jackpot, which is power, to the largest the seed increases in amount. For instance, if the predetermined figure for the power was 20,000 then the seed for the ultimate jackpot can be 100,000. The jackpots are usually randomized; this means that trying to bet the maximum amount tends to increase your winning chances. More recently the Marvel series of jackpot slots has been replaced by the Age of the Gods jackpot slots as well as Playtech releasing a brand new set of DC Comics slots with a similar but different set of progressive jackpots.
Progressive jackpot slots
This is more of a user based jackpot format. The user is allowed to place a bet on the side. Once the bet is placed the user is able to unlock another lottery type of game that increases the chances of wing large amounts. Placing the side bet is not compulsory but optional. The advantage of the side bet is being able to diversify your winning options. In order to place a side bet the user has to click a dollar ball icon that is usually located on the top right corner. A selection of numbers from 1- 49 will then appear and he or she will have to choose 5 main digits and hit spin.
The software then randomly chooses its own 5 digits. The more the digits matched the higher the pay. In the case that you have been able to match four numbers, you get 1% of the total accumulated jackpot prize. In the case that you matched all five digits then you go home with the massive jackpot. Each time a player hits the spin button the set minimum gambling amount is directly deducted from the main balance.
Some of the major Playtech jackpot slots
Playtech has been in the online gambling industry since 1996. This means that they have been able to produce a great variety of titles and as mentioned above, over 70 titles. Different players prefer different slots but there are some specific slots that are more popular than others due to their simplicity and easy payouts. Some of the three most popular slots include the following;
Beach life
This is one of the most popular slots within the industry. The main reason behind this popularity is that it offers 20 different pay lines and major jackpot. The user interface is also appealing since it has a summer theme to it and the names also relate to the theme. Once the player is able to unlock three to five treasure chests he or she will be able to open a bonus mini game. The treasure chest is the main bonus symbol of the game. In the bonus game the player has to select a maximum of four chests out of twelve. The chests have hidden prizes. The other main symbol in the game is the sun symbol since it offers monetary based prizes. You start winning from two sun prizes in order to collect the jackpot you must be able to land five suns.
Gladiator Jackpot

The Gladiator slot was as a result of Playtech teaming up with DreamWorks studios. The idea came about after the hit movie Gladiator that aired in 2000. This slot mainly has 25 pay lines to offer and is usually played on five main reels. One of the main reasons why the game became so popular is due to the fact that they used character names from the movie itself which are encountered after spinning the wheels. It has gamble feature that allows the players to double their payouts through simply choosing heads or tails. The accumulated jackpot is given to the user that is able to unlock the main Gladiator bonus feature.
Cinerama
The main aim of the game is being able to shoot a film. This idea was the main reason behind its popularity. Inspired by Hollywood, the slot has 5 main pay lines. Though it has lower pay lines compared to the rest it has higher payouts. There are different roles that the player can take while playing the game. Once the player is able to land five of the available reels, he or she collects the fixed prize.
These are some of the several titles that Playtech have to offer. The player should take time and explore all the available options before playing any game.
Playtech Progressive Jackpot Tipping Points
When playing progressive jackpots you can tip the house edge in your favour by knowing the average payout values of the progressive jackpots. The further beyond the average payout value, the better (in theory) your chances. Obviously the chance of winning any progressive at any time is very slim indeed but following our tipping points guides you are at least giving yourself the best chance. And the smaller the jackpot, the better the tipping point is.
Note: We were planning on linking to a good jackpot tracking website to help you keep live track of progressive jackpots. Unfortunately none of the major tracking sites are actually consistent or reliable enough for us to recommend at the moment. We then thought about working with the casinos themselves to get spot on trackers, but alas outside of the slots themselves, not all their own trackers are always 100%.
So what we have finally settled on is providing you with a rough guide to the major progressive jackpots' tipping points. These tipping points are higher than their average payout point, for the smaller jackpots this will not be much higher – a few quid/dollars – but for the bigger jackpots it could be a few hundred thousand higher. The point of this is that the higher the jackpot gets above it's average payout value, the higher the chance of the jackpot dropping. Waiting for a progressive jackpot to pass it's average payout point is the only time you can guarantee you have an edge (considering the number of players online on a jackpot slot at any one time it is not much of an edge, but it is an edge nevertheless).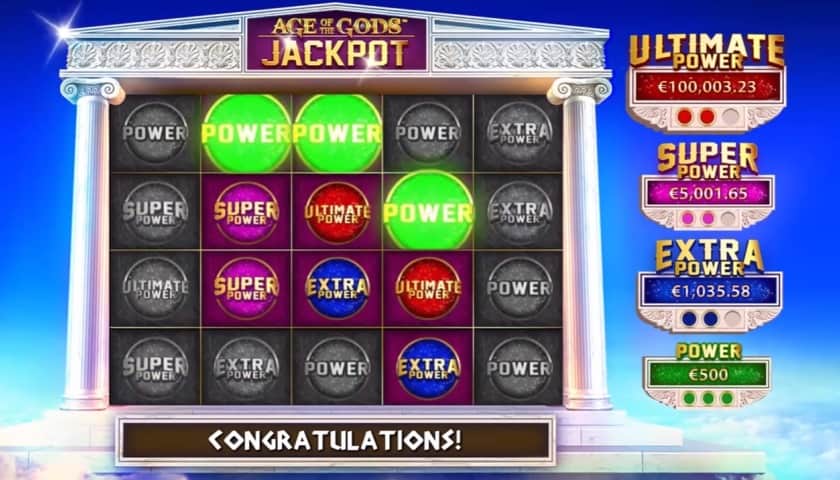 Here are the tipping points for the major Playtech progressive jackpots
Please note that the Marvel jackpots will be called Age of the Gods jackpots in the future.
| | |
| --- | --- |
| Slot | Tipping Point (€) |
| Beach Life | Not enough data* |
| Cinerama | €55000 |
| Diamond Valley | €125000 |
| Esmeralda | €150000 |
| Everybodys Jackpot | €300000 |
| Fruit Mania | €25000 |
| Funky Fruits | €2500000 |
| Gladiator | €1500000 |
| Gold Rally | €990000 |
| Jackpot Adventure – Major Pink Jackpot | €9900 |
| Jackpot Adventure – Minor Pink Jackpot | €990 |
| Lotto Madness | €99000 |
| Magic Slots 1 | €38000 |
| Magic Slots 5 | €185000 |
| Magic Slots 25c | €9000 |
| Magic Slots 50c | €17000 |
| Marvel Extra Power | €4900 |
| Marvel Power | €450 |
| Marvel Super Power | €49000 |
| Marvel Ultimate Power | €800000 |
| Mega Ball | €245000 |
| Megajacks | €1350 |
| Monty Pythons Spamalot Slightly Less Holy Grail | €1800 |
| Queen of Pyramids .15 | €80000 |
| Queen of the Pyramids 25c | €110000 |
| Safecracker 1 | €16000 |
| Safecracker 5 | €80000 |
| Safecracker 25c | €4000 |
| Safecracker 50c | €8000 |
| Spamalot Holy Grail | Not enough data* |
| Stravaganza | €45000 |
| Sweet Party | Not enough data* |
| Wall St. Fever | €160000 |
* denotes that this jackpot has not dropped enough times to calculate a reasonable tipping point.
€5.8m won by librarian on Android device on Jackpot Giant progressive jackpot slot
London: January 25th 2016 – Playtech, the world's leading omni-channel gaming software and services supplier, has set the record for the UK's largest mobile slot jackpot win after a player on Jackpot Giant spent just £4 to spin her way to a massive €5.89m (£4.5 million) –the equivalent of 170 years pay based on the average UK salary.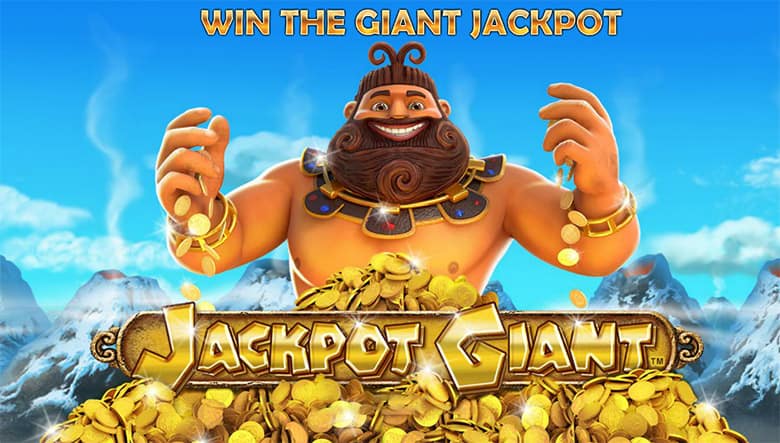 The win is the largest ever on a Playtech network bingo site and the second biggest ever Playtech slot win on a progressive jackpot game following Playtech progressive Beach Life which saw the jackpot drop at £6.2m in 2012.
In 2015 alone there were an average 20,850 monthly and 695 daily Playtech progressive jackpot winners across Playtech's 70 progressive games, the largest in the industry. There is currently a staggering £50m waiting to be won across the company progressive jackpot network of games.
The lucky librarian from Glasgow in Scotland – who has chosen to remain anonymous – was blown away at the news but went to back to stamping literary works of fact and fiction the next day, seemingly unaffected by her life-changing jackpot win.
She has been a loyal Playtech casino customer for three years online and in club and incredibly wagered just one £4 spin on her Android Galaxy S5 on Playtech omni-channel slot Jackpot Giant – an unbelievable 1 million, one hundred twenty-six thousand, three hundred seventeen times stake win.
"I picked up my mobile and started playing while I was watching TV," the winner said. "Minutes later I saw a huge string of numbers coming up and realised I'd hit the jackpot. I was simply blown away and couldn't believe I'd won. It's still sinking in and my family and I are still in a complete state of shock."
She is said to be undecided as to how to spend her money but here are a few pointers.
Property (based on average house prices)
Big family? If so, how about a street full of 15 houses?
Rare books
As a book lover our winning player might be keen to buy a first edition. Perhaps a First Folio edition of William Shakespeare's Comedies, Histories and Tragedies. There would still be change to spare.
50,000 return flights…
… to Paradise Island in the Bahamas.
Thirsty?
Become even more popular by distributing four million bottles of Iron Bru on the streets of Glasgow.
Playtech is the world's leading omni-channel gaming software and services supplier and has more than 600 slot and casino titles available via its casino portfolio and many more through its open platform integration.
Shimon Akad, COO, said: "To claim the UK mobile slot jackpot record is fantastic and proves we lead the industry when it comes to progressive jackpot games. I'd like to also congratulate Gala Bingo and their winning player.
"This is yet another great reason to be part of Playtech, the gaming industry's leading and most dynamic omni-channel company."
Alison Digges, Brand Director, Playtech Interactive, said: "This is our biggest ever jackpot win on a mobile device by far and we're delighted one of our many loyal players has claimed the prize. Jackpot Giant is one of our most popular progressive games and we can't wait for yet more winners."
NetEnt Jackpot Slots
What is NetEnt?Net Entertainment or in short NetEnt is one of the largest market producer of online casino gaming with over 200 games available. This company was invented in 1996 making it one of the pioneers in online gambling. It is location in Europe with its buildings in Sweden and Malta with employed staff of over 600 people whose only task is to develop new games for people.
NetEnt has developed quality casino games over a long period of time making it the most preferable. These games range from table games e.g the Blackjack, video slots, classic slots and also video pokers. As years went on, NetEnt began introducing new games for players to break the monotony of the same games repeating themselves over and over again. This led to the popularity of new games such as bingo, keno, virtual horse races and scratch cards.
The one thing that makes NetEnt the best online casino site is its spectacular features that are so unique and cannot be compared to any of its kind. It has the best graphics that are used in their 3D animation. There are also many bonuses and high pay-outs that will certainly keep players coming back for more. There are no special players in NetEnt as the same services are offered equally to all players be it new or frequent players.
NetEnt Jackpots
What is the ultimate goal of playing online casino games if not to win the progressive jackpot? NetEnt is the best at offering jackpots as there are is wide variety of this. They are in specific games found at categories such as the video slots, scratch cards and classic slots. Any player at NetEnt is assured of a fair chance of winning a jackpot and the best part is that these these jackpot prices can accumulate to millions of euros with the more times played. The jackpot slots size however varies with different games available at the casino.
As compared to other online casino software, NetEnt has a progressive jackpot system which means that each time a player places a bet, the jackpot increases significantly therefore the more bets placed, the more the jackpot price. After many players have placed their bets, the system will randomly land on the winner who will walk away with a huge lump some of money. All the players are treated equally regardless if it a new or a frequent player. A winner is picked casually using the Random Number Generator and a player can win as many jackpots a day all depending on their luck and the frequency of bets laced on different games.
A player has a greater chance of knowing the probability of winning the jackpot of a certain game as compared to another game by understanding how these jackpots are built. Local casinos are only played by people of one casino and the bets are raised by a smaller group of players meaning that the winner can only come from the few present. It is therefore easier to win at these casinos since the probability is tied to less people. Networked (pooled) jackpots on the other hand involves players from different online casinos who contribute to the same jackpot. However, a winner can only be selected from one casino and due to the huge number of players from different casinos, there is a lesser chance of predicting the probability of winning.
NetEnt Jackpot Slots Overview
For gamblers who would like to win significantly huge amounts of prices, there are slots that can guarantee this. With a single spin, you can be the lucky winner of 10 million euros or more. The following some of the slots that can increase your chances of becoming an instant millionaire;
Mega fortune
Mega fortune dreams
Hall of Gods
Super lucky frogs
Cosmic fortune
Mega joker
Tiki wonders
Icy wonders
Geisha wonders
Caribbean Stud Poker
Arabian Nights
Keno
The first five are however the best with the biggest jackpot prizes. They are networked (pooled) jackpots meaning that they can be played from a variety of sites. In these jackpot slots, the amount of bet placed will greatly influence the chance of winning a huge price. The Tiki wonders, Icy wonders and Geisha wonders slots share the same jackpot therefore this jackpot can be won during any of these three games. NetEnt jackpot slots offer spins on free trials to players and a single spin could change your life in a whole new way by making you a million euros richer.
When it comes to progressive jackpots, Casino Rizk and Rizk are the two sites at NetEnt that will make you win a life changing sum of money. Their generosity with jackpots always makes players stayed glued to the site and try out as many times as possible. There is nothing to lose since they offer free spins for all. The NetEnt jackpot slots that are available for trial here are the Mega Fortune dreams, Arabian night, Mega joker and Caribbean Stud Poker. They have progressive jackpots from 500,000 up to 3,000,000 euros.
You can now play dozens of NetEnt games on your phone, computer or tablet for free. The more the games players, the higher the chances of becoming the winner of a jackpot price. Sign up today at NetEnt and receive a welcome bonus on your first deposit. It is worth noting that in 2011, the Mega Fortune Jackpot was the largest jackpot ever won in an online casino according to Guinness World Record. It was won by a Norwegian who was lucky enough to scoop away 11.7 million Euros. New players can have a look at the guides and reviews to be familiar with the best game they can try out.
Apart from him, many NetEnt players have received significantly huge amounts of money and most of them appearing on press coverage news. Playing a progressive network jackpot can change your life in the blink of an eye to making you a wealthy millionaire with just one lucky spin. You do not really have to deposit a lot of money. The little you have is enough since actually the biggest winner got to win 17.8 million Euros with just a 25 cents deposit. You just have to be smart.
RTG Jackpot Slots
RTG PROGRESSIVE JACKPOT SLOTS OVERVIEW: Online gaming is popular in the modern world. There are a number of options when it comes to online gaming. For instance, real time gaming (RTG) offers players with seven progressive slots. Players can take advantage of the endless list of online casinos to enjoy these progressive slots. When looking for the best casino, you should go for one with RTG Slots. It is also recommended to conduct research about the support team of the casino before making any decision. It does not make sense to waste time on a site with poor support services when you can play elsewhere. RTG Progressive slots are not new in the gaming industry. These slots have been around since 1998. Whether you are an experienced player or novice in the gaming industry, RTG has something that will impress you at the end of the day. With further ado, here are seven slots offered by RTG.
Caribbean hold EM
If you want a new and exciting variation of the five care stud poker then you should not look beyond this progressive slot. The game requires that the dealer has to qualify with a king and ace or a pair. In the event that the dealer does not qualify then the player will do so automatically. The Caribbean Hold EM Poker and Caribbean Stud Poker tend to share the cross-casino progressive jackpot.
Let EM ride
Let EM ride is one of the most popular games of cards that you will find online. Players require a pair of 10's when taking part in this game. It is easy to determine what each of the face down card means without having to raise the bet. You might never know when you are going to be the lucky winner of the progressive jackpot when playing this game.
Caribbean Stud poker
Caribbean Stud Poker is among the progressive slots that will make you to fall in love with RTG even more. If you love Texas Hold EM play then this is the best option when it comes to RTG progressive slots. The thrilling single player action of the game will make you to keep playing it repeatedly. The five card stud game is normally played using 52 cards and it entails playing against the dealer. The slot allows players to share in jackpot whether the dealer qualifies or not. The game only have five hand, which qualify for the slot namely Flush, Full House, Straight Flush, Royal Flush and 4 of a Kind. Before registering with any of the online casinos, find out whether it offers this progressive slot or not.
Good to be bad
The three coin machine takes coins of different sizes including $ 1 and $ 0.25. You can register with any of the online casino to play this game whenever you have time. Players will have to lose twenty nine spins in a row before they become winners of the progressive jackpot. It is advisable to pay attention towards the loss meter after losing four spins successively. Be keen on the little dancing devil since it keeps all the spins you have lost calculated on your behalf. Once you have gotten a winning spin and the loss meter will automatically be reverted to zero. If you have never cheered when it comes to losing spins, this fast paced game will make you smile all day long.
Crazy Dragon
This progressive slot jackpot was designed with serious players in mind. The bet of the slot has been set at $ 1 while the maximum is at $ 3 which is required to pull down in order to win. The jackpot tends to start at $ 2000 and it is subject to be reset if anyone wins this amount. The game also allows you to win free spins once you manage to get the dragon head symbol. The machine also features a ying yang symbol that has been made wild for all symbols excluding the head of the dragon. You will be among the lucky person to win the 100 free spins and then bag the final jackpot.
Shopping spree
The slot has 5 reels as well as 9 pay lines. You can play the RTG slot with as low as $ .25 and then cash out up to $ 100. The jackpot starts at $ 25,000 each of the time a player wins and the amount is free to reset. The machine comes with two bonus rounds that will excite you in the long run. Players can get five diamond rings on the maximum pay line. Furthermore, it allows players to select between progressive Jackpot and $100,000 shopping spree all the way to the New York City.
Mid life crisis
The Mid life crisis progressive slot comes with five reel and nine progressive jackpot machine. The machine allows players to use up To $ 100 chip play on the wild slot. It has many symbols that look hilarious such as Viagra pills among others. With only .25 cents, you will win on condition that you do not bet on the maximum bet. There are also two separate bonus rounds that you stand to win on this slot. In addition, there is ultimate entertainment for the players on this progressive slot.
Light speed
Light speed is a three real quarter progressive slot machine from RTG. The cute alien designed machine boasts of neat graphics that include light speed meter. You are expected to place maximum of .75 in order to get the meter activated. The slot has a robot symbol that has everything except the light speed control.
Iris 3000
Winding up our discussion, Iris 3000 is a five real progressive slot machine. The slot machine is normally played using .50 and its value starts from $ 100000 and the reset amount is incorporated when the jackpot is won. The slot has seven doors and the main aim of the game is to get all the doors open.
In conclusion, Real Time gaming (RTG) has several slots to present to game lovers. Players have up to seven slots from this service provider that make players prefer it to other gaming options out there. Some of the progressive slots include light speed, Iris 3000 and shopping spree among others.
Betsoft Jackpot Slots
Should You Trust Betsoft Jackpot Slots?
There is considerable evidence to suggest that some of the Betsoft progressive jackpots can't be trusted. A lot of people have, in the distant as well as recent past, complained that some jackpots can't be won or exhibit behavior that cannot be considered random.
The Statistics Don't Add Up
We recently decided to carry out extensive tests on various Betsoft Jackpot slots, particularly the Betsoft progressive jackpots, to see if there was any credence to the claims that the slots are unfair. For our study, we focused on Bovada because of their large base of customers and the fact that they have the full range of Betsoft games. For an unbiased view, we performed the same tests on Slots.lv and made a comparison. Several months later, we can confidently say that the system is rigged.
One of the main points to consider is that some jackpots are always lost at Bovada. In comparison, they are won several times a week at Slots.lv and yet the amounts of money wagered are much more at Bovada. One should be forgiven for coming to the conclusion that these slots are simply locked. The probability of this being attributable to randomness is next to zero.
The next batch of slots is the one where the jackpots are normally won. With these we found something even more interesting. Between February and March 2016, the win frequency for these slots actually changed. For 3 weeks, they were not won at all. As if by magic, at the end of this period the slots all returned to the previous win frequency. Simultaneously! Had it been a phenomenon involving only one jackpot slot, it would have been construed as the influence of luck. These things do happen, after all. However having multiple slots do it at the same time is just remarkable and cannot be attributed to luck. Consider also the fact that not only did the slots stop functioning according to expectations at the same time, they also returned to functioning normally AT THE SAME TIME. This would imply that the RNG (Random Number Generator) or whatever function the slot uses to determine jackpot wins stopped functioning for the period in question.
Refusal To Pay Jackpot Wins
Recently there was a case of a player who won 1 million mBTC at a progressive jackpot but did not get paid the jackpot. The player was playing the Betsoft progressive slot, The Glam Life, when he was awarded a free spins turn at one point. After his play he hit five yachts while betting the maximum number of coins for the turn. He was meant to win 1 million mBTC. He was however only paid 500 mBTC for his troubles.
Upon contacting Betsoft's customer service, the player was informed that he had not placed a max bet of 1 mBTC. However it is common knowledge that Betsoft has a separate jackpot for each coin size. The player pointed this fact out to the casino and was told now that he hadn't qualified to win because he had made his spin during a free round. What makes this argument unbelievable is that Betsoft has nowhere indicated such a rule and neither has the casino because it isn't at their paytable.
Of course this means either that our player has been underpaid by roughly a million credits or the paytable is buggy. Both sides of the coin make Betsoft look supremely underhanded and unprofessional. After the incident Betsoft added a disclaimer to the paytables saying that the jackpot cannot be won during other bonus features. Obviously this is just a way to hide their earlier misdemeanor.
How Trustworthy Is Betsoft's RNG?
Betsoft claim that they have had their RNG audited. They say the audit was conducted by Quinel M lts, a Maltese company. The last such audit, according to Betsoft's most recent certificate, was conducted in 2015. This certificate, however, is not sufficient to absolve Betsoft's RNG of any blame. The possibility of either a buggy or malicious program is not eliminated by such a certificate. The game usually requests a random number from the random number generator and then assigns this number to a certain result for the slot, a spin in this case. The game can simply be rigged to ignore this number and request the RNG for a different number that is more beneficial to the game rather than the player. A good test should not only test the results of the RNG, but also the results of an actual game, several games, to be sure. The report from Quinel indicates that its tests were carried out without any game connected.
The test carried out by Quinel were not complete and did not explore the exact interaction happening between Betsoft's gaming software and the RNG to determine whether whatever results a player was seeing were truly random. The RNG can work flawlessly, but a rogue piece of intermediate software in the slot's edifice can be enough to change everything. This audit is therefore meaningless.
Past Litigation
In 2014, Betsoft's license was revoked by the AGCC (Alderney Gambling Control Commission) for unknown reasons. One speculated reason is that this was because of Betsoft licensing its games to casinos that customarily accept player from USA. A hearing was scheduled for October 2014 but Betsoft voluntarily gave up its license before due date to avoid the hearing, presumably to avoid being investigated.
In 2010, one of Betsoft's other category of games, keno, came under scrutiny. The keno games licensed to Absolute Poker were discovered to have a feature in them that ensure no players ever won any money. They were designed, however, so that the players would lose much less than they would have lost in perfectly random conditions. Absolute Poker took much of the blame at the time, but looking back we know who is to blame.
Closing Remarks
If nothing else, Betsoft is guilty of being negligent in their practices and deserves to be put under investigation and all the games licensed by them suspended for the period of investigation. Our solid recommendation is that you stay as far away as you can from Betsoft games. They're bad for your health.
Always remember:
Terms & Conditions Apply, 18+:
Please remember if you choose to accept an online casino bonus, terms and conditions will apply and you need to check the casino T&C carefully. Please Gamble Responsibly and also take a moment to visit BeGambleAware.org and feel free to check out our responsible gambling pages (in the Help menu) where you can find hundreds of help centers across the world.