The slot was first released around 2006, and as you can guess it is not what it used to be. Much like other RTG casinos slots of the time it followed a proven formula of jackpot, 20 pay lines, and 5 reels with 4 rows of symbols. The symbols themselves have the nine to ace configuration missing, which is a nice and fresh change; even for an old game like this one.
Game play
The game runs quite smoothly, despite it's age, and it's relatively easy to get into. As in most slots what the player can decide is the bet level and amount of lines in play. Although the wins don't tend to be big, until of course you get the one that is, they do come often and are somewhat in relation to the bet placed. Still, what you're waiting for is the Aladdin's wish bonus game to fill in your coffers.
Although the game has plenty of symbols and graphics for the theme they unfortunately look like they've been ripped off the Disney movie and then re-colored to sidestep any possible plagiarisation lawsuit. Not that that is the case, they just look that way. As a plus there's a few animations thrown in the game for certain winning combinations. Music and sound effects seem to be the same old RTG, and I could swear they still use some of these sounds in their newest slots.
Bonus game and a progressive jackpot
Aladdin's wishes, and the player's as well, come into play when three or more magic lamps show up on the reels. This means double prizes, free spins, and from 2 to 100 times automatic pay for the triggering bet. You have to choose from one of the five lamps to trigger the bonus rounds, and you get as many picks as there were lamps in the triggering round. This feature can also be re-triggered during free spins.
Progressive jackpot is also available, though at this point most jackpot players seem to have migrated towards other games. No millions to be distributed here for the lucky winner, but we are still talking about thousand to tens of thousands, depending how many people end up playing the game at any given moment. Winning the jackpot is of course completely random.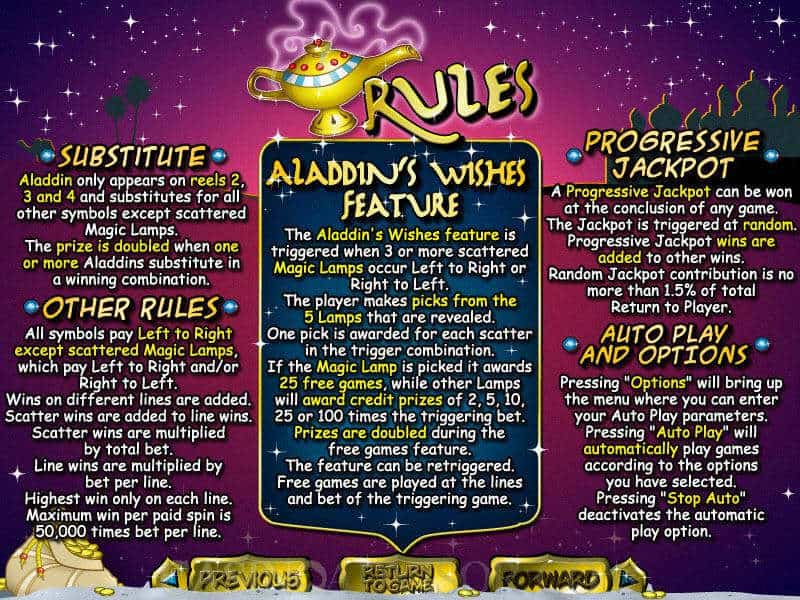 Summary
Aladdin's wishes is an old game, though when you remember it was done over ten years ago the graphics and game play are still quite impressive. Due to its simplicity and good quality it might have a new life in mobile casinos. For now reserve for a nostalgia trip, or to simply try out for some quick and easy game play.
5 RealTime Gaming casinos to try: