On this Bally Wulff slots page you will find:
Top recommended Bally Wulff casinos.
Bally Wulff casino software information.
Bally Wulff slot rtp database & slot reviews.
Bally Wulff software overview: Bally Wulff is one of the more recognisable casino software providers, that is if you are based in Germany. The company is now as a part of the Bally Tech family. They are still based in Berlin but now specialise in online casino software as well as land-based casino games. Despite this, Bally Wulff is mostly prominent in the highly regulated German online gambling market and has yet to make significant strides in other markets, such as the UK gambling sector.
Play Bally Wulff online slots here: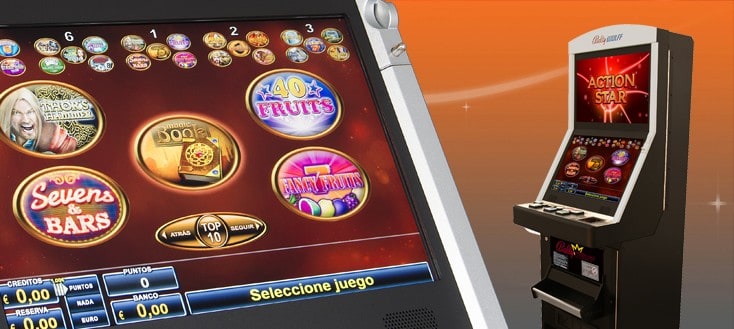 Bally Wulff slot rtp database & slot reviews
| | |
| --- | --- |
| 40 Thieves | 96.09% |
| Asena | 96.18% |
| Book of Romeo and Julia | 96.12% |
| Books & Bulls | 96.13% |
| Crystal Ball | 96.12% |
| Explodiac | 96.12% |
| Fort Brave | 96.12% |
| Fruit Mania | 96.12% |
| Gates of Persia | 96.13% |
| Heros Quest | 96.09% |
| Horsemen | 96.09% |
| King & Queen | 96.09% |
| King of the Jungle | 96.12% |
| Magic Book | 96.18% |
| Magic Book 6 | 95.99% |
| Mighty 40 | 96.03% |
| Mighty Dragon | 96.14% |
| Mystic Force | 95.98% |
| Persian Dreams | 96.18% |
| Phantoms Mirror | 96.12% |
| Pharaos Riches | 96.10% |
| Queen of the North | 96.09% |
| Ramses Book | 96.15% |
| Roman Legion | 96.16% |
| Roman Legion Xtreme | 96.10% |
| Savanna Moon | 96.13% |
| Sticky Diamonds | 96.08% |
| Super Duper Cherry | 96.10% |
| Take 5 | 96.11% |
| Texas Tycoon | 95.95% |
| The Shaman King | 96.36% |
| Thors Hammer | 96.09% |
| Tom Sawyer | 96.40% |
History
Bally Wulff actually has their origins way back in 1950. They were initially founded as the Günter Wulff company, and they focused on land-based casino games. It wasn't until 1972 that Bally Manufacturing Company – one of the oldest casino software developers – snapped up the company, renaming it Bally Wulff. They continued to provide land-based casino games and it wasn't until 2010 when they started getting involved in the online casino industry.
Recently, they underwent a sale, becoming a part of the Schmidt Group, and that seems to have spurned on the creative processes for the company's online arsenal. Their gaming library is still rather petite in comparison to other casino software providers, and as we've said, they are largely in demand in their homeland.
With over 60 years of experience in the gaming industry, and just 7 years' worth of experience in the online casino world, Bally Wulff still has quite a lot of learn but they are certainly a company to keep an eye on in the future. First, though, they will need to break into other markets.
Accessibility
Bally Wulff are currently stuck in a rut. Try as they might, they can't seem to break out of Germany. Although some of their games have made it across the country's borders, they just haven't developed a following outside of their homeland. Because of this, most of the casinos which offer their software tend to be aimed at continental European casino players (usually based in Spain or Italy), or casino players who frequent offshore casinos, mostly in part due to restrictive gambling laws in their own countries.
Bally Wulff does not provide white label or turnkey solutions; they only focus on developing online casino games. As a direct result of this, the casinos which do contain their games tend to be powered by other casino software providers, with Bally Wulff involved in partnerships with those rival providers to be able to offer games to casinos.
Bally Wulff's games
Bally Wulff mostly focuses their attention on slot machine games, both in the land-based casino world and the online one. Almost all their games tend to consist of 5-reel video slots. Depending on the casino which offers them, some of Bally Wulff's games may be playable on portable gaming devices, such as smartphones and tablets. These devices generally need to be iOS and Android friendly if they are to run mobile slots from Bally Wulff.
Bally Wulff slot features
As we've said, Bally Wulff dishes out video slots, and pretty much nothing else. Like most major developers who had their origins in the land-based world and continue to dabble in that market; most of Bally Wulff's online slot machines have been tried and tested in land-based casinos, before being ported over to the online casino world. Many of these online slots play exactly as they would in a land-based venue.
Players shouldn't expect too much in the way of originality with Bally Wulff slots. Indeed, most of their slot machines games tend to contain the same payline structure and features, even if the themes vary wildly.
Top online slot machine games from Bally Wulff which have found a marginal degree of success and popularity include 40 Thieves, Book of Romeo and Juliet, Crystal Ball, King of the Jungle, Night Wolves, and The Land of Heroes. Other slots worthy of mention include Black Beauty, La Dolce Vita, Lucky Irish, Mystic Force, Pharaoh's Riches, Queen of the North, Ramses Book, Roman Legion, Sticky Diamonds, Texas Tycoon, Thor's Hammer, and Wild Rapa Nui.
Although they have several progressive jackpot systems for their land-based casino slot games, progressives in their online gaming catalogue are few and far between.
Casinos and Bally Wulff software
You won't find too many casinos in the online gaming world which offer a large spectrum or library of games from Bally Wulff. The simple reason for this is that they do not have the power to offer a full casino suite, and they are forced to do deals with other operators on open platforms to offer their games. Their deals with SkillOnNet, Net Entertainment, Oryx, and fellow German casino software provider, Merkur Gaming are fine examples of this.
If you do wish to try your hand at games from Bally Wulff, we would recommend that you try out Video Slots or Noxwin. These tend to be the most prominent casinos to feature software from this giant. Other middle-rank casinos to offer games from Bally Wulff include Casino and Friends and Mr Ringo Casino.
Bally Wulff at Video Slots Casino
BALLY WULFF Games & Entertainment GmbH is a leading German company operating in the entertainment electronics segment. The company combines the areas of development, production and sales of cash gaming machines as well as games that can be used on various platforms. Product sales are centered on the German market but also on the export business, which is currently focused on Spain and Italy. The product portfolio of this long-established Berlin-based company includes the very latest cash-gambling machines. Offering impressive contemporary designs, HD animations, touchscreen technology, and fascinating gaming quality, they are the perfect choice for modern entertainment centers and the hospitality sector. An additional core competence is in the development of attractive gaming packages that offer a wide range of entertaining games with exciting special features. Central to all of these ideas is a strong, creative team of developers. BALLY WULFF offers products that match the individual needs of the various target groups and locations/fields of application. With a range of exciting and socially controlled recreational products, the company inspires and entertains millions of players – while adhering to comprehensive player protection guidelines. Established in 1950, BALLY WULFF has been part of the SCHMIDT Group in Rhineland Westphalia since 2008. The company operates a network of 12 branch offices throughout Germany and has a workforce of approximately 280 employees.
Specialties
Unterhaltungselektronik, Geldspielgeräte, Spielesoftware, Online Games
Websitehttp://www.ballywulff.de
IndustryEntertainment
TypeSelf Owned
Headquarters

48-51 Maybachufer Berlin, Berlin 12045 Germany

Company Size201-500 employees
Founded1950
Germans are well known for creating things that just work well. If we think a bit, we will immediately remember all of the amazing car engines and fantastic football teams this country has produced in the past few decades.
Apparently, all that tech savvy and engineering knowledge has also found its way into the e-gaming sector as you will see after reading more about Bally Wulff – a company that has become a leader in creating and selling gaming machines in Germany. It is based in Berlin.
Here is a company that also excels in other sectors as well not just creating arcade gaming machines. It also has shares in other enterprises related to the leisure sector. Most notably, the company has expanded its brand to become a household name within the venue management industry as well as well as being involved in the fitness equipment market.
However, due to all this, the company never forget about its roots and is also looking to expand its reach by taking many of their games online, this way they know they will be tapping into a whole new sphere of gambling entertainment.
An introduction
Bally Wulff dates back all the way to the 1950's when the company first established itself as a small scale manufacturer of gaming and entertainment machines. Then in 1972 the original Günter Wulff company was bought out by an American registered company, that at the time had very big worldwide network ambitions by the name of Bally Manufacturing Company.  The company sold around 10,000 Rototron game machine units and went on to collect many awesome recognition
In 2007 Bally Wulff became the property of the SCHMIDT Group – this is one of the leading providers of IT services in Germany, as well as the real estate and fitness sectors. The company has also since then expanded, taking their product and service reach to the Italian and Spanish markets.
Hardware information
This company was first and foremost a maker of land-based games. The company has developed a vast range of game systems to fit every possible specification requirement for casinos and players alike.
When it comes to the software part of it, each physical game has the option to be programmed to feature a variety of different gaming options, with special game play capabilities such as auto start and quick spin features and different game catalogues.
Online Slot Machines
Bally Wulff are one of the leading manufacturers of game machines where it comes to physical casinos and catering venues and they are very proud of this, however they also recognised that it was time to adapt their services to the high demands of a changing market. In fact, most recently the company released a range of online slot machine titles at some leading online casinos.
Many of these casinos are licensed by the UK Gambling Commission as well as the Malta Gaming Authority, giving them a wide international reach. In saying this there are many websites where you can find Bally Wulff games that will have a more German focus.
The more time goes by the more online games Bally Wulff will have available however at the moment players can already enjoy a small range of themed video slots and classically inclined 5-reel games. These games include titles like Sticky Diamonds, Fruit Mania and Fancy Fruits. All games range from 5-payline slots without bonus features to 10 pay line games with wild symbols and free spins which allow for more regular winning possibilities.
Even better than the above, you can also find games like Explodiac, a 5-reel game with 10 pay lines and a big mix of fruit symbols. You can find plums, grapes, oranges, watermelons, cherries and also lemons. The best feature in the game is the icon of the exploding bomb that will change up to 9 adjacent reel positions into wild icons.
If this might sound a bit too much for you to handle and you are a video slots lover, you can still find all of the usual suspects when it comes down to the themes with games that explore fantasy and magic as well as history. Some of the newer slot games they have include elements of the mystical world with spells, enchantments, wizards and a few magical bonus features too.
There are also interesting slot machines that will have you imagining that you are traveling especially with the detailed design work these games offer as well as the far out music and sound effects. The games also come with some conventional, yet potentially rewarding bonus features like wilds and free spins.
What Bally can offer to you
Bally Wulff has been around for almost 50 years and nowadays it is a software company that has been very successful in picking up an outstanding level of experience in the entertainment business along the way. They have tapped into all kinds of business enterprises, from laser based gaming technologies to fitness machines.
The main aim of their game has always been on creating state-of-the-art gaming units for players to chill out with, with the hope of walking away with some cash too. Now, all of these games are making the transition from brick and mortar casinos to the online gaming sphere, meaning that soon Videoslots players from all over the world can start to enjoy a wide range of games that this company has to offer.