Euro Golden Cup slot review (Genesis Gaming):
Online Slot Review:
NetEnt are you paying attention? THIS is how you make a football slot!
Genesis Gaming have come out with a future cult classic online slot here with their Euro Golden Cup slot. They really have gone over and beyond with their development. This is what we want to be seeing all the time. Instead of making a dozen crappy slots a month just take the time to make one really really good one.
This slot is jam packed with little nuggets here and there. What should I mention first? Where to start?
The football shirts:
This is probably the biggest signal of the time, care and love that has gone into this slot. It might be a small thing but some countries have their legendary football shirt numbers and Genesis have thought of this tiny detail. The blue shirt is number 10 (Italy – Baggio, Del Piero, Totti), the yellow shirt is number 9 (Brazil – Ronaldo, Tostao, Serginho) and the most obvious example is the orange shirt number 14 (Do I really need to explain this one. RIP Johan you were the greatest!).
The side bars:
The left and right hand sides of the screen feature a proper older generation football scoreboard theme. It works brilliantly.
The theme, graphics and animations:
The whole theme and graphics from the reels to the base game to the animations to the bonus rounds are all very much in the style of proper 90's football computer games, except Genesis have brought them up to date with the modern technology. This is not FIFA 2016 graphics, this is more like a 2016 reincarnation of Sensible Soccer or ISS Pro or the 90's FIFA games. If you are a football fan of a certain generation you will know exactly what I mean. Brilliant.
The flag system & RTP system:
The flag system, RTP system and levels is a brilliant idea, simple but really works very well.
The game play and payouts:
No matter how good a slot looks, it all boils down to how it plays and pays. And Genesis have got this spot on again. Nice and steady pay outs, variance and bonus hit frequency and lovely smooth reel action. And there is good potential for wins in this slot too. My first three feature wins for example were 10x bet, 110x bet and 40x bet. And that kind of balance is throughout the play as well as the odd decent win during base game play.
Overall slot verdict:
Top top class effort from Genesis Gaming. They must have spent a long long time developing this slot and have looked into every minute detail to make this THE perfect football slot. Brilliant.
---
Slot Screenshots: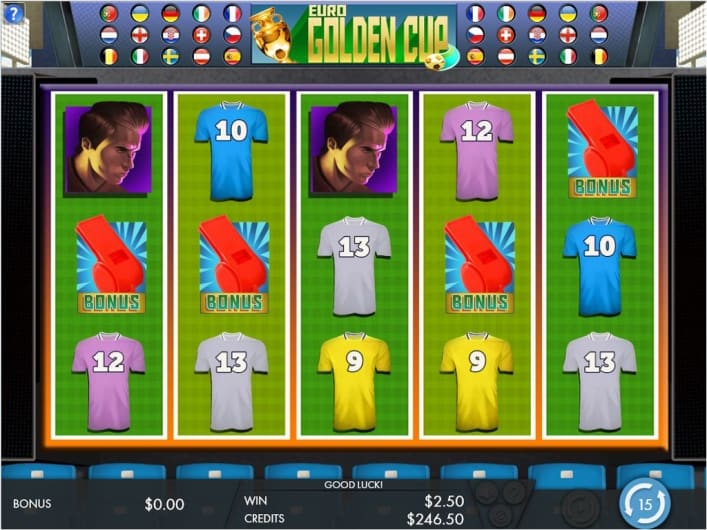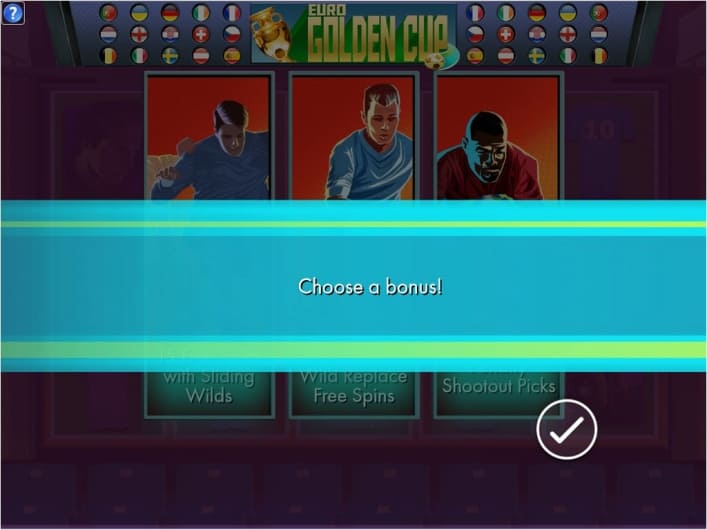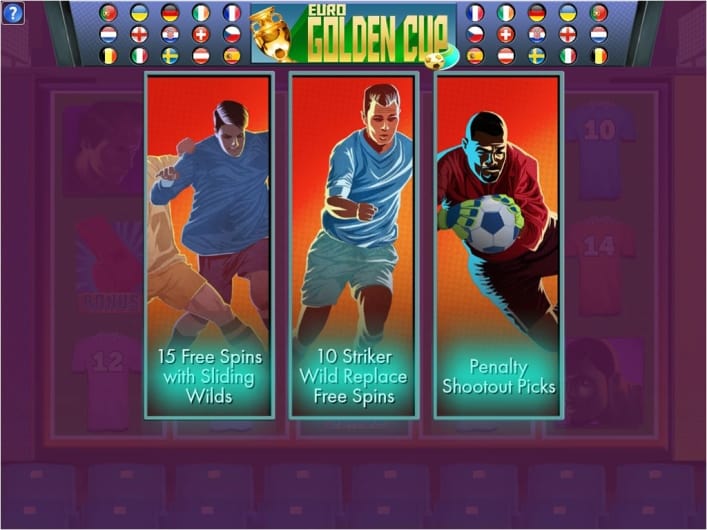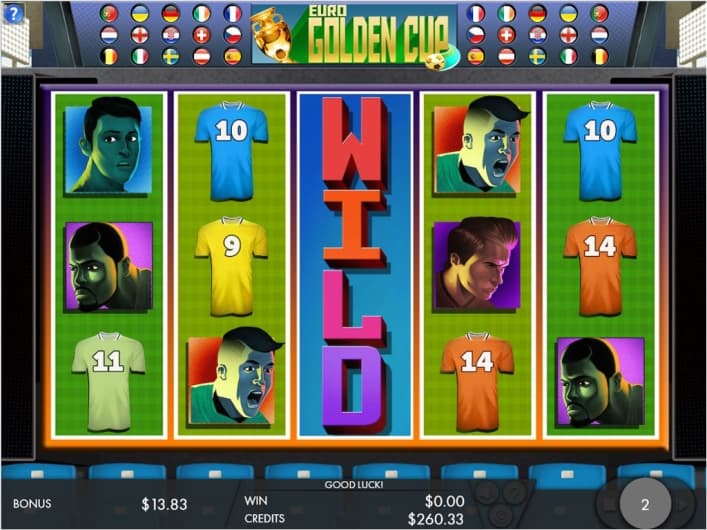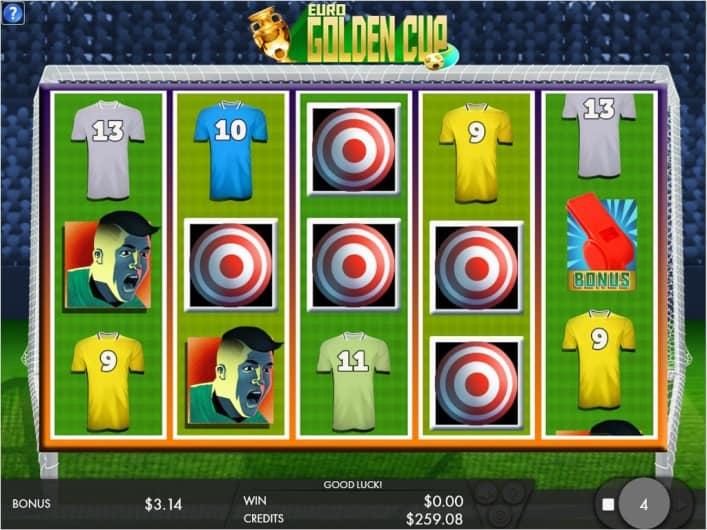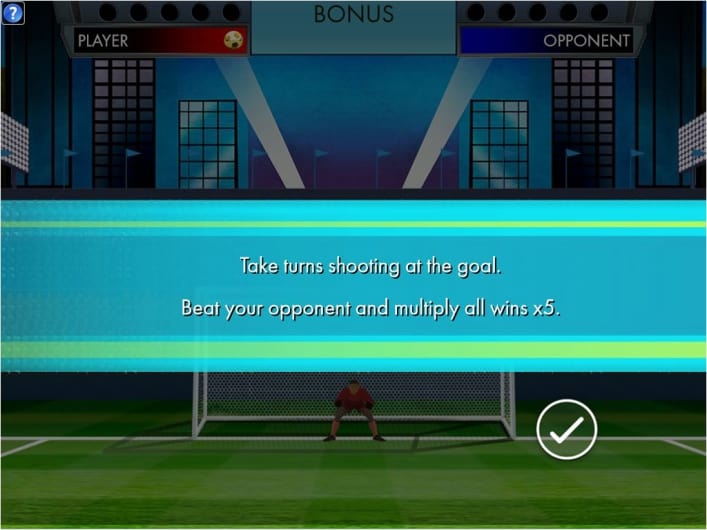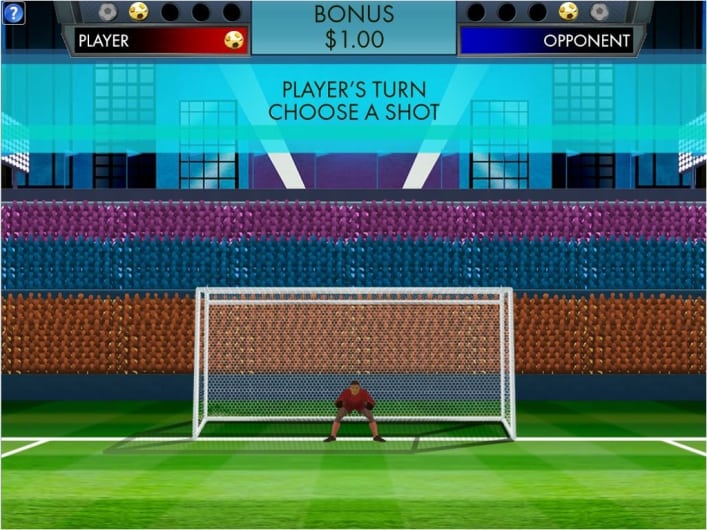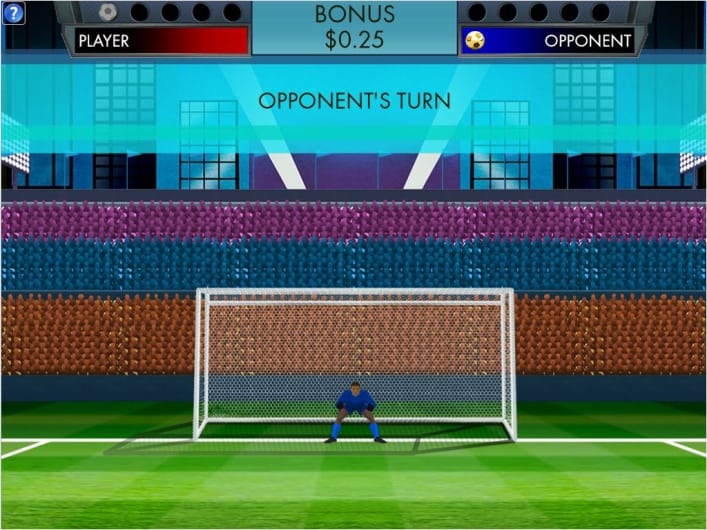 Demo this in free slots mode here:
Euro Golden Cup Online Slot:
Euro Golden Cup™ IS A 25 LINE, 5 REEL VIDEO SLOT GAME FEATURING A COLLECTION MECHANISM AND MULTIPLE UNLOCKING LEVELS AND FEATURES
Feel the excitement of a multinational soccer tournament in this game that combines a love of soccer with the levelling features of video games in Euro Golden Cup. Unlock powerful features as you advance through the tournament.
The urge to level up and the strong base game play will keep players engaged. As players progress, previously unlocked levels are improved with enhanced features and increased RTP, providing exciting choices after every bonus trigger.
Make your play, be the champion!
BONUS FEATURE
If a flag appears on both reel 1 and 5, receive a trophy towards unlocking a bonus level. Three scattered Soccer balls trigger a feature selection and the collection of 1 trophy.
The Play Maker Stacked Free Spin Feature is available at any level. If wilds appear anywhere on the reel, they will slide to fill the entire reel. This feature can be re-triggered by 3 or more scatters.
– Level 1 awards 10 free spins
– Level 2 awards 12 free spins
– Level 3 awards 15 free spins
Collect 15 trophies and unlock the Striker Feature. After every free spin, a player will make a spectacular bicycle kick, and reveal mystery symbols. This feature can be re-triggered by 3 or more scatters.
– Level 2 awards 10 free spins
– Level 3 awards 10 free spins featuring Wild Targets
Collect another 15 trophies, and unlock the Gold Level, the Penalty Shoot Out Feature.
– Players will take five shots on the goal. Each shot awards a prize, with higher
prizes for a goal.
– If the players win the shootout, a random multiplier for the entire feature win will
be applied.
GAME PLAY FEATURES:
– Collect tokens to unlock levels and features
– Play Maker Free Spin Feature
– Striker Feature
– Penalty Shoot Out Feature
GAME PLAY HIGHLIGHTS:
– Multiple bonuses with enhanced features and improved RTP
– Tournament hallmarks for an immersive championship experience
– Extensive player involvement and activity
– Autosave ensures players progress is retained
GAME STATS:
Reels:
5 Paylines: 25
RTP Level 1: 94.35%
RTP Level 2: 95.07%
RTP Level 3: 96.13%
Languages: 16
Volatility: Low-Medium
Feature Frequency: Medium
Max Win (at Max Bet): $22,440.00
FORMAT:
HTML5 Optimized Screen resolution: 1024×768 -1365×768
Genesis Gaming Official Press Release:
Genesis Gaming offers football filled fun with unlockable levels in Euro Golden Cup
London, UK, June 8th 2016 — Genesis Gaming announced today the release of its latest video slot game, Euro Golden Cup, across multiple platforms. Experience hallmarks of a football championship through sliding goals, spectacular bicycle kicks, and a dramatic shootout in this striking game, optimized for game play in HTML5 for desktop and mobile.
Football tournament excitement is experienced through multiple features in Euro Golden Cup. Reach for the win with a sliding goal in the Play Maker Free Spins Feature that awards up to fifteen free spins with stacked wilds that slide to fill the reel with wilds. The Striker Feature presents powerful bicycle kicks aimed at targets to reveal symbol or Wilds for more wins during ten free spins. The final Gold Level unlocks the climactic Penalty Shootout Feature for five shots on net, and the opportunity to win five times the total feature wins for winning the shootout and being the champion of the tournament.
Euro Golden Cup showcases the Genesis Gaming proprietary game mechanic Graduated Features. Players collect flags of countries to unlock levels for enhanced features and improved Return-To-Player (RTP). The unlocked levels changes game play with enhanced features, such as greater free spins or added Wilds, and improves opportunities to win.
"Our Graduated Features mechanic is a powerful player retention game mechanic. Improved RTP and the power to choose favorite ways to win drives game play." said Scott Sims, Head of Global Design.
"Released the same week as the kick off of Euro 2016, Euro Golden Cup keeps the football buzz going. Players can engage in football fun and be in control of all the suspenseful events commonly seen in a championship." said James Watson, Director of European Sales.
This game is available now through Leander, Quickfire and Relax in HTML5 format.
About Genesis Gaming
As a key supplier of slot content to the most prominent manufacturers and operators in the casino gaming industry, Genesis Gaming has built its reputation on providing casino gaming content that maximizes revenue for our customers. With over 150 video slot games produced, Genesis has world-class game designers and develops games for all digital platforms whether they are land-based, online or mobile, and for real-money or social gaming play. More information on Genesis can be found at: www.gen-game.com