The online casino listed on this page is not recommended. Please try one of these top alternatives instead:
BetCart Casino Review
I have temporarily blacklisted BetCart Casino for a couple of minor reasons which may seem very insignificant but are signals I do not like and can lead the casino in one of two directions, fixing it and improving, or towards the blacklist. It really is 50/50 at the moment.
One issue is with a buggy website. In the screenshot you will see I selected the All providers option, this left open also stays open and covers active slots and games without any way to make it dissapear. This is a minor detail which should easily be solved if the casino operator is serious.
What is more strange is that they list iSoftbet as a game provider as well as using graphics from iSoftbet games in their header ads… except they currently don't actually offer any iSoftbet games.
They also list Playtech as a provider without having any Playtech games.
But what is worse is they have "Magic of Oz" from GamesOS but the image they are using is actually from the iSoftbet slot Astro Magic (this can be seen in the above screenshot as well).
These are signals that this casino may have been cobbled together on the fly. Which is not a good signal to give off. We have seen it before with a number of casinos on our blacklist who offer NetEnt slots only they load up without the NetEnt startup logo and have been found to be slots actually stolen and used illegally. Now this is not the case with BetCart but as I say, warning signs must be heeded… just in case. Why take the risk with your hard earned money? Play at a known and respected casino instead. There's plenty of them around!!!
I hope I am wrong and that BetCart fix their issues and come good.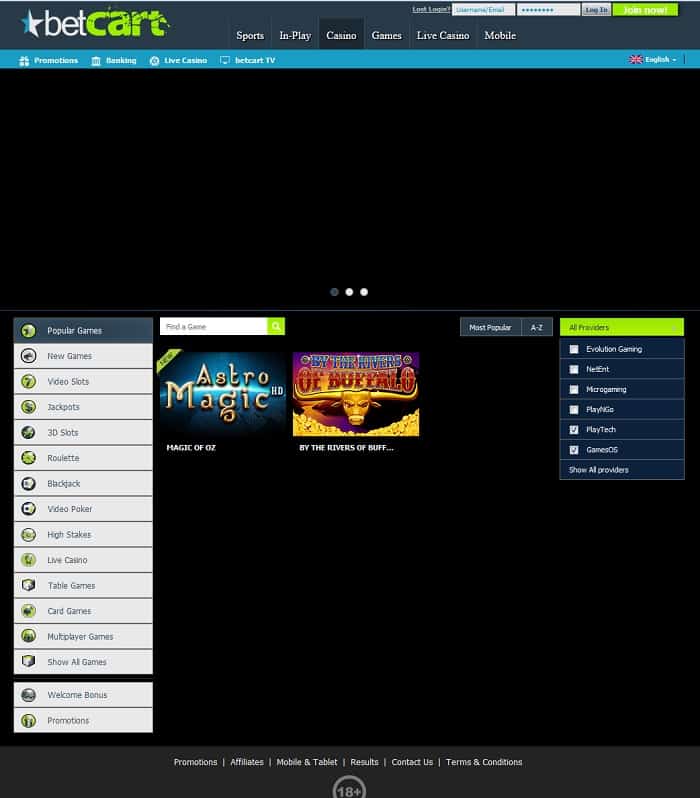 ---