Bob Casino Review (The important stuff): Not content with being a bit of a dodgy clip joint, this new effort from Direx N.V. is in very poor taste indeed. Clearly created to try and cash in on the late great legend Bob Marley (in name and in design) they forgot one crucial factor, that the Jamaican people still worship Bob Marley as a sort of God! They have since had to add a disclaimer, presumably following a number of complaints:
"Bob Casino was named with no reference to Bob Marley intended. The site content is written in a purposefully jocular manner. The site does not encourage or condone any form of substance abuse".
Having said all that, with the images of weed, bongs, spliffs and magic mushrooms all over the casino it is possible that many complaints were made about the drug paraphernalia as well, who knows in this day and age where political correctness has gone insane. Either way the owners really did not sit down and think very carefully before they came up with this whole branding idea.
Anyway, even without all of this we would not have been able to recommend this casino due to the very poor customer service (another casino where live support lies) and the lack of responsible gambling respect.
Not Recommended & Blacklisted Casinos
Not Recommended & Blacklisted Casinos
The casino on this page has either been blacklisted or is simply not up to the standards we expect and would therefore not deposit our own money there so cannot recommend them. None of the links on this page will take you to the casino in question (we wouldn't want to subject you to the pain and frustration!).
Not Recommended & Blacklisted Casinos Info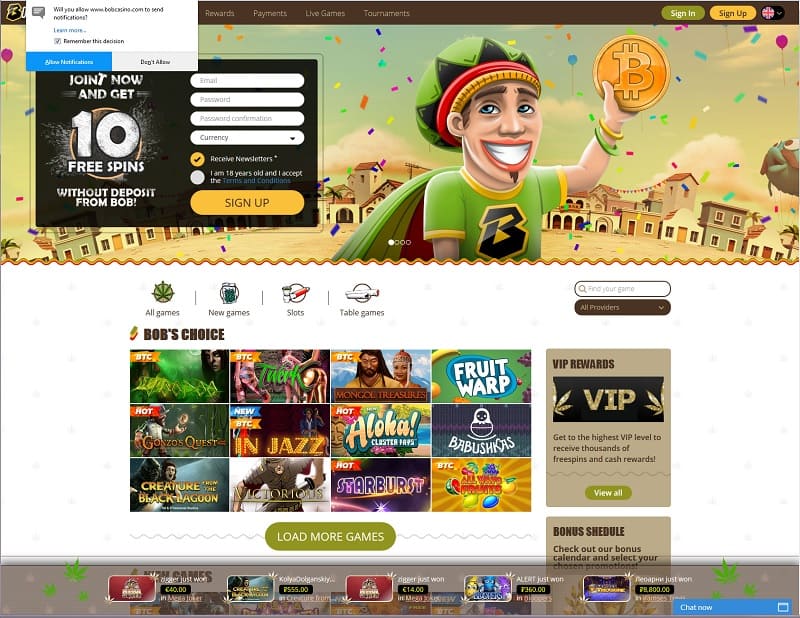 Bob Casino Review (The generic stuff):
Bob Casino – your number one place to have fun!
Bob Casino is one of your favorite online Casinos with enough slots and games to blow your mind off! Its owner Bob is just your ordinary down to earth casino player, who loves to smoke, play slots and have a great time. At Bob Casino, there is plenty to offer, from:
Incredibly fast cash outs: You don't have to bite your lips off waiting for your earnings anymore because it only takes Bob less than 2 hours to send you 100% of your total winnings.
Friendly 24/7 support: Bob Casino is here to ensure you have a smooth time from the moment you sign up through to the time you make your first winnings. Let's just say, if you are not happy, we are not happy.
Bonuses almost every day: By signing up today and playing slots online you stand the chance to get free bonuses every day. As you know by now, the more the bonuses, the merrier, so don't be afraid to start today!
VIP rewards for each activity: Who doesn't like rewards? Here at Bob casino, we fully understand that and offer you VIP rewards for any of your activities.