Builder Beaver
RTG, or RTG casinos slots, slots are preferred by US players, though the reason escapes me. I view them as quite bad, and the producer itself is anything but open. In fact they are almost impossible to get a hold on, and their website has nothing but license information. In an age when everything relies on social media and contact with customer this is not all that good. So far though the games have made up for this, and Builder Beaver is one of the better releases, even though it dates back to 2012. It has quite a decent payout, dishing out a max win of 50 000 times per bet per line on a single spin. Still, in our opinion there are much better slots out there to play.
Builder Beaver slot at a glance
Produced by RTG
Two progressive jackpots
2 free games, 25 pay lines and a maximum bet of 6.25 USD a spin
Released in 2012
Basic game play
Builder Beaver slot comes with 25 pay lines and a bet level that ranges from 1 cent to 6.25 USD, or euros for that matter. The pay lines can be activated or deactivated in order from 1 to 25. With five reels and a sorting of symbols the game plays out quite like a regular slot. The theme is, as you can tell from the name, about beavers and their building company. Though beavers are the owners of the company a couple of other animals, like squirrels, raccoons and bears feature as symbols. On top of this you have several forest themed pictures, for a total of 10 symbols. To this you can add the scatter and the wild. The most important of these is the wild, or the substitute symbol, which will pay out a whopping 10 000 times the bet when it features five times on a single pay line.
Free spins features and two jackpots
The main features in the game are the two progressive jackpots, which number in hundreds and thousands respectively, and the two free spin modes. You can activate the free spins when you get either the beaver or the sign scatter symbols appear thrice anywhere on the reels. As for jackpots they can be triggered at random at the end of any round, no matter the bet you are playing on. Below are the details on the free spins:
Sign feature – 10 free spins, with all prizes doubled during the spins. All sign symbols act as substitute, three or more scatter or substitute symbols on a single round award another 10 free spins.
Beaver feature – 12 free spins, with all prizes tripled when the beaver symbol substitutes for any symbol in a winning line. The feature can be re-triggered during the free spins.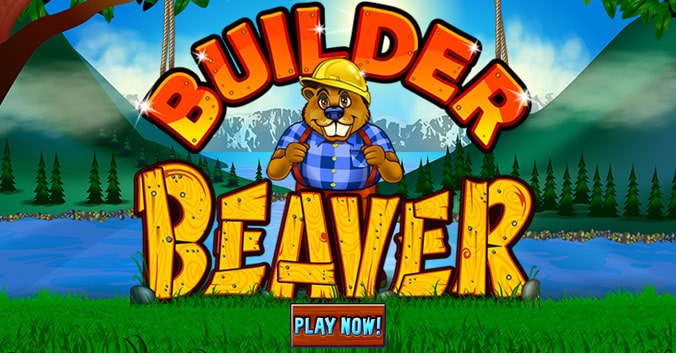 What's missing
The game was published in 2012, and though it presented a good quality RTG release time has without a doubt made this slot quite boring. The music, the graphics and even the game play are outdated at this point. The company itself seems to be disappearing, and as soon as the states sort out their gambling laws we can expect the European companies to take the industry by storm there. Until then Builder Beaver remains a decent slot. Seriously though, the music and sound effects are the same that the company seems to use in all of their slots.
Summary
Builder Beaver is a decent slot, and no doubt it still has an audience. Beyond nostalgia it doesn't have that much appeal though, and even that is diminishing as the years go by. If you have a choice I would recommend playing something a bit more modern.
5 RealTime Gaming casinos to try: