There is much more to online casinos than meets the eye. As well as being a provider of online casino games such as slots, table games and instant win titles; online casinos also regularly provide exciting competitions for their players to partake in. Such competitions can include slot tournaments, casino races, and casino tournaments.
What are these competitions, though? Do all casinos offer them? How can you get involved in the competitions, and which ones are ideally suited for your needs? In this piece, we will delve into the world of slot tournaments, casino races, and casino tournaments, and try to unravel this bag of snakes so that you could understand these added goodies which online casinos provide, and partake in them.
We can't stress this enough; read the terms and conditions of each of the casino tournaments, casino races, and slot tournaments that you plan to enter. There will be no surprises that way, especially in terms of the prizes and bonuses you might win.
True online slot tournaments
Most online slot tournaments (which we will detail below) are based on your normal regular slot play. There are however a couple of notable exceptions, The Battle of the Slots at Video Slots Casino, and the Reel Races at Casumo Casino. We will go into more details on these later on in the article but needless to say these two casinos' slot tournaments are what you would hope for an expect from true online slots tournaments and more in the style of poker tournaments (kind of).
Slot tournaments
Slot tournaments are an important part of the promotional set up at major online casinos. Slot tournaments are usually open to all, and they can be a great way for players to raise funds, whilst competing against other players and playing their favourite online slot machine games. How so?
There are various different types of slot tournaments out there on the net, but the vast majority of them work in much the same fashion. Players will be invited to opt-in to a tournament. Then during a promotional period dictated by the tournament's rules, they are invited to spin the reels of their favourite slot machine games. Players may be able to pocket points based on how much they win, how much they wager and/or how much they deposit and spend during the promotional period. After the period is up, the players who finish higher up the tournament ladder are likely to bag the best prizes, which can include cash, holidays in the sun – you name it.
It is always important that players read the terms and conditions of slot tournaments, to make sure they understand the fineries of the competitions. You are going to want to know when your wagers count and when they don't, how the ranking and table system works, and more importantly, which slots you can play and which are not counted towards the slot tournament.
Casino races
Casino races are in very much the same vein as slot tournaments. Every so often (usually weekly) an online casino will have a nice and fat prize pool up for grabs. Players will then be invited to opt-in to the promotion, and over the course of the week, they can select either one of the slots listed in the race (or one of their choosing) and wager on it. There will be a predetermined amount that you must wager in order to pocket points on a leaderboard. Every time you fulfill that amount, you will pocket points.
Once a promotional period has come to an end, the total number of points earned by the players will be added up and their final position on the ranking determined. The better the player does, the more points they will have, and the better the prizes they can win. Prizes are usually paid in cash to your online casino account.
It is rare, but casino races can sometimes involve non-slot machine games, too. More often than not, though, slot machines are the preferred medium for these types of casino promotions and competitions.
Casino tournaments
Casino tournaments are a slightly different kettle of fish. Unlike races and slot tournaments, which are slot based and often contain the same types of rules, casino tournaments are much more varied. You can find casino tournaments for slot machines, as well as table games, instant win games, live dealer casino titles, mobile games, and video poker, amongst other forms of casino games. Casino tournaments may be open to everybody, or they may be far more exclusive. In the case of the latter, players may have to earn their tickets to a casino tournament, either through VIP programs or loyalty bonuses.
Regular casino tournaments can (and frequently do) work in the same way as slot tournaments and casino races, in that here is a leaderboard involved, and the top finishing players will bag the best prizes. That is not always the case, though. On occasion – especially with table games – players may directly compete against each other, in an elimination style format. With these types of card game tournaments, it really is a case of the winner takes all.
Some of the more popular (and exclusive) casino tournaments are high-roller card games. These are off-limits to any standard player, simply by virtue that they do not have enough funds to take on the richer players who love to lavish big wagers on their games. Other casino tournaments can be totally free to enter, and some casinos may even provide you with free spins to use on them. It is not uncommon for bingo sites to regularly run mini tournaments, too.
Where can I enjoy the spoils of these competitions?
As with all casino tournaments, races and slot tournaments, we couldn't advise you enough to read the terms and conditions of each tournament. Sometimes the prizes are not actually cash prizes, but bonus cash, and that does not amount to same thing. Bonus cash comes with wagering requirements, so read those Ts and Cs very carefully.
Other tournaments can see players based in specific countries excluded from the competition, either because of their local gambling laws and jurisdictions or for other reasons. Some competitions have prizes which include holidays in the sun, day trips or gizmos and gadgets. If you aren't in a position to be able to claim those prizes, some casinos may offer you the chance to accept a cash prize instead – not all will. In the case of the latter, you may be excluded from playing a race or tournament on those grounds. Again, read the terms and conditions carefully before joining any tournament, just in case it doesn't apply to you.
Now, there are some casinos which offer considerably better slot tournaments, races and casino tournaments than other sites. We have gone to the trouble of detailing a few of those here for you. If you want to play some nifty tournaments and competitions, these casinos come highly recommended.
VideoSlots Casino
VideoSlots Casino (also known as Video Slots) launched in 2011, and are widely regarded as having one of the largest collections of video slots on the net. This is an online casino which is able to offer players games from Amaya, BetSoft Gaming, Chance, Genesis Gaming, Leander, Microgaming, Net Entertainment, NextGen Gaming, NYX Interactive, Play 'n Go, Playtech, Push Gaming, Quickspin, Rabcat and Yggdrasil Gaming among others. They recently celebrated the release of their 2,000th online slot!
This is also a casino which is known for its regular casino tournaments and its slot tournaments.
VideoSlots Casino Races:
This Curacao, Maltese and UK licensed online casino is able to offer players across the globe the chance to partake in their solid selection of casino competitions. They are famed for their casino races which take place each week and promise a cool £60,000 in casino cash to the highest finishing players. Players need to spend roughly 20p a spin to pocket points on the leader board and these races usually allow you to play any slot machine game you desire. Do take note on the points per bet size, a spin of 0.20 will carry less than a spin of 1.00 but a spin of 100.00 will count the same as a spin of 2.00
Battle of Slots – Social Casino Experience: (We are just going to copy and paste their official info on these tourneys)
Today is a big day for our casino and possibly for the entire Casino world. The reason for that is because of our official release of a truly revolutionary new feature on Videoslots. We bring you news of something that can change the Casino World forever, today is the day when we proudly release our brand new tournament feature: Battle of Slots.
We now offer our players a brand new game mode, available only at Videoslots. We believe that this way of playing will take the video slot casino games to a whole new level. From this point onward, you will now have the ability to play against others in real-time video slot Battles. You can challenge your friends and other members of Videoslots in this revolutionizing game mode, you will also be able to chat with the other combatants at the same time as you are spinning the reels. 
We offer Free rolls without buy-in to Battles where you will compete for different rewards. We will also have a main event every day starting 6 P.M. with the prize pool of a solid 500 free spins. This daily main event will not have a buy-in either of course, and the free spins will all be wager free as they always are on Videoslots. 
In addition to this big Free roll, we will also have different kinds of free battles where you compete against at least ten other players for different kinds of rewards. These Battles will function the same way as a "Sit n' go" tournament if you are familiar with those. We will also be offering Battles with signup fees for the chance to win real money in the future.
To participate in our daily main events with the prize pool of 500 free spins, you must have deposited at least €20 and have wagered €200 during the last seven days. 
Videoslots is the first casino to offer this new way of playing video slots, and what hopefully will be a sneak peek of the future of iGaming: A truly social Casino experience – Battle of slots is here!

Brief instruction to our Battles:
You open the battle lobby by clicking the red tab on the right side of your screen, or by going to the Battle of Slots section from the menu in the middle of the page. Here you will find both Sit N Go Battles and scheduled Battles from the lobby page. Sit N Go Battles will start as soon as enough people have signed up while scheduled Battles start at a set time as long as at least 10 players has signed up to said Battle. 
Signup is easy: you just have to enter the battle of your choice by clicking on the battle of your choice, and then click "Register" when you are taken to the popup-window for the chosen Battle. This popup will have information about what type of game it is, buy-in, the total amount of spins every contestant will make, time limit, bet amount for the slot you will be playing, time-limits, and anything else you need to know.
When in the actual Battle, you will find the scoreboard and a countdown to how much time that's left on the left side of the window. There is also a chat under this scoreboard where you can talk to the other battle contestants.
The Battle ends when you've finished your spins or when time runs out. You will then be taken to a scoreboard. Prizes are paid when the Battle is completely finished, there might be a slight delay of up to 10 minutes before any prizes become available on your account if you won.
Personal note: I've never won a Battle of the Slots tournament, in fact I've never even gotten close. As a regular player I have received plenty of prizes in the weekly casino races but despite entering many of the free and paid slot tournaments unfortunately I never got lucky at all.

Casumo Casino
Now, Casumo Casino launched in 2012, and this Maltese and UK licensed casino has a good track record when it comes to offering quality games from some of the biggest developers in the online casino world. You can regularly find games from Net Entertainment, Microgaming, Thunderkick and Evolution Gaming over at this online casino, which largely focuses on the Northern European and UK gambling sectors.
Like Video Slots Casino, Casumo Casino loves slot races. Known as Reel Races, these competitions are run every 30 minutes on a 24/7 basis. Players can use their Reel Race spins to collect as many wins, big wins, mega wins and wins in a row as they possibly can before the timer reaches zero. The online casino site offers hundreds of prizes each day, with several including multiple hundred pound prizes. The jewel in the crown occurs at 7pm when £1,000 worth of cash is offered during this casino race.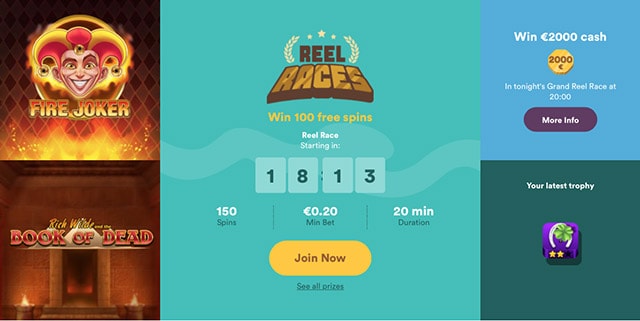 Energy Casino
Energy Casino is a firm believer in these kinds of casino promotions, too. They are able to offer you a host of top games from BF; Greentube, Microgaming, Net Entertainment and Novomatic. Of course, some of these are more obscure developers, so you can play a nice selection of less common slots with this casino. Launched in 2013 and licensed out of the UK and Malta, Energy Casino is able to offer players a multilingual gaming experience using the euro currency.
Now, back to their competitions and tournaments. Each weekend, Energy Casino runs their Weekend Energy Challenge. This is a slot tournament and one which can see players climb leaderboards by playing their favourite slot machine games. They can also win some fairly fantastic prizes. There are 500 winners each weekend, with €1,000 worth of prizes, gizmos and gadgets and 7,393 free spins to be won by players in the competition. At the end of the month, all of the winners will be thrown into the mix to determine an ultimate winner, too. Don't forget to check the Ts and Cs to see what games are eligible for the Weekend Energy Challenge at Energy Casino this week.
Slotty Vegas Casino
Slotty Vegas Casino, the other hand, is a slot machine player's dream, pure and simple. They offer a top notch selection of slot machine games from Microgaming and Net Entertainment – two of the leading developers in the online casino world – and have done so since 2014. This mobile-friendly, Maltese and UK licensed online casino is able to offer you some extremely rewarding casino tournaments.
Many of their casino tournaments are run with much the same rules as the other major casinos we've mentioned above although they use their innovative Supercharged wins as the measurement. However, several of their competitions can be played on mobile devices, and are activated aimed at mobile casino users. This presents a new side to casino tournaments, races and slot tournaments which you may be interested in, especially if you have a thing for gaming on the go.
Personal note: At Slotty Vegas I like to keep my average spin size at the higher end of the "silver" range. Toward the end of the month I can then check which leader board I am closest to the top of and work out which placing in which leader board would win me the biggest prize. If I am close to the top of Silver and need to reach Gold then it should not take me too long at too high a spin level in order to up my average spin size enough to move to the gold leader board. If on the other hand I need to drop down to the Bronze leader board to win a good prize then I am safe enough making thousands of spins in the 20p to 60p range. I have won a few of these monthly tournaments in the past and in general Bronze does seem the most difficult to break into the top 10 with Silver often being the easiest of the 3.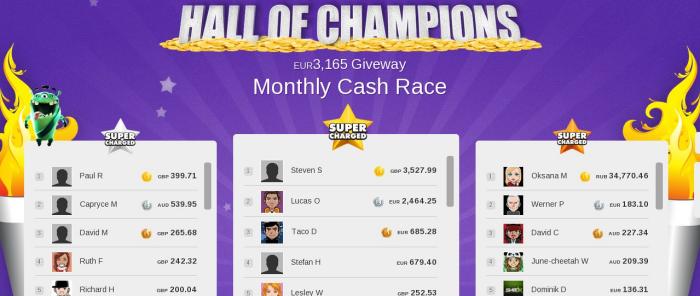 Which online casino is best for me?
At the end of the day, each of the online casinos we have listed above has their own perks, and because of that, you could be content with any of them. Personally, we'd recommend Video Slots Casino, since they tend to carry more of the top tournaments and competitions than their rivals. However, if you prefer mobile gaming then Slotty Vegas Casino could be for you. If you have more time on the weekend, then Energy Casino could be the ticket. If you want to play the biggest games with the niftiest prizes, then Casumo Casino could be right up your alley.
Again, and we can't stress this enough; read the terms and conditions of each of the casino tournaments, casino races, and slot tournaments that you plan to enter. There will be no surprises that way.
Casino races and tournaments can add an extra dimension to your online casino gaming experience once you get started with them. With so many to choose from, so many different prizes up for grabs and so many different casinos to play at, you're spoilt for choice, really.