Quite often when reading the terms and conditions related to a bonus, you will see that certain slots are banned from being played whilst a bonus is active. But why is that?
We will explain 3 of these specific slots and I think you will get the picture. You can also read our "Bonus Parking" casino cheat for a similar idea.
1) Robin Hood Shifting Riches (NetEnt)
This is a slot where the feature free spins don't drop in in one single spin. Instead randomly sacks of gold are dropped into baskets underneath the reels. Once one basket has 4 sacks of gold in it, free spins are awarded. The remaining sacks in the other baskets remain there indefinitely. So the theory for a cheat would be to aim to fill these baskets with 3 sacks each of as high as possible denomination before running out of bonus funds.
Once your bank balance reaches zero your wagering requirements get wiped, at which point you make another deposit and cash in all those almost full baskets.
There are plenty of casinos that still allow this slot to be played during bonus wagering but we would advise avoiding spending too much time on this slot as bonus play does get checked by the casinos and they may class this as abuse even if not stated in their T&C. Besides, we are not convinced this tactic would give you much if any benefit anyways due to the nature of the game-play.
2) Aliens (NetEnt)
This is another slot that is commonly barred when using bonus funds. The bonus free spins on this slot are triggered when you get the top bar filled up with 9 symbols during normal game-play. For every winning spin you gain symbols based on the win, for every losing spin you lose one symbol.
The theory here is that you would select a high spin stake and get to 1 o 2 symbols away from the bonus and then leave the slot, leaving the slot close to the feature for when you are out of your wagering requirements.
Again the casinos may well pick up on this as abuse, but moreover even if you are only 1 symbol away from the feature, there's no guarantee you will not simply run back down to zero symbols at any time. That's only 8 losing spins in a row which is very common.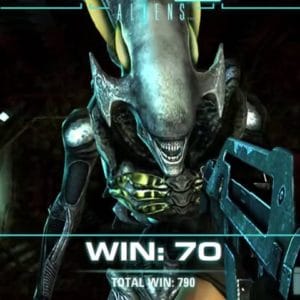 3) Tower Quest (Nyx)
Great slot this one. And in theory the perfect slot for cheating away wagering requirements. On this slot there is the regular scatter bonus (D&D style card game) as well as the two sorts of potion bar free spin bonuses. The potion bars carry on filling up in the background once they look full, meaning you can while away hours and have dozens of potion bar bonuses ready to cash in. So you make your deposit, take your bonus and play this slot indefinitely till your bank balance reaches as close to zero as possible (if needed you hit Starburst or another slot that lets you select the exact stake needed to get your balance to zero and clear the wagering completely). You are now wager free and can head back to Tower Quest and cash in all those lovely free spins!
Once again we will point out that the casino is likely to see what you have been doing and call you for bonus abuse. This is a very solid strategy and does work… but it only works till you actually try and cash out where your likely to have your winnings confiscated!
There are dozens of slots where you can see a similar principle but we will stress once again that we advise against trying any of this out for risk of losing your account for bonus abuse. You have been warned!