I was idly browsing the internet the other day and remembered that recently a big marketing firm just bought an online casino review site for tens of millions (believe it or not this seems to happen quite often with big firms buying up portals all the time)! So I thought I would just have a quick look, see what's going on there. I noticed the Affilya affiliate portal was most recommended, I hadn't heard of them them so I checked it out, rated 10.0 out of 10. Ok interesting, so which casinos do they represent? Futuriti apparently, who have a 7.50 out of 10 rating there. I must admit the name didn't ring a particularly vivid bell so I visited and did a quick google search and found some outdated €100 no deposit bonus offerings.
€100 cashable no deposit bonus
The alarm bells started gently humming in my head but it could have just been a casino launch promotion, benefit of the doubt given. I visited the casino and noticed that no deposit bonus was no longer active. However in it's place is a lovely 1000% deposit bonus (deposit €5 and receive €50 free)… alarm bells just got a little louder.
Deposit €5, get €50 free (cashable bonus)
I always get a little suspicious of overly generous casino bonuses. 100% Cashable bonus does make sense but 1000%??? What is the reason behind them? Why offer so much when casinos are constantly battling against fraudsters and bonus abusers? There are two reasons a casino gives out an overly generous bonus, firstly as a limited time "loss leader" to get the brand name out there and hook a huge number of players from the launch. The other reason is a dodgy casino can offer players the moon when they know they won't pay out winnings anyway.
Counterfeit slots
Despite the above misgivings I wanted to give the casino a test and was just hoping they had demo mode because the nagging feeling I had meant I was not prepared to make a deposit there. Looking at the slots list the alarm bells got even louder. Half a dozen NetEnt slots, half a dozen Novomatic slots, half a dozen Playtech Marvel slots… no full suite of anything, just a random smattering of slots from numerous providers. Strangeness abound.
I started up The Incredible Hulk… a custom loading screen, no Playtech loading screen. Bing bong bing bong. An Autoplay button but no number of Autoplays listed… ding ding, no Playtech help files, ding-a-ling, hit a couple of demo spins, Expanding Hulk spun in but when it span it spun in the smash bonus but no wilds win. I played the Smash Bonus which appeared labored and clunky, and as soon as that was over it popped up the Free Spins splash screen, switched to the free spins base game screen and completely crashed. Ouch my ears are bleeding!
Check this screenshot I grabbed from the above mentioned test: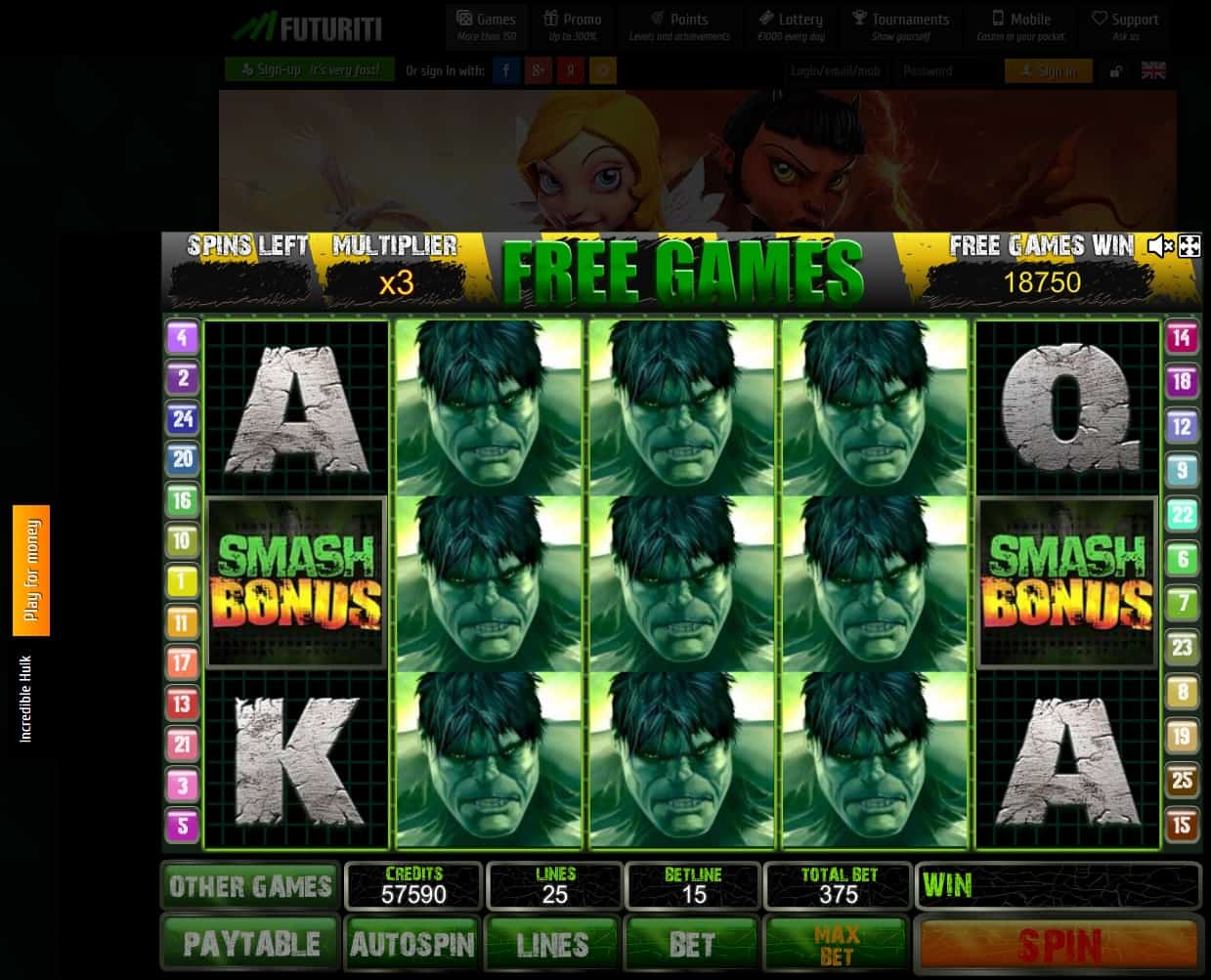 Does that look like an official Playtech slot to you? How has it triggered Free Games from the Expanding Hulk (and why is the Hulk not actually expanded?) Notice the buttons are all inactive as the slot had frozen and of course I have included the Futuriti logo in the background so you can see exactly where this test was performed.
I also checked out a couple of their other slots (I was only allowed 3 demo games in total) and found NetEnt and Novomatic slots also to be without the official loading screens and found them to act differently to the originals.
Just for completeness I jumped on Skype and grabbed hold of one of my Playtech contacts and one of my NetEnt contacts who confirmed what we already new… This casino holds no contract with either Playtech or NetEnt and have indeed hacked and stolen all their slot machines.
If they dare to steal from powerhouses Playtech, NetEnt, etc…
… do you really think they are going to treat their players fairly? Do you think the RTP is going to be as high as the official slots or are they going to drop the RTP to 75-80 percent? A bit more digging around and I uncovered a mountain of official player complaints but not only that, their holding company has more casinos using stolen software, displaying fake or expired casino licenses and basically a huge web of deceit and fraudulent businesses. This reminds me so much of the Affactive / Grand Parker / Revenue Jet etc case from last year. Stay well clear folks and keep your eyes and ears peeled!
Conclusion:
If something seems to good to be true… It usually is!
---