| | |
| --- | --- |
| Online Slot Machine | Doggy Reel Bingo |
| Slot Provider | Microgaming Casino Software |
| Jackpot Slot | No |
| Reels | 3 |
| Win Lines | 1 |
| RTP | 95.50% |
Doggy Reel Bingo Slot
Doggy Reel Bingo is a three reel, non progressive slot from Microgaming with just a single win line. For this reason it is classed as a so called classic slot. It is based on a dog show and combines the themes of slot machines, dogs, roulette and bingo. This is really quite a unique slot and it is actually just as enjoyable as a modern day video slot due to the number of interesting feature bonuses on offer.
What really sets this slot apart is that it plays just like a classic UK pub fruit machine with holds, nudges and the like. We have been trawling the online casinos for a proper pub fruity and can't understand why there are not many. There are online slots based on classic German and Dutch fruit machines but finding a British style fruity is so much harder. I am convinced the slot makers are missing a trick here. There are armies of pub fruit machine fans and having these online would surely bring in a whole new crowd of players.
But getting back on track, let's talk about the features on offer in Doggy Reel Bingo:
Base Game:
In the base game there are hold buttons, nudges and a number trail which when full (8) starts the feature round. There's also a random potential extra bonus during base game which can boost the trail, award nudges, etc. The number trail sometimes offers the "trail held" option as well.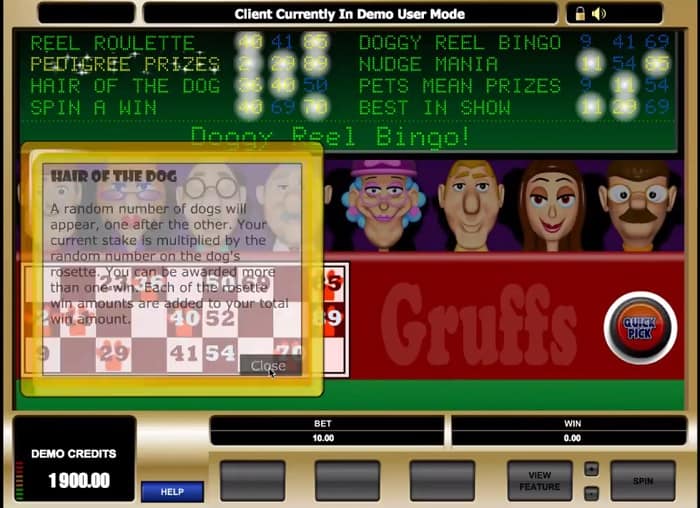 Bingo Draw Bonus Game:
When the Trail is full, the Doggy Reel Bingo bonus game called Bingo Draw will activate. The dog show starts and dogs come across the screen and their id number acts as the bingo balls. Once you land 3 dog numbers in the same category, that is the prize you win. These prizes are as follows.
Reel Roulette:
With the Doggy Reel Bingo Roulette feature, the outer reels become highlighted in a clockwise order. You'll need to hit the 'Stop' button to try and stop the reel on the best possible symbol.
Nudge Mania:
If the Nudge button highlights you'll need to hit the Stop button to stop it on a value. You can use it to nudge the reels up or down in the hope of making a winning combination. You can gamble up (or lose) this feature.
Pedigree Prizes:
The feature automatically triggers and you'll know when it happens because the reels will start spinning automatically. Click stop to try and halt them in a winning position.
Hair Of The Dog:
During this feature, a random number of dogs will appear one after the other. Your current wager will multiply by the random number shown on the dog's rosette. You can also be awarded with more than one win.
Spin a Win:
Here the reels will spin in a random win.
Best in Show:
With this feature, the bingo card will highlight a combination of three of the numbers (usually at the lower end of the bingo card). Use the Stop button to choose which combination you think is best. Your current stake will multiply by the total of these numbers.
Slots Guide Verdict:
You will struggle to find the Doggy Reel Bingo Slot anywhere these days which is a real shame. Sometimes it is good fun to head back old school and play a good old fashioned 1 line slot, especially one which brings as much of the classic pub fruit machine feel to it that Doggy Reel Bingo does. Microgaming really did a number here in making this slot instantly recognisable and playable. The only thing missing when playing this slot is having a pint in one hand and a handful of coins in the other! We love it!