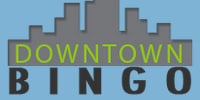 Downtown Bingo Casino
Downtown Bingo Casino
Downtown Bingo Casino runs on the Vista Gaming platform and offers both bingo and slots. Downtown bingo is USA friendly and comes from the ever reliable Bodog group.
Downtown Bingo Casino Info
Overview:
$25 Free No deposit required
500% First Deposit Bonus
250% Bonus on 2nd and 3rd Deposits
NO Wagering requirements
7 Different Bingo Rooms
Keno, Slots, Video Poker
Make your own bingo cards
Various in site promotions
Newsletter
$25 refer a friend bonus
Chat games
Loyalty program
Live help
Withdrawals:
Downtown Bingo processes payout requests two full business days after you submit your request. Therefore if you request a payout at anytime on Monday, your withdrawal request will be reviewed and processed on Thursday. You can request a payout for any amount you wish that does not exceed your available balance. Since the amount of your winnings is entered into your account immediately following a confirmed bingo, you can make a payout request whenever you wish. Your requests will subsequently be confirmed, approved, and processed and then sent to you by whichever method you select as quickly as possible.
Any win or payout amounting to $2,500 or more must be accompanied by a picture and quote (100 words) from the player.
All wins or payouts exceeding $5,000 must be accompanied by a picture, quotation and valid photo identification. The photo ID must have the same address listed on the player's profile. By accepting a 'cash-out' members agree that their pictures and quotes may be used for internal and external advertising purposes. Furthermore, players may be required to provide a 20-30 second video testimonial and to sign a release and consent form.
The minimum amount for deposits is $25.00 and new players will be limited to $100.00 maximum per day. A higher daily deposit maximum can be requested by sending the following information to [email protected] & [email protected]
A legible scanned copy of the front and back of the credit/debit card(s) registered on the site (for your own safety please cover the middle digits of the card leaving first six and last four digits visible when scanning),
A legible scan of a valid photo identification
A scanned bank statement clearly stating your name, last name, address, and bank account number where you intend to receive future withdrawals.
Bingo Review:
Downtown Bingo pride themselves on their Customer service and their ability to solve any problems a player may have promptly and efficiently.
The sites has a vast array of games to play, as well as chat games and other on site promotions happening on a daily basis.
This is the only site that bingo101 are aware of that has NO wagering requirements, only a minimum $25 deposit request. This coupled with the massive bonuses received on sign up makes Downtown Bingo one of the leading bingo sites for US players.
Official Website:
http://www.downtownbingo.eu/