Betting shop staff say they are told to offer gamblers perks to keep them playing on fixed-odds betting machines, a BBC investigation has found.
One ex-manager said he was instructed to offer free bets and drinks – in one case it was suggested he could buy lunch for high-spending customers.
Other managers we spoke to said they were paid a bonus if they met financial targets on the machines.
The industry says it takes responsible gambling very seriously.
Fixed Odds Betting Terminals (FOBT) offer simple touch screen play, usually on a version of roulette, where people can gamble as much as £100 per spin, in theory every 20 seconds.
'Gods of the shop'
"John", who was a manager at Coral until recently, said staff were given instructions to offer machine players refreshments as soon as they entered the shop and do "absolutely anything" to make them feel comfortable.
"If the shop was too hot for them, we would have to turn the heating down or vice versa. They were the gods of the betting shop," he said.
"There was a suggestion from the area manager at one time that if we had a customer coming in their lunch hour, we had to make sure they didn't waste time trying to get a cheese and ham roll instead of playing the machines. You could go out there, buy them a cheese and ham roll and get it ready for them."
Coral said it takes its commitments to responsible gambling "extremely seriously". It added it had "strengthened protections for all its customers, providing help and support for the very small minority that may have issues with their gambling activity".
John said managers had to hit their machine profit target and would receive a financial reward if they did.
"I know another firm based their whole wage on how much money they made on machines, so there was every incentive for the staff to encourage people," he said.
'Use a hook'
The two store managers, who still work for Coral, said they felt pressure to hit financial targets on the FOBTs machines.
One passed on internal emails from Coral's central operations department about a new FOBTs game called Big Banker, which gave advice on "smashing your targets".
It said: "Ensure your team has… identified your target key customers to demonstrate our popular feature game. Offer a demo to all of your machine customers to whet their appetite, then encourage them to play with their own money.
"Once you have identified your target customers, it often helps when you use a 'hook' to encourage them to play. 'You like Big Banker, do you have our bonus card yet? It's quick, it's easy and it's free.'"
---
Case study: 'Red mist' of gambling
Tony Franklin has had a problem with gambling since he was a child. He had managed to stay out of the bookies for a year, but over a couple of hours 18 months ago, he blew it all.
Having avoided high-street bookmakers for a year, he cleaned out his bank account in just an hour after a trip to the barbers. As he left he was drawn to one of the many betting shops on his high street and one of its FOBTs.
"I was totally devastated and just completely caught up in the gambling, in the red mist of it," he says.
His addiction has had a devastating effect on his personal relationships. He had been due to bring his wife and child over to the UK to set up home but his expensive relapse put his plans on indefinite hold.
Now Tony keeps his betting shop receipts from that day as a reminder of how quickly he can lose control when faced with temptation. He feels the industry should be doing more to stop addicts like him losing control.
---
Under the industry's code of conduct, all staff should be trained to identify and help problem gamblers.
But one woman, who works for another unnamed bookmakers, said that did not always happen.
"I have never actually been trained. All we have is a leaflet and are told to give them out if we feel people have a problem. But working on your own at night, or even in the morning, makes it extremely hard to hand out leaflets and speak to customers who are clearly frustrated," she said.
Malcolm George, from the Association of British Bookmakers, said: "It is absolutely the case that anyone joining and working in a betting shop will receive training about problem gambling."
Coral said it rejected the allegations made by the BBC.
It added in its statement: "Recent health surveys show that problem gambling rates have in fact fallen since the introduction of FOBTs and the average Coral customer's loss per session on a FOBT is around £6-9.
"The introduction of supervised stakes above £50 from April last year has had a profound change in customer behaviour, with an approximate 70% reduction in stakes above that level.
"Training, tools and processes are in place throughout the business to ensure that potential problem gamblers are identified and protected."
The Victoria Derbyshire programme is broadcast on weekdays between 09:00-11:00 on BBC Two and the BBC News Channel.
---
'I've been turned into a hardened gambler'
The UK government recently rejected a plea to reduce the maximum bet on some fixed-odds betting terminals FOBTs on High Street bookmakers.
The move was criticised by some, while the government said stronger controls – which give local authorities more power to stop betting shops opening and mean gamblers betting more than £50 per spin have to interact with staff or have an account – were sufficient.
We spoke to four people who have experience with FOBTs, including gambling addicts who have lost thousands of pounds on High Street betting machines.
---
Niall, Cheshire
I am a recovering compulsive gambler who has been in recovery since June 2014, thanks to Gamblers Anonymous (GA).
Over the last few months, I have started to become more active in my GA group and have noticed a huge increase in the number of people with specific problems with FOBTs.
This isn't just limited to males, we have a core of female members who have all become addicted to these machines.
I never had a problem with gambling until I played these machines.
In the end, it took over my life.
I stole from family and friends in order to feed my addiction and lost jobs due to the amount of time I'd taken off of work in order to gamble.
I would easily go into the bookies and spend up to eight to 10 hours in there every day.
I was deemed a regular in the bookies I went into – but not one person ever suggested that I had a problem.
They were happy enough to see me feeding money into the machines every day. I believe this was because I was never aggressive or kicked up a fuss in the shop. I would take my frustration out on my loved ones instead.
I am now 15 months clean of gambling. I want people to hear my story now and if it can help one person, then I feel that I have done some good.
---
Fixed-odds betting terminals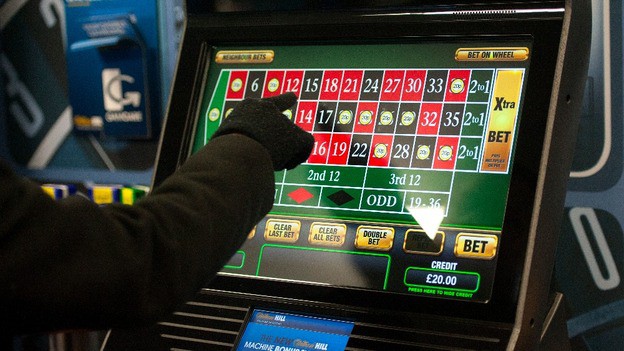 £1.6bn profit made by bookmakers from the machines in a year*
£100

maximum stake per bet

£2

what campaigners believe the maximum stake should be

£500

maximum win per bet

34,874

number of FOBTs in betting shops in the UK*
Terry, Ballymena, Northern Ireland
My fixed odds betting has made me contemplate suicide. I've been playing fruit machines for years. For example, I can spend £2,000 on fixed odds betting in an hour.
I got paid today, but I'm not going out the door to spend it on FOBTs.
My good friend works behind the betting shop counter. I basically pay his salary.
I do it for the flashing lights, and the outside chance of maybe hitting it big.
I was up £1,000 earlier this week but I wasn't satisfied and I didn't stop betting.
I've lost between £80,000 and £90,000 in total, which is my whole income.
I don't pay my bills anymore. It damages my relationships with other people.
I give my money to my current partner, who buys things for me.
I've tried to ban myself, but it won't work. I've been turned into a hardened gambler.
---
John from Swansea
I work in a high street bookmakers. I see the vast majority of people playing FOBTs gambling responsibly every day. Why should this activity be curtailed because of the problems of a very small minority?
I watched a TV programme about a chap who had a problem with FOBTs. The betting shop banned him for his own good and he then went on to blow his money on scratch cards instead.
You don't ban alcohol because of a few alcoholics. You can ban or restrict FOBTs easily but it will merely displace the problem of the minority, to the detriment of the majority.
Help those minority who have a problem but don't punish the vast, overwhelming majority who gamble responsibly with their leisure money and within their means.
---
Mark
I have been a gambler for over 20 years. I have lost jobs because of my gambling. I've been to prison. I've been made homeless and tried to kill myself. In my life I have probably lost over £400,000.
Since bookmakers have had roulette terminals, I think it has made people's gambling addictions much worse.
In the past I used to spend all day in a bookmakers. I once gambled away £6,000, all within two-and-a-half hours.
People who could control their gambling on horses and football now find themselves completely out of control.
The buzz from the machines is so addictive that it is nearly impossible to stop.
I have seen a lot of anti-social behaviour from people using the machines and I know that some staff are told not to report it.
I believe the government, like with smoking, will never ban it because they get so much money from it.
I have now excluded myself from many betting shops. I printed off letters with my photo and drove around different areas in the middle of the night posting the letters to every betting shop I could find.
That way, I know if I want to go into a bookmakers, it means a 70-mile drive to a betting shop outside my self-exclusion zone.
Nowadays I use online betting sites where you can control your betting by using deposit limits.
---
'I lost £400k using High Street betting machines'
A plea to radically reduce the maximum bet on fixed-odds betting terminals was recently rejected by the government. For some, the machines have had a devastating impact.
"I've done about £400,000 to £500,000 in the last eight years and now I've only got my pension. And I still do it. I lose all my money and then struggle."
"John", 69, is a gambling addict. He has spent all the money he inherited when his mother died and the proceeds from selling her former home.
He uses fixed-odds betting terminals (FOBTs) almost every day and says he can't stop. After spending his pension payments, he often turns to loans to make ends meet.
"It's making me ill," he says. "I'm seeking help, but that doesn't seem to be doing it."
FOBTs, introduced in 1999, are a growing source of income for bookmakers. Between October 2013 and September 2014, they generated more than half – £1.6bn – of the in-store profit made by bookmakers.
Betting shops are allowed up to four FOBTs in each premises and there are now around 35,000 across the UK. They offer simple touch-screen play, with little prior gambling knowledge needed. Users insert notes or coins, pick a game and are ready to go.
The majority of users play a version of roulette, where they can gamble as much as £100 per spin, in theory every 20 seconds. In the long-term, the machines generally pay out around 97.3% of the money spent on roulette – but winnings and losses can vary, sometimes wildly.
Last month, the UK government rejected a call from 93 councils in England and Wales for the highest stake to be cut from £100 to £2. It said stronger controls – which give local authorities more power to stop betting shops opening and mean gamblers betting more than £50 per spin have to interact with staff or have an account – were sufficient.
The gambling industry also says there are adequate measures in place to help problem gamblers, while the Gambling Commission says there is little evidence tackling high stakes alone will prevent addiction.
But some people have lost very large sums using FOBTs – and there are claims problem gamblers are more vulnerable to them.
John, whose name we have changed at his request, started using the machines after seeing others win big. At first, he says he could "take them or leave them". Now, he spends whatever he can on the machines.
And if he wins money it is eventually fed back in, simply prolonging the time it takes before he is left with nothing.
"Each time I have a winner, it gives me a boost. I might lose on the next spin and then if I win on the following one, that's a boost again. I keep on thinking I'm going to get my money back, plus a bit."
Does that ever happen? "No".
Michael O'Grady, 31, started using FOBTs a decade ago. He initially gambled what he describes as "fairly non-harmful" amounts, around £20 per session. After a couple of big wins, he got more confident.
"I started having £50 spins and £100 spins, and then that very much led to an absolute obsession with roulette in any form," he says.
Michael, a welding inspector from Middlesbrough, estimates he lost £150,000 on FOBTs, before seeking therapy. He regularly gambled away a full month's wages in one visit to the bookmakers.
"If you caught me on a bad streak… that could easily add up in half an hour," Michael says.
"It's so fast – there's the opportunity to have another bet every 20 to 30 seconds. There's always another opportunity for another hit or another high," he adds.
"At the point I was at with gambling, you're not playing for the money. You're actually playing for the high."
At the worst stages of his gambling, he considered suicide.
"The money situation and the feeling of hopelessness and that I'm never going to be able to stop… it took me to the point of looking on the internet for the best ways to end your life."
Most of the men we spoke to (experts say most problem gamblers are male) described participating in low-stakes sports betting before becoming hooked on the machines.
Jamie Davies started using the machines aged 17 after going to the bookies to bet on football. He went on to lose £40,000 over four years, using payday loans to fund his gambling when his wages ran out.
"I found myself trying to make my way out of things, trying to deceive people from where I've been or why I haven't got much money," says Jamie, now 21. "It was a case of not being able to see my friends very often because I didn't have very much money."
He would spend his free time – and later time when he should have been working – on the machines.
And Jamie's gambling had a big impact on his family, with his mother having to borrow money to pay his debts.
'Responsible level'
Academics from the Responsible Gambling Trust say just 3% of bets on the terminals involved the maximum £100 bet between September 2013 and June 2014 in the UK's five biggest bookmakers.
The average loss for FOBT users was £6 in the period covered, they say. But campaigners argue more needs to be done to prevent individuals developing problems.
"FOBTs represent the most addictive form of gambling that's available," says Adrian Parkinson, from the Campaign for Fairer Gambling.
"What you get in the betting shop is completely anonymised, cash-based play. That is what appeals to problem gamblers."
Mr Parkinson worked for Tote, the bookmaker, when FOBTs were introduced in the UK. He helped develop the machines for almost a decade, but quit after becoming alarmed at the impact they were having.
He says a £2 maximum would bring FOBTs in line with other gambling machines on the High Street.
"The government says in all other easy access gambling venues, the maximum responsible level for gambling on the High Street is up to £2," he says. Should FOBTs be any different?
The Gambling Commission, which regulates gambling in the UK, says it is not clear machines cause people "to develop problems to a greater extent than other forms of gambling."
It says a radical reduction in stake size "would have a significant impact on normal leisure gamblers" but adds "the possible benefits for problem and at-risk gamblers are uncertain".
And the gambling industry believes appropriate controls are already in place. Customers can impose time and cash limits when they play the machines and the Association of British Bookmakers says workers are given extensive training to be able to identify and minimise problem gambling.
"We don't want people getting into difficulty," said the ABB's Peter Craske. "We want people to bet what they can afford and enjoy themselves."
---