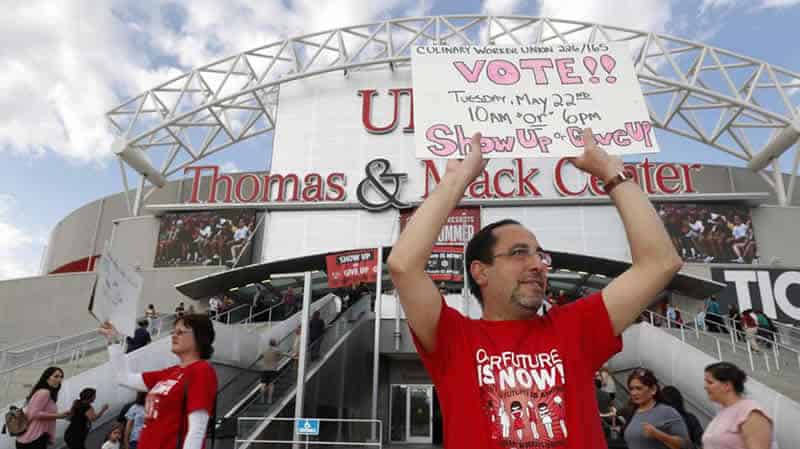 Yesterday, May 22, about 25,000 members of two Las Vegas trade unions met and voted to authorize a citywide strike involving some of the world's largest and most well-known casinos if new five-year employment contracts can't be agreed upon by the end of the month.
An overwhelming majority, 99% of the members of the Local 165 branch of the Bartenders Union and the Local 226 chapter of the Culinary Workers Union who attended the meeting showed support for the strike. They are employed at 34 venues across Las Vegas, serving as housekeepers, cooks, bellhops, porters and bartenders. If the strike does go into effect, it has the potential to cause disruptions in service at hotels and casinos operated by Boyd Gaming Corporation, MGM Resorts International, and Caesars Entertainment Corporation among others.
Workers are holding out for things you would expect such as higher wages and better health benefits, but they are also asking for better safety protection in their respective workplaces and job protection in the face of new technologies such as self-check-in terminals that could potentially replace human employees.
Both sides are hoping that issues will be resolved without the need for an actual walk-out. The last time a strike occurred in Las Vegas was back in 1984. The strike lasted for 67 days, affected 32 venues, and reportedly cost workers and casinos a combined 150 million dollars in lost revenue.
Both Caesars Entertainment Corporation and MGM Resorts International made statements to a local Las Vegas newspaper expressing their confidence that everything would be settled before the June 1 deadline arrives. An MGM spokesperson stated, "While new technology may change the way some jobs function, we will always rely on the skill and personal touch that can only come from our employees."