| | |
| --- | --- |
| Online Slot Machine | Gladiators 2016 |
| Slot Provider | Endorphina Casino Software |
| Jackpot Slot | No |
| Reels | 5 |
| Win Lines | 21 |
| RTP | 96% |
Gladiators 2016 was officially released today (05/08/2016) and it is a very smart, good looking and good sounding slot in typical Endorphina style (high variance). What first struck me was the music and sound effects which work really well are are subtle enough that you don't even feel the need to reach for the mute button! Though it does sound like the late great Richie Benaud has provided the voice over for the swimmer.
In terms of the look, Endorphina have slightly modified their usual interface with the addition of a turbo play button being the most striking feature, but all the other neat little changes are a welcome move. Speaking of the turbo button though, wow does that ever go fast!
The bonus round is a little confusing at first sight but if you have played the classic Gladiators slot from Endorphina then you will know what to expect. A laurel wreath (wild) is awarded to the most popular sportsman every spin, which is then held for the following spin as long as another sportsman lands in the held wild or wilds. Sort of. You really need to play it yourself to understand it but the point is you are basically looking at having a few wilds on every free spin. As an example in my very first play I scored a 101 times stake win from getting 10 free spins from 3 scatters. Considering you can win up to 50 free spins you are looking at some very high top end wins, particularly if you happen to land a lot of the same sportsman on a particular free spin as that equates to a lot of wilds!
All in all a really well made slot by Endorphina and if you like your variance high then you should already know all about what to expect from an Endorphina slot!
RACE ON THE REELS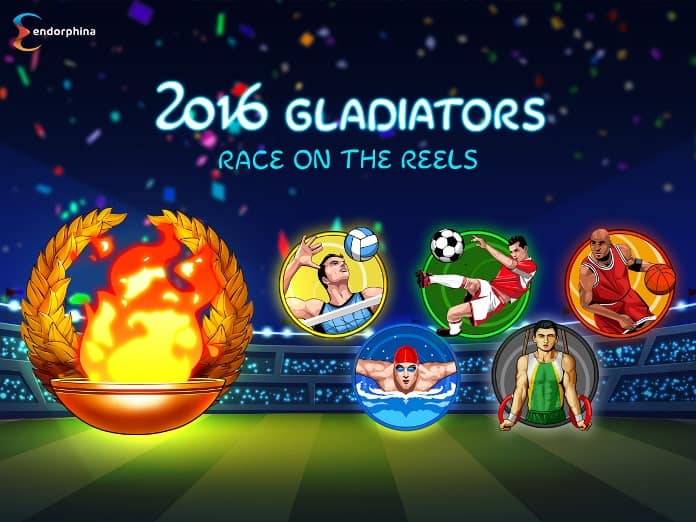 Endorphina are proud to announce the up-coming release of an Olympic Games inspired slot: 2016 Gladiators.
We will be bringing you all the details upon official release!
---
New Endorphina Game coming soon
There are some hot news from the Endorphina´s Development Department. They have been working hard to bring you something special just in time for Olympic Games. Endorphina´s new slot game 2016 Gladiators pays tribute to Modern Olympic Games, players will experience the thrill and adrenaline of the race and win through the game in comfort of their home.
Lucie Kadlecova, Marketing manager in Endorphina says: "We all in Endorphina enjoy this major sporting event and our initial idea for this game was to bring the fun and excitement from the Games in Rio de Janeiro straight to every single player and let them become part of the Games from whenever they are."
Everyone is excited about new game and we are eager to know more about it soon!
---
Endorphina готовит новый релиз
Горячие новости из Праги, а точнее из Департамента развития разработчика онлайн-слотов Endorphina. Они упорно работали, чтобы представить Вам что-то особенное как раз под открытие Олимпийских игр. Новый слот от Endorphina «2016 Гладиаторы» (2016 Gladiators) отдает дань современным Олимпийским играм и подарит возможность испытать острые ощущения и адреналин игры и победы в Рио в комфорте домашних стен.
Lucie Kadlecova, маркетолог из Endorphina, говорит: "Мы все в Endorphina уже не дождемся церемонии открытия главного спортивного события, и наша первоначальная задумка этой игры состояла в том, чтобы принести атмосферу и радость из Рио-де-Жанейро прямо к каждому игроку, и пусть они станут частью игр в Рио не зависимо от своего места нахождения".
Все в восторге от новой игры, и уже совсем скоро поведаем больше о ней и всем вам.
---
Endorphina: Nuova slot in arrivo
Ci sono alcune notizie da parte del Dipartimento per lo sviluppo di Endorphina. Hanno lavorato duramente per portare qualcosa di speciale, giusto in tempo per i Giochi Olimpici. La nuova slot 2016 Gladiators rende omaggio ai Giochi Olimpici moderni, i giocatori potranno provare il brivido e l'adrenalina della gara e vincere tramite il gioco nel comfort della casa propria.
Lucie Kadlecova, Marketing Manager in Endorphina dice: "In Endorphina, noi tutti non vediamo l'ora di vedere la cerimonia di inaugurazione dei Giochi 2016 e la nostra idea iniziale per questo gioco era quella di portare il divertimento e l'euforia dai Giochi di Rio de Janeiro direttamente ad ogni singolo giocatore e farlo diventare parte dei Giochi indipendentemente dal posto in cui si trovi in questo momento."
Anche voi siete entusiasti ed ansiosi di saperne di più?
---