On this Merkur Gaming casino page you will find:
The best Edict & Merkur Online casinos.
Merkur Gaming casino software information.
Merkur Online casino slot rtp database & slot reviews.
Edict & Merkur casino bonus list, Merkur casino bonus codes & Merkur no deposit bonus casinos.
Merkur Gaming software overview: Merkur Gaming are known by most players involved in the online casino world, even if they don't quite receive the popularity rating that goes with their name. Merkur Gaming is a massive German casino software provider, who have their fingers in lots of pies. They produce games for the land-based casino world (where they are far more famous) but have also dabbled in the online casino world, video lottery games, and full on casino suites which are able to power casinos on their own.
Play Merkur Gaming / Edict Casino slots here:
Merkur Gaming online slot rtp database & slot reviews
| | |
| --- | --- |
| 40 Thieves | 96.09% |
| 77777 | 96.76% |
| 221B Baker Street | 96.00% |
| Amazonia | 96.95% |
| Badlands Bounty | 96.00% |
| Big Buck Bunny | 96.00% |
| Blazing Star | 96.31% |
| Brilliant Sparkle | 96.11% |
| Burning Heat | 95.92% |
| Candy Fruits | 96.00% |
| Cannon Thunder | 95.96% |
| Captain Stack | 96.08% |
| Cash Fruits Plus | 96.00% |
| Centurio | 96.08% |
| Chinese Dragon | 95.84% |
| Coffee House Mystery | 96.95% |
| Coin of Cornucopia | 96.30% |
| Coin of Gods | 96.30% |
| Crystal Ball | 96.12% |
| Crystal Heart | 96.06/ .08 % |
| Diamond Casino | 96.00% |
| Diamonds and Fruits | 96.00% |
| Double Triple Chance | 95.65% |
| Dragons Treasure | 95.56% |
| Dragons Treasure II | 96.00% |
| El Torero | 96.08% |
| Electric Burst | 96.00% |
| Endless Summer | 96.00% |
| Explodiac | 96.10% |
| Extra 10 Liner | 96.12% |
| Extra Wild | 95.79% |
| Eye of Horus | 96.31% |
| Fancy Fruits | 96.06% |
| Fantastic Fruits | 96.00% |
| Fire of Egypt | 95.80% |
| First Dinasty | 96.00% |
| Fruit Slider | 96.04% |
| Fruitinator | 96.10% |
| Fruitopia | 96.91% |
| Gems of the Night | 96.27% |
| Ghost Slider | 95.91% |
| Girls Wanna… | 96.94% |
| Gladiators | 95.99% |
| Gold Cup | 96.00% |
| Gold of Persia | 95.97% |
| Golden Diamond | 96.92% |
| Golden Gate | 96.01% |
| Golden Rocket | 96.06% |
| Grand Canyon | 96.10% |
| Guardians of the Monastery | 96.05% |
| Hide in Seek | 96.07% |
| Hocus Pocus | 95.53% |
| Hocus Pocus Deluxe | 97.47% |
| Honey Bee | 96.00% |
| Hot Flame | 96.00% |
| Illuminati | 96.11% |
| Jazz Nights | 96.00% |
| Jesters Follies | 96.09% |
| Jewels Strike | 96.09% |
| Jollys Cap | 96.40% |
| Ka-Boom | 96.03% |
| Kangaroo Island | 95.75% |
| King of Luck | 96.00% |
| Kings Tower | 96.30% |
| Knight's Life | 95.84% |
| Liberty Bells | 96.00% |
| Loa Spirit | 96.44% |
| Lost Temple | 95.83% |
| Magic Mirror | 95.94% |
| Magic Mirror Deluxe II | 95.63% |
| Max Slider | 96.09% |
| Metamorphosis | 95.15% |
| Multi Wild | 96.68% |
| Monkey Mayhem | 96.03% |
| My Flag | 96.00% |
| Mystic Dragon | 96.00% |
| Mystical Pride | 95.97% |
| Odin | 95.84% |
| Odyssee | 96.00% |
| Palace of Poseidon | 96.30% |
| Pharos II | 96.00% |
| Phoenix & Dragon | 96.19% |
| Pimp it up | 96.00% |
| Pipeliner | 96.60% |
| Pirates Arrr us | 96.10% |
| Planets | 96.00% |
| Prime Liner | 96.65% |
| Pyramids of Egypt | 96.35% |
| Race to Win | 96.00% |
| Railroad | 96.00% |
| Random Joker | 96.08% |
| Rising Liner | 96.06% |
| Roundabout | 96.00% |
| Secret Spell | 96.02% |
| Secrets of India | 95.93% |
| Sevens Kraze | 96.00% |
| Six & More | 96.04% |
| Skull Shock | 96.06% |
| Sonnenkäfer | 93.75% |
| Spacemen | 96.00% |
| Spacemen II | 96.01% |
| Steamboat | 96.00% |
| Summertime | 96.00% |
| Super Liner | 96.00% |
| Super 7 Reels | 96.12% |
| Tahiti Feeling | 96.09% |
| Team Action | 96.10% |
| Theatre of Rome | 96.02% |
| Thunder Storm | 96.21% |
| Tiara | 97.81% |
| Tiki Shuffle | 96.30% |
| Treasure Bay | 96.16% |
| Triple Chance | 96.00% |
| Triple Triple Chance | 95.87% |
| Under the Rainbow | 96.01% |
| Up to 7 | 95.83% |
| Vampires | 96.00% |
| Velvet Lounge | 96.20% |
| Voodoo Shark | 95.65% |
| Wags to Riches | 96.00% |
| Wild Cobra | 96.00% |
| Wild Frog | 96.03% |
| Wild Stars | 96.00% |
| World of Circus | 96.00% |
| World of Wizard | 96.56% |
| Yucatan | 96.10% |
| Yummy Fruits | 96.00% |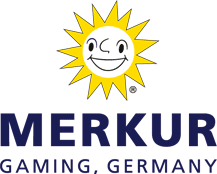 History
Merkur Gaming is arguably the most successful casino software developer from Germany, and that is why most casino players based outside of Germany have at least heard of them. Ordinarily, one would expect this to mean that they are popular outside of their home country, but this isn't really the case. Merkur still has a far larger market inside its homeland.
The casino software developer is most revered for their land-based casino gaming cabinets. Their Evolution, High Flyer, Privilege Plus, UNO, Vision Plus, and WB4 units are quite in demand, especially amongst smaller-scale gambling venues. These cabinets contain around about 65 games which have been produced by Merkur, the vast majority of which are slot machine games.
It wasn't that long ago that Merkur Gaming decided to take their land-based slot know-how to the online casino world. As is often the case with land-based turned online casino software providers, most of the games released by Merkur have already been released in arcades and casinos across Europe, and are merely ported into digital format for players online. Merkur Gaming seldom develops new slots specifically for the online casino world.
Accessibility
To be perfectly honest, Merkur Gaming have had most of their success in the land-based casino gaming world, or inside Schleswig-Holstein, the only German state which has formally permitted online casino gambling. Outside of their homeland, they are known, but not exactly what we could consider to be popular.
They are an officially licensed online casino software provider, and their back-end office, turnkey and white label solutions enable them to power entire casinos with their software. Even so, very few casinos outside of Germany (and virtually no major casinos) have taken them up on that offer.
Merkur Gaming games
In the land-based world, Merkur Gaming has dabbled with video lottery games, as well as land-based slots. In the online casino world, pretty much all their games are slot machine titles, bar a few exceptions (see below). They have around 65 games to offer players, alongside the odd roulette, video poker, table poker, or blackjack game. Keno games have proven popular with far-flung offshore casinos, but none of those titles have had any kind of popularity compared to their slots, and even then, their slots have only proven themselves marginally successful when compared to rivals' games.
Merkur Gaming slot features
Merkur Gaming's slot machines are often considered to be out there like Pluto. Players will find everything from 15-line games to 174-line slot machines. The games aren't limited to 5 reels either, with some slots contains 7 reels and other containing pyramid style gaming platforms.
The casino software providers have a decent gaming library, but it is one which only grows at an incredibly slow rate. Merkur Gaming's library contains very few progressive jackpot games, although they can be credited for their somewhat decent HD graphics.
Any player who is interested in trying their hand at a few Merkur Gaming titles may wish to try their luck at 221B Baker Street, Candy & Fruits, Dragon's Treasure, Magic Mirror, Ship of Dreams, Super 7 Reels, and Wishing Tree. Don't expect too much out of them, because as we've said, they are someway behind leading casino software developers in slot development.
Casinos and Merkur Gaming software
Merkur Gaming have come up with a complete casino software package. A handful of casinos have taken them up on that offer, but because their library consists of many slots and not so many table games, many other casinos have passed up the opportunity to be completely powered by Merkur Gaming. The casinos which are totally devoted to the German casino software provider include Blue Lions Casino, Cashino Casino, Platin Casino, and Stake7 Casino, as well as a handful of offshore casinos specialising in catering to German players.
Other casinos which do carry Merkur Gaming slots but that are powered by other casino software developers include NetEnt's Casino and Friends, Luna Casino, and Play OJO Casino, and SkillOnNet's Casino RedKings, EU Casino, and Slots Magic Casino.
Some Merkur Gaming Slot Machines:
Some of the most popular games on the Merkur games platform:
Double Triple chance
One of the oldest and longest-standing popular games from Merkur. Double Triple chance features the classic 3 reel slot type with 5 pay lines. The game graphics include all the icons you recognise and love. Lemons, Cherries melons and 7s are all present in their classic form. Double Triple Chance includes a Re-win feature that adds to your chances of doubling up and taking home the big win!
Eye of Horus
One of the most graphically advanced and aesthetically pleasing classic games of the Merkur gaming suite, this instantly recognisable Ancient Egyptian Themed slot is now firmly entrenched in any serious gamers preferred slots portfolio. Look out for the Eye of Horus bonus round, which hugely increases your winning chances! Games Icons: Eye Of Horus, King, Queen, Jack, Beetle, And other ancient Egyptian symbols Bonus icon: The Temple of Horus – Get 3 or more of this symbol in any single spin to advance to the bonus round.
Ghost Slider
A modern and new game from Merkur. This Victorian haunted house theme will keep you entertained and spooked out for hours on end! Featuring some great sound effects and graphics with seemingly normal aristocrat characters which transform into ghouls and fly away when combined in any winning combination. Look out for the bonus round with up to 50 free spins up for grabs. Icons include: : Haunted House, King, Queen, Jack, candles, and an array of haunting and shape shifting characters.
Blazing star
An update of the classic style cherry slot machine that features a blazing star which doubles up as your bonus icon. All the classic features and icons are there, which may seem deceptive at first, leading you to believe this is just another ordinary classic slot machine. However, your opinion will definitely change after a few spins! Icons: Lemons, Cherries, grapes and oranges among other classic fruit symbols. Bonus Icon: Hit the blazing star icon to see your winnings launch into space!
Magic Mirror
Magic mirror is another new style, modern slot featuring some great graphics, animations and engineered sounds to ensure you're immersed in the Magic Mirror world for hours on end. Apart from your regular king, queen, jack icons, Magic Mirror from Merkur features great in-reel animations that are haunting. Hit the bonus symbol to get to the bonus round where the Magic Mirror appears above your reels and increases your winnings!
Triple Triple Chance
The Latest adaptation of the original Triple Chance and Double Triple chance slot machine from Merkur games. While triple chance features your classic cherries, melons and diamonds, hit the bonus icons to be transported into a volcanic world where re-spins and free spins are aplenty. You will be awarded bronze, silver or gold bonuses based on your bonus round spins. Yet another triumphant game from the Merkur Triple Chance series! Symbols: Cherries, Grapes, 7s and diamonds among the rest of the classic characters. Bonus symbol: Special Volcanoes and Cherries transport you to a volcanic bonus round.
Dragons Treasure
Yet another fantastic new game from Merkur Games. Enter a world of magical fantasy featuring warriors, dragons, weapons and treasure. The dragon symbol is both your wild card and bonus round symbol. Hit enough of these mythical fire-breathers to be transported to the free spin round where you can turn minimal bets into thousands of winnings. The sound and animation is once again as high-quality and engaging as can be expected from a top brand like Merkur. This is definitely one the top games in the suite. Symbols featured are: Swords, Warriors, Treasure and Dragons. As well as the regular king, queen, jack and 10s. Bonus Symbol: Dragon.
Merkur FAQ:
Why play Merkur Games?
Merkur games are some of the most popular games in all of Germany, and for good reason, they are high-payout and greatly engaging. Merkur games were voted Most Popular Gaming Arcades for good reason.
Where Can I find all the Merkur Games?
Merkur have made every effort to seamlessly transfer their great gaming line-up to online casinos.
Can I play Merkur on my Mobile phone or Tablet?
Yes, Merkur provides mobile web casino slots that allows you to play the games anytime, anywhere.
Do I have to play for real money right away or can I try the games out first?
Yes, you can play for free at certain casinos.
About Merkur Gaming: More than just a game
Tradition. Passion. Innovation. These are the cornerstones on which Merkur Gaming is built. The company excels and specialises in the development and sales of AWPs, cutting-edge casino machines, and VLT and SBG solutions for international markets. Our focus is on multi-games.
Future-proof gaming solutions
We offer our customers more than just a game. Our huge library of titles are combined into multi-game cabinets, to suit any client base. Merkur's first-class cabinets are state-of-the-art and ultra modern, packed with the latest technology, ensuring that you will be well prepared for all future challenges!
A wealth of experience
Merkur Gaming is a member of the German-based Gauselmann Group, with more than 8,000 employees. Since its foundation, the family-owned Gauselmann Group has been a trendsetter and one of the most important companies in the gaming industry. With many years of experience as a manufacturer of machines and also as a renowned operator, Merkur delivers the best possible gaming experience, making everyone a winner.
Flexibility, quality and commitment
The Gauselmann Group's Merkur sun is recognised worldwide as a symbol of quality, experience, innovation and entertainment. But we go far beyond words to show our commitment to our customers. Our professionalism is backed by successful ISO 9001:2008 certification; games are customised to cater for the unique demands of individual markets, through in-depth research and cultural analysis; and our products boast the 'Made in Germany' label synonymous with quality that lasts.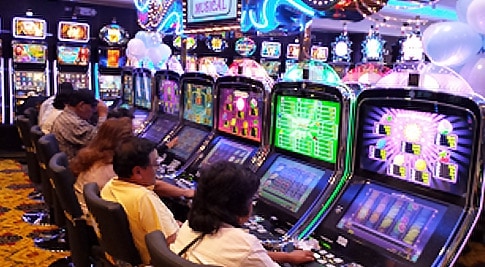 Gauselmann Group
Over 50 years of the Gauselmann Group – a success story under the Merkur sun
In 1957, Paul Gauselmann laid the foundations for the Gauselmann Group, which has since grown into a hugely successful enterprise. Today, the Gauselmann Group's Merkur sun is recognised worldwide as a symbol of quality, experience, innovation and entertainment.
Still headquartered in Germany, the Gauselmann Group remains firm in its commitment to state-of-the-art leisure entertainment, with products boasting the 'Made in Germany' label that's known worldwide as a sign of quality.
As ever, the Merkur sun is at the center, around which the individual solutions of the gaming industry orbit – a fitting metaphor for the organisation's breadth of talent and everlasting desire to offer only the very best in cutting-edge gaming solutions.
adp Gauselmann GmbH
adp – these three letters continue to stand for an unequaled successful concept. adp stems from the first three letters of the German phrase ´aus der Praxis´ meaning ´from real life experience´. It is the source where innovations have been created for decades that time and again enthuse and have ensured sustained trends and success in the industry.
Being very close to the market counts to the most important factors that explain adp´s success. The ability to take customers wishes and customer requirements over and over again to develop and then create a visionary concept that consists of innovative games, ergonomically thought-through comfort hardware as well as helpful service elements has been making the difference for decades.
All Merkur Gaming products are exclusively manufactured by adp Gauselmann GmbH in Luebbecke. The certifications according to DIN EN ISO 9001 of adp Gauselmann GmbH for development, production and sales as well as the development area of Merkur Gaming guarantee optimal ´made in Germany´quality.
Merkur is a brand owned and operated by Gauselmann. Founded in 1974 by Paul Gauselmann. Today Gauselmann owns and operates over 230 gaming Halls under the Merkur Spielothek Brand of games and gaming halls all over Germany.
What is Merkur?
Merkur games are One of Germany's most popular casino slots and have been for years. Most players are familiar with the Merkur gaming halls and according to a study by German news magazine Focus Merkur was voted the most Popular Gaming Arcade. The games have been available online for some time, providing players all the benefits and entertainment value of these popular games from the comfort of their own home. The games can even be played by phone or tablet wherever you are!
Some advantages of playing Merkur games:
Great graphics and animations
Higher odds than most video terminal slots
Engaging sound effects that add to the excitement
Ease of playing Merkur games wherever you are
Merkur offer some of the most popular and recognisable slot machine games. Apart from the classic Black Jack, Roulette, Video Poker among other popular table games, you can expect to find the classic reel game Double Triple Chance, the Egyptian historical themed Eye Of Horus, Gold of Persia as well as the hugely popular Magic Mirror to name but a few. Because the online casino operations have a considerably lower overhead in comparison to land based, the great advantage of playing Merkur online is the ability of the casino to provide you with big cash bonuses and jackpots.
Merkur Gaming VLT at Video Slots Casino:
Merkur Gaming, an innovative and creative company based on knowledge and professionalism. The company specializes fore and most in development and sales of land-based AWP/street and casino slot machines and VLT and SBG solutions.
But what are all these things? If you are not familiar with VLT and SBG solutions – then we will let you in on what Merkur does exactly.
VLT is short for Video Lottery Technology, and SBG is Server-based Gaming. A VLT is a gaming machine that allows players to bet on the outcome of a video game. It is very similar to a slot machine as each terminal is a stand-alone device that contains a random-number generator.
SGB is, on the other hand, a solution employed by video lotteries and casinos to operate their VLT´s and gaming machines in – this means slot machines. This creates the possibility to play multi-channel gaming, which allows players to play games on other platforms, such as mobile. There are many pros with the SBG, and it is an important part of Merkur and their games.
Merkur has more than 10 years' experience in this sector, and they have over 20.000 connected machines on their server – this to suit all clients´ needs and requests. The system is compatible with all games provided by Merkur, to grant the players the best possible gaming experience. It might be the most vital part for Merkur, as they focus deeply on maintaining a safe, comfortable, ergonomic, and easy going experience for the players.
Merkur develops and operates these high-class systems all across Europe, partnering up with local IT´s to help them in the process. This enables the connection of an unlimited number of terminals from different casinos to a central server as well as a local network. The VLT is designed to grant the highest possible flexibility and efficiency – this to grant access levels for casino operators, staff, and more. Everything in the system can be monitored, configured, and managed.
The best features of this are the fact that the games are downloadable, that you can create and view data, see error logs and bets and wins, as well as customer information and device management. This and much more gives both operators and Merkur a better possibility of keeping track at anything happening on the servers. This in its turn leads to a smoother communication as well as better and faster solutions.
But then what about the games offered by Merkur Gaming?
Merkur Gaming has a game catalogue stretching across all kinds of themes, game types, and entertainment for all kinds of players. They currently offer over 100 games, divided into different categories.  The Multi-games collection contains six collections, the Merkur HD 1, HD 2, HD 3, etc. These all contain multi-games, all handpicked. You can find all kinds of games here, everything from the olden-days classic slot game, to modern video slots with various themes with thrilling features – all offering full HD quality at its best. Merkur has designed a new and innovative main menu that grant players an easier gaming experience with a higher comfort feeling.
Then they have their portfolio of Cabinets – the real, classic slot machines. All developed in full HD monitors, modern and impressive design, high-performance, and proven quality, they stand out in a crowd.
Merkur Gaming recently launched a new and smart Jackpot System, one named Jackpot Rain. The jackpot Rain symbolises more Jackpot winners, more Jackpot wins, and a lot more action. It is basically a 3-levelled mystery jackpot that comes with the Rain feature. The main winners receive what states on the machine, and has already been praised. This feature is still only applicable to the slot machines, but maybe one day they are incorporated in the online games as well!
But let´s get back to their online games!
Offering a great variety of games, such as Arabic desert adventures, trips back in time, lucky sevens and fruits, rain forests, all the way to a Roulette game. As a player, you can find anything you might be in the mood for within their grand collection. No matter what your liking is, you can always find your way in the portfolio of Merkur Gaming.
But then what do they actually offer?
All games developed and created by Merkur Gaming are made in Full HD quality, increasing the gaming experience to a splendid adventure. All various themes are offered, its grand graphics and designs, with the rewarding and innovative free spins and bonus features, impressive paying concepts, and unique mathematics.
The games are all state-of-the-art, modern games, offering the latest technology, most advanced systems and technologies, with a Jackpot system available.
Making every player a winner is one of the things that Merkur Gaming wants to focus on, and they are surely doing a swell job, offering the high stakes, the Jackpot features, and impressive payouts.
One of the games provided by Merkur Gaming, one offered at Videoslots, is 221B Baker Street. It is a game inspired by Sherlock Holmes and his quest to solve all mysteries that comes his way. This is the perfect game to showcase as an example of what exactly Merkur offers. The game is fully packed to the top with features, offering four of them, including a bonus game with a shotgun duel. It is an action-packed game with attributes that you simply won´t forget!
This with the HD graphics, certainly proves that Merkur is a force to be reckoned with. The game comes and stays with you – a lot of thanks to just that. With the feel of being at the Baker Street in London, with clear details, and fun animations, makes this game as lovable as the company itself.
It is fairly easy to sum Merkur Gaming up – a game developer that ensures its players the best of the best. With amazing quality and software that makes sure that you are in for the best possible gaming experience, is rare these days, but they offer it all, and they do it every time.
You can read more about Merkur Gaming right here, and you can find the games provided by them in their portfolio at Videoslots!
Edict eGaming
Edict eGaming opened their doors in 1998 and started off as a software provider for online casinos. The company has really built a name for itself in the online gambling industry in Germany. It has also become prominent for being a specialist where it comes to the development of B2B online casino solutions.
Edict provides pioneering and tenable solutions for the igaming industry. Their mission is solely to come up with tailor made products specifically suited for their customers' requirements.
Edict is part of the Gauselmann Group, one of the world's most renowned manufacturers of land-based slot machines; a full subsidiary of Merkur Interactive GmbH. Edict benefits well from the Group's 50 years of experience.
Players in online casinos simply love slot machines from Merkur and they are very well known. Edict casino games are just as unique in terms of their accuracy, player experience and graphics.
Where it comes to product development, Edict is simply a global leader. Like us, all of their customers expect nothing less than uncompromising quality with unequivocal love for detail.
They use extremely innovative technology that is 'made in Germany' and whoever works with them will be sure to offer the ultimate gaming experience with guaranteed maximum transparency, fairness and security to all of their players.
History
Up until 2008 when there were changes made to the German Interstate Treaty on Gambling, Edict was the only official licensed and legal provider of online casino solutions in Germany. Up until this point however they had already developed and supplied the technical support in land based casinos in Wiesbaden and Hamburg, for anything related to online casino systems.
Edict has literally developed an entirely new online casino system for the international B2B gambling market. Something that was even more important in the way the company developed and positioned itself in the market for their online casino products was when they acquired the Isle of man online gambling license which we will speak a bit more about further on.
This provider specialises in the online gambling market and are now the exclusive provider of the well-known Merkur slot machine games from the Gauselmann Group for licensed and regulated online markets around the world.
Location & Team
Edict eGaming is based in Altona, a western suburb of the beautiful Hanseatic city of Hamburg, Germany, providing their employees with the best possible infrastructure and a varied, urban working environment.
The company employs over 60 permanent employees who are all committed, creative, and experts at what they do enabling a lot of success. The edict team together with their partners and service providers is implementing the next generation of 'online casinos'. Their in-house team can cover virtually everything from project management and risk management right through to all of the relevant areas of HTML5, Java, Flash and database development.
Very often the company organises social events and team-building events to reinforce the creative and pleasant working atmosphere.
The way that edict develop top-quality products and are able to enjoy long-term success together with their customers is by selecting a mixture of different personalities, skills and potential, supported by a continuous development program and support, including edict service package, project management, Training, Second-level support, Key accounting, Provision of business data and figures and Fraud management.
Partner
Edict work hand in hand with carefully selected service providers, IT partners from the iGaming industry and other Gauselmann companies to be able to offer their customers top of the range online casino solutions. To mention a few there are, Blueprint Gaming, BMM Test labs, Ayden B.V. Bally Wulff, CDNetworks Inc, Oracle Corporation and Continent 8 Technologies.
Mobile
Players can also enjoy a thrilling experience on the move, anytime and anywhere because these well-known Merkur games are also offered in HTML5. Through the use of the HTML5 technology all games are compatible with all operating systems and mobile devices. As a ground breaking software provider, they choose to develop their range of mobile products with the help of their customers in order to deliver the best gaming experience out there.
Licences
In 2011 Edict eGaming GmbH managed to acquire a full Isle of Man license for online casino systems. With such a license, this would enable any of their customers to get their hands on a sub-license as an operator on the Isle of Man.
In 2013, this license was extended to an Isle of Man network license allowing them to offer their games in other jurisdictions as well.
In addition, they also adapted the existing online casino platform in conformity with the German market requirements, basically to be in line with the Schleswig-Holstein gambling legislation.
Since then, Edict eGaming has always fulfilled all of the applicable requirements of the legislation.
Since 2015 Edict eGaming GmbH is licensed and regulated by the UK Gambling Commission. Edict always adjust their casino products to the requirements of other licensing regimes using their own licensing strategy.
Certified Reliability
Something that helps this provider stand out from the crowd is the fact that all of the games that can be found in their portfolio have been extensively tested and officially certified by independent testing institutes.
All of the game rules, mechanics and prize distribution comply with the strictest regulations, therefore providing optimal reliability when playing the games.
Games from the jurisdictions in which casinos they provide for operate are only considered for live operation after successful testing and are only licensed after further testing.
This also applies to the platform of edict that complies with the applicable license requirements and undergoes regular security tests. They also authorise testing institutes to perform security checks on their platform for potential security loopholes. This way casinos can rely on the well-tested and independently-certified security of their games.