Legend of the Golden Monkey slot is one of the best slot machines out there! Check this detailed review and recommended online casinos to play at.
Before I start this review let me just say one thing. WOW! This is truly a brilliant slot. Oh it can eat your money like nobody's business but when it is kind it is like nothing I've ever seen before in an online slot. This slot is different… and in a good way! Love it! But more on that at the end of the review…
Monkey King is a brand new slot from Yggdrasil, which in turn is a software development company that has been in operation since 2012. Yggdrasil itself has quickly gained a place as a popular slot producer, and their games combine excellent graphics and other eye candy with innovative game play. Monkey King himself is part of Chinese mythology, where he was a powerful entity born out of stone and capable of challenging gods themselves. The character has always been very popular in Chinese stories and literature, and in fact there was a recent action movie featuring the Monkey King as well. I would rather suggest playing the slot for entertainment than watching the movie though, as the former is much better produced.
The game comes with 5 reels and with a win all ways system rather than the traditional paylines (don't worry, it functions much the same), adjustable coin value, free spins, two different kind of wilds, several different features including the king himself and a treasure chest, and of course with excellent graphics, animations and sounds.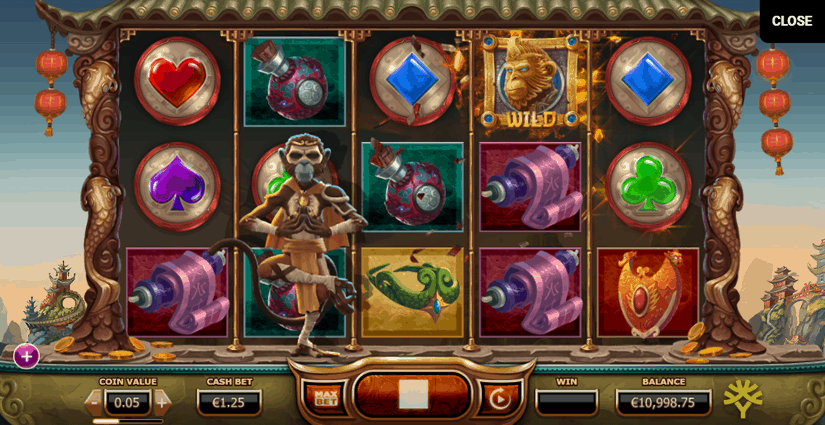 Where to Play?
Legend of the Golden Monkey King at a quick glance
Produced by Yggdrasil.
Free spins, sticky wilds, count down wilds, bonus games and many more features.
Win all ways instead of set paylines.
0.25 to 125 euro per spin as set by player.
Legend of the Golden Monkey King bonus games
The Monkey King slot comes with several features that include a treasure chest and free spins. Whenever the right symbols hit the screen you will be awarded with free spins or an automatic win of a certain amount of coins. The Monkey King himself has the ability to appear at random, changing symbols at will to increase your winning chances. Below is a recap of the different bonuses and features:
The Treasure Chest –
The symbol can land on the 5th reel during any spin. Upon landing the player is given a choice between triggering the free spins or getting a set amount of coins from 40 to 1000. The coin value is multiplied by the set bet value. The treasure chest can appear during free spin mode, during which it gives either a coin win, or 2 more free spins.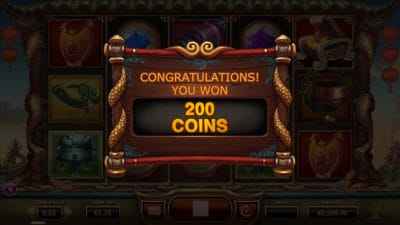 The Monkey King –
Upon being randomly activated the Monkey king transforms one symbol to your advantage, usually resulting in medium wins.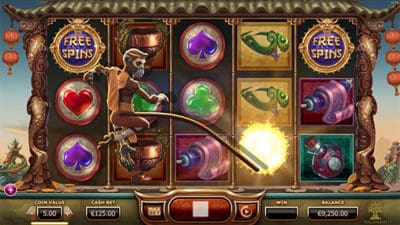 The Free Spin mode –
This feature can be triggered through the treasure chest, or by 3 to 5 free spin symbols landing on the reels. Three symbols activate the free spins, four symbols gives an additional win of 1000 coins, and 5 symbols gives an additional win of 5000 coins. Once the symbols have landed the player gets to pick one of the three different free spins modes.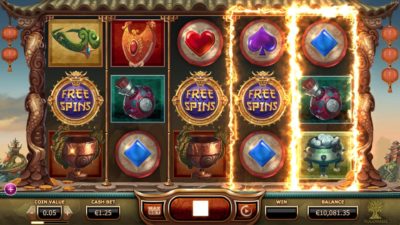 Free spins with incremental wilds –
The player gets 6 free spins, with the Monkey King adding a wild to either reel 2 or 4 each spin until both reels are full of wilds.

Free spins with stacked wild –
The player gets 8 free spins, with the Monkey King adding permanent sticky wilds on reels 2 and 4. A special triple stacked wild can land on the middle reel.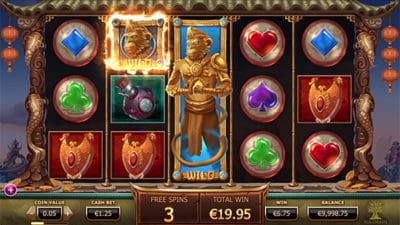 Free spins with starting wild –
The players gets 10 free spins, with the Monkey King adding a permament sticky wild in the middle position. Sticky wilds can land on reels 2 and 4 and become permanently sticky.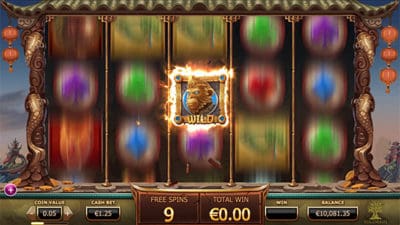 Autoplay settings
Most, if not all, slots feature the autplay feature thee days. This means that instead of pressing the spin button you press the autospin, and the game will keep rolling until you run out of money or a certain number of rounds is played. Generally speaking this feature is not even worth mentioning in a review, but Yggdrasil has managed to introduce such a plethora of options that gaming might become even more interesting when using autoplay. You can for example set the autplay to stop if you get s single win of certain amount, if you enter the free spins mode, or if you win or lose a certain amount of your original amount of cash. Of course you can also choose to simply play a certain amount of spins as always.
Another interesting feature in Yggdrasil games, though this has nothing to do with autoplay, is that the games tend to notify the players of how long they have played and what's happened during that time. Or in other words, how much you have either won or lost. This is quite a nice feature that ensures you never lose track or sense of your gaming and losses.
Graphics, gameplay and music
The Monkey King slot features top of the line graphics,and this includes everything from the background to symbols and the different animations that play on the street from winning to Monkey King himself. You can expect excellent 3D graphics through and through. The music and sound effects are a far cry from the classic slots, or even those we've used to experiencing in most modern slots. The background music is just not noise, but truly seems like a professional product that you don't feel like turning off after a few minutes of gameplay.
Legend of the Golden Monkey slot GamePlay
The gameplay itself is smooth, and bonuses, features and small wins take turns splashing into the screen. The only negative thing I found about the game were the small wins that the slot dishes out all too often. This is a personal pet peeve of mine, as I've never understood what is the point of winning one euro when you bet two.
This will only function to slowly drain away your cash balance as you end up simply waiting for the bonus games to win big. I also had an unnerving amount of spins with no wins, especially in succession, but this is probably just bad luck(it usually is). In general the game was fun to play, and the bonus games are very exciting with all kinds of extra wins and wilds that multiply them even further.
The game also features two different wilds that can land anywhere on the screen, and even stay there. Below are the quick details of them:
Sticky Wilds – these wilds will appear on reels 2 and 4, and they will stay in position until the next round and all subsequent winning rounds.
Count Down Wilds – these wilds only appear on reel 3, and they wills tay on this position for three or more rounds. Do notice that if you change the bet level the wilds will isntantly disappear, as one would expect.
Win all ways
Yes, I know, we all want to win always. That's not the case here though, and not what the title means. Yggdrasil uses the 'win all ways' system instead of the more traditional paylines. This means that any combination of 3 or more symbols running from either left or right through the reels will always ensure a win. Multiple symbols in the reels will in turn multiply the win.
In the end there is no great practical difference, though the system is much clearer this way. Why more slots and producers don't use this same system is beyond me. To explain this simply, if you have for example the heart symbol in reels 1, 2 and 3 you will win the coins according to the paytable. If you then have extra heart symbols anywhere on the reels 1, 2 and 3 they will always increase the multiplier by one.
Summary
The Monkey King is an excellent product from Yggdrasil gaming, that once again proves this company is in the forefront of slots and internet gaming in general. The game is playable through all devices, mobile or desktop, and the graphics are excellent even when playing with a smartphone. For pure entertainment value Monkey King is an excellent slot, which will no doubt gain a massive player base in no time.
Verdict
Ok now for the hard sell. This slot is freaking awesome!
It can be a right royal pain in the ass when things are not going your way and you can go a couple of hundred spins with only landing the odd token win. But when the Monkey King is in the mood you are unstoppable. I've never seen anything like it in an online slot. I once went on a winning streak of about 40 winning spins in a row without let up.
This is unheard of on any other slot but with the Monkey King you can land 2 sticky wilds on reels 2 and 4 and if you keep landing matching symbols on reels 1 and 3 or 3 and 5 then you stay in business. Throw in the Monkey King keeping on helping you out with matching symbols or even better with countdown wilds on reel 3 and you can be on the run of your life. During that 40 spin run of wins for example my bank balance went up by over 600 times my bet!
My two cents…
Back in the late 90's I was living in London and my local pub had a big fruit machine (can't remember the name of the fruit machine as we just called it "Blue Boy" as the casing was blue and we considered him a friend), the bar man would always tell us whenever he thought the fruity was nearly ready to pay out and when it did it would be unstoppable giving win spin after win spin and big winning feature after big winning feature.
We would have mad 10 to 20 minute winning streaks until it paid out what it needed to and went quiet. The excitement we used to get when we hit the win streak was second to none and we would all band around the machine wondering just how long the streak would go on for.
A hundred quid? Two hundred quid? Sometimes three hundred. Not bad for 25 pence per spin! However much I enjoy online slots, the feeling is different. Even when you land a shed load of free spins with a decent multiplier, the feeling is different. Good but different. Monkey King gives exactly that same feeling that I used to get in the pub. It is hard to describe but it is something very special indeed.
Bravo Yggdrasil, Bravo!