The Aldo's Journey slot from Yggdrasil takes place in mysterious Eastern lands where our hero, Aldo, travels in search of jewels and riches. You, of course, will also be rewarded well if Aldo is successful in his quest for coins and jewels. In typical Yggdrasil style, this slot is full of bright colours, detailed designs, and crisp, high-definition animation everywhere that results in an absolute treat for the senses as you play. You can find this and many other Yggdrasil slot machines at most UK online casinos.
Aldo's Journey is a five-reel, five-row slot that pays out for wins across 65 fixed pay lines. There are four low and four high-paying symbols on the reels plus two different wild symbols and a scatter symbol that will trigger free spins. The highest value symbols are four large gemstones and the lower-paying symbols are four lesser gems containing the four playing card suits. As you would expect, matching a minimum of three of any symbol will earn you a prize.
You're always guaranteed at least one wild on the reels as you play and there are chances to get several more. You'll also get to explore five different free spin features, each with different rewards waiting for you.
Setting your bet on Aldo's Journey is a very simple affair. The only option you have is to change the coin value that you'll be playing with. The value is then multiplied by 50 to determine your overall wager on each spin. The lowest coin value you can set is £.002 and the maximum is £2.00. Those values give you a minimum bet of £.10 and a maximum of £100 per spin.
Play the Aldo's Journey Slot Here
Yes – Why To Play The Aldo's Journey Slot
If you're a fan of high-end graphics and animations, you'll love this slot. True to form, Yggdrasil put a lot of work into the audiovisual details of this game. From the symbols on the reels to small figures in the background, you'll see movement everywhere in Aldo's Journey.
The five distinct free spins features add a lot to the game and keep boredom at bay. You'll never know exactly what you're going to get when free spins are triggered—other than a nice prize, that is.
This slot has a good return to player (RTP) rate of 96.1%. That means that players can expect to get back 96.1% of the money they wager on this game over the long-term.
Yggdrasil Gaming works under tight regulation, therefore you can find them at reputable online casinos offering fast payouts.
No – Why Not Play?
The volatility of this slot is not published, but it appears to be low. While this may appeal to more conservative gamblers, those looking for bigger thrills may find themselves a bit bored with the more or less constantly low payouts.
Although there are several free spin modes, it does seem difficult to trigger the free spins feature. It can get a bit frustrating waiting for it to hit.
Like many games with heavy graphics and animations, the Aldo's Journey slot will use plenty of processing power. If you plan on playing for a while, make sure you're on a device that can handle the power draw. It may cause rather quick battery drain on tablets and phone casinos.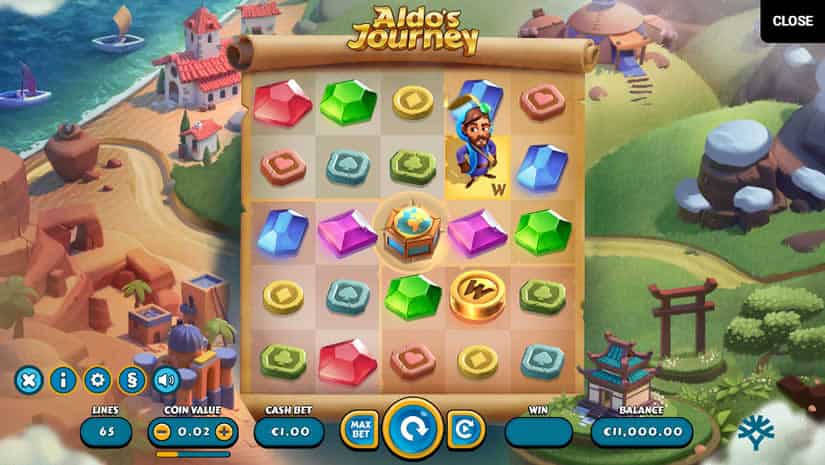 Aldo's Journey Slot Bonus Features
The bonus features on this slot are completely centered on wild symbols and free spins. As we mentioned above, there are a few different ways to work wild symbols into your spins and five different free spin modes. Here's how they all work.
Journey Wild
The journey wild symbol is Aldo himself and is always present. With each spin, he will move from one place to another on the reels. He'll match with all symbols except for the scatter.
If he lands in the centre of the reels, he'll throw out coins that add anywhere from three to nine wild symbols to the reels plus a win multiplier of two, three, or four times.
In case he lands in the centre of the reels during free spins, you'll get the extra wild symbols for that one spin and a multiplier of one, two, or three times will be added to the current multiplier for your remaining free spins.
If it is during the "journey" free spins mode, you'll also get three more free spins.
Free Spin Modes
Free spins are triggered when three scatter symbols land on the reels. You'll always start with seven free spins. The mode selected depends on where Aldo is on the reels when the feature is triggered. He is considered to be in one of four quadrants or in the centre space.
Italy Free Spins
This mode is triggered if Aldo is in the top left quadrant of the reels. Your free spins will start with a win multiplier of two times and the multiplier will increase by one with each subsequent spin.
Mongolia Free Spins
This mode is triggered if Aldo is in the top right quadrant of the reels. At the end of each spin, one of the regular symbols will be removed from the reels for the remaining spins. If there are only two symbols left on the reels, you'll get 1x added to your win multiplier instead.
Persia Free Spins
This mode is triggered if Aldo is in the bottom left quadrant of the reels. With each spin, Aldo will throw out a sticky wild symbol that will stay in place throughout your remaining free spins. Wild symbols will always land in a space that is not already wild.
China Free Spins
This mode is triggered if Aldo is in the bottom right quadrant of the reels. A 2x multiplier is added throughout this free spins mode. With each spin, Aldo will create a line of one to five extra wild symbols plus himself. The line always starts with Aldo and reaches out to the edge of the reels. It can go out in any of the eight directions around Aldo but will always go in a direction that creates at least one additional wild symbol.
Journey Free Spins
The journey free spins mode will switch the bonus feature on each spin according to where Aldo lands as listed above. Also, as mentioned above, if Aldo lands in the centre of the reels during this mode, you'll also be awarded three extra free spins.