With Banana Jones Slot, Real Time Gaming brings the gambling world a game that is not a slot machine, and not a table game, and not even something in the middle. It's actually a board game — that you play for money — and somehow, it works.
If you ever played Snakes and Ladders or Chutes and Ladders as a kid, you'll have no problem understanding Banana Jones.
Our hero is on a quest to reach a temple hidden deep in the jungle which is rumoured to contain the mystical Crystal Banana. To get there, Banana Jones will have to make his way through the jungle trying to avoid a legion of slithering snakes sent by Leopold the Leopard to stop him.
Unique Game Style
Banana Jones plays out just like a regular board game, except you're wagering money on the outcome. The game begins by asking the player to select the amount to wager, which ranges from $.20 up to $5.00. After the bet is selected, you are given five rolls of the dice. As with any board game, the number that comes up on the dice determines how far you move along the board. Your payout is determined by the sum of everything that happens during your five rolls.
There are several different types of special spaces on the board that will either help or hinder your chances of winning. On some spaces there are gems. Collect three or more gems and you will receive a payout. There are vines that lead from one space to another. If you land on the bottom of a vine, Banana Jones will climb to the other end. Landing on two or more vines will increase your payout. Then there are snakes. If Jones lands on the head of a snake, he will slide back to its tail. Landing on two or more snakes will also increase your payout.
Best RTG Casinos to get Started
Yes – Why To Play Banana Jones
As far as wagering on games, this is a very unique idea and a nice change from the standard slots, poker, blackjack games.
The maximum win is 2,565 times the bet, which seems high enough to be a respectable amount of money, but low enough that it should trigger much more often than slots with higher top coin payouts.
This game moves much slower than a slot machine or standard card games. Players will get much more play time for their money.
No – Why Not Play Banana Jones?
There doesn't seem to be any kind of RTP information available for this game, which means players have no way to know what kind of win/loss rate they can expect.
Just as some players might prefer the slower pace, others might not like the longer span between the start and finish of this game compared to slot machines or other casino games.
Comparing to volatility on slot machines, this game seems to be high volatility. It could take quite a few tries to hit a good sized payout, which will take a lot of time because of the way the game plays.
Banana Jones Bonus Features
There are a few bonus features in Banana Jones to help boost your wins. There are two that can be triggered on the main board, and one that you'll get if you manage to reach the temple at the end of the board.
Base Game Bonuses
There are two special spaces on the board that will help you out much more than even the vines. First, there are two spaces that look like dice. Land on either one of them and you'll be given an extra roll of the dice.
Next, there are seven spaces that will trigger the Treasure Wheel. Land on one of these spaces and Banana Jones will get to spin the Treasure Wheel which rewards you with anywhere from one-tenth of your bet up to 50 times your bet.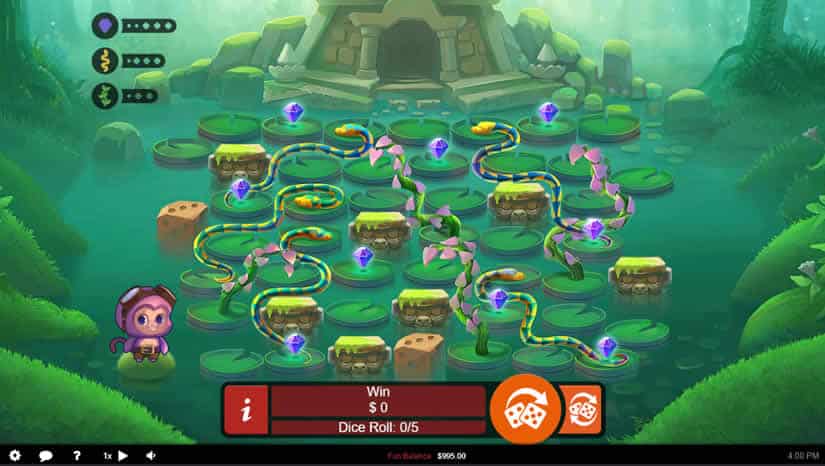 Crystal Banana Quest
The Crystal Banana Quest bonus round is your reward for reaching the temple at the end of the game board. Five different crystal fruits will be displayed at the top of the screen, each with their own payout amount. Below, there are several chests for the player to choose from. The player chooses chests to open until three of one type of fruit have been found. Finally, the payout amount for that fruit is added to the total win.
Our Verdict
Banana Jones is certainly a unique idea for a casino game. It is refreshing to see something that's not another slot machine, or worse, another variation on Blackjack or Poker.
The speed of the game, however, might turn some players off. Gamblers are accustomed to quick games that usually only last a few seconds — if not less — from start to finish. With what seems to be high volatility and slow gameplay, that adds up to a lot of time needed to hit any big payouts.
Whether or not Banana Jones is worth the time is going to be up to the player's personal preferences. I would absolutely say it's worth a look and playing a few rounds, just because there's nothing else like it available. We'll have to wait and see, though, how it holds up over time.
Remember, this game is available at RTG gambling venues, which mainly cater to USA casino players.