The Charlie Chance In Hell To Pay slot is a new release from Play'n Go that somehow manages to put together two classic genres into a perfect mixture that makes a game anyone could love. Charlie is based on a character that many will remember from plenty of silent movies. The game itself also takes some queues from the era with a high definition but black and white background behind the classically designed fruit type slot machine.
Charlie Chance In Hell To Pay is a classic three-reel, three-row slot machine that pays out on five pay lines. On the reels, you'll find wild symbols, bars, cherries, bells, apples and lemons, but unlike most other video slots, there are no lucky sevens here. Instead, you'll run across some "666" symbols
There are seven regular symbols on the reels plus five special symbols to help bring in those ever-important bonuses. Higher paying symbols include the wild symbol, golden bells, 666, and the double bar symbols. Lower paying symbols all include various types of fruit. You'll need to match three of any of them (or a combination with wild symbols) on one of the five pay lines in order to pull in a prize.
Play Charlie Chance in Hell to Pay Slot At Play'N Go Casinos
Yes – Why To Play The Charlie Chance In Hell To Pay Slot
This slot has a very unique look. The black and white style contrasting with the colours of the fruits makes something special that you don't really see on many slots.
The classic three by three design is sure to appeal to the enthusiasts who really love those classic designs and like a simple and straightforward game. There's nothing tricky and you'll know right away every time you hit a winner.
There is one trigger that sets off bonus features, but it can set off any one of five different features. So, you're never going to be quite sure what you're going to get when that bonus hits.
The return to player rate on this slot is generous and in line with what we'd expect to see on a modern game. Players can expect an RTP rate of 96.23%.
Play'N Go casinos are available to players around the world, except USA and Australia. If you are located in UK, you are good to go.
No – Why Not Play?
This slot is obviously not designed for those who are into the more modern slots full of animated characters and all kinds of bells and whistles. If that's the type of game you're looking for, you'll probably want to look elsewhere.
As charming as the black and white colour scheme is, get a little bit tiring after a while. It won't bother you if you really like the game, but if this one doesn't turn into one of your favourites you probably won't be able to sit and play for a long time.
It's probably not a bit thing, but the 666 references all over the game might be a bit offensive to some players. So those of you who don't like that sort of thing probably won't want to play.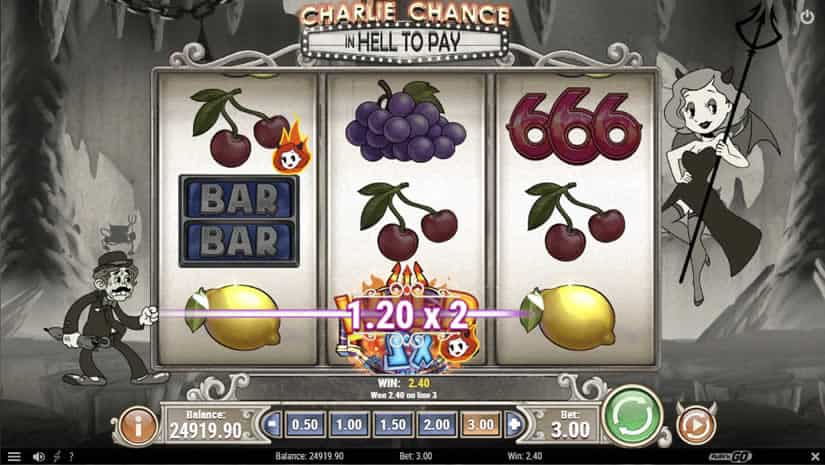 Charlie Chance To Pay In Hell Slot Review
All of the special features on this game are triggered by special symbols appearing on the reels. There is a small female devil whose face can show up on any symbol on the reels, and she is the scatter symbol. When you see her face three times, anywhere on the reels, one of the bonus features will start.
Instant Prize
The instant prize is just what it says. You'll be given a random award of up to ten times your bet.
Multiplier Respin
A respin is awarded with a win multiplier of either 2x, 3x, or 25x!
Wild Respin
A respins is awarded, but there are up to nine extra wilds added randomly to the reels.
Win Spin
With this respin, the second reel will be wild and the third reel will nudge until you end up with a winning combination on a payline.
Free Spins
You'll be awarded 8 free spins initially, but they can be retriggered and you may find yourself winning some other bonuses before the feature finishes, too."