The Eastern Emeralds slot is Asian themed, but very well designed and with unique symbols that set it apart from most other slots with an Asian tilt. As you spin the reels, you'll find golden masks, fish, turtles, Chinese coins, and, of course, emeralds which serve as the game's wild symbols. Everything is well designed, but the appearance of 10, J, Q, K, A symbols on the reels shows some lack of ambition. We've seen these a thousand times serving as the lower paying symbols.
Eastern Emeralds is a fixed 20 pay line slot by Quickspin. Players can wager at a minimum bet of £.20 per spin and a maximum of £100.00. The highest paying regular symbol on the reels is the emerald wild which will pay seven and a half times your bet for five of a kind. There are also multiplier wilds, which go up to five times the bet, that will increase payouts. During free spins, it's possible to hit multipliers that will result in winning 1680 times your bet on a single spin.
Best Quickspin Casinos to get Started
Yes – Why Play To Play Eastern Emeralds Slot
Great audiovisual design. Graphics and sound on this slot are well done and pleasing to the eye on any device.
Large, clear symbols on the reels work especially well on mobile devices.
Multiplier wilds can combine to produce large payouts.
No – Why Not Play?
The base payouts in the regular game are obviously very low. Without multiplier wilds, even five of a kind doesn't award much.
The 1680x award is only possible in free spins, and only when choosing six free spins, so odds of hitting it are very slim.
Eastern Emeralds Slot Bonus Features
Sadly, there are only two real bonus features in this slot. With the good outer design, some more work on the internals would have made this one a lot more fun. Here are the bankroll boosters you can expect to run into while playing Eastern Emeralds.
Multiplier Wild Symbols
The multiplier wild symbols can appear on any of the five reels during the base game. Multipliers range from two times to five times. If one lands on a winning pay line, the payout will be multiplied by the amount on the wild symbol. If more than one multiplier wild lands on a winning pay line, they will be multiplied together.
Destiny Bonus (Free Spins)
Land three scatter symbols on the reels and you'll be taken to the Destiny Bonus (which is really just a fancy name for some free spins).
When the bonus starts, the player will be given a choice of four options. Each choice has a different number of free spins and maximum possible win. If you choose more spins the maximum win is lower, and vice versa. The four options you can choose are as follows:
15 free spins – 120x maximum win
12 free spins – 360x maximum win
9 free spins – 840x maximum win
6 free spins – 1680x maximum win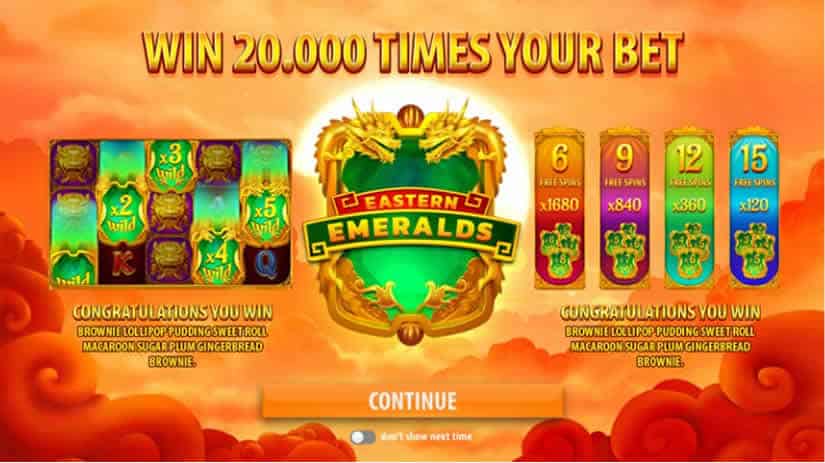 Our Verdict
The Eastern Emeralds slot is well done from an audiovisual point of view, but the gameplay itself falls short of what we'd expect from an experienced designer like Quickspin. The lack of bonus features leaves the player feeling uninvolved in the game. During testing, it also took a few hundred spins to trigger the free spins bonus, which isn't very encouraging, especially with such low regular payouts.
There are chances for some large payouts, but they seem to be at the end of some very long odds. If it takes two or three hundred spins to trigger the destiny bonus, and then you only get six free spins if you want to go for the 1680x multiplier win, what are your chances of really winning this payout?
If you really like Asian themed slots, this one might be worth checking out. I can't see anyone thinking, "Wow, I can't wait to play that again", though. For most slot players out there, there isn't much to make this one stand out from the crowd. You're probably going to be better off passing on this one.
We haven't had luck reviewing Asian themed slots lately, but if you like the genre, then I would recommend you checking Pyramid Quest For Immortality, Koi Princess and others. If you go by RTP, please check our RTP guide with the latest results and highest rates.