Capitalizing on the anticipation for the upcoming World Cup and one of their best-loved game characters, Play'n GO brings back everyone's favourite troll in their new game, Hugo Goal slot.
This well-done slot puts Hugo in the game with many ways to win and plenty of bonus opportunities to boot. Symbols on the reels include many items that will be familiar to any football enthusiast such as whistles, stopwatches, flags, footballs, and, of course, Hugo. All of the action unfolds on a 3×3 grid with ten pay lines. Bet ranges go from €.05 up to €100.
If you're looking for a light-hearted slot with plenty of action to keep you interested and involved, Hugo Goal slot could be just the game for you.
Best Play'n GO Casinos to Play:
Yes – Why To Play Hugo Goal Video Slot
The game is easy to understand and play. Wins are easy to spot on the 3×3 grid, and the bonus features are very straightforward.
Bonus features seem to trigger often, keeping players involved in what's happening.
This slot is just plain fun to play. It is very light-hearted with the title character, Hugo, even poking in from the side and speaking to the player throughout the game.
With a 96% RTP (return to player), you'll get a lot of game time for your money.
No – Why not play?
The bet amount is changeable, but there is no option to set the number of coins or choose the number of lines to play. This may interfere with some players regular betting strategies.
The simplicity of the game might be unattractive to some players. Only one of the bonus features requires input from the player.
If you're not a fan of the Hugo character or the previous Hugo slots, you might find this machine to be a bit too simple and childish.
Hugo Goal Slot Bonus Features
In addition to Hugo himself serving as a wild symbol on any spin, Hugo Goal has three bonus features designed to give players extra ways to win. They're not too hard to hit, and if you get lucky, you could end up winning 800 times your initial bet.
Action Replay
Besides Hugo and the other regular symbols, there are three more characters that can show up on the reels. On any non-winning spin, if you get two stacked characters on the screen, the third reel will spin and spin again until you win.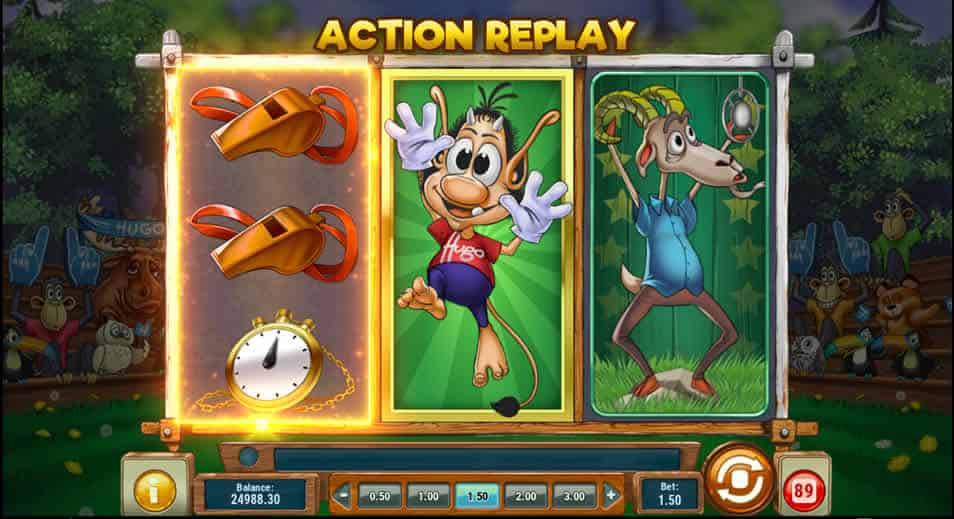 Free Kick
On non-winning spins, if you land two full stacks of any non-character symbol the third reel will spin one more time, giving the player an extra chance to hit a winner.
Penalty Shoot-Out
The penalty shoot-out bonus game kicks off when you fill the reels with the same symbol (nine of a kind).
In this game, the player controls Hugo who is now the goalkeeper. There will be five penalty kicks launched at Hugo that he must block. Before each kick the player must choose to have Hugo stay in the centre of the goal, dive to the left, or dive to the right. For each kick blocked, the prize awarded from the nine-way match is multiplied 2, 3, 4, 5, and finally, if you manage to block all five, 10.
Our Verdict
The Hugo Goal video slot is a great addition to Play'n Go's Hugo series of slots — especially being released just before the 2018 World Cup. The game is very straightforward, easy to understand, and fun to play. The graphics and sound are very well done and everything functions seamlessly. Players also get good value for their money with a 96% RTP.
The game might be a little bit too simple for veteran players with more complex betting strategies or preferences for machines with lots of reels and pay lines. Even so, we'd still recommend this slot to just about anyone. It is fun to play and worth a few spins no matter what your usual game is.