Poke the Guy slot is a little hard to describe. It's definitely a video gambling game, but not a slot, at least not in the traditional sense. Most players' initial reaction to the game will likely be confusion. A quick look at the pay table, though, will make it clear how easy this game is to play. Microgaming is obviously trying to do something different here, and it is indeed different. Whether or not it will prove successful, however, remains to be seen.
There is nothing exceptionally outstanding about the game other than the out-of-the-box thinking that obviously went into creating this release, but the unusual gameplay is worth checking out. Since Microgaming products are available on the many UK and European casinos, it shouldn't be hard to find, wherever you play.
Best Microgaming Casinos to Play:
Yes – Why To Play Poke The Guy
The unusual format of this game makes it stand out from the long line of standard video slots found everywhere.
Play is very simple. Anyone can jump on this machine and play right away.
Potential payouts are big, with chances to win up to 500 times your wager.
No – Why not play?
This one might just be too simple for veteran gamblers. Those looking for a lot of excitement and sleek animations will be disappointed.
Although potential prizes are high, there are no bonus features, making play feel somewhat flat.
Betting options are not laid out in an intuitive way. It should be easier to pick exactly how much you want to wager.
Poke The Guy Slot Game Play
Poke the Guy is easy to play and understand. Everything takes place on a cartoonish map-like screen. "The Guy" moves around the top portion of the screen, landing in random locations. On the bottom of the screen, players can choose from different objects to throw at the guy, ranging from fish to knives and more. If you hit the guy, you win, and that's it.
Each object the player chooses to throw represents a different bet amount. When objects are first selected, the maximum wager for that object is selected. Betting options seem limited at first, but there is a small symbol on the bottom left of the game screen that looks like a pile of coins. If the player clicks on this symbol, they are presented with a slider that will allow them to dial down and adjust the wager amount on each object.
Players can bet from €.01 up to €30.00 on each attempt. Possible payouts for a win are 2, 4, 8, 12, 18, and 500 times the initial wager, for a maximum win of €15,000.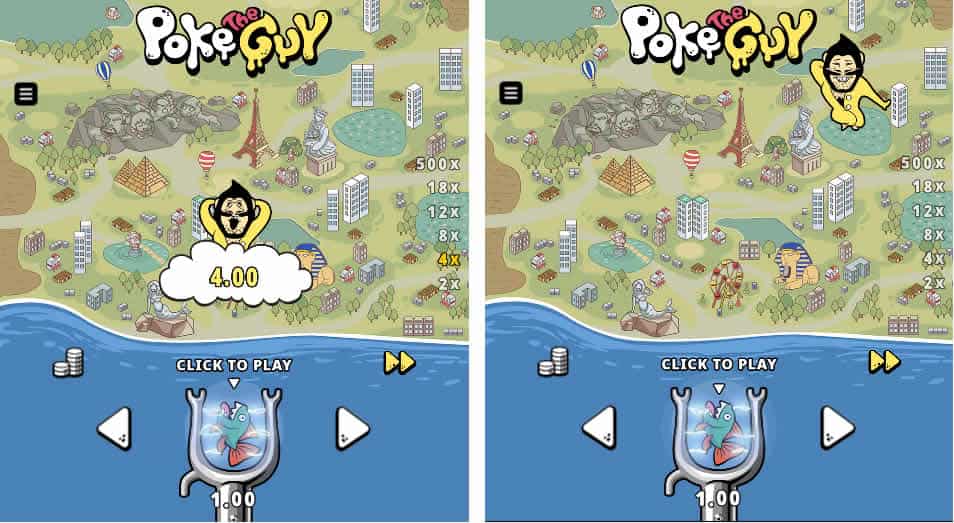 Poke The Guy Bonus Features
Sadly, there are no bonus features to speak of in this game. It is somewhat surprising that nothing extra was added. The basic design of the game would lend itself extremely well to different minigames which would boost the excitement level.
Our Verdict
Kudos to Microgaming for trying to do something different with Poke the Guy, but, overall, this one falls flat. It's interesting to play for a few minutes simply because it's different, but there just isn't anything to keep the player involved. It becomes apparent very quickly that you're just pushing a button and being told if you win or not. It literally takes less than three seconds from the time you push play until you get your result.
The base game is an interesting idea, but it seems like there were many different ways it could have been spiced up with things like animations and bonus features. Hopefully the Poke the Guy slot concept is just a starting point that Microgaming will build on, but this version probably should have gone through more development before it was released. It's not what we'd expect from a company that has created so many exciting casino games in the past.