The Riddle Reels slot from Play'n Go does something that very few video slot machines have done in the past. Based on the classic character of Sherlock Holmes, Riddle Reels combines the gameplay action of both video slots and classic board games.
Riddle Reels is a fast-playing slot with just three reels and three rows, but don't let that make you think for a second that it lacks any action. With the chance to win up to five thousand times your bet, this is no small game of whodunnit. This looks like it's going to be one of the most unique and well-remembered games that Play'n go has put out in quite some time.
There are plenty of bonus features, including respins and bonus spins (more on those a bit below) that keep the action of the game moving. Symbols include brilliant designs of Sherlock Holmes himself, Watson, of course, and several suspects and objects that you'll need to gather in order to solve the case and win your bounty. There are also scatter symbols and wild symbols—some of which have two and three times win multipliers.
Wagering & Payout
With just three reels, three rows, and nine pay lines, the action moves fast, which makes it enjoyable, but you'll need to keep your wits about you and make sure you're aware of how many bets you're making—especially if you like to play in quick spin mode.
If you see Riddle Reels pop up at your www casinos, it's a definite "Yes!" on our list. Get in there and give it a go. You're sure to enjoy yourself. You should play at least until you hit the boardgame bonus portion of the game to make sure you get the full experience. You won't regret it. If you can't find the game at the casino(s) where you play, check our list of Play n Go casinos to find it easily.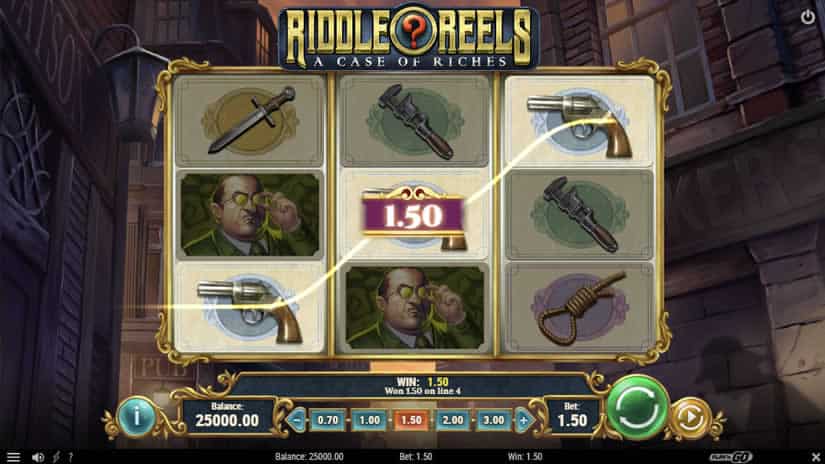 Real Money Play N Go Casinos
Riddle Reels Slot Gameplay Details
As was mentioned above, Riddle Reels is a three-reel, three-row game with nine pay lines. There are wild and scatter symbols as well as the standard symbols. As with most video slot games, all pays are made for matches starting on the first reel from left to right.
Wagering on the game is done through a set of preset bet amounts that you can choose from. All together, there are 17 different preset amounts you can pick from. You'll be able to get in on the action for a minimum of £.10 or take it up to a maximum of £100 per spin.
Players will get plenty of action as well as a good return on the money they spend playing. The game developer rates Riddle Reels as a medium volatility game and it comes with a default RTP rate (return to player) of 96.22%.
Riddle Reels Bonus Features
There are several different bonus features built into this game that can boost your wins. The good news is that some of them occur quite often, so there's always a bit of extra excitement to keep a smile on your face. The bad news is that the biggest one is a bit hard to trigger and that will frustrate some players. It is, however, worth waiting for it to come up. Let's take a look at how they all work.
Scatter Symbol Respins
It takes three scatter symbols to trigger the main bonus feature of the game. If you land only two scatter symbols, the reel with no scatter will spin one more time to give you the chance to hit that third symbol.
Mystery Feature
If a scatter symbol respin fails to bring up that third scatter symbol, the mystery feature is automatically triggered. When this happens, the reel missing the scatter will stay in place and the other two will fill completely with scatter symbols. Those symbols will then reveal either a suspect or a weapon. All reveal the same symbol. Then, of course, any matches made will be paid. If you happen to have a wild, or especially a multiplier wild, on the screen, this can create some very handsome payouts.
Case Of Riches
This is the board game portion of the game that we mentioned before. It's actually a sort of mixture between playing an old-fashioned dice-based board game and free spins. It will be triggered if you land three scatter symbols at one time, either on one spin or during a respin.
When this feature is triggered, a board game will unfold around the reels and a figure of Sherlock will appear to move from space to space along with a die that you'll get the chance to roll.
There is a "clue meter" that you'll see in the upper-right. With each turn, you'll be given a number of free spins with a task that awards a certain number of clue points if the task is completed successfully.. After you make your first spin you'll get to roll the die, which moves Sherlock and allows you to spin for another clue. You can have up to 4 rolls of the dice. The exact number of free spins you get will depend on the clues you are given with each roll. Some clues give just one spin, some give multiple.
If you manage to fill the entire clue meter, you'll solve the case and collect a great prize, which we'll get to in a moment. If you don't solve the case, the clue wheel feature will be triggered. The number of clues that you managed to collect will have a direct effect on the results you'll get from the clue wheel. If you spin the clue wheel and win, you'll solve the case just the same as if you had gotten all the clue in the board game. Solving the case leads you to…
The Mega Free Spin
If you manage to make it all the way and solve the case, you'll get one mega free spin. The spin guarantees you wild symbols with up to a three times win multiplier and all of the remaining symbols on the reels will reveal either the weapon or the suspect that you've been searching for. Finally! You'll be paid the reward you deserve for all the hard work you've put in!