The Samurai Ken slot is a five reel, 20 pay line video slot from Sweden-based game designer Fantasma Games in cooperation with Microgaming. The game is, as you've probably guessed, based on a samurai theme. Our hero, and the game's namesake, Samurai Ken, is a cartoon tiger drawn in classic Japanese anime style, forever locked in battle with an evil and merciless dragon. Players can wager between £.20 and £100.00 for a chance to see who will win this epic fight.
Symbols on the reels include two stacked characters, Ken and the dragon, swords, samurai helmets, dragon claws, dragon eyes, Japanese coins, and a treasure chest full of gold. The animation and sound on this one are both excellent. It also makes use of an unusual spin animation that makes it look more like each individual symbol is spinning on its own rather than the five reels spinning down from top to bottom.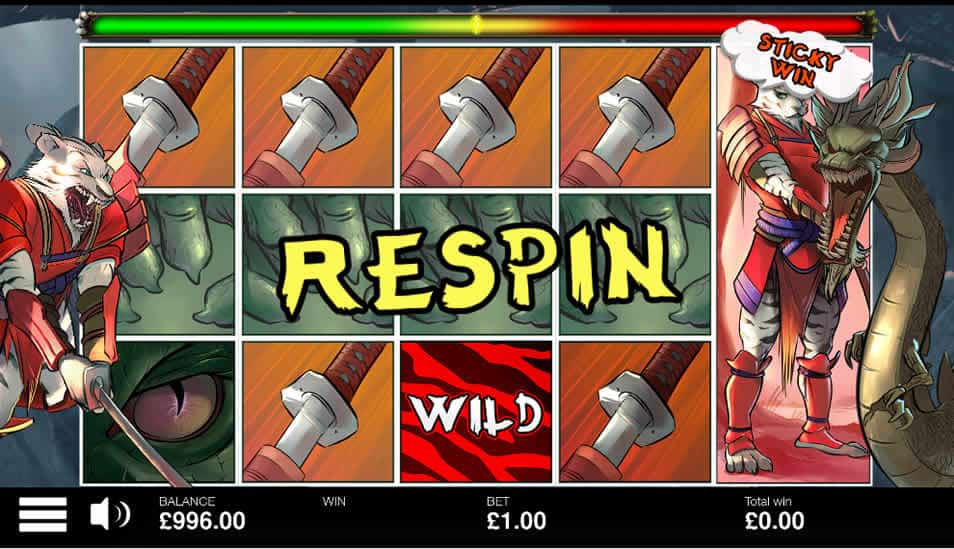 Best Casinos to Play:
Yes – Why To Play Samurai Ken Slot
There are chances for big payouts with a maximum win of 750 times your bet.
The visual design is great, especially for fans of Japanese manga and anime.
A 96.35% RTP (return to player) is a high return rate that will give players plenty of spins for their money.
The sticky win re-spin feature can significantly boost the prize on any winning spin.
No – Why Not Play?
There are no wild symbols in the base game, which noticeably takes away from the action.
Volatility on this slot is somewhat high. It is possible to lose quite a bit before finally hitting a good win.
The free spins feature can also be hard to trigger. I played about 250 spins, give or take a few, and only hit a set of free spins one time.
Samurai Ken Slot Bonus Features
Samurai Ken is a little bit light on bonus features, but the two that are provided can lead to some big payouts when they hit at the right time.
Sticky Win Respin
Any winning spin will trigger a sticky win re-spin. When this happens, all winning symbols will be locked in place and remaining symbols will be spun again. The re-spins will continue until no more winning symbols are added.
For example: If the respin results in no additional win, the feature stops and the player is paid. If the respin results in another winning symbol landing in a winning position, that symbol will be locked as well and another respin occurs.
Free Spins
The free spins feature, as with most other slots, is triggered by landing three scatter symbols. Scatter symbols appear on reels one, three, and five. The number of free spins, however, is not fixed.
When free spin mode begins, Samurai Ken and the dragon appear on opposite sides of the screen to do battle. Along the top of the screen is a power meter that starts out balanced. With each spin, the enemies strike at each other. With each successful hit, the power meter moves to one side of the other. When the meter reaches the extreme left or extreme right, free spins end.
Wild Symbols
Wild symbols only appear on the reels during free spin mode. They will match any symbol except for scatter. Similar to how the sticky win respin function works, if two wilds land on the reels, they will respin until no new wilds appear.
Our Verdict
Samurai Ken has some wonderful design features and unique ideas. The gameplay is easy to understand and the betting options make it suitable for a wide variety of bankrolls.
Unfortunately, the lack of wild symbols and long gaps between big wins or free spins make play feel flat. There is definitely a lot here that Fantasma can build on, but there are many other games available in UK friendly online casinos that will most likely be much more interesting for most players. The Samurai Ken slot is worth a look, but it's not likely that it will stay on your favourites list for long.