The Hive slot, from Betsoft, takes some interesting liberties with the traditional slot machine mechanics. As you might have guessed from the name, this slot is based on a beehive. The details are done extremely well and the designers have figured out several ways to work in some extra bonuses that, really, can go off at any time, but they will come and go as you play.
The reels are set up in a hexagonal shape, going from left to right, you have rows in a 3-4-5-4-3 layout. There are 30 pay lines in total on The Hive. The game will pay out both ways among those that align both horizontally and diagonally, which gives a bit of something extra that don't you see on your average slot machine.
Symbols are divided up into three basic sets. There are three low-paying, three-mid-paying, and two high-paying symbols that you can line up on the reels. The highest paying symbol will give you back ten times your bet for hitting five of a kind and the lowest paying symbol only gives back one-tenth of your bet for the same.
Getting in on the action is easy. Just pick one of the preset wager amounts, which range from £.10 all the way up to £90 per spin.
Play the Hive Slot At Betsoft Casinos
Yes – Why To Play The Hive Slot
Although it looks a little bit strange at first, this slot really is a nice break from your standard five-reel, three-row slot. The different layout and game mechanics make things a bit more interesting.
There are several different bonus features that are worth waiting for in this game. They'll seem a little bit confusing at first, but once they go off a few times you'll really start to like them.
The Hive slot comes with a very generous return to player (RTP) rate of 96.97%. They're also one of few game designers that makes their games available to US casino players, too.
No – Why Not Play
For the more serious player, this game might come off a little bit too childish or cartoonish. It's filled with cute bees and flowers and such. We can understand how these things might turn some players off.
Although the design of the game is nice, it's probably not the best for mobile screens. There are a lot of small moving objects that could be hard to tell apart if you're playing on a phone-sized screen.
This is probably one of those must-see type games that are worth checking out just because it's so different, but we're not quite sure if it's going to be good enough to stick to your list of favourites.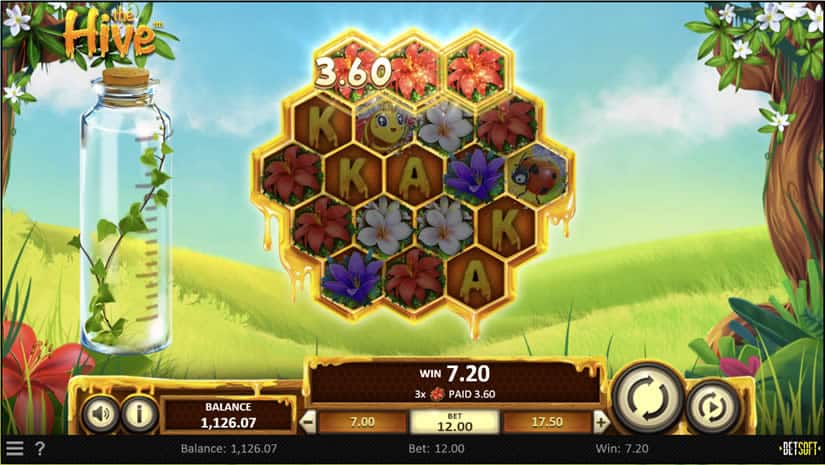 The Hive Slot Bonus Features
The bonus features on this slot all come from, as you might expect, the bees. There are three different types of bees that can appear at random around the hive. Each of them will do their own thing to help improve your wins. Bees will randomly appear at different spots around the hive and then move one spot clockwise with each spin until they randomly disappear.
The Queen Bee
The Queen bee will summon a group of other bees around the hive. This, of course, means that if each bee can give a bonus, you're going to have plenty of chances to get a bonus out of her appearance.
Drone Bees
The drone bees collect the honey and bring it to the honey meter you'll see on the left side of the reels. Whenever a drone bee spawns, that bee plus any other drone bees on the screen will take honey to the honey meter.
When the drones finally fill the honey meter, you'll be taken to free spins, of which you'll get five.
Worker Bee
When a winning combination lines up with a worker bee, That bee will grant a multiplier bonus to that line win. The bonus will be worth the number of worker bees present on the screen plus one.
Honey Burst Spreading Wilds
Honey burst spreading wilds occur only during the free spins features. During the free spins, either one, two, or three, spreading wilds will appear somewhere on the reels and they will continue to spread with each spin until all free spins are completed.