The Xmas Magic slot from Play'n Go came to us just before the holidays begun. While there are always at least several versions of holiday slots released around this time of the year, many fall short of being anything more than just an excuse to slap a holiday theme on a less than impressive video slot.
This game, however, is not one of those. Play'n Go did an excellent job of representing the Christmas spirit and most certainly didn't cut any corners when designing the game mechanics and bonus features on this slot. Play'n Go games are present in most gambling sites. You can also find them at the best UK online casinos.
Wagering & Payout
Xmas Magic is a five-reel, four-row slot with 50 pay lines. It's also one of the few modern video slots that allow you to select how many lines you'd like to play, so you can choose any number from one up to 50. There are five high-value symbols and six low-value symbols on the reels plus wild and scatters. The high-paying symbols are made up of common Christmas-themed items such as mistletoe, candy canes, and a snow globe. The lower-paying symbols are made up of the playing card values nine through ace. Santa himself serves as the scatter symbol and the wild symbol is a neatly wrapped gift with a golden bow.
The ability to select the number of lines you can play adds an extra layer of fine-tuning to your wagering options. You can set the value of the coins you'd like to play with and how many coins to bet on each line in addition to the number of lines to bet on. The coin value can be set from £.01 up to £.10. The number of coins can be set from one to five, and the number of lines can, of course, be set from 1 to 50. Setting everything as low as possible gives us a minimum bet of just £.01. With everything turned up as high as it will go, we reach the maximum bet of £25 per spin.
Play this Slot at these Play'N Go Casinos
Yes – Why To Play The Xmas Magic Slot
If you like holiday-themed slots, this one obviously fits into that category. As was mentioned above, however, this one is actually a well-designed video slot machine. It's not just an excuse to push out a Christmas-themed slot around Christmas time for the sake of it.
Although there are a lot of lines on this slot, there is such a variety of betting options that even the most conservative gambler will be able to play without the worry of going over their budget.
Xmas Magic packs bot a great RTP rate (return to player) and a high maximum win. The return to player (RTP) rate is a generous 96.5% and it's possible to win up to 1,000,000 coins from a single spin.
No – Why Not Play?
This slot has quite a low maximum bet at just £25 per spin, which could limit the excitement for casino high-rollers that like to play for larger stakes.
Xmas Magic is obviously a very Christmas-y slot. The action is good, but if you're not a big fan of holiday themes, you may not feel any special attraction to this game.
The game is fun to play, and certainly has some potential for big payouts, but it definitely feels like it's missing something in the bonus features department. Something a little more imaginative or special added in for such a special holiday would have really pushed this one over the top.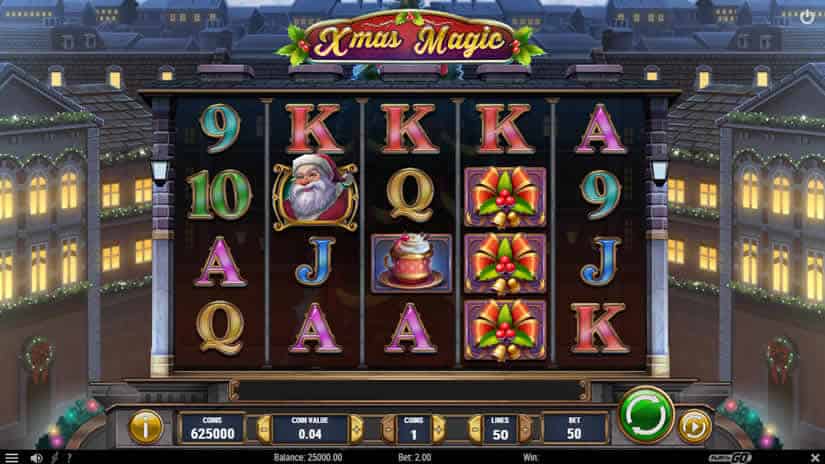 Xmas Magic Slot Bonus Features
As was mentioned above, this slot could probably have used a little something more when it comes to bonus features, but that doesn't mean there's no potential for great bonus payouts.
Free Spins
Like most other video slot machines, free spins are triggered when you land three scatter symbols anywhere on the reels. You'll initially be given ten free spins but it's possible to retrigger the feature and win another ten spins.
What really gives you a chance at some bankroll boosting payouts is the extra wilds that will appear during the free spins. With each spin, two stacked wild symbols will be added to the last four reels. As you get through the spins, and especially if you retrigger free spins, you'll have a load of extra wild symbols to jack up your chances of winning combinations.