Online casino Chile
Chile is a tale of two stories when it comes to gambling. On the one hand, all forms of offline gambling (be it casinos, sports betting, arcade, what have you) are considered legal in the country. Online gambling is not legal, though. The tale of Chile's gambling laws stems back to 1973 when Chile was under the dictatorships of Pinochet. Once the Pinochet regime fell in 1990, Chile's gambling laws become a lot more flexible. Toda, Chileans can enjoy horse racing, lottery games, casino action and much more.
Online gambling laws in Chile
Online gambling is not permitted in Chile. Despite the law stating that players cannot gamble online, many Chileans choose to do so anyway. The Government of Chile does not do very much at all to enforce the laws it has created regarding online casino gambling. Chilean players can certainly try their hand at many top casino games without worrying too much about the Chilean authorities. In 2012/2013, the Chilean authorities considered permitting online casinos the right to apply for Chilean gambling licenses. Despite five years passing, there has still been no movement on that front.
Offshore casinos for Chilean players
Although Chile does not support gambling websites, there are no prohibited websites or blocks in place to ensure that locals don't gamble online. Because of that, Chileans are forced to play at offshore casinos (that means to say casinos which are not based in Chile). Given the lax laws regarding online gambling, most Chilean players won't even bother setting up an VPN (virtual private network) or use proxies to mask their location and access offshore casino sites.
Online casinos in Chile
Most of the main offshore casinos which cater specifically to Chilean players are going to offer their services in both English and Spanish. A good number of those casinos will also offer players the chance to play with Chilean pesos (CLP), too, making them feel even more at home. Chilean online casinos are usually licensed out of Curacao, although with no restrictions in place regarding what sites can be accessed, in effect Chileans can play at any licensed casino.
Online casinos reviews
It is important to note that players should always play at licensed casinos, rather than casinos which do not have valid gambling licenses. Even then, finding a casino which best suits the needs of a player based in Chile is no small challenge. Fortunately, we'd dug around and found a few decent casinos which may suit your needs.
If you are based in Chile, then we would always recommend playing at one of the trusted casinos we have listed here below on this page.
Casino safety, security and blacklisted casinos
For every handful of decent online casinos, there is always going to be a dodgy one lurking around. Known as rogue casinos or blacklisted casinos, there are many good casino reporting websites which can give you a list of casinos you may wish to avoid. In terms of security and convenience, players must wish to ensure that casinos are able to offer them customer support via the method and in the language, they wish to use.
Online casino licenses
Most Chilean online casino players will tend to opt to play online casino games at sites which are licensed out of Curacao. However, as we've said, there are no restrictions in place dictating just which casino sites you can access and which you can't. Because of that, you will ideally be looking for customer support offered via live chat or e-mail (a toll-free telephone line is handy, but a toll-charged one certainly isn't), whilst having those options available in Spanish is a plus.
Online slot providers, live dealer games and casino games
Again, because there are no restrictions for Chilean players opting to play at online casino sites, Chilean players can effectively play at any online casino in the world, and that means that they can have access to games from virtually every major developer. Expect to be able to play all the leading games from Microgaming, Net Entertainment and Playtech, whilst BetSoft Gaming, Rival Gaming and Realtime Gaming developed slots and table games are particularly prevalent at online casinos which are licensed out of Curacao.
The types of table games you can find when you play at online casinos whilst residing in Chile is pretty much the same as you will find anywhere else. Of course, Chilean players have their favourites. Table poker games, blackjack and roulette tend to be quite popular. Video poker, not so much. Chilean players also like lottery games and electronic bingo games, so these tend to be available in surplus. Chilean players may find it difficult to get to grips with mobile casino gaming or live dealer titles in their country.
If you wish to play any new game, we would always recommend popping along to a developer's website (Microgaming's for instance), and trying your hand at the game for free, before you plough the pesos into the real money version of any online slot machine game or table game.
Online casino bonuses
Players based in Chile will find the same kind of bonuses and promotions at casinos they play at as everywhere else. There will usually be a sizeable welcome bonus to claim, alongside a predictable and typical deposit bonus for subsequent deposits. Players may also be able to find other offers and deals, such as prize draws and giveaways. Be wary of the latter two promos, though, since you may have to reside outside Chile in other to claim prizes such as holidays, gizmos and gadgets. Alternative cash prizes are usually dished out to players in Chile under those circumstances, though.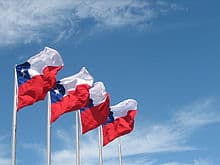 Casino en línea Chile
Chile es un cuento de dos historias cuando se trata de juegos de azar. Por un lado, todas las formas de juego en línea (ya sea casinos, apuestas deportivas, arcade, lo que tiene) se consideran legales en el país. Juegos de azar en línea no es legal, sin embargo. La historia de las leyes de juego de Chile se remonta a 1973, cuando Chile estuvo bajo las dictaduras de Pinochet. Una vez que el régimen de Pinochet cayó en 1990, las leyes chilenas de juegos de azar se hacen mucho más flexibles. Toda, los chilenos pueden disfrutar de carreras de caballos, juegos de lotería, acción de casino y mucho más.
Leyes de juego online en Chile
Los juegos de azar en línea no están permitidos en Chile. A pesar de la ley que indica que los jugadores no pueden jugar en línea, muchos chilenos optan por hacerlo de todos modos. El Gobierno de Chile no hace mucho para hacer cumplir las leyes que ha creado con respecto a los juegos de azar en línea. Los jugadores chilenos pueden probar suerte en muchos de los mejores juegos de casino sin preocuparse demasiado por las autoridades chilenas. En 2012/2013, las autoridades chilenas consideraron permitir a los casinos en línea el derecho a solicitar licencias de juego chilenas. A pesar de haber pasado cinco años, todavía no ha habido movimiento en ese frente.
Casinos en alta mar para jugadores chilenos
Aunque Chile no apoya los sitios web de juegos de azar, no hay sitios web o bloques prohibidos para asegurarse de que los locales no jueguen en línea. Por eso, los chilenos se ven obligados a jugar en casinos en alta mar (es decir, en casinos que no están basados ​​en Chile). Dadas las leyes laxas con respecto a los juegos de azar en línea, la mayoría de los jugadores chilenos ni siquiera se molestarán en establecer una VPN (red privada virtual) o usar proxies para enmascarar su ubicación y acceder a los sitios de casino en alta mar.
Casinos en línea en Chile
La mayoría de los principales casinos en alta mar que atienden específicamente a jugadores chilenos van a ofrecer sus servicios tanto en inglés como en español. Un buen número de esos casinos también ofrecerán a los jugadores la oportunidad de jugar con pesos chilenos (CLP), también, haciéndolos sentir aún más en casa. Casinos chilenos en línea suelen tener licencia fuera de Curazao, aunque sin restricciones en el lugar respecto a qué sitios se puede acceder, en efecto los chilenos pueden jugar en cualquier casino con licencia.
Revisiones de casinos en línea
Es importante tener en cuenta que los jugadores deben jugar siempre en casinos con licencia, en lugar de casinos que no tienen licencias de juego válidas. Incluso entonces, encontrar un casino que mejor se adapte a las necesidades de un jugador basado en Chile no es un desafío pequeño. Afortunadamente, habíamos cavado alrededor y encontramos unos casinos decentes que pueden satisfacer sus necesidades.
Si usted está basado en Chile, entonces siempre recomendamos jugar en uno de los casinos de confianza que hemos enumerado aquí abajo en esta página.
Casino de seguridad, seguridad y casinos en la lista negra
Por cada puñado de casinos en línea decentes, siempre va a haber un mal camino al acecho. Conocidos como casinos deshonestos o casinos de listas negras, hay muchos buenos sitios web de informes de casino que pueden darle una lista de casinos que desee evitar. En términos de seguridad y conveniencia, los jugadores deben desear asegurar que los casinos son capaces de ofrecerles soporte al cliente a través del método y en el idioma que deseen utilizar.
Licencias de casino en línea
La mayoría de los jugadores chilenos de casino en línea tienden a optar por jugar juegos de casino en línea en sitios que tienen licencia de Curazao. Sin embargo, como hemos dicho, no hay restricciones en el lugar de dictar cuáles son los sitios de casino que puede acceder y que no se puede. Por eso, idealmente estará buscando apoyo al cliente ofrecido a través de chat en vivo o correo electrónico (una línea telefónica gratuita es útil, pero una carga gratuita no es ciertamente), mientras que tener las opciones disponibles en español es Un plus
Proveedores de tragamonedas en línea, juegos de distribuidores en vivo y juegos de casino
Una vez más, debido a que no hay restricciones para los jugadores chilenos que optan por jugar en los sitios de casino en línea, los jugadores chilenos pueden jugar efectivamente en cualquier casino en línea en el mundo, y eso significa que pueden tener acceso a juegos de prácticamente todos los desarrolladores importantes. Espera poder jugar todos los juegos principales de Microgaming, Net Entertainment y Playtech, mientras que BetSoft Gaming, Rival Gaming y juegos en tiempo real desarrollados ranuras y juegos de mesa son especialmente frecuentes en los casinos en línea que tienen licencia fuera de Curacao.
Los tipos de juegos de mesa que puedes encontrar cuando juegas en casinos en línea, mientras que residir en Chile es más o menos lo mismo que usted encontrará en cualquier otro lugar. Por supuesto, los jugadores chilenos tienen sus favoritos. Juegos de mesa de póquer, blackjack y ruleta tienden a ser muy popular. Video poker, no tanto. Los jugadores chilenos también les gustan los juegos de lotería y juegos electrónicos de bingo, por lo que tienden a estar disponibles en exceso. Los jugadores chilenos pueden tener dificultades para lidiar con juegos de casino móvil o títulos de distribuidores en vivo en su país.
Si quieres jugar cualquier juego nuevo, siempre te recomendamos que te pongas en el sitio web de un desarrollador (Microgaming por ejemplo), y probar tu mano en el juego de forma gratuita, antes de arar los pesos en la versión de dinero real de cualquier máquina tragamonedas en línea Juego o juego de mesa.
Bonos de casino en línea
Los jugadores con sede en Chile encontrarán el mismo tipo de bonos y promociones en los casinos en los que juegan como en cualquier otro lugar. Normalmente habrá un bono de bienvenida considerable para reclamar, junto con un bono de depósito predecible y típico para depósitos posteriores. Los jugadores también pueden encontrar otras ofertas y ofertas, como sorteos y regalos. Tenga cuidado con los dos últimos promos, sin embargo, ya que puede tener que residir fuera de Chile en otros para reclamar premios tales como vacaciones, gizmos y gadgets. Sin embargo, los premios en efectivo alternativos generalmente se distribuyen a los jugadores en Chile en esas circunstancias.