Like most countries in the Middle East, gambling in Qatar isn't a joke. Islamic laws forbid any kind of gambling in Qatar, and it is something that Qatar takes rather seriously. As a result, people in the country (including tourists) are unlikely to find anywhere where they can gamble, and even doing so should be given careful thought.
Gambling laws in Qatar
There is a zero-tolerance policy to online casino gambling in Qatar – or any other form of gambling for that matter. Qatar does not run any casinos inside its own borders (either online or land-based), nor are there any bingo halls, or bookies located in the country where you can place bets.
Despite the exceptionally severe punishments for gambling illegally in Qatar, illegal gambling most certainly takes place. Several gangs operate in the country and run several types of gambling games, including poker and even camel racing. These underground illegal gambling games are organised via texts, and some locals (and tourists) have been known to participate. As is often the case in countries where gambling is illegal, the only trace that illegal gambling takes place is when somebody is caught.
Camel racing was popular in Qatar, but the Government of Qatar banned child jockeys in the sport after remonstrations from the USA but eventually replaced these with robot jockeys from Switzerland. Whilst the races are enjoyed and can bring wins for the owners of the camels, gambling on the races themselves is not permitted, either.
Depending on the level of gambling crime committed, the punishments for gambling in Qatar range from a QAR6,000 fine, up to six months' imprisonment. Punishments in other Islamic countries can be far worse.
Offshore casinos
With such tight and stringent gambling laws in place in Qatar, you are never going to be able to find an online casino in Qatar which offers casino gaming. However, a sizable number of brave Qatari citizens and tourists do play at their favourite offshore online casinos. These are casinos which are based outside of the country, and simply offer their services to players inside Qatar.
Qatar has tried to cut down on the number of offshore casinos and bookies offering their services to players in the country, but this has proven difficult for the government. Even though they attempt to block offshore casinos from taking on Qatari players, they don't go at it like hammer and tongs. This results in a relatively unsuccessful attempt to ban such sites from the country. In a bid to help cut down the number of offshore casinos which players have access to, and to identify the players who do try their hand at offshore casinos, Qatar effectively made using VPNs (virtual private networks) for obtaining gambling content illegal, even if VPNs themselves aren't.
About gambling in Qatar
One of the most popular ways to bet in Qatar is not actually via an online casino, but an online sportsbook. Sports are popular in the Middle Eastern country, and Qataris avidly follow football and cricket. It is no surprise, then, that many try their hand at online bookies. These are often unregulated markets where they place their bets, then, just like casinos.
Any player who either lives in Qatar or is visiting Qatar on holiday and is considering trying their hand at offshore casinos should take precautions. Most of the offshore casinos which accept Qatari players are unregulated, and players are advised to tread carefully when choosing such a site to play at. An e-wallet is also recommended for added safety and flexibility. Generally speaking; it is not advisable to gamble whilst staying in Qatar. Wait until you are home.
Despite gambling being considered illegal in Muslim countries in the Middle East, this has not stopped anyone from betting online. Pretty much every single casino listed on our website will accept players from the Middle East as gambling is seen as being done in "International Waters". Gamblers may still face action if caught which is why many players in the Middle East prefer to use a VPN to hide their online activity from the local authorities.
Despite the above mentioned fact that most online casinos will accept players from the Middle East, due to the grey area regarding legality, we are only going to hand pick two dozen online casinos who we know have the resources and infrastructure to be able to handle Middle Eastern players in the event of an issue with the authorities or in the event of an ultra massive win. Playing at a small start-up is just not worth the risk when considering all the eventualities.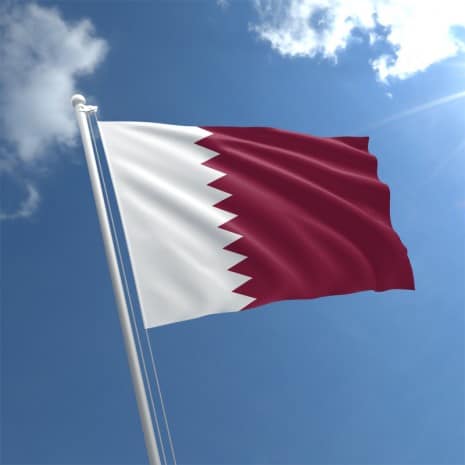 كازينو أون لاين قطر
ومثل معظم بلدان الشرق الأوسط، فإن المقامرة في قطر ليست مزحة. فالقوانين الإسلامية تحظر أي نوع من القمار في قطر، وهو أمر تأخذه قطر على محمل الجد. ونتيجة لذلك، من غير المرجح أن يجد الناس في البلاد (بما في ذلك السياح) في أي مكان حيث يمكنهم المقامرة، وحتى القيام بذلك ينبغي أن تفكر بعناية.
قوانين المقامرة في قطر
هناك سياسة عدم التسامح مطلقا مع المقامرة عبر الإنترنت في قطر – أو أي شكل آخر من أشكال المقامرة لهذه المسألة. لا تدير قطر أي كازينوهات داخل حدودها (سواء عبر الإنترنت أو على اليابسة)، ولا توجد أي قاعات بنغو أو كوبيات تقع في البلد حيث يمكنك وضع الرهانات.
وعلى الرغم من العقوبات الشديدة بشكل غير عادي على المقامرة بصورة غير مشروعة في قطر، فإن القمار غير القانوني يحدث بالتأكيد. العديد من العصابات تعمل في البلاد وتشغيل عدة أنواع من ألعاب القمار، بما في ذلك لعبة البوكر وحتى سباق الجمال. يتم تنظيم هذه الألعاب القمار غير المشروعة تحت الأرض عبر النصوص، وبعض السكان المحليين (والسياح) كانت معروفة للمشاركة. وكما هو الحال في كثير من الأحيان في البلدان التي تكون فيها المقامرة غير قانونية، فإن التتبع الوحيد الذي تتم فيه المقامرة غير القانونية هو عندما يتم القبض على شخص ما.
وكانت سباقات الهجن تحظى بشعبية في قطر، ولكن حكومة قطر منعت الفرسان الأطفال في هذه الرياضة بعد مظاهرات من الولايات المتحدة الأمريكية ولكن في نهاية المطاف حلت محلهم مع روبوت الفرسان من سويسرا. في حين تتمتع الأجناس ويمكن أن يحقق انتصارات لأصحاب الإبل، لا يسمح القمار على السباقات أنفسهم، سواء.
وتبعا لمستوى جريمة القمار المرتكبة، تتراوح العقوبات المفروضة على المقامرة في قطر من غرامة قدرها 000 6 ريال قطري، تصل إلى السجن لمدة ستة أشهر. والعقوبات في البلدان الإسلامية الأخرى يمكن أن تكون أسوأ بكثير.
الكازينوهات البحرية
مع وجود قوانين صارمة وصارمة للمقامرة في قطر، لن تتمكن أبدا من العثور على كازينو عبر الإنترنت في قطر يقدم ألعاب الكازينو. ومع ذلك، فإن عددا كبيرا من المواطنين القطريين الشجعان والسياح يلعبون في الكازينوهات المفضلة لديهم على الإنترنت. هذه هي الكازينوهات التي تقع خارج البلاد، وتقدم ببساطة خدماتها للاعبين داخل قطر.
وقد حاولت قطر خفض عدد الكازينوهات والكوكبات في الخارج التي تقدم خدماتها للاعبين في البلاد، ولكن هذا قد ثبت صعوبة بالنسبة للحكومة. على الرغم من أنها تحاول منع الكازينوهات البحرية من أخذ اللاعبين القطريين، فإنها لا تذهب في ذلك مثل المطرقة والملقط. وهذا يؤدي إلى محاولة فاشلة نسبيا لحظر مثل هذه المواقع من البلاد. في محاولة للمساعدة في خفض عدد الكازينوهات البحرية التي يمكن للاعبين الوصول إليها، وتحديد اللاعبين الذين يمارسون أيديهم في الكازينوهات البحرية، قامت دولة قطر باستخدام الشبكات الافتراضية الخاصة (فين) بشكل فعال للحصول على محتوى المقامرة غير قانوني، حتى لو الشبكات الافتراضية الخاصة نفسها ليست كذلك.
حول المقامرة في قطر
واحدة من الطرق الأكثر شعبية للمراهنة في قطر ليست في الواقع عن طريق كازينو على الانترنت، ولكن الرياضية على الانترنت. الرياضة شعبية في الدولة الشرق أوسطية، والقطريون تتبع ببطء كرة القدم والكريكيت. وليس من المستغرب إذن أن يحاول العديد منهم أن يسلموا يدهم على الإنترنت. وغالبا ما تكون هذه الأسواق غير منظمة حيث يضعون رهاناتهم، ثم، تماما مثل الكازينوهات.
أي لاعب يعيش إما في قطر أو يزور قطر في عطلة ويدرس محاولة أيديهم في الكازينوهات في الخارج يجب اتخاذ الاحتياطات اللازمة. معظم الكازينوهات الخارجية التي تقبل اللاعبين القطريين غير منظمة، وينصح اللاعبين بالتدقيق بعناية عند اختيار هذا الموقع للعب في. ويوصى أيضا المحفظة الإلكترونية لمزيد من السلامة والمرونة. بشكل عام؛ فإنه من غير المستحسن المقامرة أثناء البقاء في قطر. انتظر حتى كنت في المنزل.