Online casino Uruguay: Uruguay is quite an open country when it comes to online gambling. The South American nation regulates land-based gambling with a series of laws, and virtually every form of brick and mortar gambling is legal in the country, although restrictions are in place for sports bettors and pari-mutuel horse betting. Both of those are controlled by separate authorities run by the state. Lotteries games are owned and run by the state, but they are fully legal, too. Both bingo and poker games are also considered legal when playing in a casino or at a gambling event, although the laws for online gambling in Uruguay are a lot more muddled.
Online gambling laws in Uruguay
Curiously enough, there are no gambling laws in Uruguay which speak of online gambling. Just as there are no laws which make it legal, there are no laws in place which make it illegal or that can see authorities dole out punishments to players in Uruguay who play at online casino sites. In fact, the Uruguayan authorities do absolutely nothing at all about online gambling, making it a haven for South American players who fancy playing their favourite online casino games. Although Uruguay does not offer licenses itself, it has made no efforts to stop Uruguayan casino operators from obtaining licenses offshore. In 2013, the Conrad Punta del Este Resort and Casino (land-based casino) did a deal with Bally Tech to launch its own online casino gaming portal. The Uruguayan authorities have cared not a jot.
Offshore casinos for Uruguayan players
As you can see from the example above, it is perfectly practical for Uruguayan online casino operators to obtain licenses from Curacao, Panama, the UK, Gibraltar and Malta, and to run their own online casinos. There are also no laws in place to stop Uruguayans from playing at online casinos. Nonetheless, many Uruguayan players opt to play at offshore casinos rather than play at local ones. These offshore casinos are basically online casino sites which are based and licensed outside of Uruguay, but those which accept players from the South American country.
Online casinos in Uruguay
Given the lack of gambling legislation in Uruguay, it doesn't really come as a surprise to learn that Uruguayan online casinos do exist. They are tailor made to offer their services to players in the country, and that means Spanish language gaming and the Uruguayan peso currency, as well as customer support in Spanish. Uruguay casinos also run a range of promos and bonuses which would suit the 3.4 million people in Uruguay down to the ground. Offshore casinos, on the other hand, are capable of offering Uruguayans the UYU currency, as well as gameplay in Spanish, so they aren't far behind their local cousins, either.
Online casinos reviews
With the gambling laws being as lax as they are, Uruguayan players can have their pick of the litter when it comes to online casino sites to play at. Some may choose to go locally, and others may choose to play at offshore casinos. Whatever you decide, it is important that you discover a safe place to play. Any new online casino player may have that initial spot of difficulty finding an ideal place to play their favourite casino games. Because of this, we have come up with a list of recommendations of casinos which offer either Spanish gameplay, the Uruguayan peso, or both.
Some of the leading casinos to play at if you are based in Uruguay are included here below on this page.
Casino safety, security and blacklisted casinos
The one thing that players must do when they look for an online casino to play at, is to make sure that it is safe. There are several good resources out there which can help you with this. Popping along to any blacklist website will show you many casinos which have been determined to be either rogue or blacklisted domains, and give you the reasons why that conclusion has been come to. It is best to avoid blacklisted and rogue casinos if you want to ensure that you aren't being taken advantage of by casinos which pretend to cater to Uruguayan players.
Online casino licenses
Given that Uruguayans have access to virtually every major online casino on the net, there is no number one license which stands out above all others. Of course, we recommend that players try their hand at eCOGRA certified, Gibraltar and Maltese licensed casinos. However, players will also find Curacao and Panama licensed casinos aplenty and these can be decent, too.
Online slot providers, live dealer games and casino games
Just as above, since the Uruguayan gambling authorities have no gambling laws to deal with online gambling, players have access to virtually every online casino on the net. This is rather handy since it provides players with access to virtually all online casino games and the developers who make them.
Players can expect to be able to find games from all the leading casino software developers, and those games include baccarat, blackjack, craps, instant win and live dealer casino games, roulette, scratch cards, slot machines, table poker and video poker.
Online casino bonuses
Uruguayan online casino players will also be able to claim pretty sizeable bonuses when playing at casinos. Homegrown Uruguayan casinos do not tend to offer as much in the way of bonuses as offshore casinos. Offshore casinos (particularly those based out of Panama and Curacao) can dish out bonuses worth many thousands of dollars (and the equivalent in UYU). The bonuses typically include welcome bonuses and re-deposit deals, sometimes even alternative deposit bonuses and loyalty bonuses. Regular bonuses such as daily deals, weekly offers and monthly bonuses tend to be the forte of online casinos which are licensed out of Malta, Gibraltar or by the UKGC (United Kingdom Gambling Commission).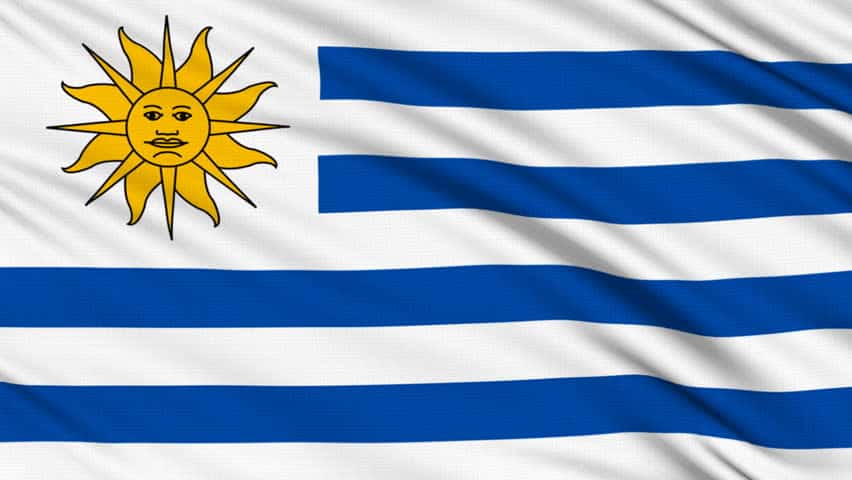 Casino en línea Uruguay
Uruguay es un país bastante abierto cuando se trata de juegos de azar en línea. La nación sudamericana regula los juegos de azar terrestres con una serie de leyes, y prácticamente todas las formas de juego de ladrillo y mortero son legales en el país, aunque existen restricciones para apostadores deportivos y apuestas de caballos pari mutuos. Ambos están controlados por autoridades separadas administradas por el estado. Los juegos de las loterías son poseídos y funcionados por el estado, pero son totalmente legales, también. Tanto el bingo como los juegos de póquer también se consideran legales cuando juegan en un casino o en un evento de juego, aunque las leyes de juegos de azar en línea en Uruguay son mucho más confusas.
Leyes de juego en línea en Uruguay
Curiosamente, no hay leyes de juego en Uruguay que hablan de juegos de azar en línea. Así como no hay leyes que lo hagan legal, no hay leyes en el lugar que lo hacen ilegal o que puede ver a las autoridades dole out castigos a los jugadores en Uruguay que juegan en los sitios de casino en línea. De hecho, las autoridades uruguayas no hacen absolutamente nada de juegos de apuestas en línea, convirtiéndolo en un refugio para los jugadores sudamericanos que quieren jugar sus juegos de casino en línea favoritos. Aunque Uruguay no ofrece licencias en sí, no ha hecho esfuerzos para impedir que los operadores de casinos uruguayos obtengan licencias en alta mar. En 2013, el Conrad Punta del Este Resort y Casino (casino terrestre) hizo un trato con Bally Tech para lanzar su propio portal de juegos de casino en línea. Las autoridades uruguayas no se han preocupado.
Casinos offshore para jugadores uruguayos
Como puede ver en el ejemplo anterior, es perfectamente práctico para los operadores de casinos en línea uruguayos obtener licencias de Curazao, Panamá, Reino Unido, Gibraltar y Malta, y administrar sus propios casinos en línea. Tampoco existen leyes para impedir que los uruguayos jueguen en los casinos en línea. Sin embargo, muchos jugadores uruguayos optan por jugar en casinos en alta mar en lugar de jugar en locales. Estos casinos costa afuera son básicamente sitios en línea del casino que se basan y licencian fuera de Uruguay, pero ésos que aceptan a jugadores del país sudamericano.
Casinos en línea en Uruguay
Dada la falta de legislación sobre juegos de azar en Uruguay, en realidad no es una sorpresa saber que los casinos en línea uruguayos sí existen. Están hechos a la medida para ofrecer sus servicios a los jugadores en el país, lo que significa juegos en español y la moneda del peso uruguayo, así como apoyo al cliente en español. Los casinos uruguayos también tienen una serie de promociones y bonos que satisfarán a los 3,4 millones de habitantes de Uruguay. Los casinos offshore, por otro lado, son capaces de ofrecer a los uruguayos la moneda UYU, así como el juego en español, por lo que no están muy lejos de sus primos locales, tampoco.
Revisiones de casinos en línea
Con las leyes de juegos de azar siendo tan laxos como son, los jugadores uruguayos pueden tener su selección de la basura cuando se trata de sitios de casino en línea para jugar. Algunos pueden optar por ir localmente, y otros pueden optar por jugar en casinos en alta mar. Independientemente de lo que decida, es importante que descubra un lugar seguro para jugar. Cualquier nuevo jugador de casino en línea puede tener ese punto inicial de dificultad para encontrar un lugar ideal para jugar sus juegos de casino favoritos. Debido a esto, hemos presentado una lista de recomendaciones de casinos que ofrecen tanto el juego español, el peso uruguayo, o ambos.
Algunos de los principales casinos para jugar en si estás basado en Uruguay se incluyen aquí abajo en esta página.
Casino de seguridad, seguridad y casinos en la lista negra
La única cosa que los jugadores deben hacer cuando buscan un casino en línea para jugar, es asegurarse de que es seguro. Hay varios buenos recursos por ahí que pueden ayudarle con esto. El hacer estallar adelante a cualquier Web site de la lista negra le demostrará muchos casinos que se han determinado ser rogue o los dominios de la lista negra, y le dan las razones por las que se ha llegado a esa conclusión. Lo mejor es evitar la lista negra y los casinos pícaros si desea asegurarse de que no están siendo aprovechados por los casinos que pretenden atender a los jugadores uruguayos.
Licencias de casino en línea
Dado que los uruguayos tienen acceso a prácticamente todos los grandes casinos en línea en la red, no hay ninguna licencia número uno que se destaca por encima de todos los demás. Por supuesto, recomendamos que los jugadores prueben su mano en los casinos certificados por eCOGRA, Gibraltar y Maltés. Sin embargo, los jugadores también encontrarán Curazao y Panamá licenciados casinos en abundancia y estos pueden ser decentes, también.
Proveedores de tragamonedas en línea, juegos de distribuidores en vivo y juegos de casino
Igual que arriba, ya que las autoridades de juego uruguayas no tienen leyes de juego para lidiar con los juegos de azar en línea, los jugadores tienen acceso a prácticamente todos los casinos en línea en la red. Esto es bastante útil ya que ofrece a los jugadores acceso a prácticamente todos los juegos de casino en línea y los desarrolladores que los hacen.
Los jugadores pueden esperar encontrar juegos de todos los desarrolladores de software de casino líderes, y esos juegos incluyen baccarat, blackjack, craps, ganar instantáneas y los juegos de casino de distribuidores en vivo, ruleta, tarjetas de rascar, máquinas tragaperras, mesa de póquer y video poker.
Bonos de casino en línea
Los jugadores uruguayos de casino en línea también podrán reclamar bonos bastante importantes al jugar en los casinos. Casinos uruguayos caseros no tienden a ofrecer tanto en la forma de bonos como casinos costa afuera. Los casinos costa afuera (particularmente ésos basados ​​fuera de Panamá y de Curacao) pueden repartir los bonos dignos de muchos millares de dólares (y el equivalente en UYU). Los bonos suelen incluir bonos de bienvenida y ofertas de re-depósito, a veces incluso bonos de depósito alternativo y bonos de fidelidad. Los bonos regulares, como las ofertas diarias, las ofertas semanales y los bonos mensuales, tienden a ser el punto fuerte de los casinos en línea que tienen licencia de Malta, Gibraltar o de la UKGC.