The big online slot makers are constantly releasing new games, often based on current or classic TV, movie (and sometimes even music) franchises. Sometimes they release clones of their existing games which leads me to believe sometimes they just run out of ideas. So in true Yes No Casino style we are going to give them a little inspiration. Picking out some franchises they might not have thought about and throwing a couple of original ideas their way!
---
Sharknado online slot (iSoftbet)
Having played the iSoftbet Beverly Hills 90210 slot, iSoftbet are the obvious choice to produce a slot machine based on the cheesy but genius Sharknado franchise. The license would be cheap and there are plenty of little features that could be worked into the slot.
Base game random "Shark shifting wilds" and "Tornado expanding wilds". And say 5, 10 or 15 free spins for landing 3, 4 or 5 chainsaw scatters which feature "Sharknado wilds", where a Sharknado explodes onto the reels throwing between 3 and 12 random wilds.
---
Guardians of the Galaxy online slot (Playtech)
Playtech haven't released a new Marvel slot since the slightly disappointing Iron Man 3 release. With 5 main characters there is plenty of scope to produce a real classic slot, just one example would be a "Groot expanding wild", whilst the main bonus feature could feature 5 mini games like The Avengers slot or Spider-Man Attack of the Green Goblin.
---
Ant Man online slot (Playtech)
The Avengers 2 online slot (Playtech)
Thor 2 online slot (Playtech)
Captain America 2 online slot (Playtech)
The above 4 movies have all been released and have yet to see an official Marvel slot made. Playtech have the potential to really ramp up their Marvel slots collection and with the release of 5 new slots they would be hugely popular.
Captain America 3 online slot (Playtech)
Doctor Strange online slot (Playtech)
The above 2 movies are being released in 2016 (May and November respectively) so even more potential to absolutely nail the Marvel franchise. If Playtech managed to get all of these slots made it would take them right back to the top of the market.
---
Evil Dead online slot (NetEnt)
NetEnt are the market leaders for online slots and can make a slot based on just about anything. They are about to release the highly anticipated Guns 'n' Roses online slot this January for example so no subject matter is off limits. But one thing we would like to see more of from NetEnt is subject matter that is a little more "adult".
So what better franchise than the Evil Dead series that started out very low budget with a 1981 movie, spawned two sequels (1987 & 1992) and just finished a truly brilliant first season of the tv show "Ash vs Evil Dead" with the second season confirmed for late 2016.
Certainly adult themed and with enough weird and wonderful content to create something completely unique.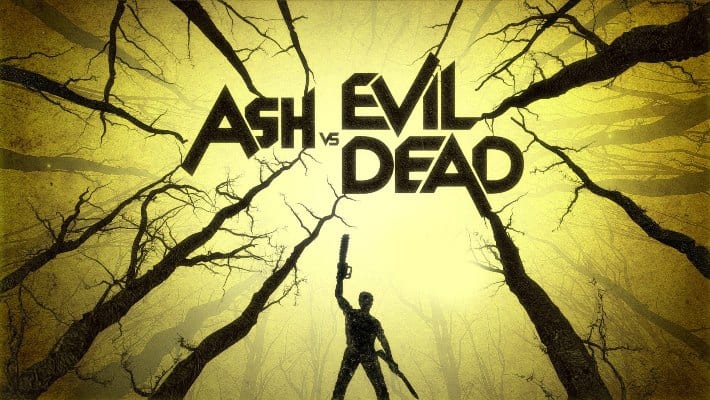 ---
The Prisoner online slot (NetEnt)
"I am not a number, I am a free man", "Be seeing you". If ever there was a bizarre tv series that is ripe for a slot conversion it is Patrick McGoohan's 1967 timeless classic The Prisoner. There would be no shortage of reel symbols and plenty of potential for mini games (you would have to do something with Rover). I think this would be a particularly difficult slot to develop but if anyone can pull it off it is NetEnt.
---
Westworld online slot (iSotbet)
Another cult classic movie getting the TV makeover is Westworld (1973) so no better time to cash in on the franchise. The TV show has signed up Sir Anthony Hopkins among the big name cast so we can expect this show to be high profile. And the movie being about a Wild West theme park lends itself perfectly to an online slot adaptation.
Futureworld online slot (iSoftbet)
If the Westworld slot proves popular then an online slot conversion of the 1976 – sort of, but not quite – sequel "Futureworld" would be a logical next move.
---
Doctor Who online slot (Microgaming)
A massive massive slot would be a Doctor Who slot. With such a long history and with so many different doctors and enemies, the potential is endless. Microgaming already released a big Battlestar Galactica slot with 3 different base games so this is the sort of idea we would be looking to get from a Doctor Who slot. Something monumentally huge with a different base game based around each doctor and his arch enemy and with a different feature bonus for each one! Aim big!
---
Cube online slot (Play'n Go)
Play'n Go have already shown they are capable of coming up with something very different with their arcade game based Rage to Riches, their Dungeons and Dragons based Tower Quest and their Candy Crush styled game Gemix. It would take some real imagination to convert Vincenzo Natali's 1997 cult movie Cube into an online slot but the premise of the movie with its trap filled rooms inside a cube must surely have some potential.
---
The Running Man online slot (Microgaming)
We have selected Microgaming for this slot as they have already used Arnie's image rights on the Terminator 2 slot. The premise of the movie with the individual enemies Fireball, Buzzsaw, Captain Freedom, Dynamo and Subzero lends itself perfectly to a slot with different feature games.
---
The Mask online slot (Playtech)
Dumb and Dumber online slot (Playtech)
With the release of the excellent Ace Ventura slot, Playtech could easily dip into their license pot and develop a couple more classic Jim Carrey comedy slots. These two surely have the same – if not more – potential as Ace Ventura so are ripe for the picking.
---
The Fisher King online slot (Endorphina)
I've saved the best for last. We are fans of Endorphina as they seem to enjoy pushing the boundaries of what constitutes an online slot machine and they are only getting better and better all the time. The Fisher King is my all time favourite movie and is probably the kind of little known and in true Terry Gilliam style, slightly bonkers movie that would be perfect for Endorphina to use as their first step into the licensed slot arena. At first glance not a logical movie to try and convert, however the quest for the holy grail, the legendary ballroom scene and the Red Knight definitely lend themselves to conversion.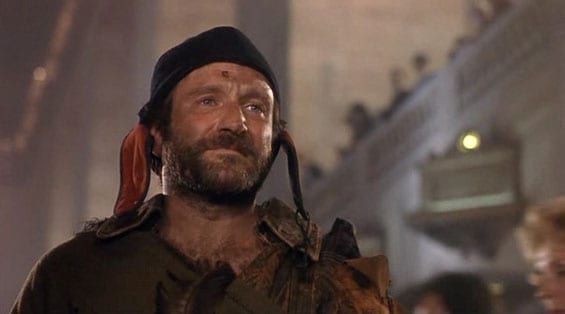 ---