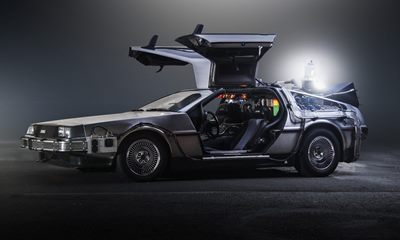 | | |
| --- | --- |
| Online Slot | Slot Dog Time Machine |
| Software | Yes No Casino |
| Paylines | 1 |
| Reels | 5×3 |
| Bonus Game | Yes x5 |
| Progressive Jackpot | No |
| RTP | 96.00% |
| Symbols | 8 regular symbols plus scatter symbol |
| Wild Symbol | Not in base game |
"Slot Dog Time Machine" is a ground breaking online slot with the greatest emphasis on bonus rounds and the bonus games themselves taking the player across 5 decades of slot machine play.
This slot is all about entertainment and the player will also really get a good feel of how the slot pays by having honest and true paying bonus features. With each subsequent bonus round paying more than the previous one there will be no fear of the player feeling cheated from a dud bonus round and the player will be cheering on for the best possible bonus round each time.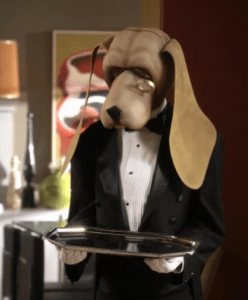 Intro animation:
The game starts off with our hero Slot Dog sitting down at the controls of the time machine slot. The setting is the 1970's during the intro scene so a single fruit machine in an empty room with flock wallpaper and some hideous 1970's carpet would do the job!
---
The base game:
The fruit machine itself will feature the classic physical buttons to spin or adjust bet and have a "Time Trail" set of lights above or below the reels. The reels themselves will look like the figure below with the win line more prominent and the above and below symbols not being 100% shown (in order to fit everything in on a mobile device and also keep the classic feel to the slot).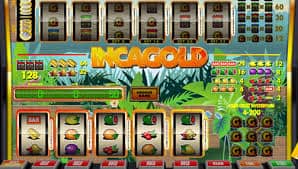 The "Time Trail" lights would again be in the style we all know and love:
The symbols:
The reel symbols would be the classic cherry, lemon, orange, plum, melon, bar, seven and the top paying symbol would be a Slot Dog symbol. The Time Trail scatter symbol would be a clock.
The Time Trail:
The time trail is filled by landing a scatter symbol on any of the 15 reel positions in view. Each scatter adds 1 to the time trail.
Landing 2 scatters in view triggers the Time Trail Re-spin. Reel wins can happen during re-spins, if 1 or more scatters land during a re-spin then another re-spin is awarded and the Time Trail is added to until no more scatters land during a re-spin.
1 > Nothing
2> Starts Time Trail Re-spin
3>
4> 1980s bonus round
5>
6> 1990s bonus round
7>
8> 2000s bonus round
9>
10> 2010s bonus round
11>
12> 2020s bonus round
Betting sizes:
This slot should have wide ranging appeal and cater for low rollers and high rollers alike. Betting starts at 10 cents/pence per spin.
Pay outs during the base game:
As already mentioned, this slot is all about the feature bonus rounds. But there should also not be too many dead spins so as to keep the players entertained.
Landing 1 cherry on reel 1 of the win line should award 0.1x bet
Landing 2 cherries, lemons or oranges on reels 1&2 should award 0.2x bet
Landing 2 plums or melons should award 0.4x bet
Etc etc (the maths team will need to work this all out)
---
Transition animations to and from the bonus rounds:
A short animation should take place with us zooming out from the slot to see Slot Dog sitting in front of the Time Machine slot. The slot flashes light outwards and we get a very short Dr Who tunnel-like animation with Slot Dog falling through time and then we fade back into the relevant era and Slot Dog lands by the relevant new slot.
---
The 1980s Bonus Round:
This bonus round takes place on a classic 1980's American style 1-line, 3-reel one-armed bandit.
8 free spins awarded and any relevant prizes are tallied up.
Average payout from bonus round = 0 – 15 times stake.
The below video shows an example of a one-armed bandit in action.
---
The 1990s Bonus Round:
This bonus round takes place on a 1990's UK style 1-line, 4-reel pub fruit machine.
8 win spins awarded and all 8 prizes are tallied up.
Average payout from bonus round = 15 – 30 times stake.
---
The 2000s Bonus Round:
This bonus round takes place on a 1990s – 2000s UK style pub fruit machine bonus board which were popular in some early 2000s online slot machines but for some unknown reason fell out of favour when the Scandinavians took over the online slot development market.
Average payout from bonus round = 30 – 60 times stake.
The round the board chase feature is best shown off by Blueprint Gamings Cop the Lot as can be seen in the below video (01:40 – 03:19)
---
The 2010s Bonus Round:
This bonus round takes place on a 2010's style 243-ways, 5×3-reel online slot machine using the same symbols as the base round (only a bit more modern and sexy looking).
During Free Spins the clock scatters are now Wild.
There are 3 pick bonus rounds to set up free spins.
Being Slot Dog themed we'll go with 3 doggy locations to set up the free spins round:
The back yard = pick one of 8 buried bones to choose which symbol is an extra wild.
The street = pick one of 8 lamp posts of fire hydrants to find a win multiplier (2x, 3x or 4x) for free spins round.
The supermarket dog food isle = pick one of the 8 tins or packets of dog food to pick the number of free spins awarded (8 – 15).
Average payout from the free spins bonus round = 60 – 300 times stake.
---
The 2020s Bonus Round:
This bonus round takes place in futuristic 2020's dog track stadium (neon lights, flashy score-boards, etc).
In the corner of the screen is a wallet, initially showing zero.
Slot Dog walks towards the stadium and see's 4 envelopes on the floor. Pick one for a cash prize (10x, 15x, 20x or 25x). The wallet updates value.
Entering the stadium there are 4 turnstiles. Pick one for a multiplier on the first cash prize (2x, 3x, 4x, 5x). The wallet updates with the cash multiplied by the multiplier.
Inside the stadium Slot Dog must chose one of 4 snack stands (hot dog, soft drink, beer, pizza) for an extra cash prize (10x, 20x, 30x, 50x). This is added to the wallet.
Finally we enter the arena where we must pick one of 4 seats to sit at. A final cash prize is added to our wallet (20x, 30x, 50x, 75x).
The dog race is set to begin. Pick one of the 6 dog traps to bet all your wallet on. The race is then run.
6th, 5th and 4th place = 2x wallet balance.
3rd place = 3x wallet balance.
2nd place = 4x wallet balance.
1st place = 5x wallet balance.
Dog track bonus round pay out possibilities:
Minimum prize = ( (10×2) + 10 + 20 ) x 2 = 100 times stake
Maximum prize = ( (25×5) + 50 + 75) x 5 = 1,250 times stake
---
Bonus round hit frequency & Conclusion:
Given there's no wild during base play and only 1 pay line, and given the average payout of 80's and 90's bonus rounds would average 15x stake (7.5 and 22.5) then it should be feasible to have one of the bonus rounds land on average once roughly every 75 spins which would be plenty often enough to really please the casual players. And with the three bigger bonus rounds promising some potentially top notch wins, the hardcore players should be all in for trying to reach the 2010's and 2020's bonus rounds.
---