If you are looking for the best online slots to play in May 2018, we got you covered! Because we are starting this section with the best slot machines around – new and traditional tittles – including an explanation about why we choose them again.
If there's something that all casino players look for is good slot machines to play at. The more, the better! Sometimes it can get really boring to play the same slot machine time after time. That's why online casinos usually offer a wide variety of tittles, with new ones joining every month. The best online casinos I can recommend for slot fans, are the ones powered by multiple software companies, or the so called multi platform casinos.
Besides new slot tittles, which are great, we always like to check the game payouts – or Slot Games RTP – to make sure the slot machine is not only fun, but also convenient.
Last, but not least, we will give you some suggestions about the best online casinos where you can play that specific game. So here are the chosen ones, the best online slots to play in May 2018!
1# NetEnt – Finn and the Swirly Spin (Low Volatility)
Finn and the Swirly Spin is a 5-reel, 5-row video slot features a Wild Symbol, a Free Spins Key, 4 different types of Free Spins, and a Random Feature with 4 variations. Truly a beautiful game, with great visual and sound effects. Your symbols start from bottom left spinning to the center, where you need to send the key in order to access the bonus area. From time to time, Finn – the game hero – will pop and help you get some extra money or get the key closer to the final. The first bonus round starts right away while the others require certain quantity of keys to unlock.
Released by Netent in 2017, this slot game features an Irish theme and an original spiral spin that you will probably love, following a spiral pattern that brings something new to the slot market. The game is a "Cluster Pays slot", meaning that any vertical or horizontal line of 3 or more forms a winning combination. The slot machine is payable from £0.10 to £200 – depending on the currency – and payout rate is: 96.61% 
Why is it one of the best online slots to play in May 2018?
This game truly has jaw dropping visuals! I honestly couldn't stop playing. Maybe it was a matter of luck, but I got 5,280 coins in one of my first tries…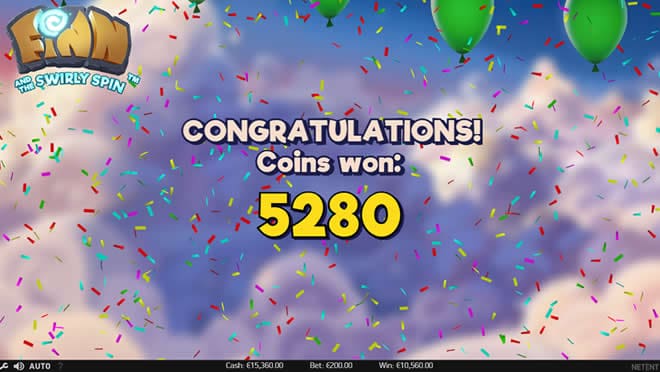 Where to play? Check the best NetEnt casinos in May 2018
2# Play 'n GO – Cops 'N Robbers (Medium Volatility)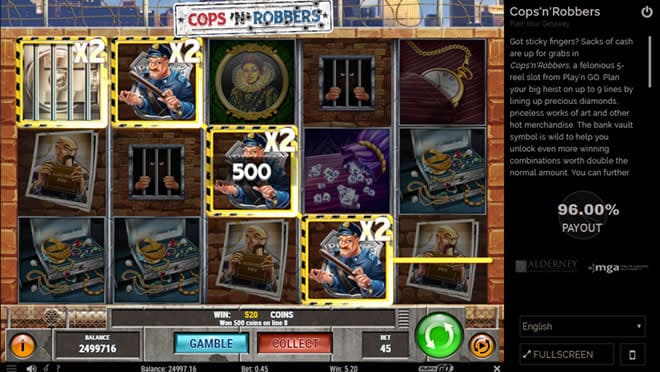 Cops `N Robbers is a 5 reels, 9 pay lines slot machine released by Play'n Go with a £0.90 – £45 bet range. To be honest, the graphic effects are not out of this world, but the bonus rounds are amazing. This game can be considered a typical crime themed slot, 90's style with a modern touch that kicks in when you start a bonus round. There, graphics are better and you will be given the opportunity to gamble after each win. Payout: 96%
Cop cars are the scatter symbol: you will get 250x the total spin amount if you land 5 of them on the screen (I couldn't make it!). If you get 3 of them, you can join the car chase bonus – one of the coolest bonus rounds I played so far. The vault is the highest-paying symbol in Cops n Robbers slot, and gives you 333.3 x your stake for 5 in a pay-line.
Why is it one of the best online slots to play in May 2018 
Sound effects are great and bonus rounds are really fun! After each win, you can gamble your earnings and multiply them while playing a cards game.
Where to play? Check the best Play'n Go casinos in May 2018
3# Microgaming – Temple of Tut (Medium Volatility)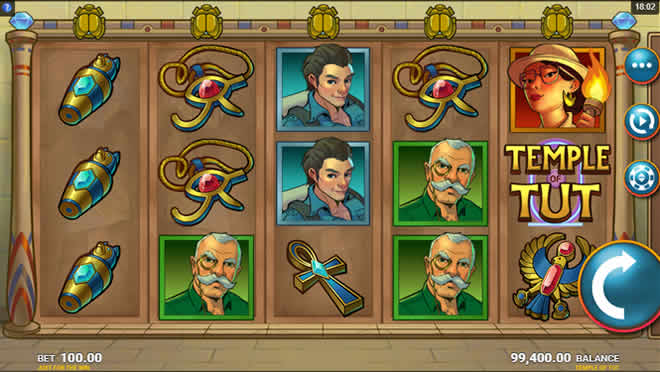 Microgaming usually releases games with great visual effects, but Temple of Tut cant match our #1 rated slot from NetEnt. But no one can deny it, Egyptian themed slot machines are all time favourites, and the story behind them is captivating. There are many options for games based on Egypt stories, like Book of Dead or Book of Ra. Why not follow the Egyptian mystic's? – like they say: rich in life, rich in death – so I decided to give this slot machine a try, and didn't get disappointed.
First of all, we are talking about a 5 reel-10 paylines slot game with a bet range of £0.10 – £250. Temple of Tut features pay both ways reels and the combination with 10 pay-lines sounds almost irresistible. From time to time, one or more reels will light up becoming "Super reels" with 50% wild symbols, increasing your chances of stacking wilds during that game. You can also get from 8 to 30 free spins. Game RTP: 96.01%
Why is it one of the best online slots to play in May 2018 
Playing this slot machine is really fun, specially because of all the bonuses you can get. The free spins really boosted my bankroll with a Mega Win of 7,500 coins! The slot machine looks quite simple but still has some features that definitely can pay really good if you're lucky – "Pay both ways reels" will help you on that.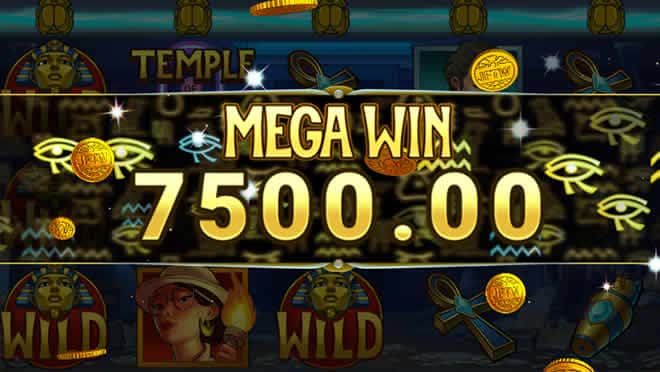 Where to play? Check the best Microgaming casinos in May 2018
4# Betsoft – Sugarpop 2: Double Dipped (Medium Volatility)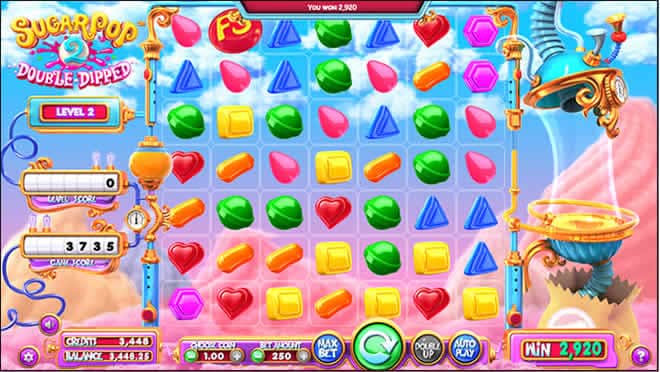 Any resemblance with the popular mobile game "Candy Crush"? Probably not just by coincidence. SugarPop 2: Double Dipped is another "Cluster Pays" slot machine released by Betsoft at the beginning of 2018, playable in a 7×7 grid. Here, you need to cluster 3 or more candy pieces to get a winning combination. They don't need to be aligned, just to be contiguous. Grouping 4 or more  "FS" symbols will provide the free spins you are looking for. There's a minimum coin value of 0.01 up to 1.00 and the game RTP is: 96.42%.
Sugarpop2: Double Dipped features cluster wins and different candies explode over the 7 reels, providing more chances to win. Each time you can get up to 27 free spins that can be re-triggered, for an indefinite amount to be won during your game.
Why is it one of the best online slots to play in May 2018
I really liked this game, maybe because I also play Candy Crush, or maybe because it comes with lots of free spins and cool features. You can also level up – with no cap limit – and unlock special symbols to get more chances of winning. The graphics and sound effects are great! After all, we can't expect less from Betsoft: I really love the attention to detail that they put into every game they make.
Where to play? Check the best Betsoft casinos in May 2018