If you have played online slot machine games for any decent length of time, you will probably have heard of low variance, medium variance and high variance slot machine games. You might not know it, but the variance of a slot machine can play a great part in how much you win and how frequently you win. These subtleties of the online slot world are often overlooked by players. Those same players are seriously missing out on making the most of their online slot gaming experience. How so? In this article, we will take a look at some of the more epic high variance slot machines out there, and explain to just what high variance slots, and how they work (please also see our RTP guide for high variance slots at a glance).
What are high variance slots?
High variance slot machine are certainly not for everybody. In fact, to play high variance slot machine games, you often need a sizeable bankroll. Why? High variance slots have been designed in such a way that wins do not occur frequently on the reels. However, when a win is acquired, it is usually quite a considerable one. By contrast, low variance slots pay out frequently, but only smaller sums of cash and medium variance slots land somewhere in-between the two.
High variance slot machine games make things that bit more challenging for players, but they are attractive since they can provide you with life-changing sums of money if you happen to have the balance to last long enough to win a top prize. Generally speaking, most of the big wins in high variance slots come from wild multipliers, free spin bonus rounds, and instant win bonus features. Given that the latter two features are often difficult to trigger, you could end up waiting a while for you next truly massive win.
Who would play these types of slots?
First and foremost, players who wish to play epic high variance slots will generally need a big bankroll. This is to keep them in the money whilst they are between big wins. As a result of this, it is fair to say that the players who are ideally suited to high variance slots are those with a big balance – ergo, high rolling players. Ordinarily, whilst you may lose a fair bit of cash in-between wins, the general idea is that a big win will then compensate you for the majority of what you have spent in-between wins, or may even put you far ahead of what you started with. To that end, again, we have to suggest that players with money to burn are best suited to high variance slots.
Legendary and epic high variance slots
There are plenty of high variance slot machine games out there on the net, but only a handful of them could be considered epic high variance slots. What does that mean? Well, in this instance, we are talking about high variance slots with not only an epic theme but also epic features, epic reputations and slots which are generally considered to be among the best in the online casino world. For this article, we will take a look at a top, epic high variance slot from four leading developers of casino games, so you can get a look and feel for the epic high variance slot genre as a whole.
Dead or Alive
Dead or Alive is a Net Entertainment developed slot machine game and one which takes on the Wild West theme rather wonderfully. It features superb 3D graphics, 9 pay lines are spread over its 5 reels, and players can potentially win as much as 2,500x their total bet on a single spin. That is certainly something which makes the game appealing.
Dead or Alive can be played for as little as 9p per spin, although you can up the stakes to £18 per spin if you wish. Given that this is a high variance slot, you are going to want to hold back as much of your funds as you can for later in the game. There are only 9 pay lines, so don't expect wins to occur frequently, but sticky wilds, scatter symbols, and a free spins bonus round can provide you with sizeable wins when you are fortunate enough to trigger them.
The main draw on Dead Or Alive is the free spins round which features sticky wilds and the dream of every player is to land 5 scatters giving you a really good chance of landing some monster wins. Dead or Alive has a huge army of devoted fans and there are plenty of players who have had life changing wins on this slot with wins in the thousands and thousands of times stake. Of course due to the variance there are others (like myself) who have never been lucky and eventually given up on chasing the dream on this slot.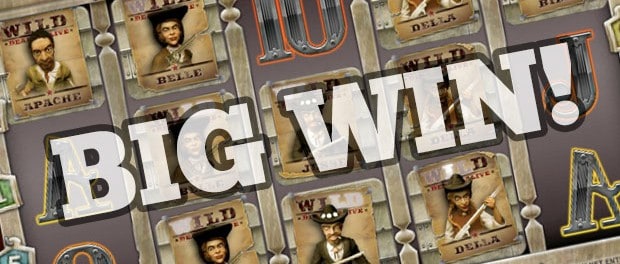 Immortal Romance
Immortal Romance is one of Microgaming's flagship slot machine games, and one of the first to feature the 5-reel, 243 ways to win pay line structure. Players would imagine that they can pocket wins fairly frequently on 243 pay lines, but due to the nature of its design, that doesn't seem to happen. Instead, players are going to be relying on extending wilds, a randomly triggered Wild Desire wild reel feature, and the famed Chamber of Spins bonus to land big wins.
The Chamber of Spins free spins bonus gets bigger and better every time you trigger it, but you will need to trigger it at least 15 times in order to start pocketing wins which can really have an impact on your balance. This vampire-themed slot machine game continues to be a massive hit many years after its release and is a firm favourite among high rollers at Microgaming powered online casinos.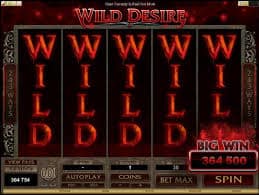 Great Blue
Great Blue is a popular Playtech video slot and one which can see you pocket big wins once every blue moon. Played over 5 reels and 25 lines, this slot can cost you anything from 1p per line per spin, up to £125 per spin, so it can be a costly little number. Again, since this is a high variance slot, we would shy away from wagering too large a sum too soon. Great Blue us themed on the ocean, with particular emphasis on the Orca killer whale.
This is a slot machine which contains stacked wilds and scatter icons. The Great Blue Bonus can see players pocket free spins, and there are multipliers added to those winnings, too. A click and win bonus will determine how many extra spins or extended multipliers you can pocket. In total, up to 33 free spins and 15x multipliers can be nabbed in this oceanic-themed slot, and that is where the real money can be won in this high variance slot.
Playtech have recently released a new clone of this slot called Fei Long Zai Tian which has a theoretical RTP of 96.03% which is also the new RTP given to Great Blue (up from 94.74).

I really do have a soft spot for Great Blue and will play it over the newer Fei Long Zai Tian. Great Blue gave me my first ever super mega big win and still to this day I regularly give it a shot, hoping to land the bonus and get myself the magical 23 free spins with stacked wilds and a x10 multiplier!!!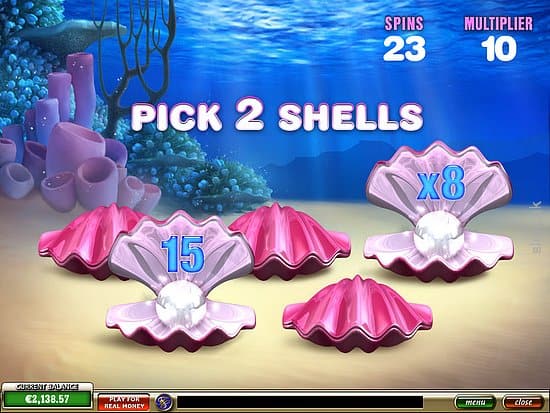 Book of Ra
By rights, Novomatic's Book of Ra slot shouldn't be a big hit. It has so-so graphics, it has just 10 pay lines, and it costs anything from 1p up to £40 per spin. However, this slot really put Novomatic on the map, and it has become a fan favourite across the online casino world, and not due to its Ancient Egyptian/explorer adventure theme.
Book of Ra can dish out regular prizes worth as much as 500x your total bet, and it does so via its top paying icons, scatter wilds. Novomatic combined both wilds and scatters into one symbol in this slot, and whilst that does raise your chances of landing a win, the 10 pay lines certainly make it a dash more challenging. This is a slot machine game which offers free spins and multipliers, and extra expanding symbols can be had in the bonus feature, too.
It is the bonus round that really made Book of Ra's name with truly monstrous wins coming from the extra expanding symbols. For this reason nearly every other slot provider has their own clone of this slot in one form or another, with some slot makers even having dozens of clones using various themes.
A little hint from me, check the RTP before playing because many times you will come across different version of this slot at the same casino and for example while the "classic" version of the game has worse graphics and animations than the "deluxe", you may well find one version with a much higher RTP than the others.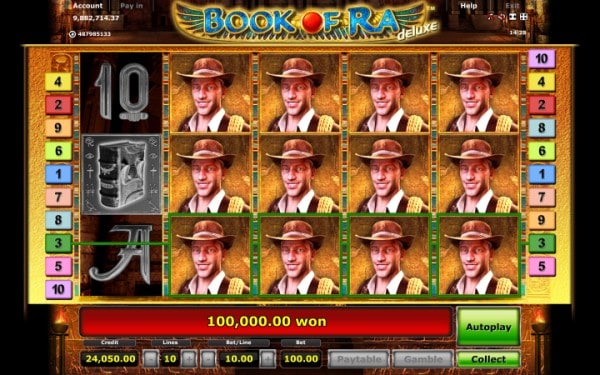 Are there other epic high variance slots?
Of course, if none of the slots above tickles your fancy, there are a host of other great slot machine games with epic high variance style game play. At least a quarter of all the slots you can find in the online casino world are high variance in nature, some more so than others. A good way to gauge whether a slot is a high variance title or not is to try it as a free to play demo. Alternatively, you might take a look at the payout percentages of a slot. These are known as theoretical return to player rates, or RTP or short (Don't forget to check our extensive RTP database via the Slots menu on Yes No Casino). They will tell a player how often the slot pays out, and this can certainly help you determine how "epic" a high variance slot can be.
If you've got a decent sized budget and fancy trying your hand at some of the best paying slots on the net, epic high variance slots could be for you. Just remember, it may be some time before you land your life-changing cash prize.