If you have played Microgaming slots then you will likely have seen the pop up "Achievement Unlocked". If you have gone one step further you may have clicked on the pay table to find which achievements you have unlocked. And for most people the reaction to all this is "hmmmm well that was pretty pointless".
But are these achievements pointless? Or is there something to them? Well it all really depends on where you are playing the slots. Microgaming added these achievements in in order for their network of partners to be able to offer little extra bonuses. Some casinos have taken advantage of the system, either as a temporary promotion or permanently, other casinos have not made any use of this option.
Not ending there however, Microgaming also introduced an Achievement scheme into it's MPN poker network. The MPN Achievement system went live in November 2014.
---
Example of Microgaming Achievements in action #1:
Here we take an example from BETAT Casino:
Some of our headlining games come complete with an "Achievement Feature" which rewards you through increased incremental cash rewards in return for game loyalty. This unique feature, which is exclusive to headlining Microgaming games keeps track of your lifetime progress on the specific game and rewards you as you unlock features as you progress.
We are the only casino that provides players with financial rewards for completing achievement sets. Therefore, if you are a fan of one of these games, you should be playing them at this casino and nowhere else!
Currently, the following games utilise the achievement reward system:
Thunderstruck II & Immortal Romance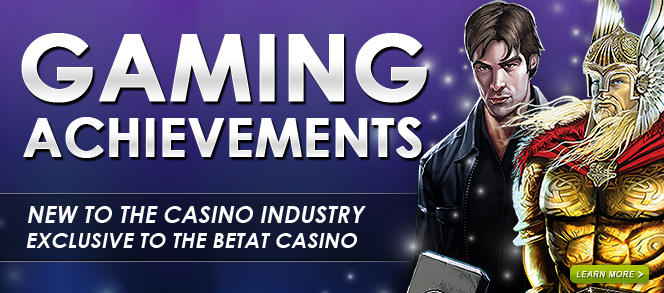 ---
Example of Microgaming Achievements in action #2:
Here we take an example from GoWild Casino:
All you need to know about Achievements:
Achievements are challenges added to a game which give you the chance to win additional prizes. On top of the basic rewards offered by the game, you can win hundreds of free spins or special bonuses!
Win free spins on the Basketball Star online slot by unlocking the in-game achievements.
In order to unlock an achievement, you must complete all of the payout combinations for each symbol.
Track your progress on the Achievements Paytable by clicking the "PAYS" arrow located at the top right corner within the game.
When a specific achievement is unlocked you will receive a pop-up with message "Achievement unlocked".
Only the achievements included in this promotion will reward you with a specific set of free spins: Shoes, Medal, One on one, Dunk, Dribbling and Scatter.
The achievements can be earned in any order.
A winning combination will be highlighted when a player hits 3, 4 and 5 symbols in a winning pay-line on separate occurrences.
In order to unlock an achievement all 3 winning combinations for a particular symbol must be achieved.
Winning combinations which include wild symbols do not count towards the accrual of achievements.
Shoes Achievement = 30 Free Spins, Medals = 45 Free Spins, One on One = 60 Free Spins, Dribbling = 75 Free Spins, Dunk = 150 Free Spins, Scatter = 300 Free Spins and getting all the medals grants an extra 450 Free Spins!
Unlock all achievements and win 1110 free spins!