This little article isn't going to help you very much, if at all in fact! However it might be good to know anyway to avoid any myths or superstitions:
The Playtech Scatter Preview:
There are a number of Playtech slots which have this glitch in them including the Casino Technology slots like Cat Queen and Esmarelda as well as a few Marvel progressive slots like Spider-man Attack of the Green Goblin. The glitch happens once you have landed 2 scater symbols and the remaining reels are about to enter double quick mode. At the point where a reel is about to set off, it jolts into a different place on the reels before setting off. If you are observant enough you can see whether the final scatter will land even before it lands because you get a very short glimpse at the final outcome of the reels before they set off on double quick spin mode.  You will learn to spot this glitch and while it doesn't really help you at all, you can use this glitch as a bit of mental agility training!
The Microgaming Scatter Glitch:
Here's another little glitch that doesn't help you at all. And in fact one which varies from casino to casino and isn't always consistent. The glitch is that after hitting the spin button, if the spin is going to end up with three or more scatters, the slot appears to take a little bit longer to set off. Now depending on where you are playing though and depending on your connection at home, speed of your computer etc you can get these glitches on normal spins as well. So this one is not an exact science. The more you play though the more you should be able to learn to recognise these scatter spins. But in the big picture again spotting these spins gives you no advantage whatsoever!
During the middle of 2016 however I think Microgaming have noticed this glitch and have actively pushed to stop it from happening, at least with their newer slot releases. In some of the newer slots like Bar Bar Black Sheep or Reel Spinner for example, they have actually gotten rid of the extra reel animations you usually see when you have landed 2 scatters. This means there is no delay in loading the animation while the reels are spinning in turn meaning no delay or glitch. This has reduced the anticipation and excitement that players get when they land 2 scatters as the reels just spin in nice and quick. Some players will like this but others will miss the animations. Personally I'd give players the option to turn on or off those animations, that way you can appeal to all tastes.
The NetEnt Thinking Glitch: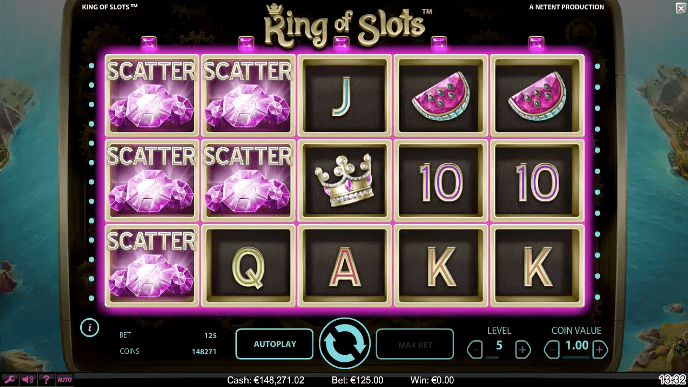 NetEnt are not immune to little glitches either (in fact most slot software has the occasional little thing, iSoftbet sometimes has the same scatter glitch as Microgaming for example). With NetEnt the most glaring issue arises on slower casinos where any glitch is more pronounced. It is regarding slots with sticky wins like Jack Hammer, King of Slots or with slots with respin wins like Reel Rush. In this instance once the first win is on, if the next spin is a winner then it spins in quickly, however there is more thinking time (longer spins) when a losing spin needs to be calculated.
The iSoftBet Scatter Pause:
iSoftBet have some amazing slot machines, with a lot of focus on branded slots based on classic movies or tv shows. Like with Microgaming though, when you land 2 scatters on reels 1 through 4 then you get the animated reel spins for the potential 3rd scatter spin. And just as with Microgaming there is a delay before the first reel spins in where the extra animation is being loaded.
With iSoftBet in fact, you can also see this effect when only one scatter is going to land – as in the case of the brilliant slot The Best Witch where there are two bonuses, one bonus is a pick bonus landed by getting the three bonus scatters, but the free spins bonus is actually won by only having to land two of the witch scatter symbols. So if you want to see the glitch in action then this is definitely the slot to play as it happens quite often that you will land one witch symbol or two of the bonus symbols.
---