So I had a deep run in a hyper as of late and thought it would be cool to review some hands from it which I found interesting. Feel free to comment and let me know what you're thinking.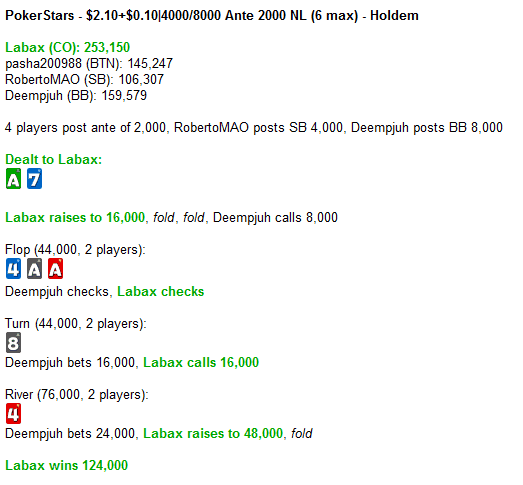 So here I open a7o 4 handed. Whilst everyone has a rejam stack I think not opening an ace four handed in a hyper is a mistake, especially since I feel the general population are likely folding too much in regards to rejam ranges in these kind of spots.
So the BB peels and we see a pretty good flop and get checked to. We can definitely bet here and see a lot of his PP's come along however it seems like a pretty decent spot to check back since there are not many bad turns for us and we can keep some bluffs in his range (connectors etc). As a side note I feel villains would be rejamming a wider range in regards to PP's then connectors in this spot which leads me to check this back fairly often.
Turn is an eight and we see a second spade and he leads into us which I expect him to do with a lot of his range. He can definitely have some spade spade combos but I still feel I have the best hand enough of the time to call and potentially let him fire river with his air and maybe even some value hands. I'm also fine calling turn and folding to jams on spade rivers (which don't house us).
So we go to the river and see the 4 of hearts which is one of the best cards for us. Hands such as 88 (he may be rejamming this pre but still worth a mention) now lose to any Ax. If he has pocket fours nh. One thing I've looked into a lot recently is how sizing represents a weighted range. You often see countless lines where people bet third pot on turn with the best hand on dry boards for pure value and we tend to associate bigger bet sizings with a more polar range (nuts or air). In this spot in particular I felt he was a bit more weighted towards air in his range even with the small sizings due to the SPR (stack to pot ratio). I feel people at these kind of stakes are more likely to try and bluff when short with smaller sizings then fire off and jam the river with air. Again the circumstances really effect if we feel large/small sizings weight villains to a certain range but it's just something I think about a lot.
Enough of the rambling, what I wanted to get to and what I think is the most interesting part of the hand is what sizing I go for here when I decide to raise river. As stated before I feel he has a decent amount of air and some marginal made hands. If I thought he had a stronger range here I would be jamming river I just feel we make more money in this spot by trying to get crying calls from villains, even though the clickback looks pretty nutted. <- input to this would be appreciated, kinda leaning more to jamming after thinking about it.
So after winning a few bvb/short handed flip spots I find myself at the final table coming in 2/5.
I haven't used an ICM calculator for this HH yet but I thought I'd post the payouts for those of you who want to check these spots out yourself.
So here we are 5 handed at the final table and I'm around tied for the chip lead and I open A7o in the CO the BTN, who's a Brazilian chrome star who was crazy. And not crazy as in the usual Brazillian mouthbreather "vamos" in the chat after they two outer you, more like I had no idea what he was thinking, credit to him.
At some points he just seemed to spaz and others he just played hands really passively, maybe he could have just been terrible but anyway.. the SB folds and the BB completes and we see that flop and the BB just jams which is totally fine. If it was just heads up I would of course be fist pumping since he can likely jam with any pair/any club etc which we're doing good enough equity wise against.
My plan is to flat and fold if the Brazilian rejams. To my surprise he flats, I think I remember muttering wtf when I saw that. Anyway the plan now is for me to get to showdown and cross my fingers. Turn and river is pretty safe we showdown and BB shows JsKc which we're ahead of, it made sense etc.
Now on the picture you can't see what the Brazilian had and that's partly due to the fact I couldn't get the whole HH on my screen but I guess you can take a moment here to think about what he might have. I'm going to cut you off, he had AhQc. I don't even think it's that terrible but not how most would play it. Surprising to say the least.
Anyway moving on we get into spots like these. I'm assuming this is just the right thing to do as chip leader in these spots. Just apply pressure. I feel QTs is a good hand to do this with but would like to here your thoughts. Side note, what's the bottom of your jamming range in this spot.
So after a lot of standard plus ev jamming as chip leader KTo BTN 11bb's etc (stuff I don't need to show here). I get heads up and then just push fold for 5-10 minutes 10bbs effective till I win. I could post the whole heads up battle but it really wasn't that interesting. Stace was watching on TV and she said she would have played HU exactly the same, there was no intense post flop stuff, it was just who ran better (was a hyper). I feel the guy was overfolding a bit so I had an edge in that regard.
Anyway a few interesting spots for you all to mull over. Let me know if you'd like to hear my views/thoughts on anything poker related. Normally my posts are just spur of the moment this is how I feel about something and I'll likely post something like that later today but I thought I'd leave this post as it is.
---
Just after review I've changed my mind about this spot completely. Even when reviewing the first time round I still thought this was a good jam but after showing other people and thinking about the spot more I think raise/folding to everyone but the BB is the most optimal thing to do. People's rejamming ranges are going to be so tight at the final table that I don't feel I see many (if any) extra folds if I jam vs opening. We may get peeled occasionally but with the short stack in the BB I doubt people would be peeling that wide with all the ICM on the line.
---